I am not here to endorse buying from global trades or Joeken.. but just to show what the
LATEST
Eubanks Gen2 receivers look like compared to a Global trades/ArmoryUSA 1.0mm receiver.
The Eubanks (gen2) is the one on the bottom
Please notice in the picture, the Gen2 still has the stretched trigger axis holes. This is from the bending proccess and is do to using prepunched flats.
Joe informed me that they will be changing the dies so that this is punched (not machined like Global trades) after the receiver is bent.
The Gen2 still has the bending jig holes (aka drain holes) in the bottom. These are seen at the front and rear of the receiver
This will also be fixed on the next die change. Global trades has these, but they are in spots that get machined out.
Please note that the Gen2 is a Single hook trigger set up, just like the original receivers.
Also all the info on the Gen2 is on the bottom.
In the above picture you can see the Stepped Top rail.
GEN2 - they corrected the issue with the front lip
Global Trades
And the last thing
DIMPLES
The Gen2 is on the bottom.
Here is a picture of a REAL Russian AKM, made in Izhmash 1970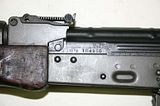 As you can see the dimple on the Gen2 is MUCH closer to the original Russian dimple then the GT1.0
Overall, The Gen 2 is a HUGE improvement over the Gen 1.
IMHO, it is a great receiver. As for heattreat issues, I got in 6 receivers in this order. All 6 of them are straight
Now, for those who don't like to deal with Joeken, don't worry...
Our buddy Scott @
www.dpharms.com
is stocking them now.
Note: Dpharms is currently sold out, but is expecting more
Member of