Today I inspected the 7.62x39 brass cased ammo from Ammoimporters.com and tested it at the range. Overall, I found it to be pretty good ammo, potentially even being more accurate than the rifles I fired it out of.
Pre-range inspection
Before I went to the range, I inspected the ammo. I visually inspected it. Then I measured the overall length of each round. Lastly, I pulled apart 1 round to check the bullet weight & design, as well as see what sort of powder was used. I wanted to compare this ammo with a box of Winchester, and some M67 surplus I had, since I think that's what this ammo compares with.
The ammo looks pretty appealing I would say. The brass was definitely annealed, as was mentioned by the guy from ammo importers. I saw no visual defects in the ammunition I was sent. The ammo was packaged just like what you see on the website, 20 rounds to a box.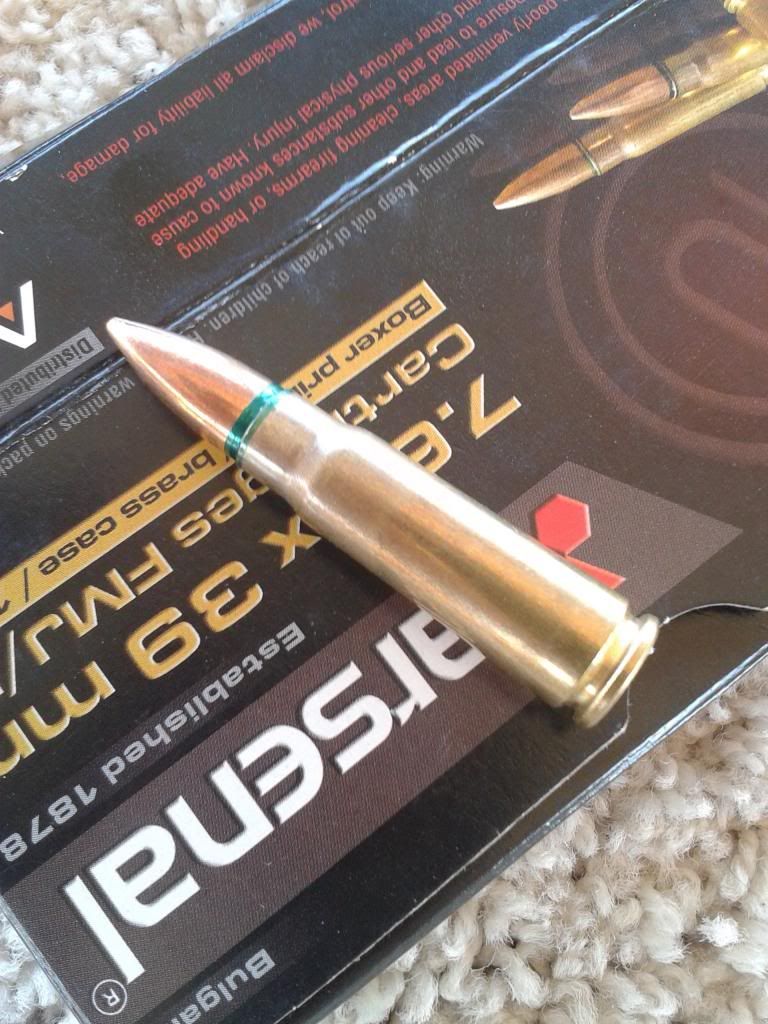 " />
" />
Next, I measured each round's overall length with a micrometer. Overall there was a total of .017" difference between the longest round(2.198") and the shortest round(2.181"), with the majority (15 rds) being between 2.190" and 2.198". By way of comparison, the Yugo M67 I measured had a total difference of .015", and the Winchester had a total difference of .012". Now that said, the Winchester ammo obviously had significant differences in case length, as some rounds you couldn't see any of the cannelure, and some you could see almost all of it.
Lastly, I pulled 1 round apart to check the components out a bit. Normally, I would prefer to disassemble several rounds to check for component consistency, but given the size of the sample I had, I figured it would be best to save that for shooting since how it shoots is what's important here anyway. Normally I would also prefer to disassemble some similar rounds (i.e. the M67 and the Winchester). But , given the ongoing lack of availability of either of those right now to replace ammo used in testing, I didn't want to disassemble any of those. The bullet weighed 123.3grs. I thought it was a fairly interesting design, being that it was something of a hollow base type. The powder charge was 23.6 grs, and it was of ball type. The brass is boxer primed, which I think will be a big attraction of this ammo.
" />
Range Time
I basically did 3 tests on the range: accuracy, velocity, and function. I had planned on using 2 different rifles for the testing, but the Milled AK47 I have is apparently minute of barn (and will rip off a casehead from time to time). So I didn't really use it too much in this. The main rifle I used was a Yugo M59/66 SKS, which I bought in unissued condition several years ago. All in all, it's only had a few hundred rounds put through it, so for all intents and purposes it's more or less a new rifle.
All velocities were measured 4 ft from the muzzle. It was a hot southern Idaho afternoon, being about 100 degrees while I was at the range. So you can figure that the velocities I recorded are a bit higher than what you would get shooting on a cooler day. We are also something like 2500 ft above sea level, and have rather low humidity here. Obviously all of this put together could give you different results than shooting in Pennsylvania in January. All I had to spare for some ammo for this portion was some Tula I had laying around, so that's what I used. Here is what I ended up with:
M59/66 Muzzle Velocities
TulaArsenal
Average 2614 Average 2496
Hi 2640Hi 2519
Low 2579Low 2475
Extreme Spread 61Extreme Spread 44
Just for reference, I also put some of the Arsenal through the Milled AK.
Average MV 2477
Hi 2519 Low 2436
For the accuracy part of this, I have to add a caveat. Since both of my rifles are as issued, I was using the iron sights. As such there were a few fliers that increased the size of the groups I got, that had I had a rifle with an optic, might not have occurred. I will note these for clarity. All groups were 5 rounds and shot at 100 yards.
Tula(only one obvious flier)Arsenal(two obvious fliers)
4 ¾" w/flier4 ¼" w/fliers
3 1/8" w/o flier3" -1 flier
1 ¾" w/o any fliers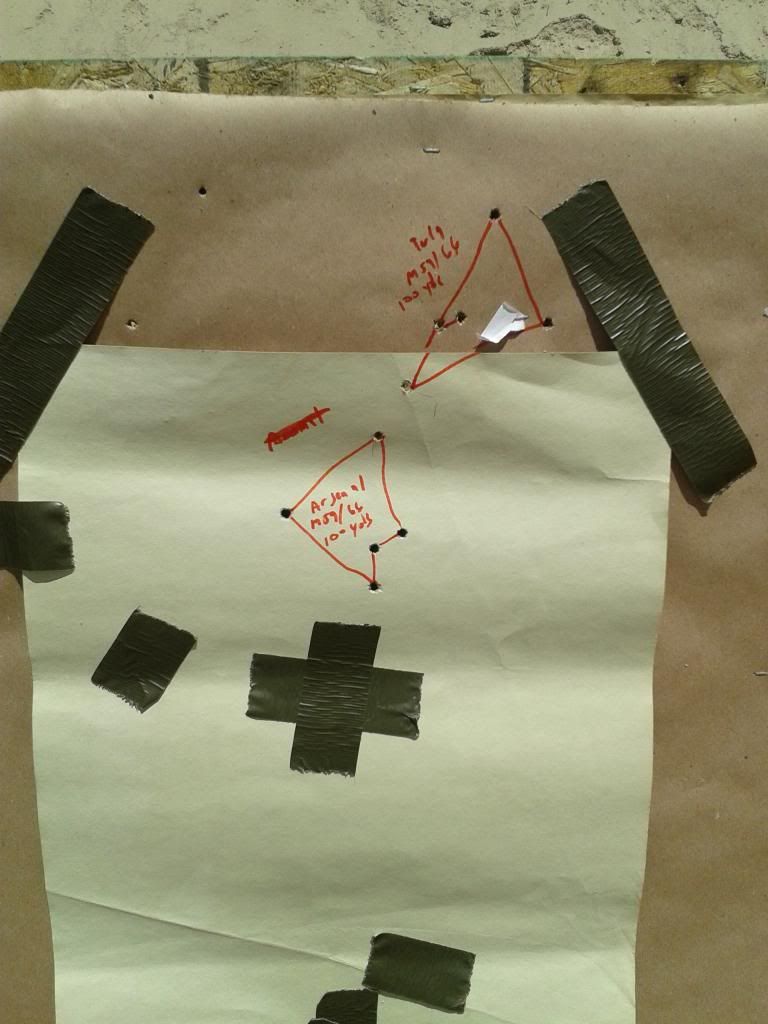 " />
Interestingly enough, I found the Arsenal ammo was considerably closer to point of aim than the Tula. As an interesting side note, all of the brass from the Arsenal ammo was in an area about 1ft in diameter. This kind of surprised me, given that usually casings wind up all over the place. Just for reference, the milled AK's groups were about 10" with Tula, about 7" with Arsenal.
I had no issues with the M59/66. The milled AK separated a case head, and was pretty close to a 2nd. However, as I mentioned previously, this rifle has done this before with different types of ammo. So I think to be fair, this is a rifle issue not an ammo issue.
So, to sum everything up, I think the Arsenal 7.62x39 is really good ammunition. A 1 ¾" group(fliers notwithstanding) is pretty good for 7.62x39 ammo, by my count. I suspect that when someone else tries this ammo out with an accurate scoped rifle, they will likely get better results. This ammo will appeal to shooters whose ranges are restrictive about what kinds of ammo are allowed, as it has a lead core. In addition, I really like having reloadable cases, especially when I don't have to pay $1 per round to get ammo with them. I intend on purchasing a few cases in the future.