I received my TGI FEG AMD-65 from AIM a few days ago, and I took it out to the range this past weekend. 100 rounds as smooth as butter, and the spot weld is (still) holding firm. It's not quite as accurate as my Saiga, but I've never had more fun shooting an AK! Extremely light recoil...fireball...all the things others have reported. I had the pleasure of shooting next to a gentleman with a civil war era musket replica, and the AMD surprisingly did not bother him, though I was careful to give him a break to shoot after his 5-minute loading sessions.
I think his clouds of black powder smoke were as interesting as the fireballs from the AMD.
I did not find any rust on this rifle, though the rear trunnion/folding stock base had been painted with something other than Gun-Kote. I touched this up with a little cold blue. Otherwise, the finish is well done. I left the charging handle's rubber protector on for the pics.
For those of you who have only owned or shot standard AKM's (like me up till now), shooting the AMD will put a grin on your face.
The only change I made to the rifle (right out of the box) was to replace the synthetic grips with wood grips: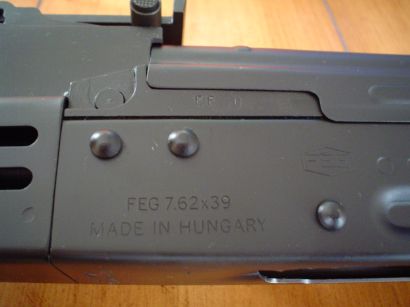 If these mag wells were opened up by TGI, they did a very precise job. Hungarian 20 rnd mags fit snug with no wobble. Included ProMag wobbled extensively.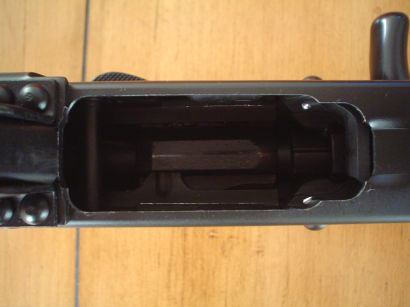 Small spot well is visible on left end of barrel extension.