I have ;looked all over and googled it and I am trying to figure out why these things are so expensive. I was looking at making one but I have no idea what I am looking for and I have no idea how to fill it in. got any ideas where to start? BTW I am getting a CMMG 308. I call it a shooters data log because the term sniper seems funny if you are not in the military.

Would this be the best for a beginner?

http://www.stormtactical.com/70lbpapercoil.htm or the 20 buck one on different paper.
All depends on what works best for your situation?
Some of the data books are built to be bomb proof because they are used in demanding field conditions and they tend to cost a bunch based on that. Others a very simple/basic spiral bound paper versions and they can be much more economical. Some people just simply take a note pad or journal and use it for documentation. I actually know a world record holding shooter who just uses a hard back journal with regular lined paper to document all of his shooting.
The key is keep the best and most complete data that you can capture so that you can best understand and what your rifle and ammo performance is, and use that data to predict or improve future performance.
Personally, I bought a small 6 ring planner from Clothing Sales, which I use as a weather resistant case. You could use about any planner case from an office supply place. I fill it with my own "homemade data sheets" which I create using MS Office programs. I print my sheets on card stock to help with durability. I punch the holes with a punch I bought from an online office supply site. I also use some of the stock planner inserts like the lined paper and calendar pages. This gave me the option to customize them, and the cost is reasonable for what I get.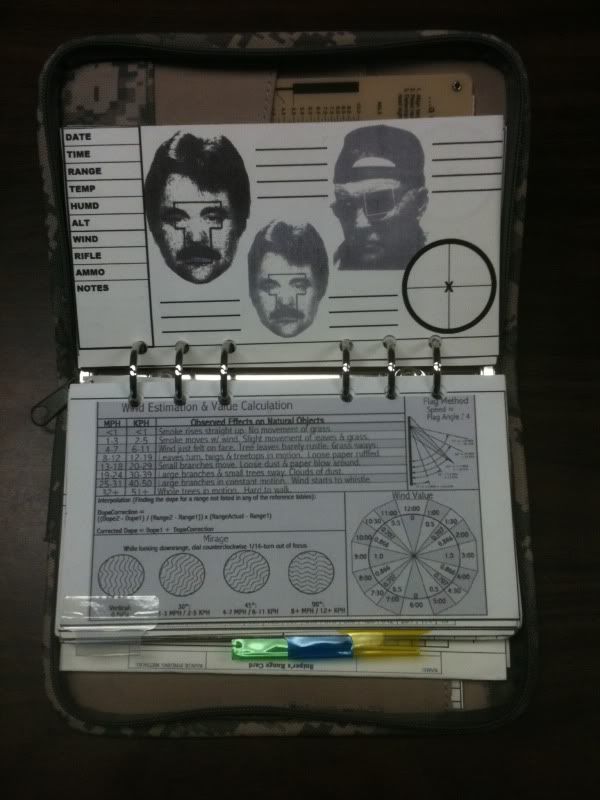 Best of Luck,
M Richardson