Heavy Lifting.
Disclaimer: I am currently a Tigerswan employee. I have worked on and off for the company for the last 3 years, mostly in Iraq as a security contractor. So when the opportunity to take one of their 5-Day courses came up I jumped at it.
First a note about myself, after leaving the military I started shooting IDPA, USPSA and 3-Gun. I have taken several classes from Larry Vickers, Beenie Coolie, Pat Rodgers, Ken Hackathorn, Scott Reitz, and Dave Harrison. I was first introduced to TigerSwan when I took a 1-Day introduction pistol class and not long after started working for them.
Long story short, the 5-Day Rifle & Pistol course is heavy lifting. TigerSwan teaches 'how' to shoot. Not how to run a gun or how to look cool in your kit like other courses. Brian Searcy, President of TigerSwan, a retired Sergeant Major from the Unit, and Dave Borreson a former Swat officer and PSD contractor, teach the difficult and often forgotten art of How to shoot. They did it from 25 yards with a pistol in the rain and cold and then made us do it. In the afternoon they did it at 100yds with a rifle and had the class do it. The class was an even share of military, law enforcement, and contractors with 10 people in it.
(Brian S. making it look easy)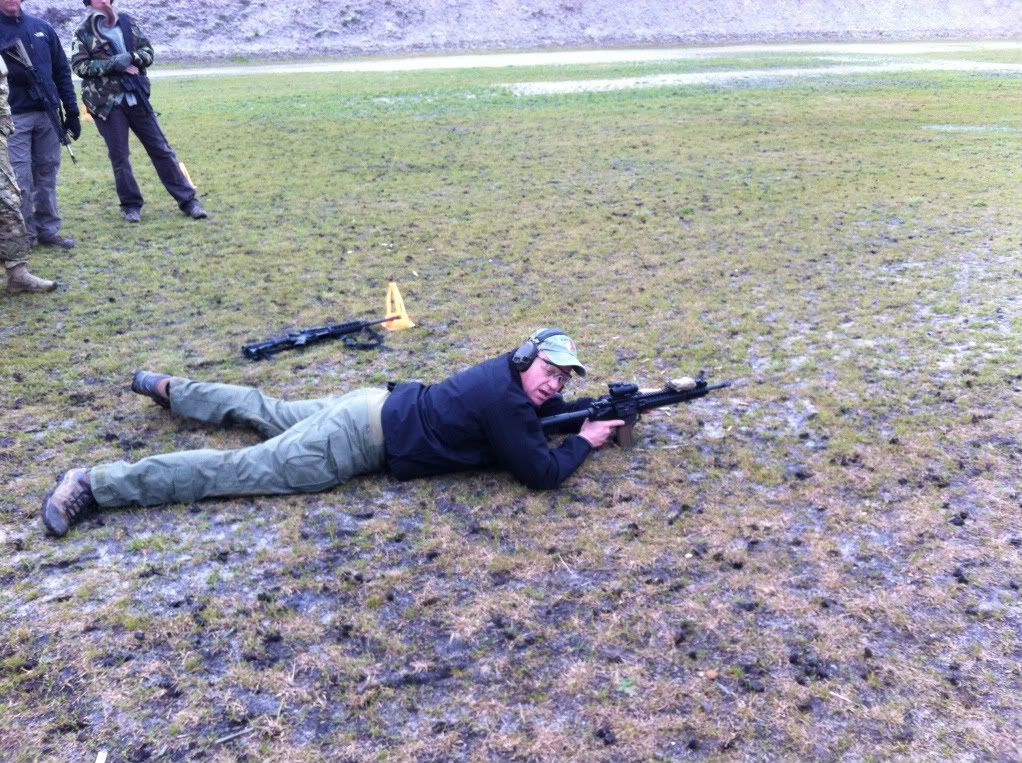 (Brian S. in the mud showing how to)
I brought my Glock 34 with a Vickers magazine release, a ghost 3.5-connector and blacked out Henie sights. I also brought a new AR lightweight build; a 16" pencil barrel, with a DD M4 12" FSP rail and an Aimpoint Mini H1. Between that and my Vtac 'GI Joe' belt I ran most of the course with minimal issues.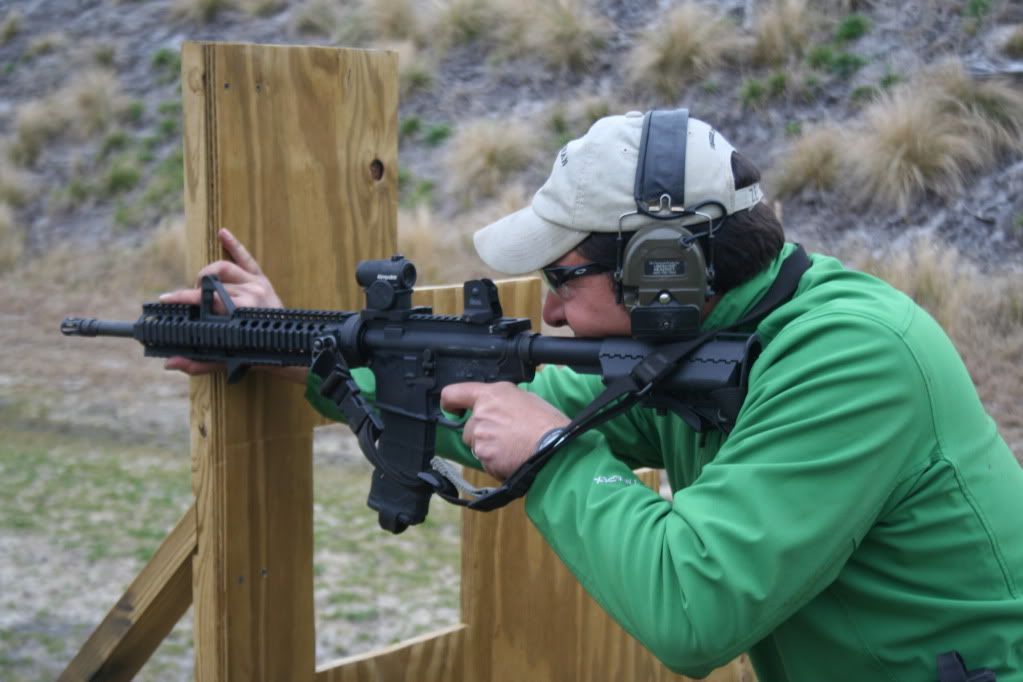 (LW AR on the barrier)
Day one started like most courses I have taken, introduction of the instructors, safety brief, range brief, etc. One thing that Brian Searcy said that caught my attention was, 'You are going to be exhausted by Wednesday.' I had to admit I was a little befuddled, were we doing ninja rolls and bur-pees for 3 day? 'Your scores will drop, and you will be tired...'
Low and behold, by Wednesday I was dead tired. I spent the next three days concentrating on every shoot I put down range, and it was exhausting. Starting day 1 we did the 700 pistol Aggregate and the rifle 400 Aggregate tests. Both have been nicknamed the 'Humbler' because by the time I was done I was not as confident about my skills as I had been. My big note from day one was to know your zero with your pistol at 25yards and your zero on your rifle at 100 yards. I thought my Glock was hitting point of aim, point of impact at 25 yards, it was about 3 inches right. I thought my Aimpoint was zeroed at 25 yards and it was about 6 inches left.
Showing his wealth of experience, Brian asked to shoot my glock and said, 'yep, your hitting left.' A 3 o'clock hold on the bulls-eye with my fixed Henie sights worked. Which brings me back to Brian's comment about having adjustable sights on a pistol.
Day one we also were introduced to a couple of positions to shoot with the rifle. Prone, which became my friend, seated (legs crossed), seated (foot on top of foot) and kneeling. Each were part of the 400 drill and could be used depending on location and position. I found the seated with feet on top of feet to actually be very easy to do. Even though it looks strange.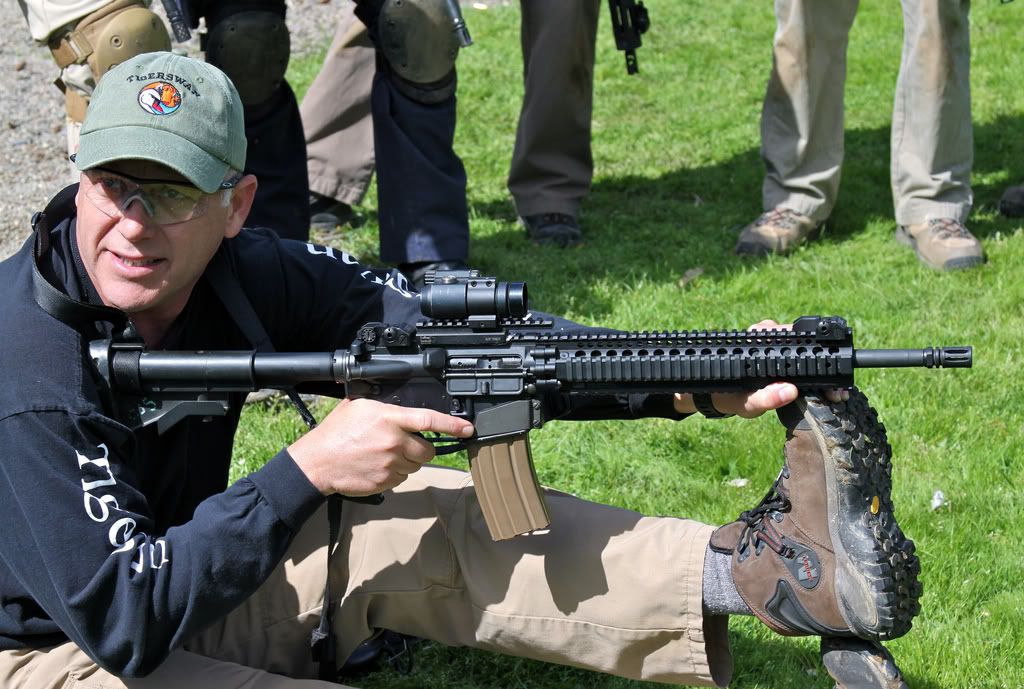 (Trick is to grab your toe and the rail together in a C-clamp)
The next three days were an exercise in concentration. Each day was spent on the fundamentals of marksmanship. Fundamentals of marksmanship can be broken down into two simple concepts; trigger control and sight picture. After you figure out your grip, your stance, I realized how much trigger control and sight picture played a roll in hitting the black at 25 yards. After three days of shooting a pistol at 25yards and a rifle at 100yards I started to notice little things about each. How if my grip was off just a fraction on the pistol if I drew it wrong. How my rifle felt when it recoiled. And what the break felt like on my trigger. I had always assumed it was just a crack and it fired. But there is a split second as the trigger breaks before the round goes off. And if I kept doing everything I was supposed to be doing, namely sight alignment, I could call my hit of the bullet on the target. I found it to be a very 'zen-like' moment when I knew everything was working.
Day four was a chance to apply what we had learned the last 3 days. Starting in the morning I dug out my body armor and Safariland 6004 holster and practiced shooting the pistol with kit. One thing I noticed was that standing up right, and not 'turtle-ing' when I shot was affected when I had kit on. Before I would naturally hunch my shoulders forward not even thinking about it. With kit on, I realized I was rolling my shoulders and attempted to stand more upright while shooting.
In the afternoon I put away my kit and brought out my 3-gun rifle for the rifle part of the class. My note for that day was that after all the time I had spent chasing my red dot around the last three days trying to get the perfect sight picture, the 4 power magnification on my Trijicon scope made it easy to hit the bulls-eye even though my sight picture kept jumping. The draw back of my 1-4 power scope was that at CQB distance doing drills I lagged behind those with red dots. Not something I normally notice at a match when shooting against myself.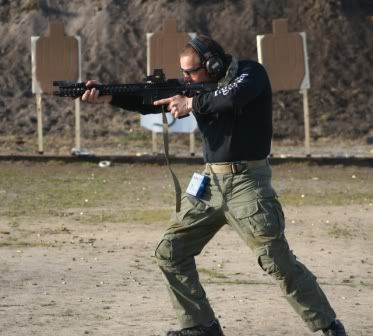 (Dave showing an aggressive fighting stance)
Day 5 came way to soon, for after taking my time and shooting all week I had to admit this was the last day of trying to get everything out of the course I could. We started off the day by re-shooting the 700 Aggregate pistol test. This time, knowing my hold over and focusing on all the lessons of the past week I watched the sights, took my breath, and focused on the break in the trigger. I cannot say I shot the score I wanted, for some reason the five rounds I took with my week hand, or 'other strong hand', went wide and I lost the points. Note for later, something to train on at home.
Feeling like I needed to be redeemed we shot the Bianci cup steel plate rack. Shooting at 10, 15, 20 and 25 yards I took my time, aimed and was cleaning the plate rack. Until someone, no names (although he might be from Georgia), yelled 'you can't be stopped!' And I blew a row of 6, hitting 2. Frustrated I focused on the rest of the plates and scored the highest of the students, but was still beat soundly by the instructors.
After lunch we picked up our rifles and re-shot the 400 Aggregate rifle test. Unlike day one the instructors urged us to use our kit and shoot it like we would at work. I once again dug out my plate carrier and helmet and shot a decent score. One thing I quickly picked up on while wearing my plate carrier and helmet, was when I got down into the prone, it actually helped me settle down into a steady position. Normally I hate wearing my kit to shoot for anything but a qualification. For some reason the bottom of the plate always digs into the bottom of my rib cage and leaves a soar spot the next day. Now I found the red dot on my rifle no longer jumping around but still. After I found my natural point of aim, where I figure out where my body and the rifle wanted to point, I was locked in. After that the sitting and kneeling positions where not that bad and I felt way more confident than on day 1.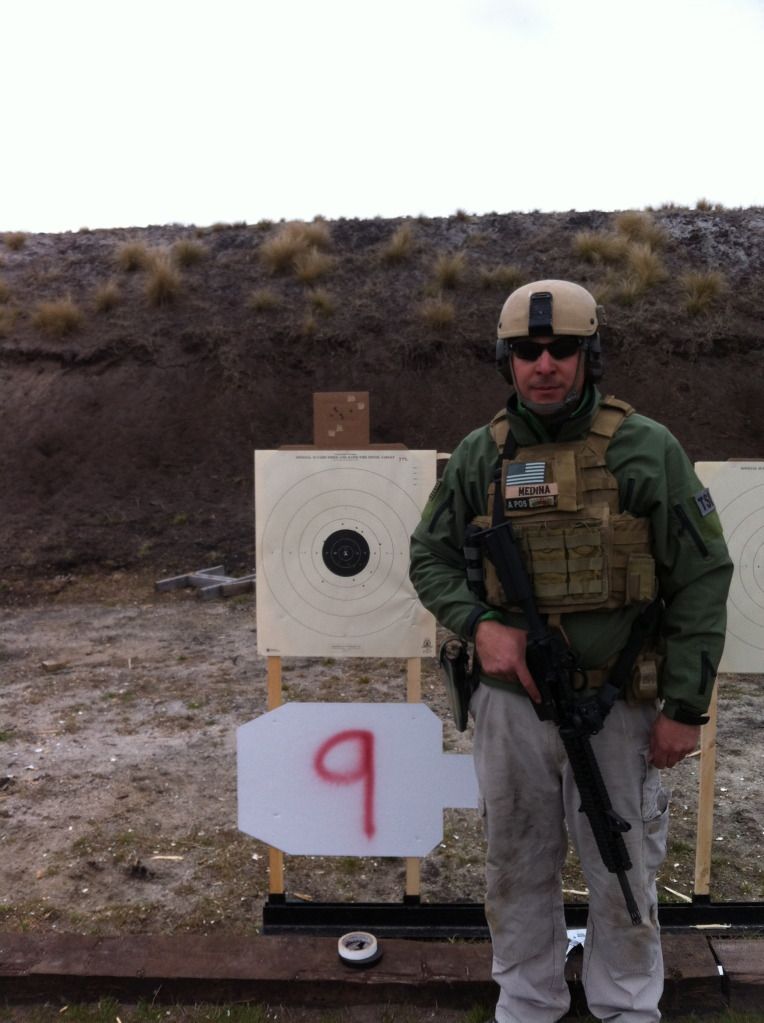 (Rocking my Plate Carrier)
As Dave tallied up the scores the stress was relieved. The fun part of the day came as the barricades and steal targets came out and Dave demonstrated the 'alternate' shooting positions. Having seen most of them before I was not expecting anything new. But something was different this time, before I had listened to lectures about 'off set aiming', or different aiming points when looking at the sights in different directions. This time Dave said, just aim and shoot. Strangely enough, using all the training we had done all week, I did not have to offset my aim, I just focused on my sight picture and trigger control and got my hits. We ran a couple of drills and the day was over way to fast.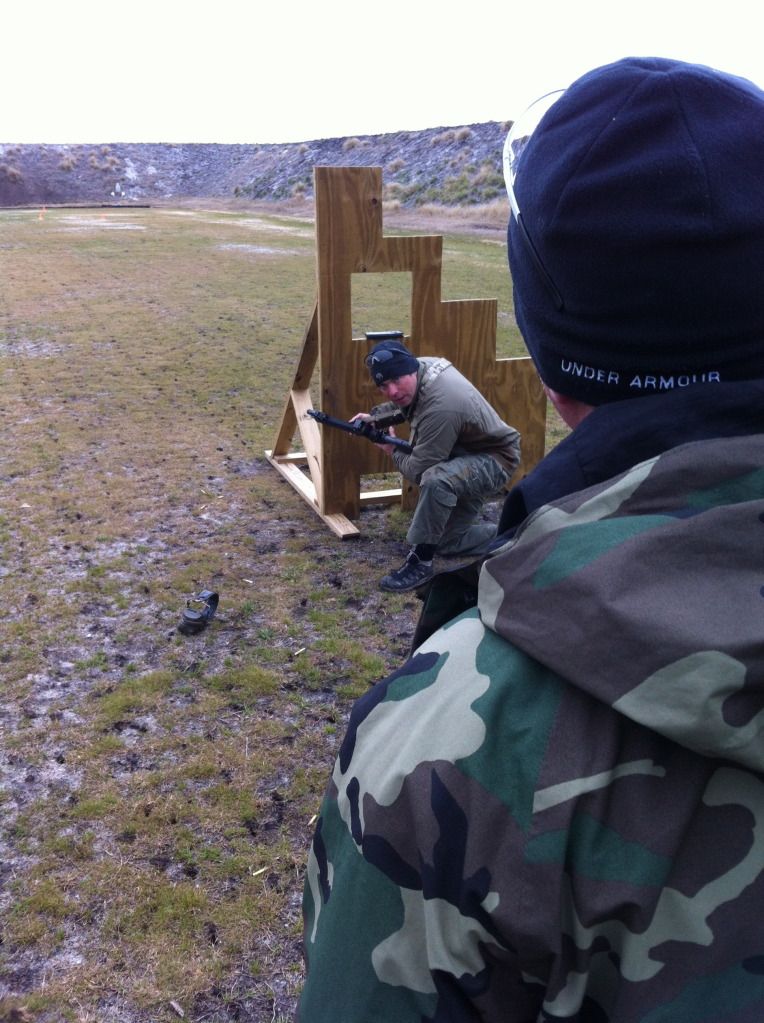 (Dave getting down)
After watching some of the top competitive shooters like Rob Leathmen and Daniel Horner I have always noticed one thing. They were not only fast, but they got their hits. Rob Leatham is not the 'great one' because he is the fastest; he gets the points/less time deducted when he shoots. After 5 days of focusing on the fundamentals, and not just working on magazine changing drills, I was starting to get my hits. Something Brian and Dave really impressed on me was focusing on the fundamentals, not just drills. It made sense this past weekend as I went to a couple of matches. I focused on my fundamentals, sight picture and trigger control, and felt way more confident.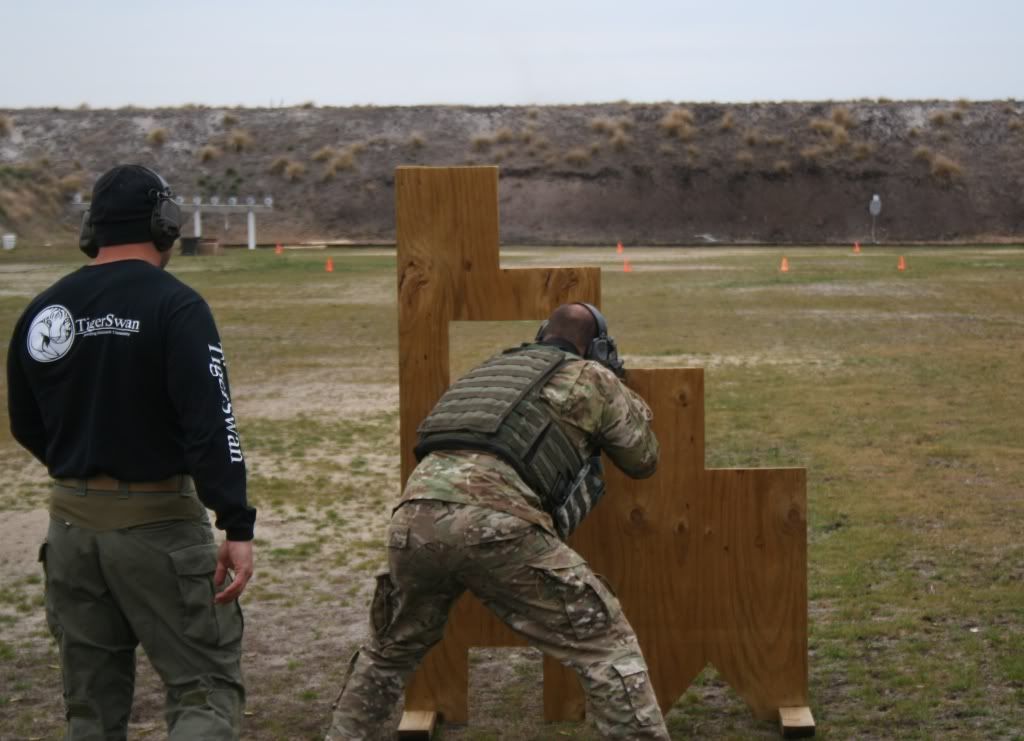 (AF leading the way)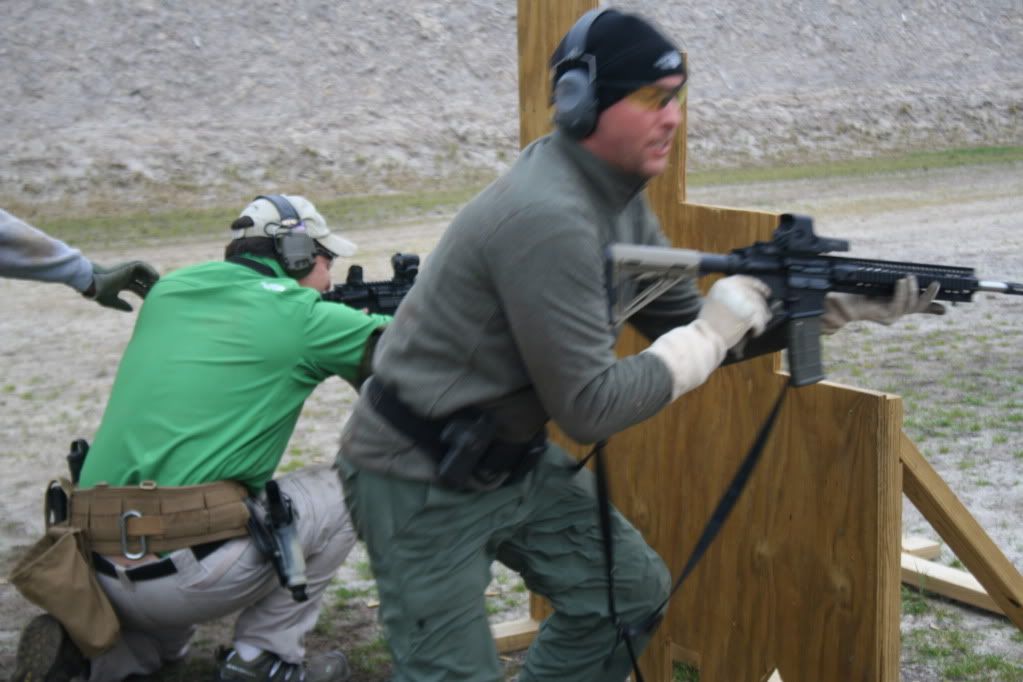 (me getting tapped out)