One group from my BM Varminter. Only one group to check the zero, not a handpicked best group out of a bunch of groups. This gun has been notorious for having an off cold bore shot.
Cartridge:
55 gr Vmax
26.2 gr Varget
once fired Winchester brass
Conditions:
200 yards
~15 mph @ 2:00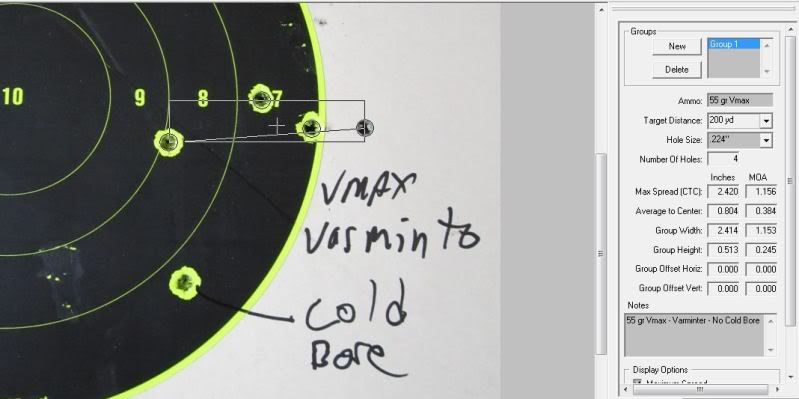 ...
Originally Posted By Rob01:
Doesn't anyone else shoot past 100 yards?
I shot this today.
4 shots
Remington 5r/.308
200yds with my handloads/175gr MatchKing
Bipod and rear bags off a concrete bench.
Best group from my load development on saturday for the hornady 75gr HP. The critter was taken with a 85gr NBT
It does well
I built this rifle with parts I had and I bought a WOA 18" SPR. This is the best I've gotten so far...
Pictures of rifle up
These are the groups I shot while testing loads.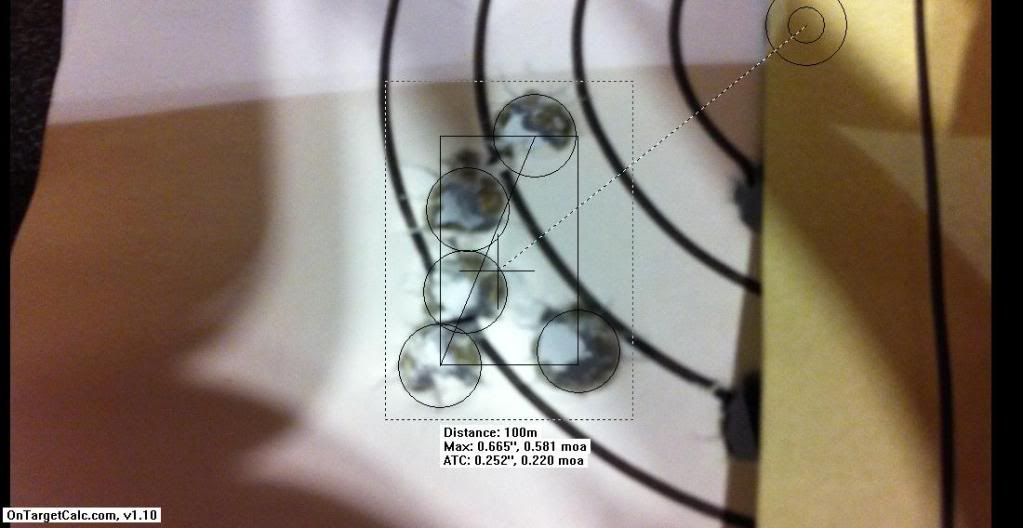 Edit to add pics of rifle.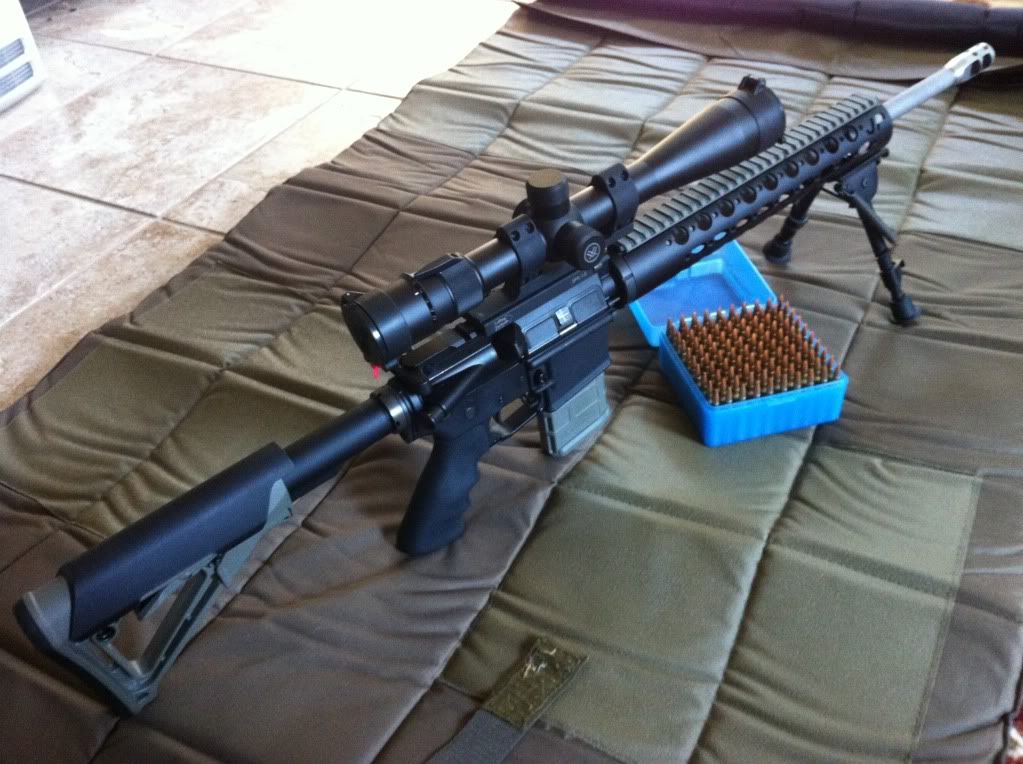 0.5 MOA group at a 1000yds, McMillan TAC 308, 24" barrel, 3.5-15x50 Nightforce NSX, 175gr Black Hills Match off concrete bench on bipod with rear bag.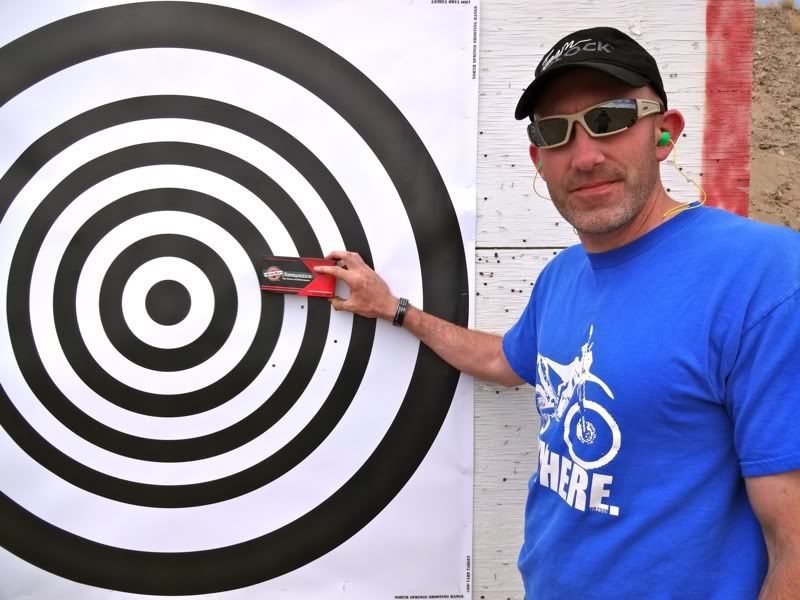 My boy norm deliverd a 0.55 MOA 4 shot group at 1000yds, same setup as above
Sub 0.5 MOA 3 shot group followed by a sub 0.5 MOA 2 shot group after adjusting for windage and elevation (should have been a little more aggressive with the adjustments. The wind was all over the place though). This with 178gr Hornady Match. This ammo performed very well in this rifle.
Norm made a few more windage and elevation adjustments and delivered this impressive sub 0.5 MOA group at 1000yds with the Hornady Match.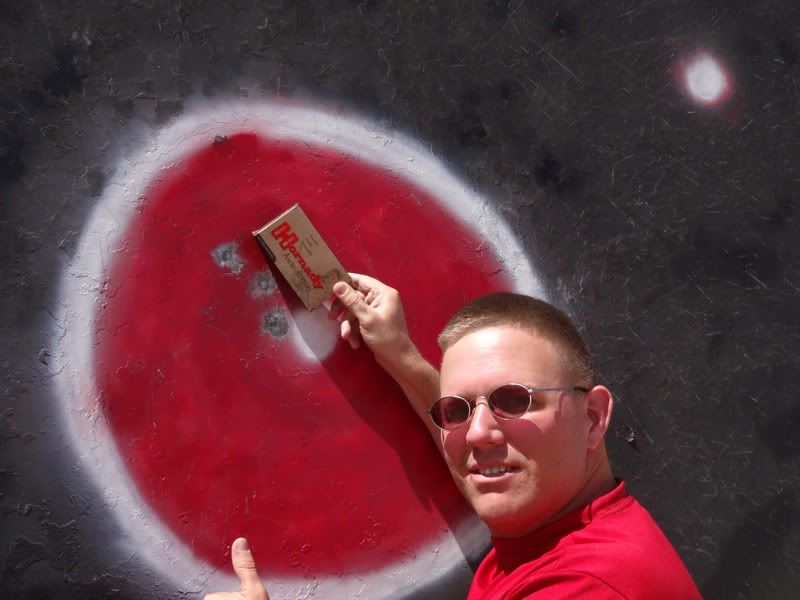 Here's the rifle (the brown one)
OBR Heavy with NF 3-15 NPR1
168gr Fed GMM
100yds
~.5MOA five shots. Off the bench with a bag rest. The Best group so far with the OBR Heavy. Shot today: 06/25/12.
Target calc update: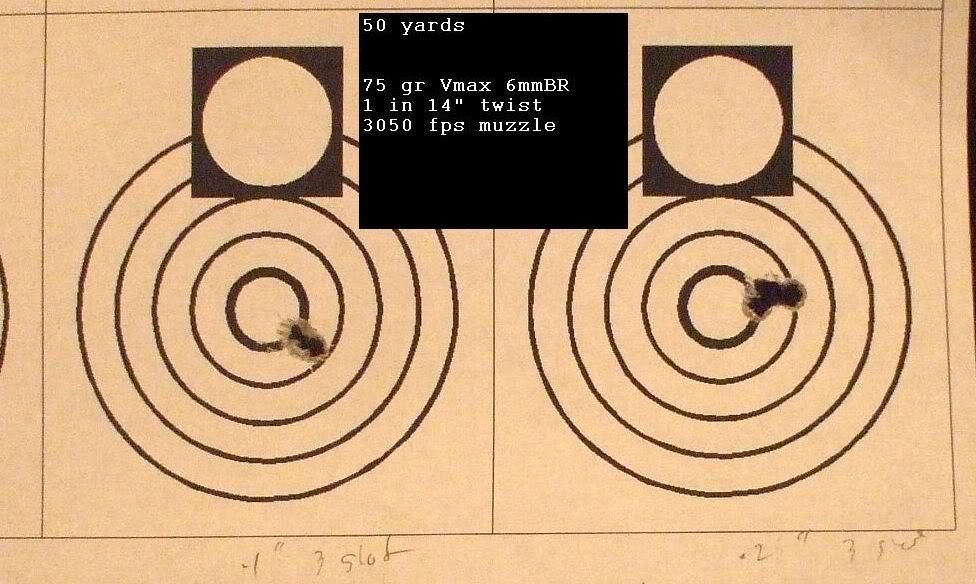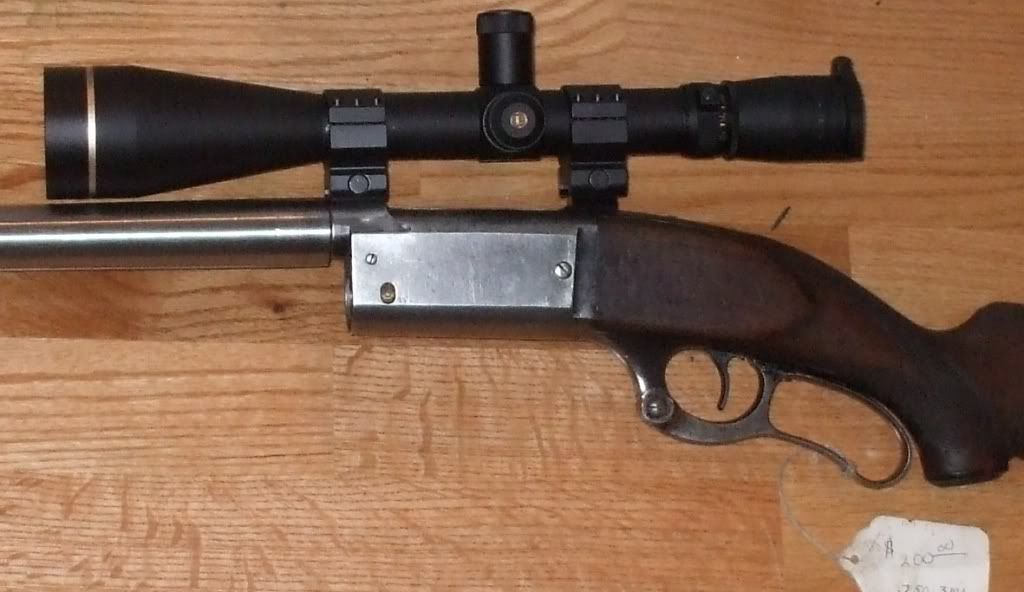 Sav 99 made in 1917, take down model, rebarreled to 6mmBR
I tested the Colt LE901 at 1000 and 1200 today
I know it doesnt look great, but its a 16 inch chrome lined barrel meant to be more of a battle rifle. in that case i think it more then held up its end.
I used a handload with 175 gr berger VLDs that is a little hot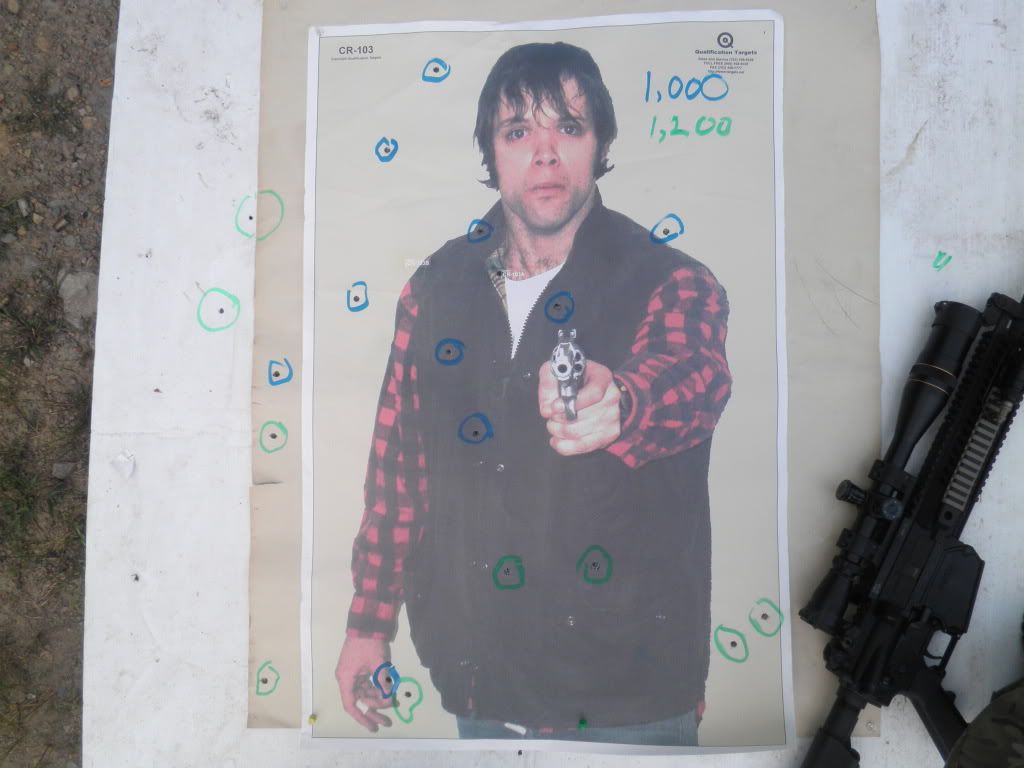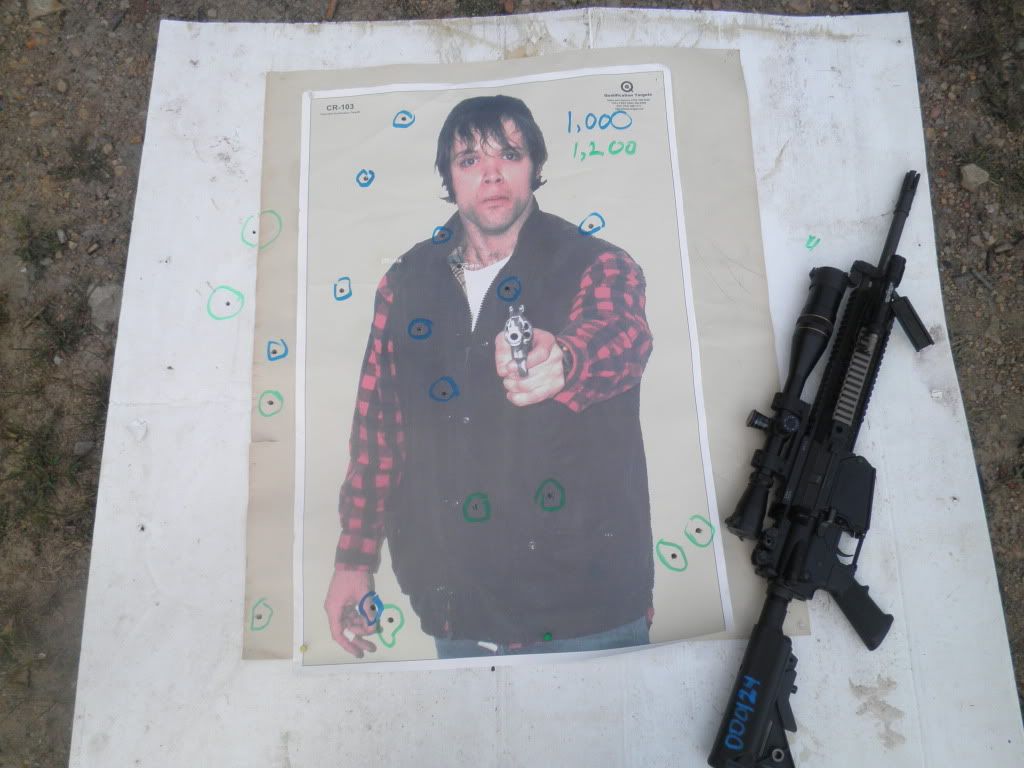 I think you have him outranged.
Good shooting.
Is that one of those fancy shotguns that looks like an AR?
Looks like alot of fun man, GJ I would have been lucky to land my shots
Nice shooting, that is the biggest peice of steel i have ever seen... What range is that from?
Phoenix Custom Rifles .308 w/ Millett TRS 4-16x50.
Federal Gold Medal Match 168gr.
Prone using bipod
300yds. 95 degrees farenheit
5 round group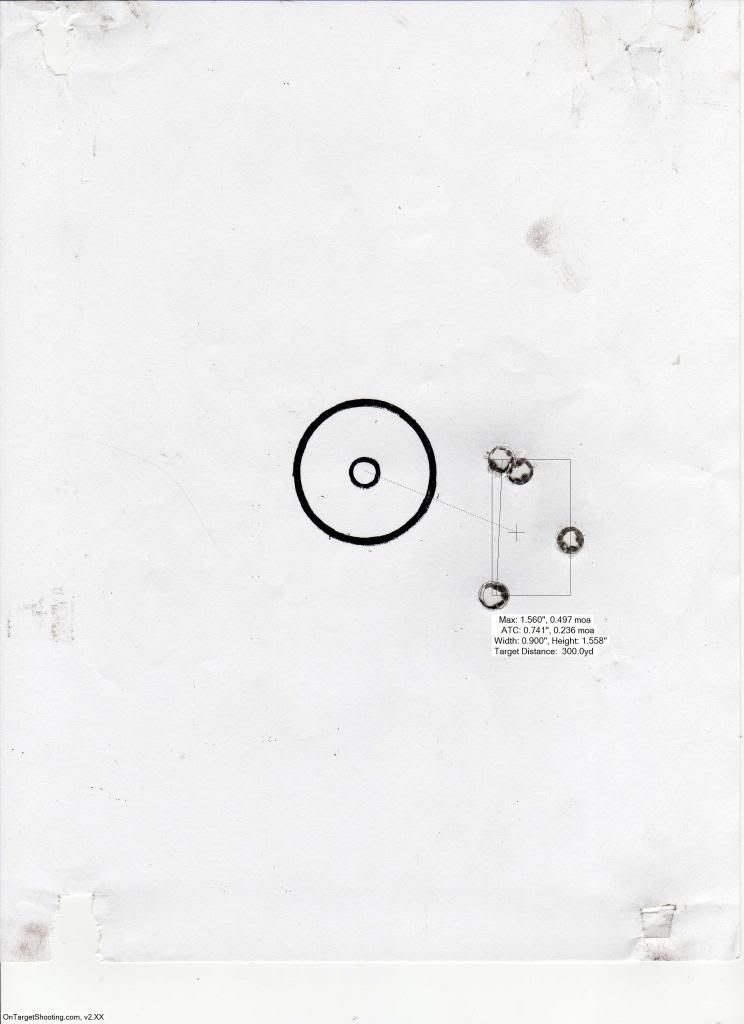 Here is the rifle:
I'm very much a beginner at this - outside of trying a shot or two with a friend's rifle,, I've never tried for precision. Plenty of pistol & a fair bit of carbine shooting, but most of that up close. The rifle has 40 rounds on it, essentially my entire experience shooting a scoped bolt gun. Remington 700 VSF .308, 26" barrel. Nikon 4-16x50 Monarch X mildot on Seekins base & rings. Prone with bipod & rear beanbag. Ammo was Federal Gold Medal Match 168 grain.
The maximum effective range of an excuse is zero, but I would like to point out that I had been awake for over 30 hours and just finished working an overnight shift. It was 96 degrees, dry, and I neglected nutrition & hydration
. This group was at the end of the day, re-zeroing the rifle after a trigger adjustment earlier in the week. Under those conditions, I'm very happy with shooting sub-MOA (0.8MOA) as a total beginner. The top flier was 2nd shot of the group.
Today 3 round grouping from 100 yards,
Ammo - SMK 168gr
SPS Tact AAC-SD 1/10" twist
Still breaking in my Remington 700P LTR 20" (.308 Heavy contour, fluted, 1:12 twist)
Ammo: Federal Gold Medal Match (White Box) 168gr
Target: 3" circle on grid @ 100yards
Shot this yesterday (7/15/2012 - 1125hours) - Sitting/supported/strong side
10 shot group
TulAmmo 150gr FMJ .308 from Wal-Mart at 200 yards from Savage 10FP.
Looks like 1.25 MOAish. Pretty damn good for $9 a box.
I'll be playing with this stuff until I start handloading .308, as of right now I'm grouping brass into a few batches. Looking at using 155gr Nosler CCs over Varget.
Was testing out some new factory ammunition this week.
Specs:
CZ-527 Varmint Kevlar .223 1:9
Vortex Viper 6.5-20x44 Rifle Scope
Shooters Ridge 9-12 Bipod
Shooting into a 1 O'clock 27 mph wind
300 yards off bipod / rear bag.
400 yards off bipod without bag, using holdovers.
The range...
Hoping to get this one out soon to test for 500-600 yards.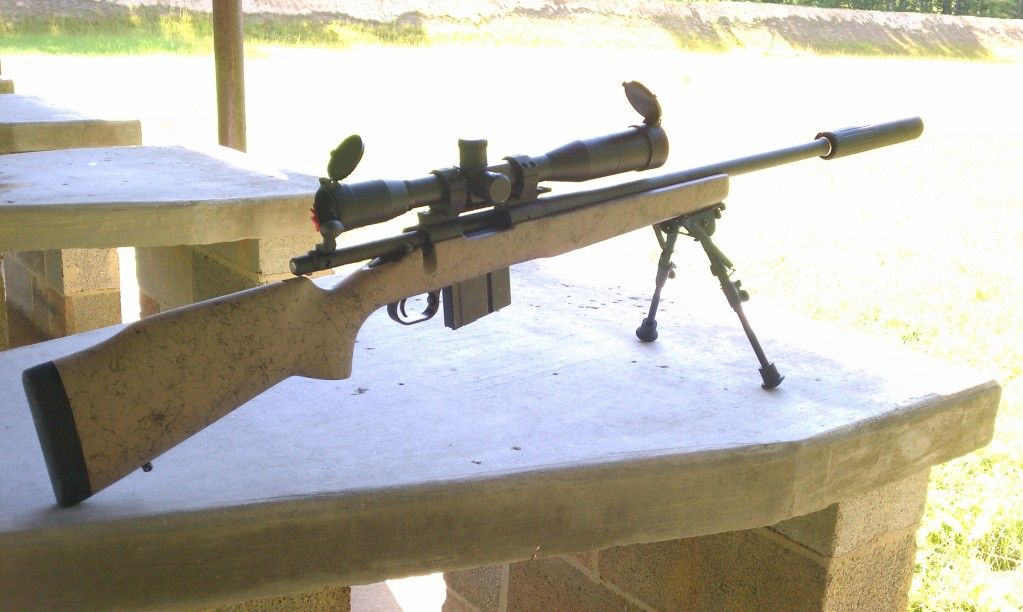 Remington 700 AAC-SD
1:10 Twist 308
Wyatts BDM and mag
Seekins rings with IOR Valdada fixed 16X
B&C M40 tan
Harris bipod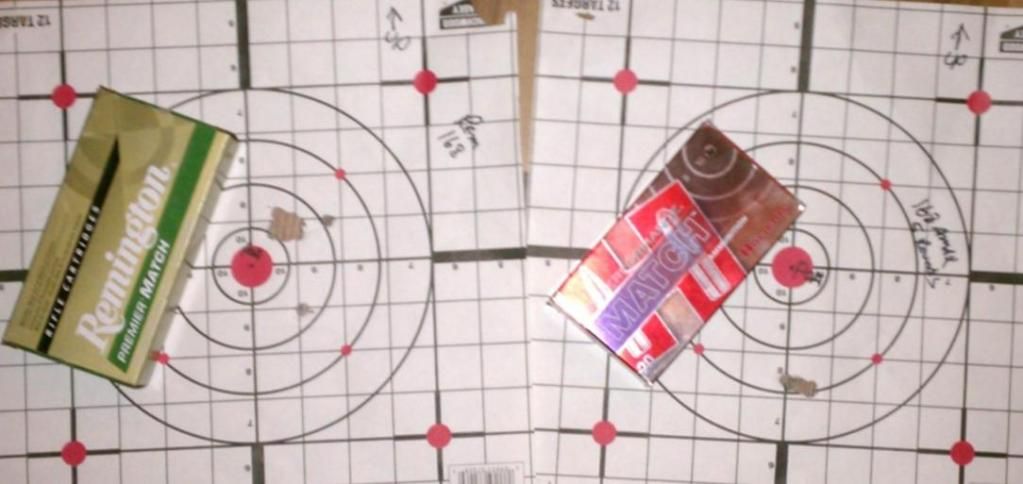 Finally got to test some decent ammo thru my Rem 700 SPS at 100yds. I had a box of Remington 168gr and Hornady Amax 168gr. Shot same point of aim (center of center dot) on both targets.
Remington 1st- I shot 5 rounds, then 5 rounds suppressed, then 5 rounds. I had 2 flyers out of the last 5 (my fault). Adding the suppressor did not alter my impact at all from what I can tell. See picture below....maybe a 1" group.
Hornady Amax next - same point of aim just moved over to the next target. Same conditions (wind, etc). Shot a groub of 5. Group drops by about 3".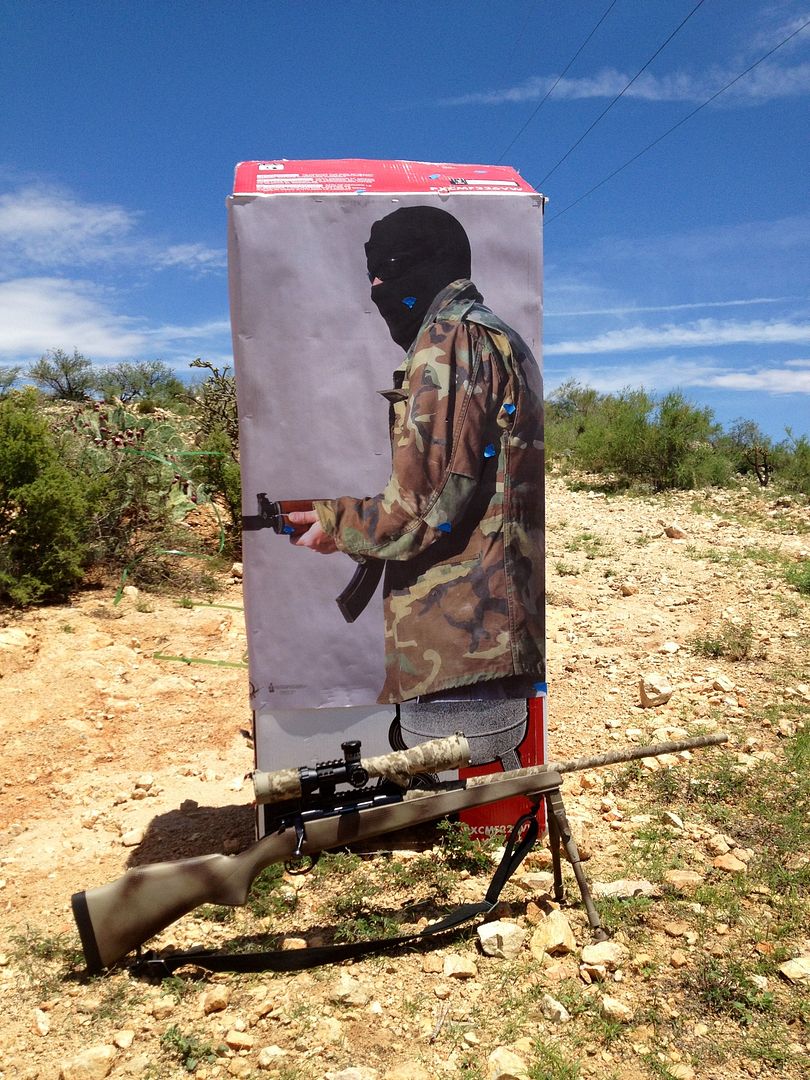 Vanguard 7mm RM
168 VLD hand loads
eGW 20moa base
Millet rings
SS 16x40 mildot
UTG bipod
KAC Bullet Flight on iPhone
Shots at 1025 yards
500 yards. Full value winds at +/- 20mph. .308 win, 175 gr SMK w/ 42 grains of Varget. Rifle is a Rem 700p, Leupold ER/T M5.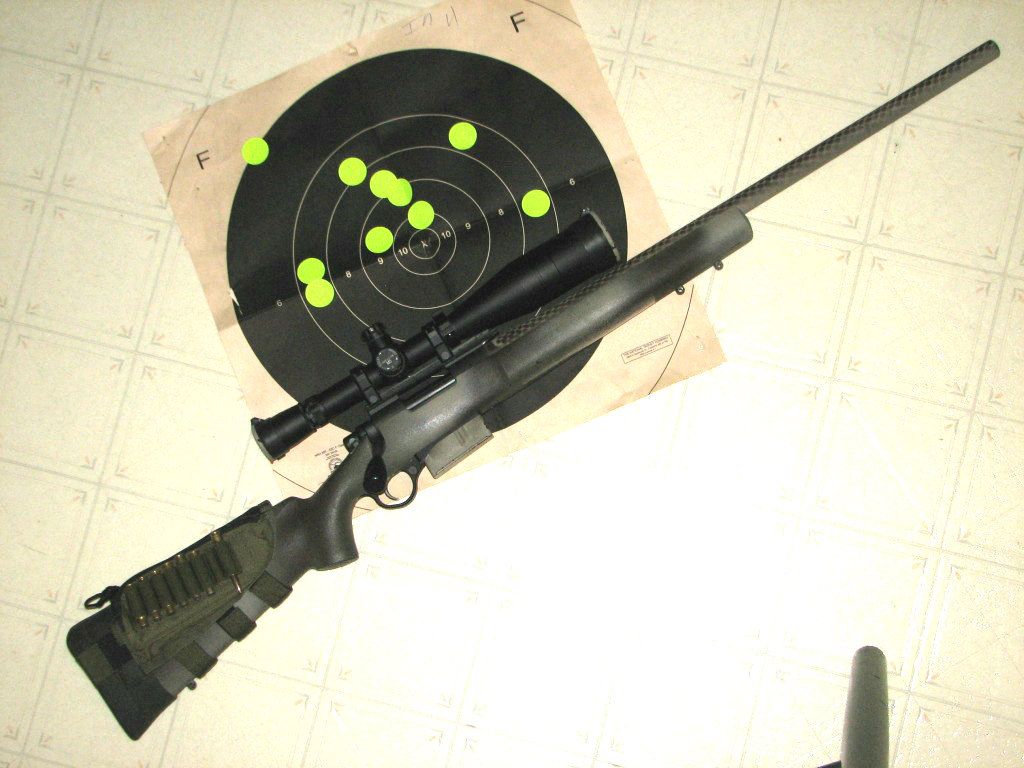 300yds. 155gn Nosler Custom Comp over Varget.
Right at 1.6"
100 yds/ 5 Shot Group
.308
175 gr SMKs
44.2 gr of Varget
**Target is sideways so top is on your left**
6.5 Creedmoor
140 gr AMAX
41.5 of H4350
**Initial load test. I'm sure I'll get this under .500 MOA**
Pics of the rifles
Rem SPS Tac on a McRee Chassis
Stiller action w/Rock Creek Barrel on a Manners T4A w/mini chassis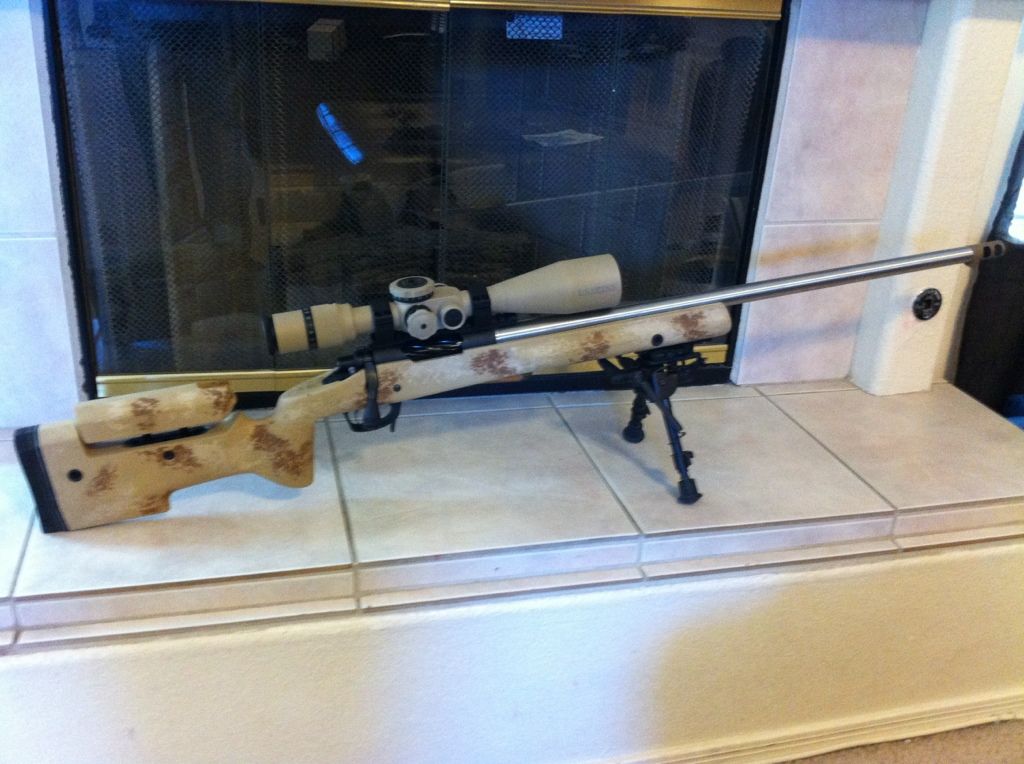 Here it is. I posted awhile back about getting this rifle. It is the Remington 700 SPS Tactical Heavy Barrel but it is the one that is not listed in the Remington catalog, it has the fluted barrel aspect which I like. Can't wait to get rid of the soft molded rubber Hogue stock and get something solid and free floating. But not bad for stock out of the box!!
150 Yards
68 Degrees
One inch squares on target
Hornady Match TAP Barrier 168 grain Ballistic Tips (my gun really likes these)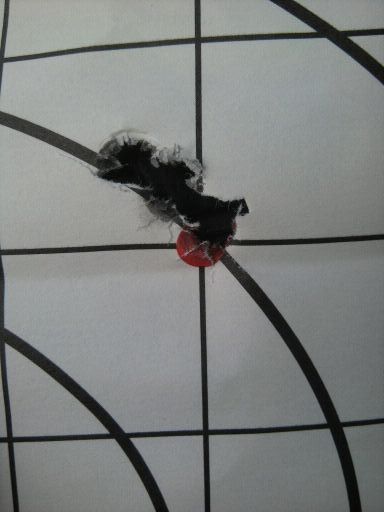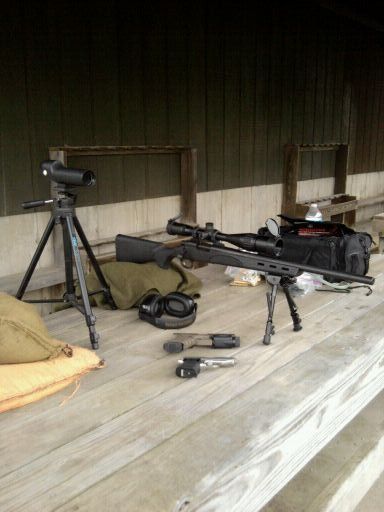 For post 308 I am posting groups shot by... a 223
Average for all is ~.90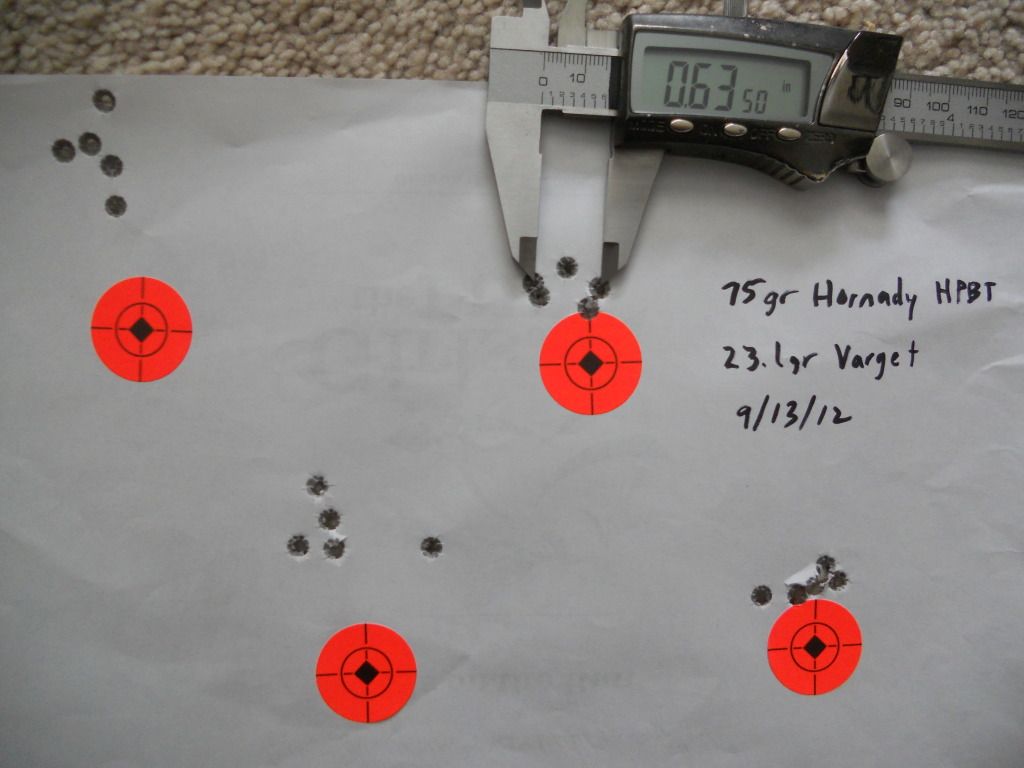 Rifle: