Here's one from the Tactical Long range match I shot today. I had a great group at
900 yards
. But it only goes to show a great group means nothing if it isn't in the right place. Not only did I not win the match, I didn't even finish in the money. I did get an honorable mention for not just having the best group, but doing it with a 103 year old rifle. I was just happy that almost all my shots were on the black.
For 3 shots everything came together. My hold, the ammo, the wind. My next best group was slightly bigger, and was only at 600 yards. But FWIW, this is the second time I've shot a group like this at this kind of distance.
Shot from the prone position using a sandbag under the front of the rifle. Load is 6.5x55 Mauser, 142 SMK at 2615 fps.
The Rifle: 1902 Carl Gustaf M41b Swedish Mauser Sniper Rifle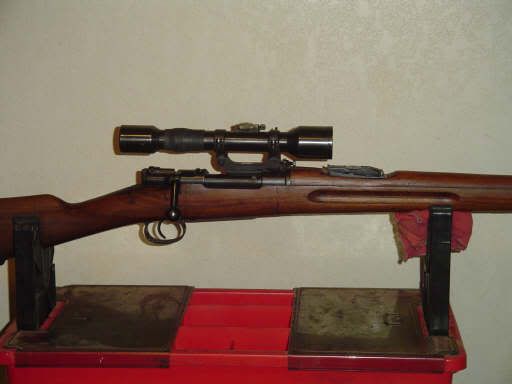 The view through the
4X
scope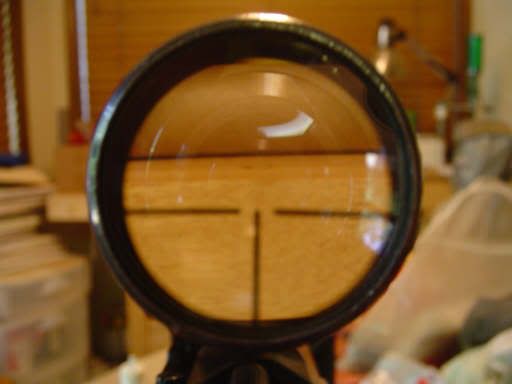 The Target: B27 Silhouette. Major dimension of the black - 30"x21"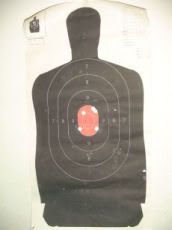 The Group: Pasters marked 900-1 900-2 900-3. The covered paster was an earlier shot, the uncovered hole is one of my last 3 shots at 1000 yards.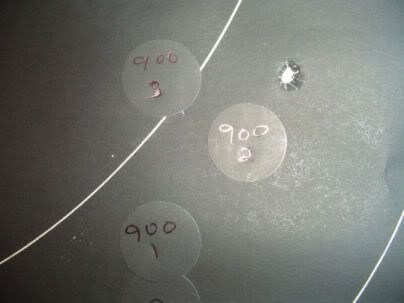 The Group size: As measured on the back of the target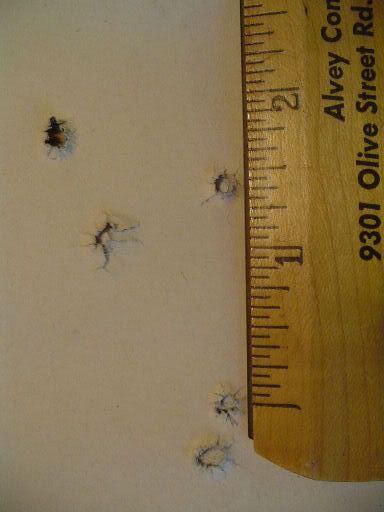 beautiful CG!
Nice shooting HighCAp!!!
Celt
600 yard group with PSS
Here is my best at 100 so far. I don't have too much of a chance to shoot any further.
Win Mod 70 Laredo 300WM
190 gr SMK over 72 gr RL-22 in virgin win brass with win mag rifle primers.
This can shoot 1/2 MOA or better, 5-shot groups, all day @ 100 yards.

http://www.hunt101.com/img/253856.jpg
WOW
I plugged a three-shot 1.5" today at 480yards under close to the same conditions. If I did that in a five shot I would shit myself. (LTR with 168FGMM) There is a world of difference in three vs five shot groupings.
Again, Nice shooting!
3 shots 100yds. HS Precision HTR .308
5 shots 100 yds. HS Precisidn HTR .308
Trying Again
5 more shot 100 yds.
Thanks Celt, thanks Boom.

Pthfndr, I love your rifle!
200 yd 5 shot group, Si Sauer 3000 SSG. Yeah I missed the Red Dot!
High Speed, what rifle is that?
---
Originally Posted By JRussell:
High Speed, what rifle is that?
---
AI Stock Stage 1.5
Rem 700 PSS Action chambered in 308
ER Shaw Barrel, Fluted Stainless Steel
ER Shaw also accurized and installed the action/barrel
Badger Bolt Knob
Badger Picattiny base and 50 Cal rings
Loopy 6.5-20 x 50 M1 30mm
10 Round Magazine
I must emphasize that this is with a TAO1. Meaning, 4X with black crosshairs on a black target at 100 meters shooting prone from a bipod.
Rem 700 PSS
Leupold VX II 6-18x40
168 gr HPBT Federal Gold Medal - I don't handload.
FIred at 175 yds , rifle zeroed for 200. Off a bipod.
Benchresting is for weenies.
3 shot group from my 700 5R(.308) @ 100yds.
-one cold shot in black, 3 consecutive shots down and right.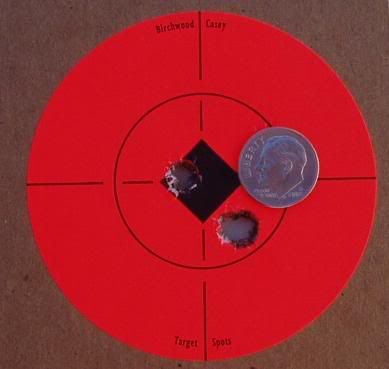 77gr. SMK Black Hills reload
SPRish with 18 inch Wilson ss 1-8
AWC Suppressor
Leupold MR/T
319 yards(big mud hole at the 300 yard line)
two 3 shot groups
Shot this group off the bipod yesterday after mounting the scope. Took 5 to sight it in, these are the last three shots with a hot barrel (and can).
This rifle is one of the 1000 or so Remington put out from their custom shop. They lap the actions, square them up and throw the 40X trigger on them. I could swear that the barrel was lapped as well, but it does'nt seem to be the case. Pretty good product straight from the Remington factory.
The can is an SRT Shadow
sweet looking rig there!


Going out to the range in 5 minutes. I am working up a load for my 700 pss.

I will post some pictures when I get back. Hope I found a good load. First time shooting this new gun.


MT Hunter
Nothing spectacular, but this was my first time out with this rifle (it's used, but new to me). For what it is, I'm quite impressed.
Rifle:
Remington 700 PSS (old school 24" barrel)
TPS TSR Low allow steel rings (.925")
TPS XP 20MOA base
Leupold Mk4 4.5-14x40 PR
Ammo:
Nosler J4 168g BTHP
43.0g Accurate Arms 2520 (thanks go to I_B for the ammo and the load info)
RP brass
Remington 9 1/2 primers
Probably pushing close to 2700fps out of my 24" tube
5 Shot group at 100 yards.
I'm pretty new to the precision rifle thing, but I'm thinking I'll be in it for quite a while.
just back from the range.
this is my best group of the day but trying to tweek it a bit more.
700 PSS in 300 Win Mag
RL 22
180 GR Sierra Game King
4 shots at 100 yards