This is from my second trip to the range with my new Tikka. Both groups are 3 rounds @ 100 yards just to ensure I zeroed my scope correctly from my range trip. Just for reference the grid is 1" squares and the black bullseye is 0.5".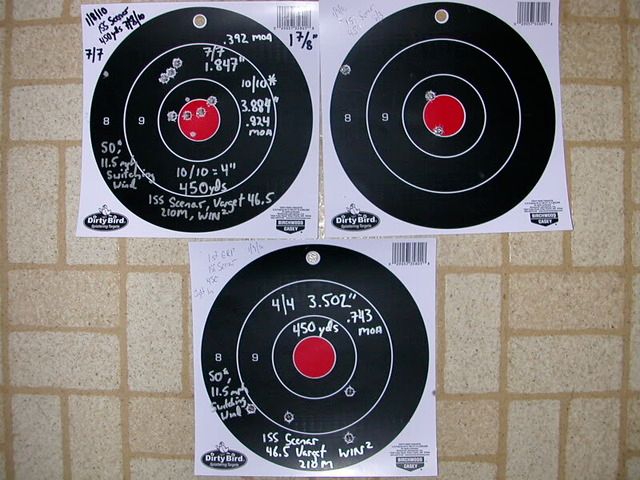 It was cold and one of the last groups of a 2 day stay at the 1k range SE of Tampa. A guy was shooting a folding stocked M-700 with a Shillen barrel and AAC can and asked me to spot for him midway through the 10 shots, hence the 7+3...I forgot to change targets after 5 and shot 7 (a good thing as Martha would say!) at the first target, so in fairness, I did pencil those 3 onto the target.
Savage LE2b, 26" 1:10" off a bench with front rest and rear sandbag.
Chris
AMAC .50BMG at 200 Meters. I'll still working on the load. Pretty sure I can tighten it up more.
These are all with my Remington SPS Varmint 26" heavy barrel, EGW 20 MOA mount, Simmons Pro Hunter 6-21x44 scope, Burris XTR low rings.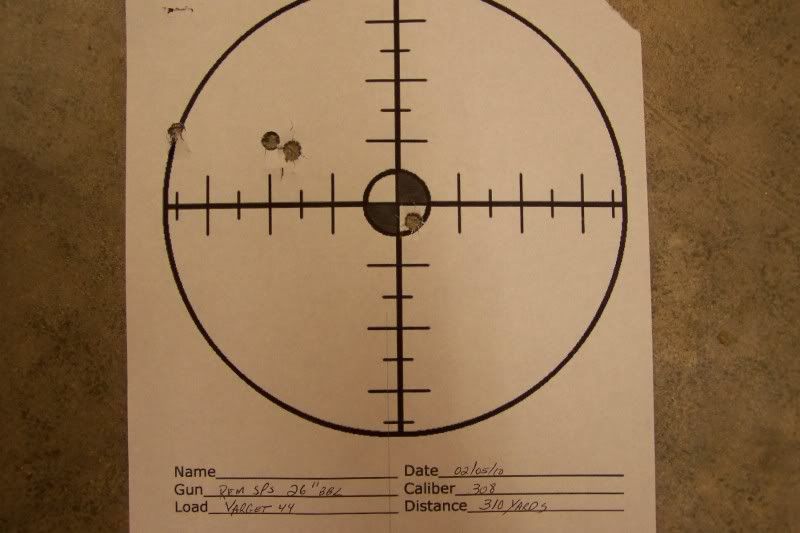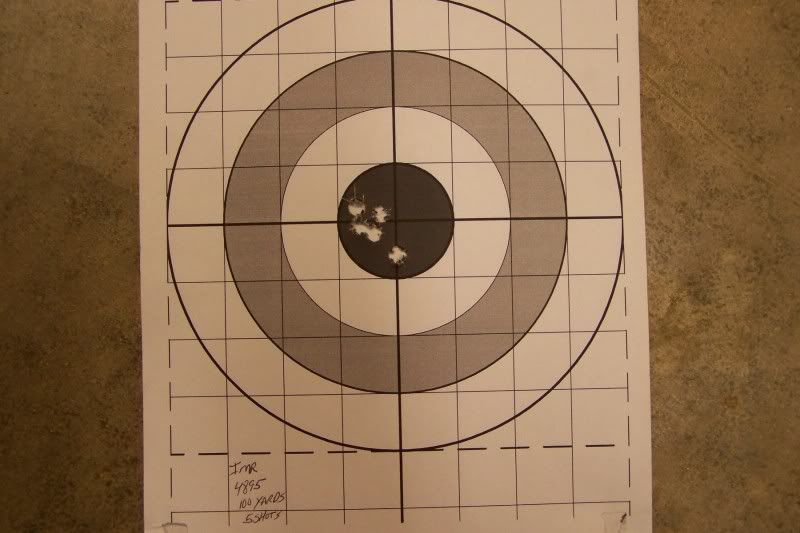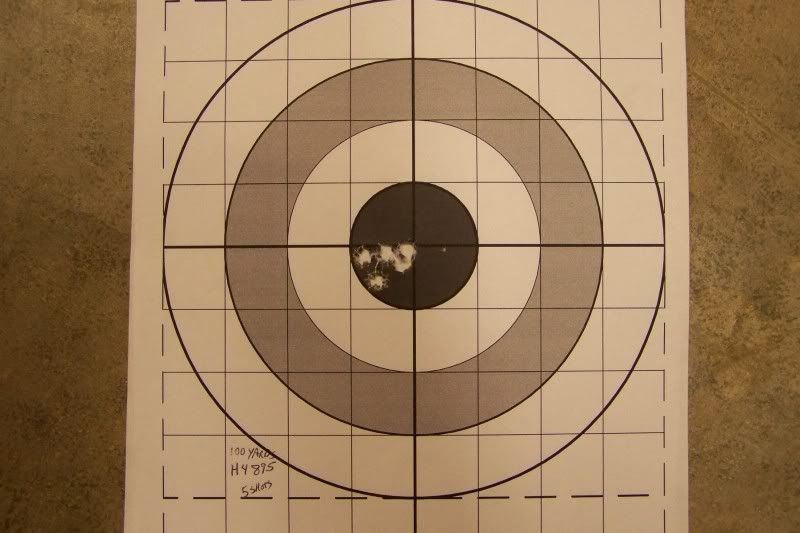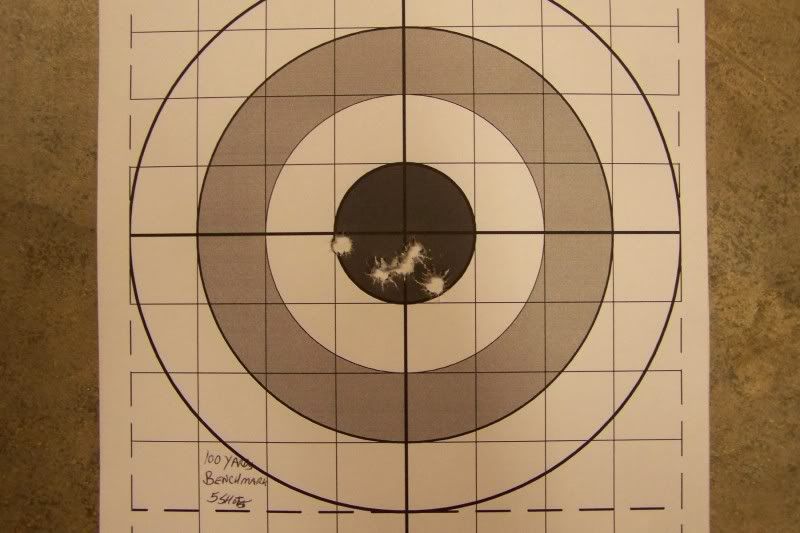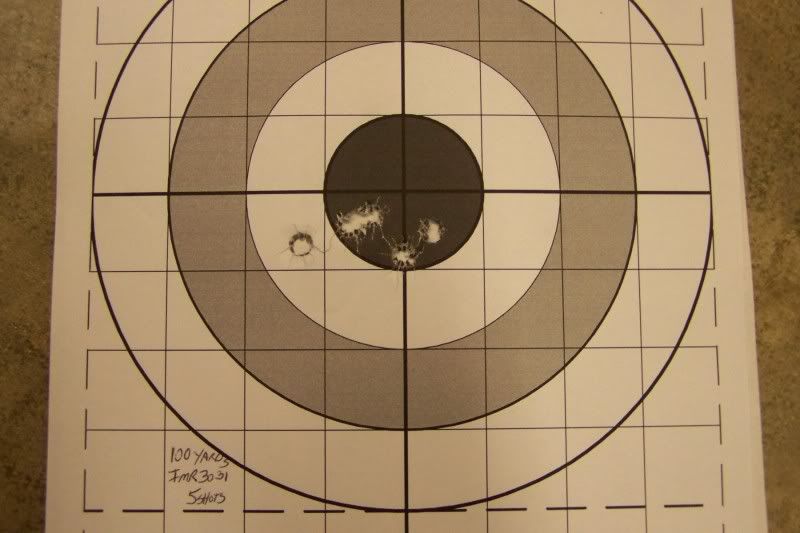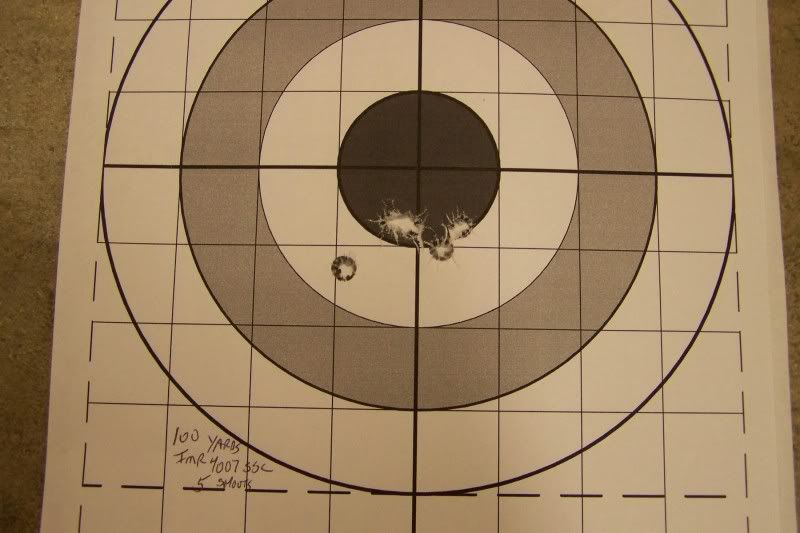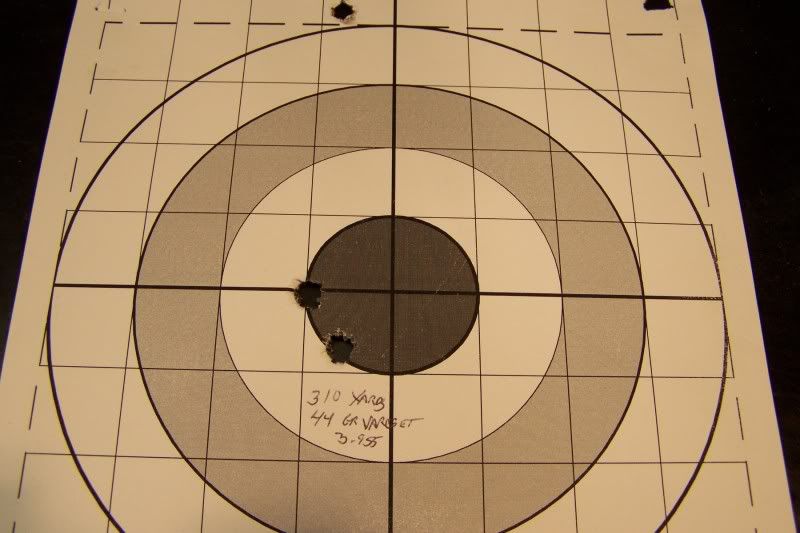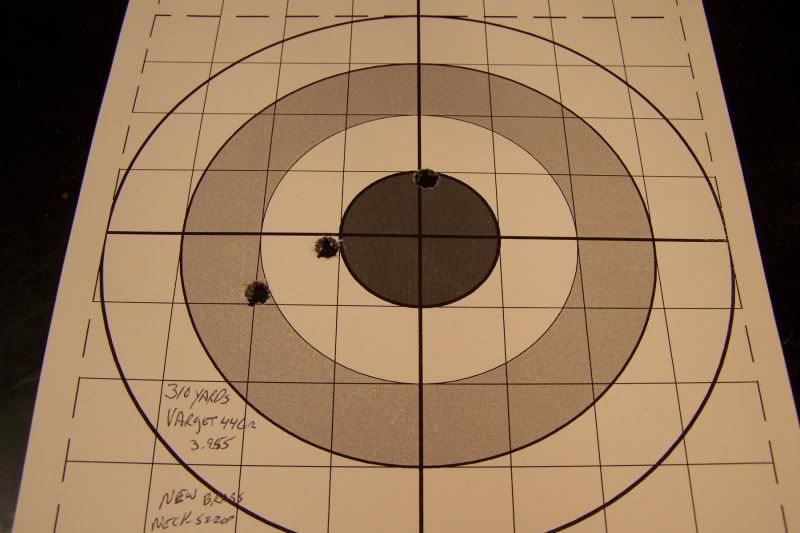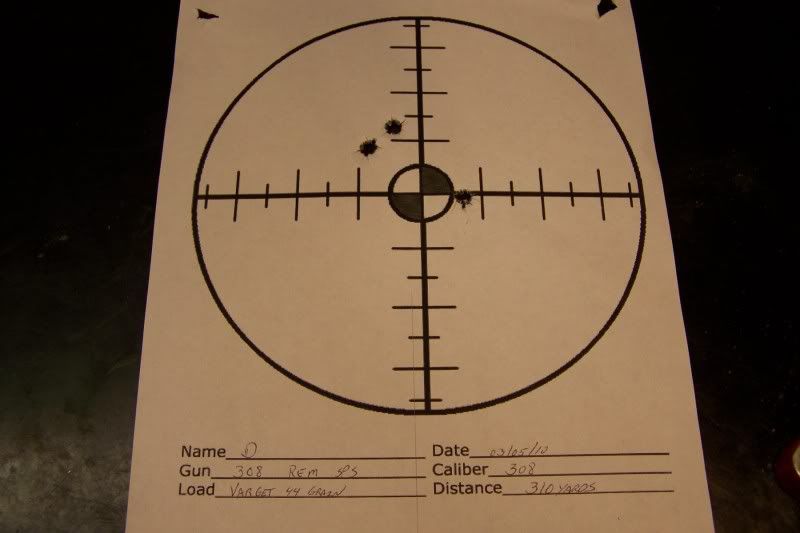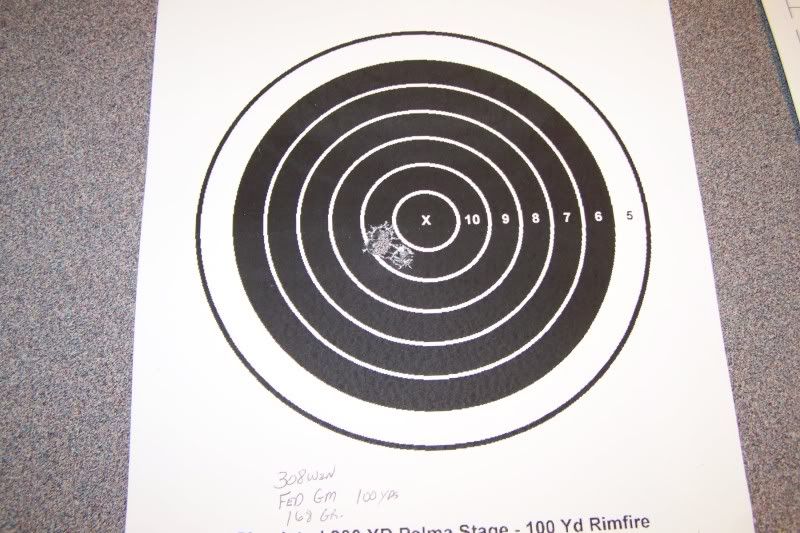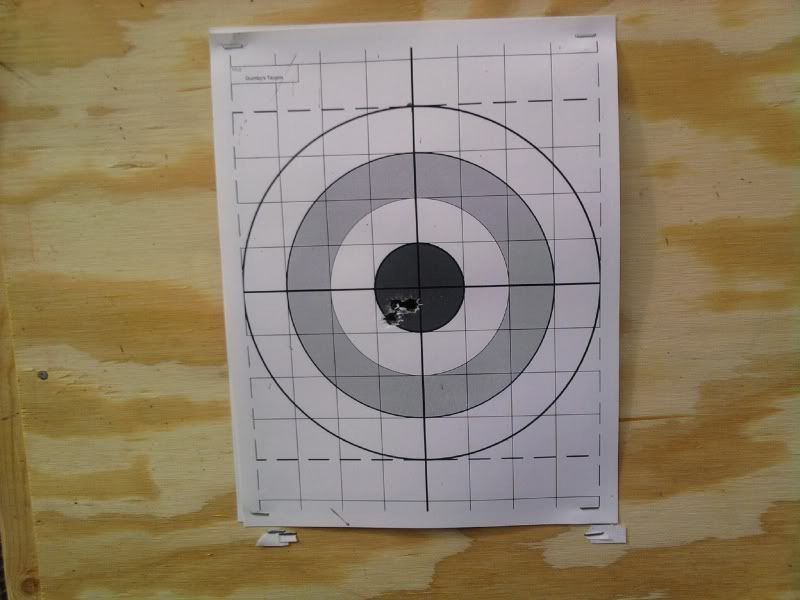 .........
Shot this 5 round group with my rifle today:
Target was shot at 100 yards. Green ring in the middle is 1" diameter, weather was cool and windy (45mph gusts mostly head wind).
Equipment was:
Federal Bulk 55gr Ammo (100 pack from Walmart) and the bolt action rifle in this pic:
20 rounds in a little under 5 minutes.
Larue OBR 18" with Mk4 3.5-10 @ 100 yds using Hornady TAP 168gr. 9 Shot group ––- 3x 3 shot groups
Thanks! it shot just under an inch Center to Center with Fed 150gr American Eagle and craptech (MagTech) in a 5 shot group about 3 out of every 5 groups. That alone makes me love the rifle considering I can accurately put ball ammo down range so accurately. For some reason my 700P HATED 150gr American Eagle. Magtech shot horribly at 2 inches in the 700
First 10 rounds of match ammo that I reloaded
68gr Hornady MHP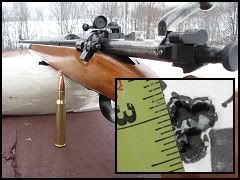 100 yards, .375moa
Remington 03, 30-06
Lyman peep sight
Hornady 168gr A-Max
IMR 4064 48.2gr
CCI 200
Win case
Shot these yesterday working up loads..
100 yards, 10 shot groups,
New Savage model 12 Varmint in .223, Leupold VX3 6.5-20
TAC powder, Sierra 53gr Matchkings, Wolf SRM primers
I think this rifle is gonna be a keeper!
First time shooting past 300m Army qualification.
The target was 500m. I was shooting my buddy's Marlin XL7 with a Nikon Prostaff 3-9. Not exactly a precision rifle, but I'm satisfied.
i just shot these today. using a Rem SPS tactical in .223. Nikon Buckmasters 4.5x14 mil-dot, EGW base, Burris Extreme low rings. fired sitting on a bench using a bipod and rear bag.
5 shot groups.
this one i know i fired 5 rounds but i only count 4 holes? is it possible i put 2 in exactly the same place?
DPMS .260 REPR ,24" sst Kreiger bull bbl
build this rifle myself while i worked for DPMS. was the first time i made a serious effort to get a match quality weapon.
140gr Berger match VLD, 42.8gr IMR4350, remington brass
haven't shot it since November last year, took a little bit to get back into shooting form. so my last group was the best, but only had 3 rounds left instead of my normal 5 shot groups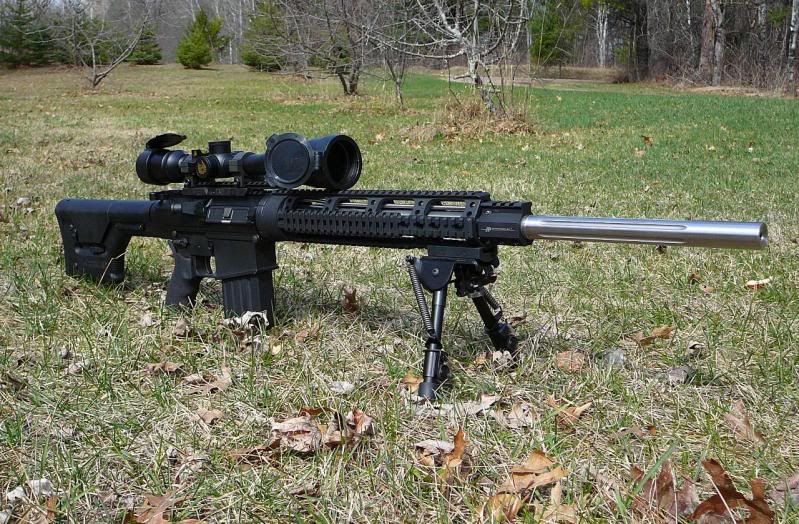 100 yard 5 shot group(i droped one)
100 yard 3 shot group, last of the ammo on hand
was working all day clearing trees for my new driveway, rifle was along incase i had time so i didnt bring the calipers. but it shoots well.
First day out with my new Savage 10FP. Nikon Buckamster 4-14x scope on Burris Rings with EGW 20MOA base.
Sighted in with Remington UMC 150gr FMJs and then moved to one of my .308 loads.
Group 1:
Group 2:
WOA 18 inch SPR - rifle length gas system. Built by ADCO.
75gr Privi Match - 5 shots
75gr Privi Match - 10 shots, semi rapid fire
77gr Federal Match - 3 shots
Here's what I did with dad's Remington 700 PSS that we just sighted in today.
Black Hills 168gr. Red Box
100 yards
3 rounds
Here is the group from my 700 PSS in AICS with Falcon Optics glass. This was only my third time ever shooting this rifle. My second time ever shooting a group at 100 yards. I think this rifle has more to it, but I am not capable of shooting that well yet. The ammo was Federal 168grn Gold Medal Match ammo from off the shelf.
Yes it should be able to group better than that I'd think- see my target just before yours
I love the stock! How much would one of those set me back?
yeah that top left flyer killed the grouping. My fault though. The stock is an Accuracy International Chasis System and includes a detachable magazine and cheak piece. Cost is roughly $850. Worth it in my opinion!
First time out with the SPR I built.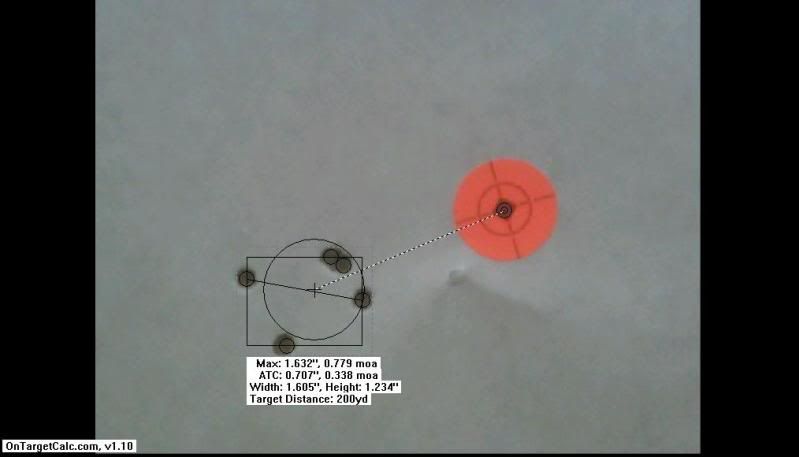 At 1025 Yards with my Savage PC10 and 175 Gr FGMM... Cold bore shot plus three- third group ever at over 1000 yards
Now to still try figure out the winds...