This is from my rebarreled 300 Win Mag (Model 70, 26" D#6 Hart, McMillan Marksman), sighting in for deer season:
I think that is 7/8" at 100 yards, 5 shots, 180 gr AB, 75.5 gr RL22. This is actually ammo I loaded for the rifle with the old barrel; I can't find any primers to start testing loads for the new barrel.
This is my coyote rifle (although I haven't yet killed a coyote with it). AR-15, 100 yards, 10 shots, FF Krieger 24" 1/7.7, 60 gr Sierra HP, 25 gr H335.
I have not started load development yet for either one, but I left the range smiling.
Here is my second grouping out of my new rifle build. It's a Howa 1500. The loads were 43.0 grains of varget, with Nosler custom competition bullets, 2.83" OAL.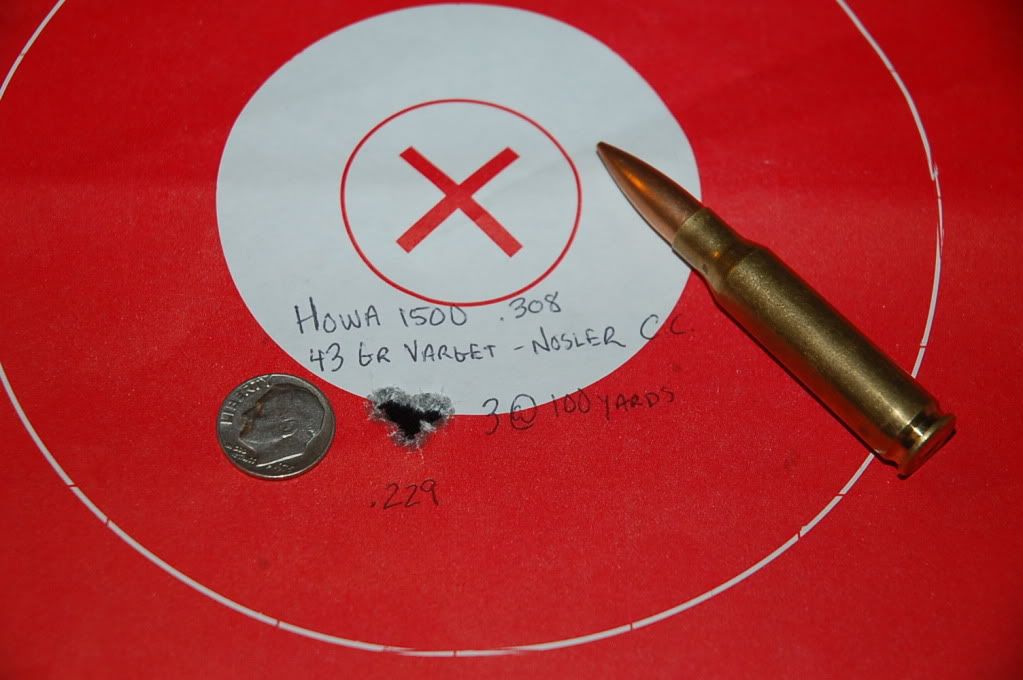 Rifle is a SPS Tactical with Bushnell Elite 6500 scope. My dad did some work on the bolt and reciever and it shoots pretty darn good now with factory loads.
Shot with a bi-pod and sand bag.
5 Shot group at 104 yards.
From here...
I got this as my best of the day...24.3mm or .955"@300yards(.32moa)
The gun is a DPMS LR-308 with Fulton Armory Titan barrel (Krieger Criterion). My average groups are just over 3/4" for 5-shot handloads at 100 yards, and it does that consistently. Just for fun I decided to run some FGMM through it to see how they fared against my handloads, and here's what I got:
Top 5-shot group is 168 grain. Three of those rounds blew the primer, the fourth round being one of them which jammed up the action. After I cleared the jam, I fired the flyer that opened the group up : (
I redeemed myself with the 5-shot group of 175 grain on the bottom. The lone round was from a different rifle. Range was 98 yards from the muzzle as measured with Bushnell rangefinder. Here's the gun: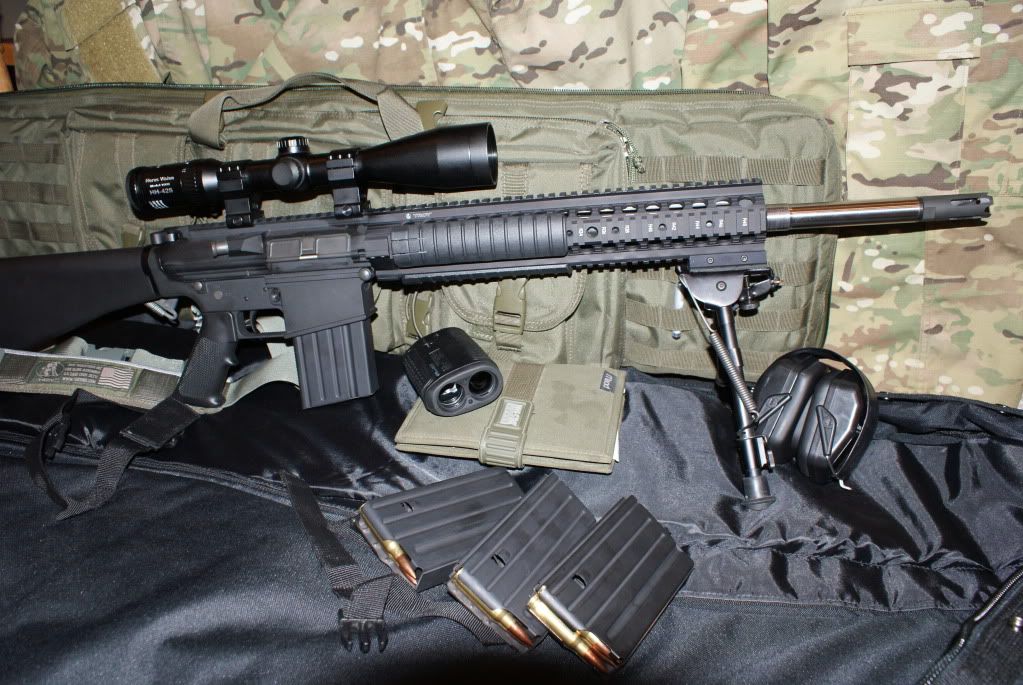 Worked up some loads using Varget a couple of weeks ago for my new rifle(700 SPS) and finally got a chance to try 'em out. Considering this is my first "precision rifle", I'm pretty pleased with the results. Using 168gr Sierra Matchkings I started at 42.0gr(min) and worked up in .5gr increments to 46.0gr(max) and I'm happy with the results. The largest group(3 Shots) was .896" and the smallest was .266" at 100yds. Can't wait to get out and try out the loads I worked up using IMR 4064.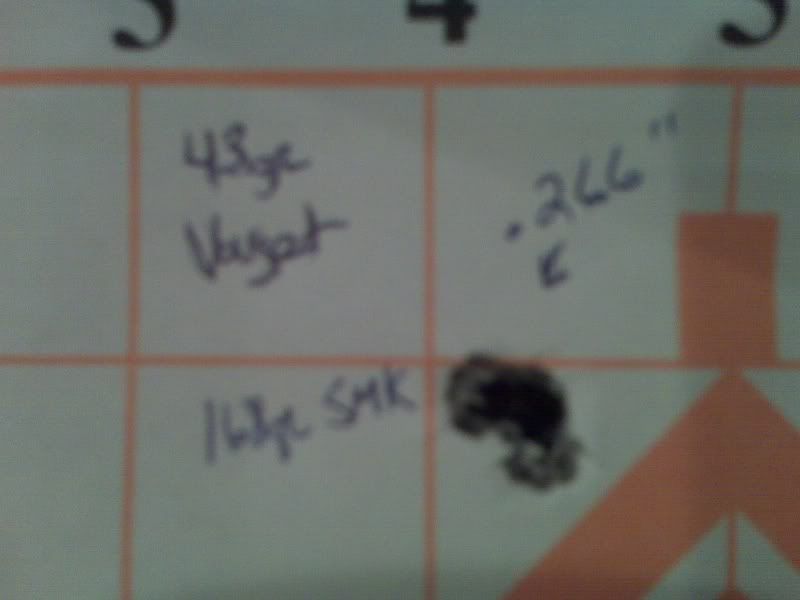 Sorry for the crappy pic(cell phone).
Here is my SPS T .308 the first time out with decent ammo today. These are shots 41-45 with Federal Gold Medal Match ammo. I broke it in using cheap white box Winchester 7.62 NATO and it was shooting 1.25" groups or so with that. I was happy with it as my last factory .308 (savage 10FP) wouldn't shoot worth a shit even when I got lucky usually hovering around 1 or .9". I shot one group at 200 yds and it measured .9 MOA. I'm loading up some rounds tonight to start trying to work it down tighter. If I can shoot 2" at 300 I'll be happy for a stock rifle with a Zeiss 3-9 on it. This is the difference in 100 yd zeros from the white box to FGGM as well, I was rather shocked.
Here is some groups of mine. I shot four and averaged the three smallest. The top two where shot together then the range called a cease fire and I had to reposition for the bottom groups. This is probably the reason the groups opened up a bit.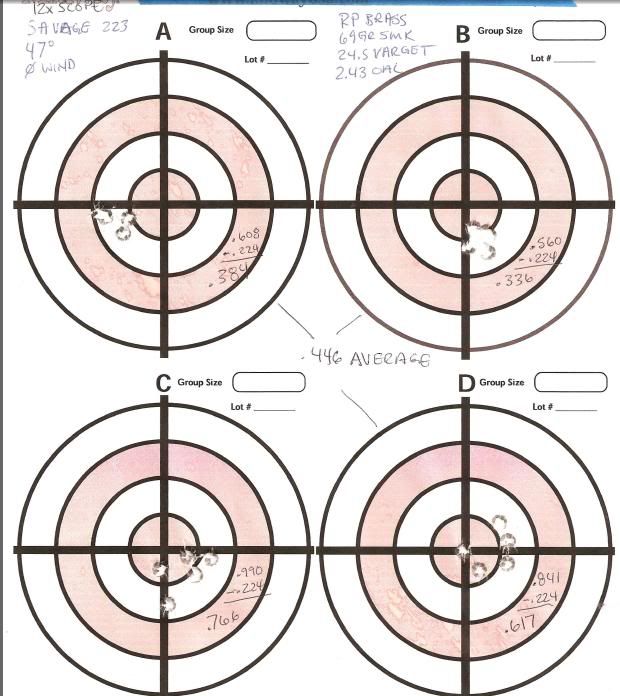 This is the Stevens 200 in 223 that I had the factory barrel cut back to 18" and a tensioning sleeve installed. It sits in a Stockade PDS/T stock that is not bedded. It has a SSS competition trigger and a Stockade bolt lift kit. It has a 5/8" bolt handle from Stockade also. The scope is in a Leupold base and rings.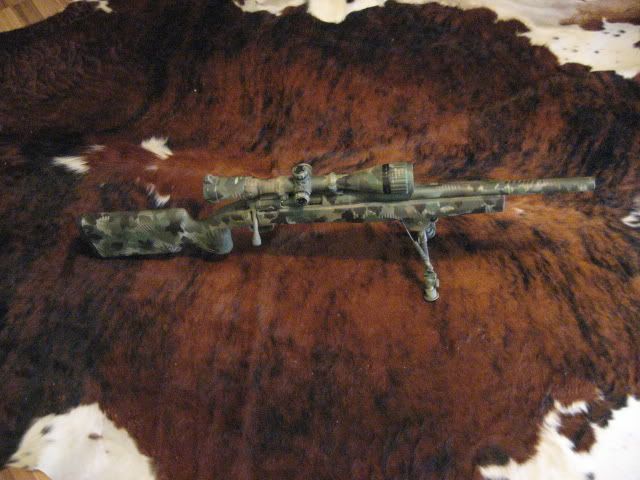 In the pictures it has a Centerpoint but that has been replaced with a Hawke 3x-12x Mildot.
Load:
R-P brass, neck sized and trimmed to length
CCI 400 SR primers
69 grain Sierra SMK's
24.5 grains of Varget
COAL is 2.43"
These groups were fired from the bench off of bags at 100 yards. It was 47 degrees and rainy but no wind at all.
Normally I don't trim brass to the same length, just as long as it is under the max I call it good. I decided to make sure all brass was as close to each other as possible and I am pleased with the results compared to the way I normally do it. I will continue to process the brass the same way even though it takes longer.
At the time of this shooting it has been over a month and 250 rounds since the last cleaning. I normally just boresnake it about every 25-50 rounds. I am sure it is coppered up but it doesn't seem to affect it to much. If I get into this online match thing I am definately upgrading to something with more power. I just sold a couple of high magnification scopes because I thought I wasn't going to be doing any more bench work.
If you have any questions feel free to ask,
Dolomite
New ltr 308. First time out at the range using fgmm 168. @ 100yds
Best 3 shoot group
Best 5 shoot group
I got out on the 500 yards line and these are my first two groups at that distance. Used the program to get a better measure of the groups. See link in the pic for more info. Not bad for a Savage Precision Carbine shooting FGMM 168gr topped with a Bushnell 4200 6-24-50 Tactical. Cant wait for the new 20 moa mounts to show so I can get out to a 1000 yards!
I like my Savage
Please excuse me if this question shouldn't be asked here, but I can think of no better place than where I see actual results.

I have just started reloading handgun calibers and will soon move up to rifle for my AR15s in .223 and my LWRC 6.8sspc.

Would I do well to replace the trigger in the .223 with a Geiselle? The 6.8 is not bad as I can feel a difference in how it breaks more smoothly compared to my stock BM Gas Piston AR trigger.

Thanks in advance,
Walsh

MODERATOR: If this is purely for pictures and must be deleted could you please IM me as to where best ask the question. Thanks
52 Gr Black Hills .223 @ 100 yards. 5 shots.
First group on a new build.
That must be an awesome barrel you have there! Nice shooting dave!
shot these in 15 degree weather, fine snow, sw wind probably 1-3 mph.
2 five shot groups @ 100 yards. the lower was the first, my finger was numb for the lower group. felt like i was pulling the trigger with a brick. let it warm up to shoot the second. so probably 8-10 minutes between them
2 Five shot groups @ 200 yards. same as above. lower was the first group but adjusted for the second. same goes for the frozen finger. again probably 8-10 minutes between groups.
and gun.
so not too bad off a grip-pod and no rear rest.
mil-spec trigger and JP yellow springs.
DPMS DCM/NM 1x8" twist SS barrel
TNW billet upper
Stag Lower
YHM FF
Vortex FH
CAA scope mount
Centerpoint 4x16 scope
this makes 150 rounds down the pipe. i think the groups will get tighter once it gets warmer and i get to shoot more.
HK417 20", 5 shots / 100 meters with Sako 8g ammo.
13 mm / 0.45 MOA
1st Bolt Gun:
SPS Tactical in an AICS 2.0 Stock
168gr FGMM
First 5 shots were taken at 50 yards to "get on paper".
Cleaned.
Here are the next 5 shots taken at 100 yards (6x magnification):
I am not sure how to measure the group size.
Using the gridlines: 0.75" - 0.308" = 0.442"?
The rifle: Remington 78 action 20" barrel, 6BR Remington .265 neck, 14 twist, Jewell 2OZ trigger, Leupold VX3 6.5-20X scope.
The targets: Five rounds at 100 yards
One round at 825 yards.
The rifle: Remington 700, 28" Shilen, Vias brake, .243 Ackley Improved. Rem 40X stock, Leupold VX3 6.5-20X scope
Targets: 5 rounds at 100 yards. Too cold for prairie dog shooting.
jeez....I need to shoot more. I'm still a rookie.....I did learn, however, primers are not interchangeable. Upper right was a cleanout. Lower left target were WLR instead of the CCI BR2 primers. Lesson learned. (apparently an errant .223 on the left side too
)
Rem 700 VS, 26" barrel, .308win
46.5gr H-380
168gr SMK
Originally Posted By KBAD:
That must be an awesome barrel you have there! Nice shooting dave!
Took me a second.
Yes, the barrel is nice.
No load development, just tossed a bunch of 175's on top of some RE-15 and it worked out pretty well.
Called the flyer, 1.160" (200 yards) with it, .750" without it:
(pretty sure it was walking due to something loose on the scope mount; it's just a buckmaster i tossed on to get shooting; will be snagging it outta the safe tonight to make sure everything's torqued properly.)
3 @ 300 on some steel:
It'll probably be a couple weeks before I can get out and do some actual load development, but I don't see any reason to even think about Varget at this point.
(and i didn't pop the top on the coke until after i was done shooting for the day, so no worries on caffeine affecting my shooting
)
Got the 20moa base and new rings mounted and went to sight it in(still using FGMM 168gr)... Average was under 1/2moa for all the groups and this one was the best at a 100yards. Now I have the clicks to get to 1000yards
Remington 700 Tactical .308, AICS 1.5 FDE, EGW 20moa base, SS Rings, SS 10x42M Scope
Some load development with the above 700 AICS...
Federal Brass, 178gr Hornady a-max, CCI #200 Primers, 43.5gr RL-15
28.4 Deg F
29.720 Hg
68% Humidity
2001.3 ft elevation
10.4 mph @ 320 deg wind velocity
5 Shot group @ 107 yrds
5 Shot group @ 107 yrds
5 Shot group @ 107 yrds (#5 is under the dime...it opened it up to just under an inch...I jerked the trigger...)
Not as good as some of the other groups but with a fixed 10x scope and my old eyes, I aint complaining...
The rifle can shoot better than I can. With a higher power scope and a better set of eyes (hell, maybe even a better driver behind it) I am sure it would shoot <1/2 moa all day long...
5 Shots @100yards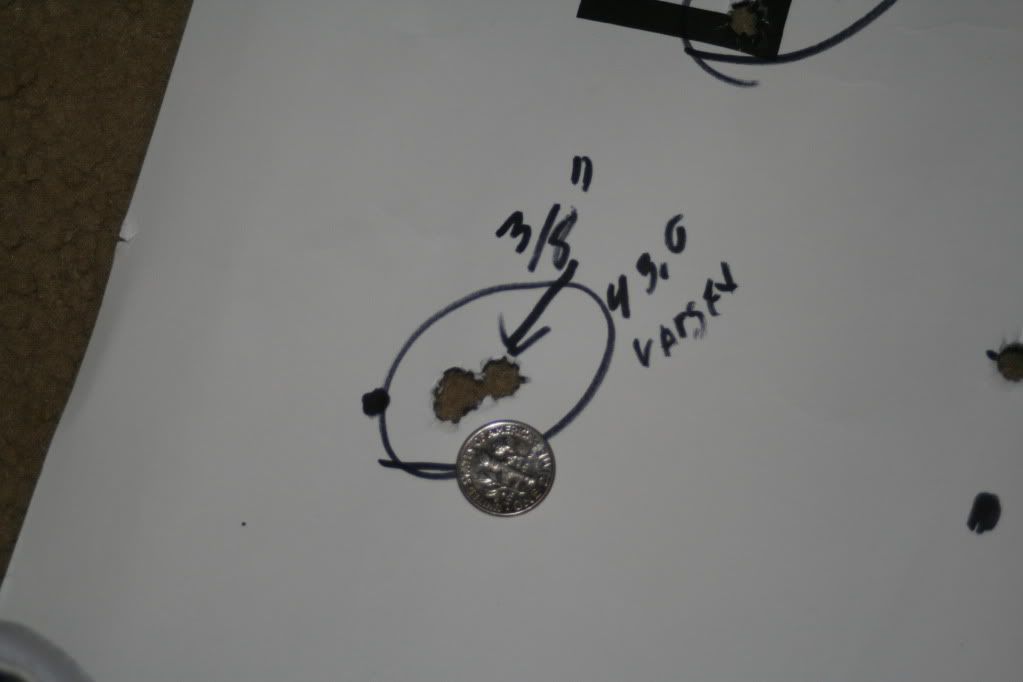 took my Tack Driver out to test some new handloads out.
they are:
.300 Win Mag
180 Grain Match Kings
73 grains of H4831
case length 2.6195
OAL 3.410
Muzzle Velocity 2950
and
.300 Win Mag
180 grain Game Kings
72 grains H4831
case length 2.6195
OAL 3.390
Muzzle Velocity 2920
Rifle:
100 yards, 5 shots each:
200 yards, 5 shots each: