I know you must keep your targets. I have stacks of them just have to dig them out..

Lets see what your guns are shooting and what load you are using to tweek them guns to shoot good.


Mt Hunter
I've only got a couple from my 300WM when load testing. I usually don't keep my targets too long if at all as everything is logged in my log book but had these online as I sent them to a friend. The first is 200 yards with 73grns of RL22, 190 SMK, Fed GMM brass, Fed 215M Primer. The second is the same load at 300 yards and the third orange target is same brass and primer but with a 210 VLD and 70grns of RL 22 at 300 yards. All are 5 shot groups. As the usual warning goes drop these loads a few grains before trying them as they might not be safe in your rifle.
Remington 700 VS .308, barrel cut to 20", factory trigger.
.347" group @100 yards, 5-shots, Federal Gold Medal Match 175 Match King.
D&L Sports
custom Nightforce 5.5-22x illuminated scope
.308, 24" Lothar Walther barrel, 44 grains Varget, 175 SMK, Lapua virgin brass, 2.810 OAL. 5 shots at 100 yards, .234".
168 FGMM @ 100 yrds
5 shot group at 100 with PSS 43.5 g Varget 168 match bt Sierra prone w/bipod
(ahhh fixed it)
man, you guys are good!
i need to practice (&handload too)....i think my stock PSS is alot better than i am still even with commercial stuff
5 shot group:
Rifle - Rem 700 LTR
Cal - .308 Win
Range - 100 yds
Bullet - 155 grain AMAX
Brass - Remington
Powder - 46.8 grs. VARGET
Primer - CCI BR-2
Most of the groups from this load fall between .3 and .5 MOA. This particular one happened to be the best.
Doesn't anyone else shoot past 100 yards?
Just for you Rob
Usually the mirage is too bad to do any meaningfull group work....case in point. The one off to the 7 ring was all me, but I dont know what the hell made the one up top in the paper happen LOL. 10 rounds at 300 yards, with sweat dripping down in my face. Had to go to the shade after...thought I had heat stroke.
Thanks man.
You going to be at the SH Cup this year? I'll be there. Got all my travel plans booked and all i have to do now is ship my ammo down. I'm really looking forward to it. Hope to see you there.
Yep. Me and Nemo will be there. I can't wait! Should be a great time....see you there.
My FN PBR did this last time home.
It was the first time I shot it at a "regular" 100 yd rifle range.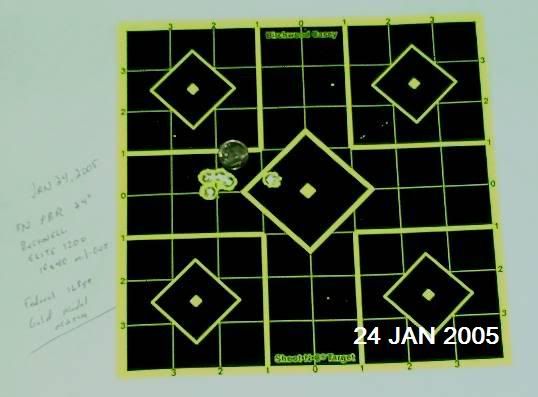 rem 700 vss 5-R tasco 6-24 mildot target varm fed 168 GMM bipod and rear squeeze bag 100 yd 23 and 26th rounds through gun. one group is .37 the other .47 6mph rear diag wind. it will consistently shoot like this should i try other ammo and a sight int rest to see if it'll get tighter?
---
Originally Posted By Rob01:
Doesn't anyone else shoot past 100 yards?
---
I'd love to! The one day I got to shoot on a 750 yard range, the wind was gusting full value 20-35 mph! Groups were out of the question, although we were able to hit the 20x20 inch plates about half the time.
Up until about 2 weeks ago, I had my 300WinMag on paper at 500 yards more than I had it on paper at 100 yards.
Groups at 500 yards have been in the 5-8 inch range for 5 shot groups with a variety of loads. Now I'm concentrating on trying to actually nail down one specific load so I'm at 100 yards doing some initial sight in with a new scope and looking for prospective loads. Settled on 200grn SMKs and it's looking like IMR 4350. Gonna start bumping the range back out to 500 and beyond now, if I can hit 2900fps with the 200SMK I should be able to get to about 1100 yards before running out of elevation in the scope.
Here's one of the 100 yard groups.
Here's a 10 shot group as fired from my JP Enterprises AR15, 40grn Vmax on top of H322 or XMR2015(can't remember but both powders shot averages like this).
nice shooting..

I am getting my stuff ready to start shooting a lot again now that the little one is going to be a school/daycare all week. On my off days I will do some shooting and hope to post a few pics.

Mt Hunter
.308 Savage model 10
Timiny trigger
10x42 SWFA SS
Ultimate Varmint stock
leupold base and rings
168 smk over 45.5 grains Varget
win brass fed 210m primer
500 yards 10 mph wind from 7 o'clock
45 degress farenhight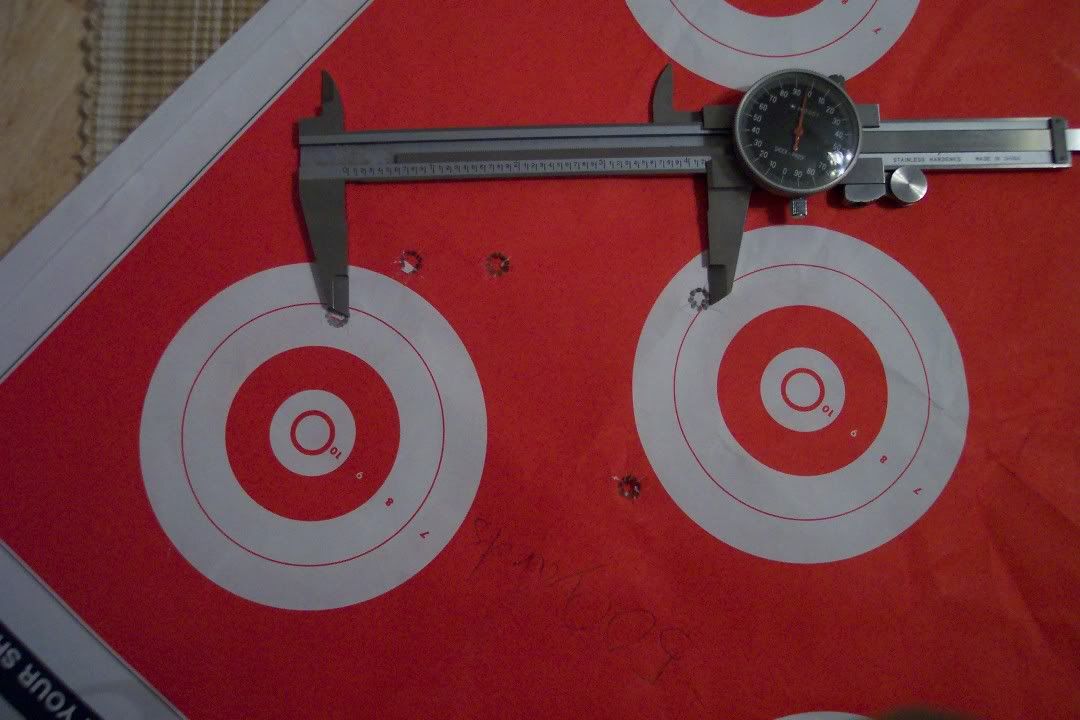 Here's a group i shot the other day as i just got the rifle back from Ken Farrell who made me a 20moa rail for it , this is my mid range rifle and iam ready to dope it .
TS2
Tikka T3 Varmit 308
Stock heavy modified
Ken Farrell 20 moa rail
Rings IOR HDT Med# 30mm
Scope Leupold :
MK4 6.5X20X50mm LRT/MD
Trigger 2lbs.
Harris 9X13 Slotted
TIS M24 sling
weighs 13lbs. loaded
Ammo : Handloads 175 SMK IMR 4064 43# at 2810 aol LC match
Round CT : 174
Remm pss and AR15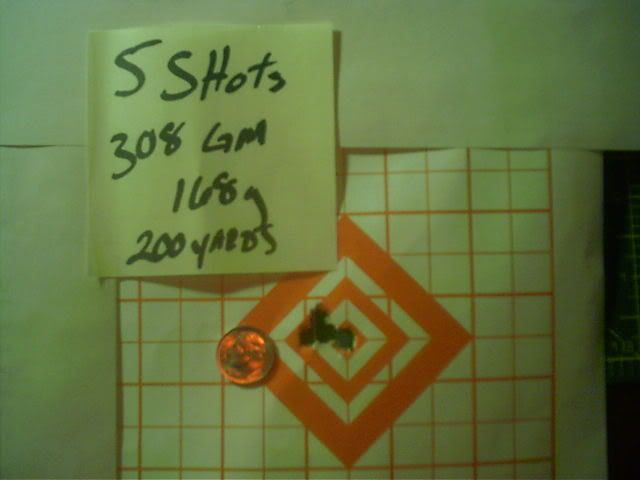 100yds
5rds
68gr. blackhills reman blue box
20" ss bull barrel
ar15
super sniper 10x42m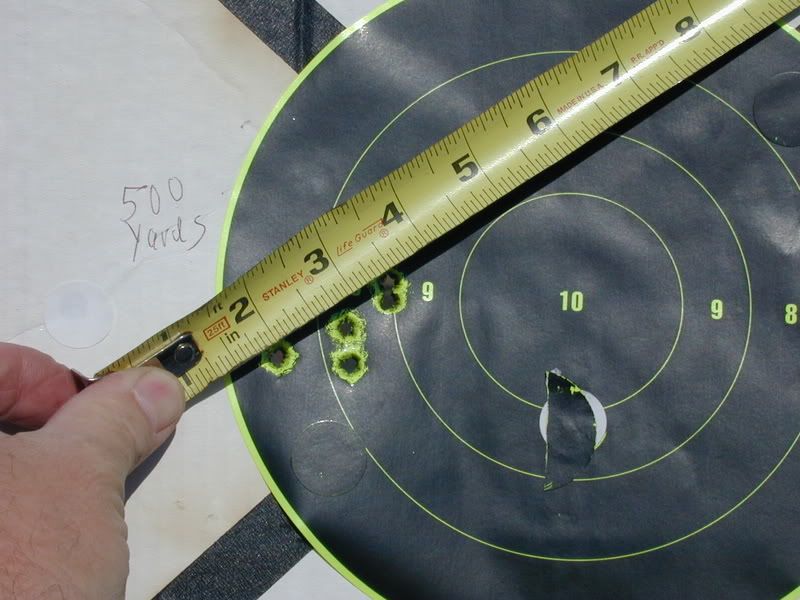 500 Yards, wind 5mph from two o'clock, 45 Gr. Varget and 175 SMK in Lapua once fired, Federal primers.