Johnny Thats SEXY!!!! WOW!! Nice Job
11.5 bushy bbl and bolt in MGI upper dpms sbr'd lower and Halo
AK-106 w/Halo
7.5 1/9 bbl with ceiner kit , BDM mags TAC-65
77/22 mag w/Halo
10/22 w/ TAC-65
10.5 Noveske/Larue upper with YHM Phantom 556
Super sexay! What type of suppressor is that?
Crappy pics. I gotta take some good ones sometime. YHM Phantom 5.56
Finally got my CTS mounted to the M4gery:
I'm still waiting for my leupy scope and buis, but couldn't resist putting her up...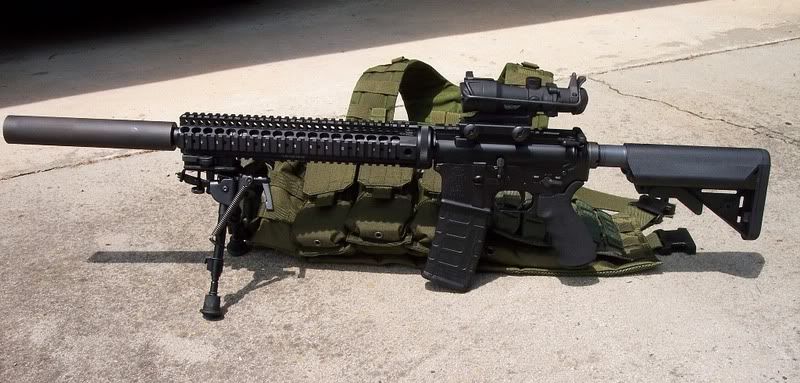 Here are my inexpensive set-ups... Tac 62 on a ruger 10/22 and P-22. Tac 16 on a bushmaster and a PS90. I'm happy with my purchase...
Here is my 9mm with a Gemtech Trinity:
Top... AAC M4-1000
Bottom... YHM Phantom 556
AAC M4-1000 on RRA Varmint
What VFG is that on there?
Oops. Double tap.
Just before it started raining so the pics aren't the best. I was more interested in shooting here since I just got the suppressor yesterday.
-FN SPR A1a .308 w/ Leupold Mk4 LR/T 6.5-20 Illuminated TMR
-Gemtech QD HVT suppressor
I LOVE THIS SETUP!
-X
Originally Posted By JohnnyO223:
It's a cut down Tango Down grip
Thank you. I really enjoy your rifle. My current build is on it's way to something similar.
18" AR10 with Gemtech HVT: