I can't wait!
What does the stock weigh?

Very nice.
Wow looks really good! Great job guys.
Originally Posted By cwa11is:
I have 6 paid for, 3 already shipped, 3 in the process of being cut, but the weather is slowing me down. I will continue to make as many of these as there is demand. I will just have to re-evaluate the price after the first ten. The remaining original ten on the list prior to my post on 12/10, who don't already one, will still have this price offer. $125 check or money order, $130 paypal.
Chris
Chris, I'm in! Please PM me.
ETA: Chris, Thanks for the quick response. I'm off to place an order for the buttpad/cheek piece!
Cwa1is, your PM box here on arfcom is full.

Email sent to check status of my stock. Thanks.

Joe

ETA: Thanks for the quick response. I can't wait to get the stock.

Joe
I cleared my pm box, but for faster responses, e-mail me: cwallis@skywi.com I have nothing to hide...I hope

Thanks,
Chris


Chris,
Got mine the other day! FANTASTIC!!!!!!
Hey, quick question on finishing the stock.

I plan on putting a couple coats of spray paint on it and then a coat of sealant. Is this the best way to finish it up?
Great workmanship!!! Thanks for posting pics!
Originally Posted By Andielouroo:
Hey, quick question on finishing the stock.
I plan on putting a couple coats of spray paint on it and then a coat of sealant. Is this the best way to finish it up?
One of the reasons I used flat green on mine is that it could be easily freshened up with some 320 sandpaper and another light coat. Give it a good 7 days to dry before you use it. I'm going to experiment with some satin spar varnish. I don't know how it will hold up, but the can said it was good for exterior protection of wood.
(edited to change dry time....the can of krylon flat camo green says it is fully chip resistant after 7 days!!)
Nice work! That is one sharp looking pop-gun
Here's one Chris is just finishing up for me: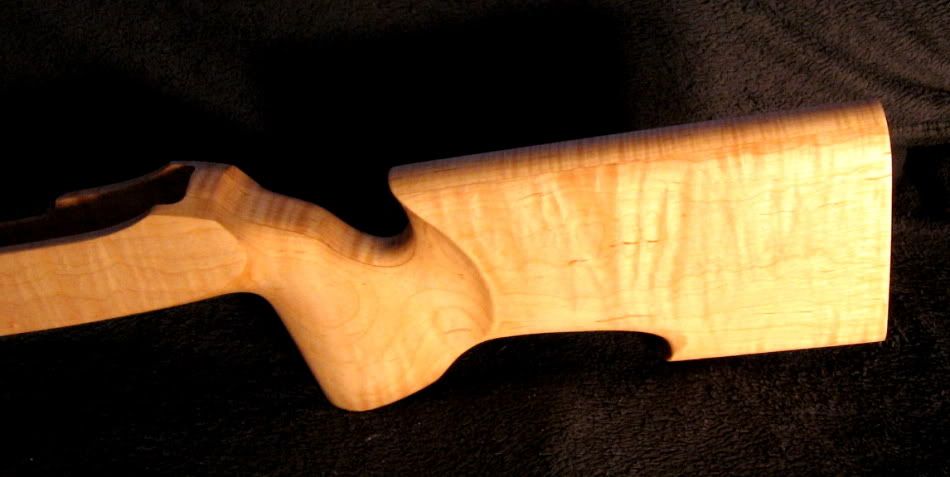 I had some tiger maple boards that I wasn't doing anything with. We'll get some better pics up soon.
That wood has me sporting wood. Very nice.

I can't wait to see that stock after the final finishing takes place.

Joe
Roger that Houston. We have WOOD!
I got mine painted up. Here's a quick picture. I still need to put a pad on it and bed it.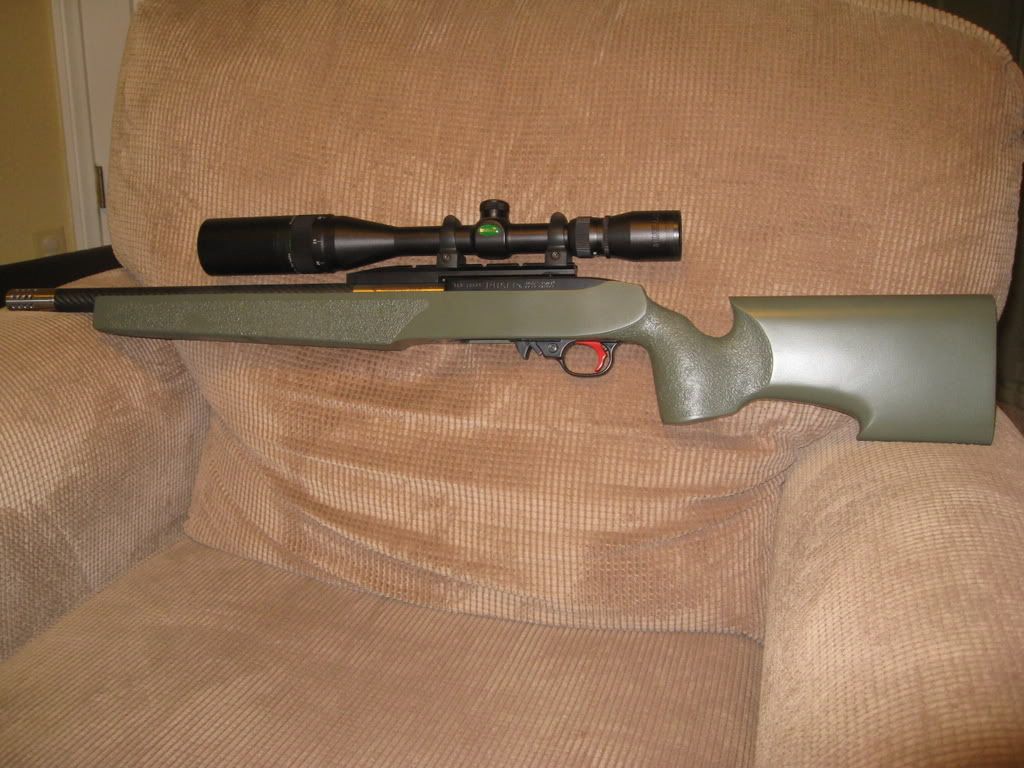 !SWEET!!
Just got the Tubb butt plate on, with one additional coat of oil: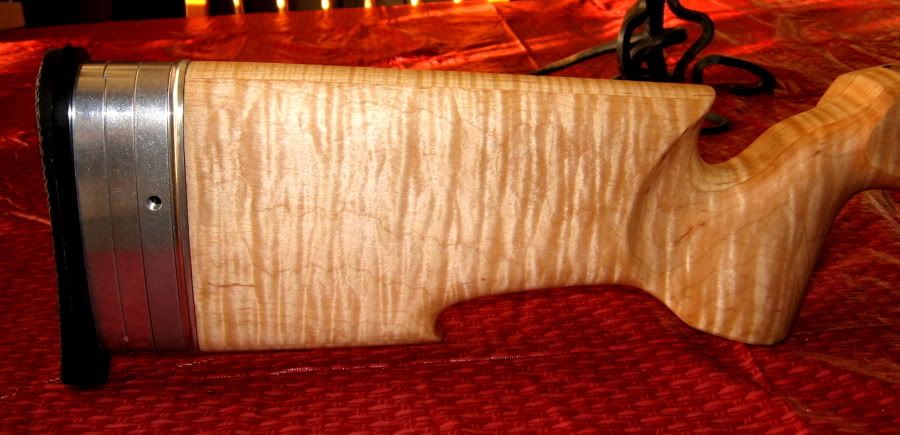 That looks awesome. Only thing I would have done differently is paint the textured area black for a little bi-tone look.
The first 10 have been built and shipped. If you are one of the original ten who got the list started, the $125 price is still available to you. From now on, here is what I'll do:
Action routed and rough cut with sling swivel holes drilled. $65
Fully contoured just like the first ten..$165
Fully finished, painted green with butt plate, swivel studs installed. $230 Cheek piece not included
Allow about 2 weeks for production
THANKS FOR ALL YOUR SUPPORT!!!!
Makw sure you post this new info at RFC also. I'm sure you'll have some takers there.

And again, thanks for the sweet stock!

Joe
just... wow!
Several people have asked me to do a Savage MKII version of this stock. I'm probably pushing my luck with moderator here, but if I can get 3 orders for a Savage version, I'll jig up for it and pay this site to advertise in the appropriate manner.
Seriously man,
You should consider advertising on RFC.
We're still about 2 weeks out on the final finishing for the tiger maple. Using the African Express finishes for the finals. Hopefully, my barrel will be here by then and then we can post up some completed pictures.

If you held one of these stocks, you'd be sold in a heartbeat.
I definatly agree that the feel and look is great. I still dont have my buttpad attached but thats in process. Ill try to get some pictures up soon. With my build i have one of the black 10/22's and have a 20" fluted green mountain barrel. The build looks great and along with my wide riimfire technologies trigger it fits perfect. Ill probably leave my stock the dark grey color as it also looks good to me how it is.

All in all id say the stock is definatly worth it and if your not advertising at rimfire central i think your missing out.