These are my Walthers
P-4
P-88C
Walther Olympia in 22 short for rapid fire event in 1938 olympics
OSP 22 short
P-5
Walther PP 22 German Made 1968
P99 9mm
Wow! Thats one nice collection.

It really shows this slow evolution of walther handguns going from simple boxy looking pistols to sleeker and sleeker killing machines, and then back to boxy with the P99.

I like the 99 alright, but it's defintly no PPK when it comes to the looks department.

-Local

Yes, the prev photo post disappeared when no one posted anything for 90 days...
Walther collection.
Interarms commericial P38.
Manurhin P1
Manurhin PP
NAZI marked AC41 P38
AC42
Only pic I have (of my the only Walther I have) with my other 22 pistol:
Sort of long, but here goes.
No none of them are for sale.
Pre war Eagle C PPk
Mid war Eagle C PPk
Late war Eagle C PPk
RFV marked PP
RLPT Sweedish police PP
Army accepted PP
Late war mismatch PP
P-38 AC 43
Another AC 43
P-38 AC 44
Model 4
Model 8
Post war PPk in .22lr
Olympia Walther Hammerli
Walther OSP .22 short
Inter Arms Walther P5
P-08
thats Beautiful a beautiful collection you and I have similiar taste
not a pistol but still a Walther AC-44
wow you guys have some nice collections...
I have a few Walthers too.. but I can't post pics since non of them are hosted anywhere..
I got 2 PP Super's 9x18.... one is the 106th made with original Walther wood grips, the other one a police trade
some P99's, a P5, a '66 LNIB P38, a .22lr P22 and a G22
Likewise I love your G 43, is the scope and mount original? Is the gun sniper "proof" marked? I had one of those years ago right when the AW ban went into effect. Bought it a local auction for $500! I heard people say they didn't want it because it did not have a flash hider or bayonet lug!
It did have a threaded muzzle. Stock did not match, but at least it was not duffle cut. Never should have sold it.
Now since you broched the rifles here is my KKW SA marked and even unit marked on the butt plate.
Yes the scope and mount are original the mount has a factory flaw the throw lever is up-side down

The rifle is not sniper marked (I don't think), and the barrel is not threaded It was my reward for myself when I got back from the sandbox after OIF tour 1
SD307

I take it there was more than one tour then huh???
Thank you for your service.... hats off to you

Oliver
I bought a second P22 after my first hit 10,000 rounds.
...got lucky, and the second one ate through 500 rounds without a hitch, so far. Love these guns.
P22 with Insight XML.
The light fits, but it won't lock down. I need to mill a new slot in the frame so the light will lock inplace.
Only one right now, and I love her. No problems for all you haters.
Bump
Here's my P99 QA in OD
My P-5 I got a P22 to, the flach on my D-Cam is way to bright makes it a pain to tack pitchers inside
Education is a wonderful thing.....
Oh, this is a picture thread.
Yeah I know the barrel nut is not seated correctly.
Picked it up at a gunshow this past weekend for 239.99 before tax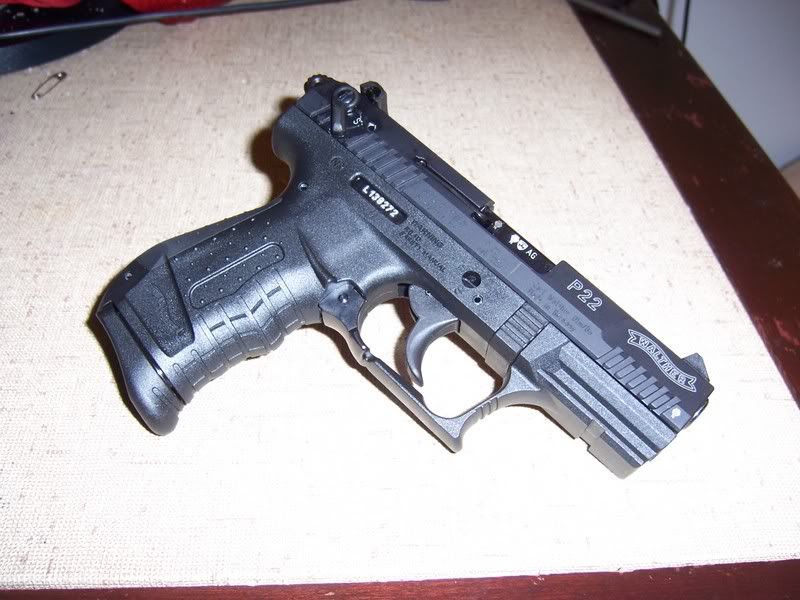 My Walthers:
davis, i am interested in the supressor. I would like to get one for my p22 any info?
Originally Posted By oneshotwonder:
davis, i am interested in the supressor. I would like to get one for my p22 any info?
IM sent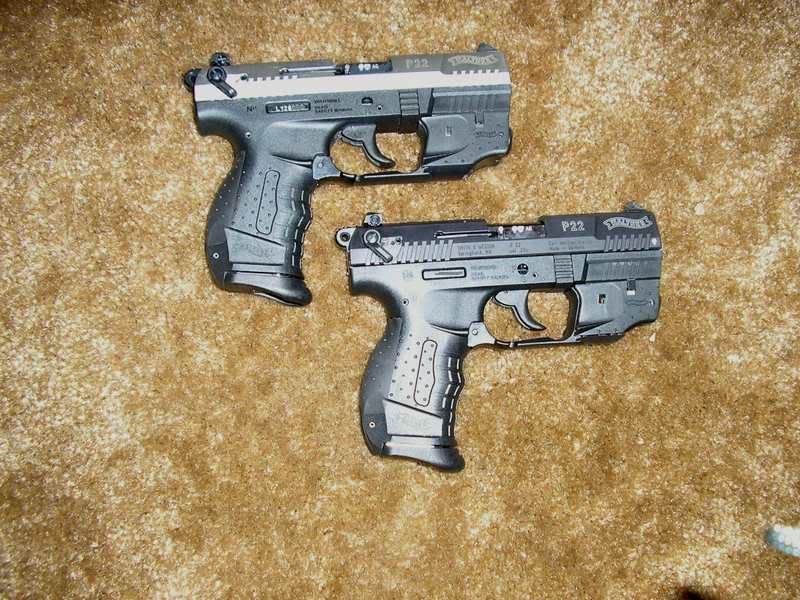 Two 990Ls are on the way.
P22 w/ SRT Cheyenne
ETA new pic