Before and after pic of one I just did for a friend and member here. This is the first one I have done so far. I just need to fill in the remaining holes.
Gratuitous waste of Wolf...
You Tube of my AK101
Here is my current progress...
My new (and 1st) Russian Saiga 12. Can't wait to shoot this baby. I debated back-n-forth between a Saiga 12 and a Benelli M4, but I chose the more evil of the two.
To me capacity wins over beauty.
hey clharr...is that the double thumbed peyote button grasping Dr. Gonzo fist???? Is someone a Hunter S. Thompson fan like i am??? Thats fuckin' sweet
Can someone give us all a step by step conversion with a parts list for the Saiga 308 pistol grip conversion PLEASE! Thanks. Pictures would be nice also!
Interesting looking wood, any close up pics? Where did you find it? I've been looking for something like that for the PG and HG on a pistol build.
This is my finished product.
Finished mine yesterday: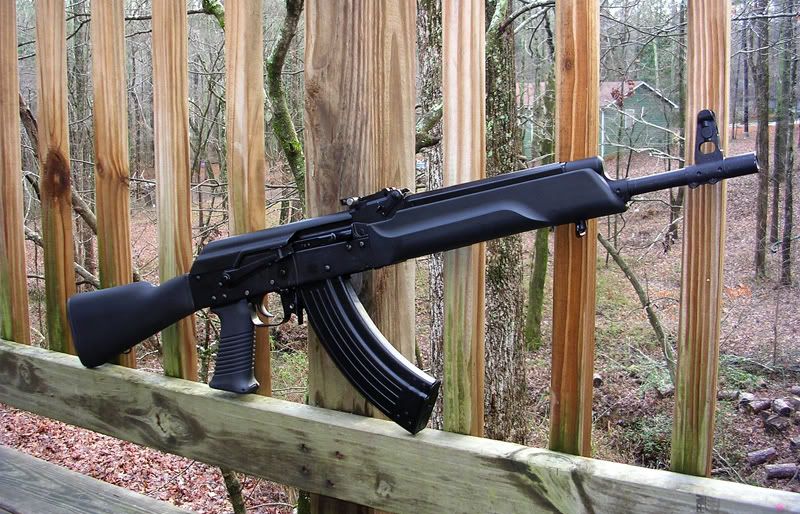 Here's a crappy picture of my conversion. i will try and get a better pic of it in the sun
I see people asking if it's a "Plain receiver or "x" and "y' stamping", what does this mean? Are there any pictures of the two?
Originally Posted By stickerd:
I see people asking if it's a "Plain receiver or "x" and "y' stamping", what does this mean? Are there any pictures of the two?
They're referring to the coining of the receiver at the trigger and hammer pin holes that prevent them from stretching. On Saigas though when they refer to their receiver being Y'ed they're usually referring to the extra coining stamp in the location where the third axis pin should be. My Saiga doesn't have it but my WASR does.
Here is an example of a "dimpled and Y'ed Saiga receiver" that people are usually talking about:
It's US made so I would guess so.
Just got my Saiga 223 converted. Dont have a pic yet so that will come soon. What cracks me up is I was going to have a local gunsmith do the work as I was nervous and apprehensive about cutting and drilling on a new rifle. He said he couldnt do it as he didnt have a drill press or this and that. So I decided to give it a go. It took about 6-7 hours total. i had to do some grinding and use some yankee knowhow to get everything jiving but it works well and it was done with mostly standard tools and a nail for a punch. I will say a dremel is a must as are decent drill bits. The spot weld was the worst part and ate a few drill bits.All and all im stoked about doing it myself and hope to do the same with a 308 when finances/wife permit me to do so. Thanks to everyone who made a guide and left advice as it was all very helpfull.
Finished up the other night. I cant stop staring at it...These things are really cool, I had to have one!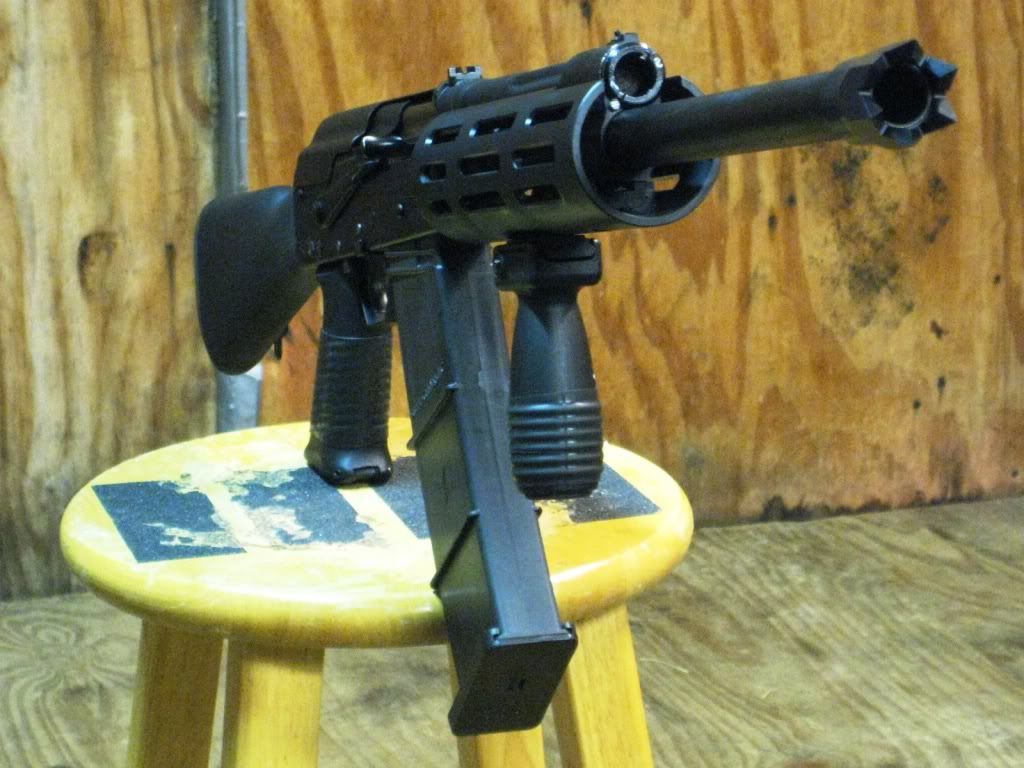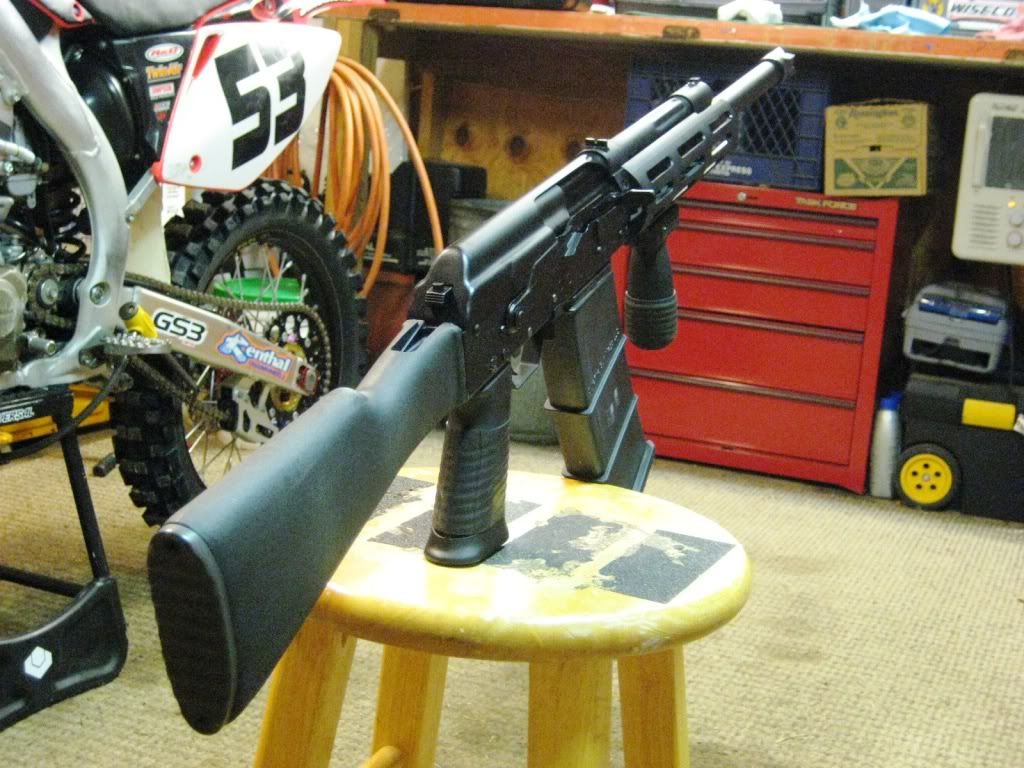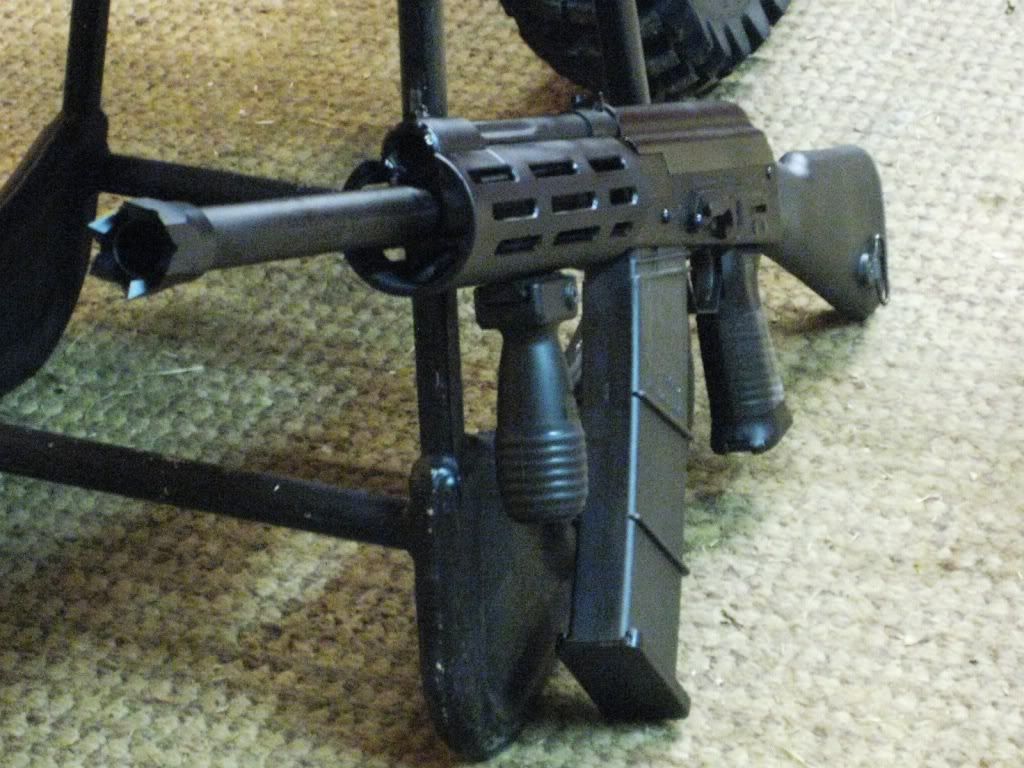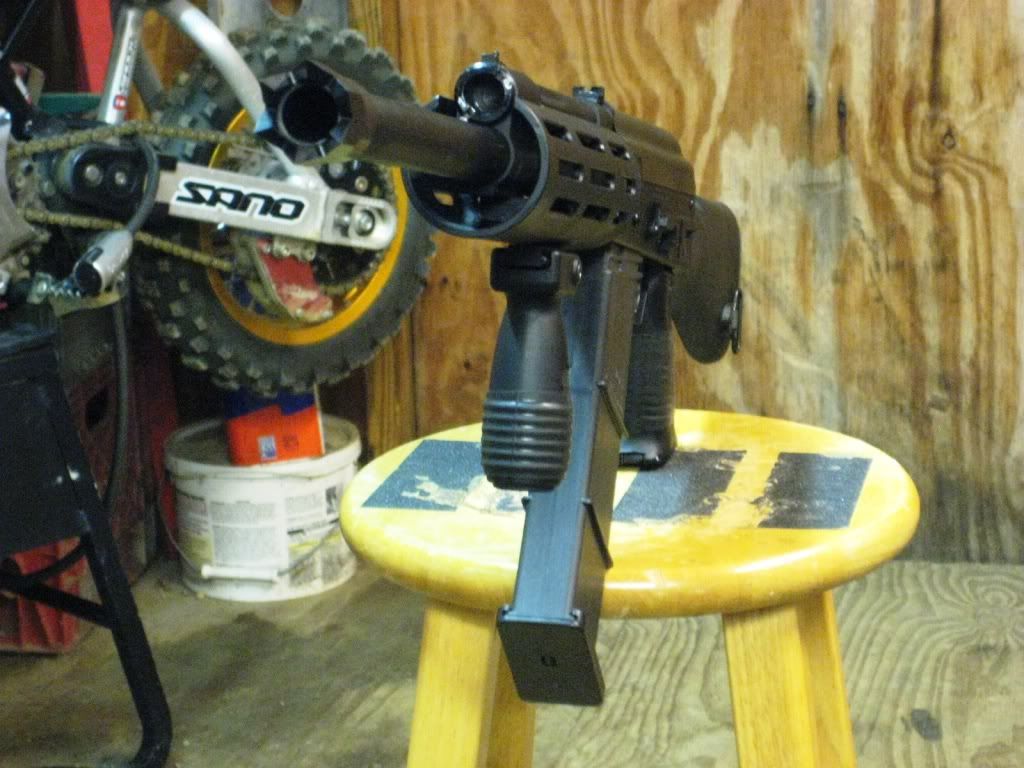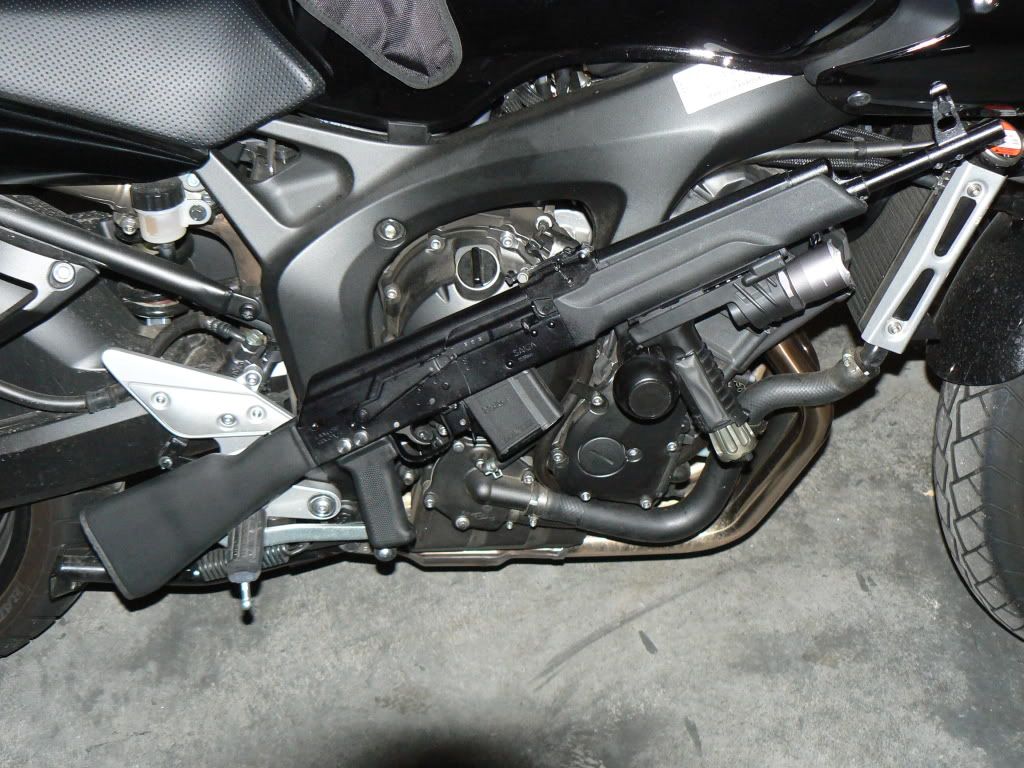 Here she is! I was amazed at the ease of doing the conversion!
Learn from my mistake, don't use JB Weld to attach your bullet guide: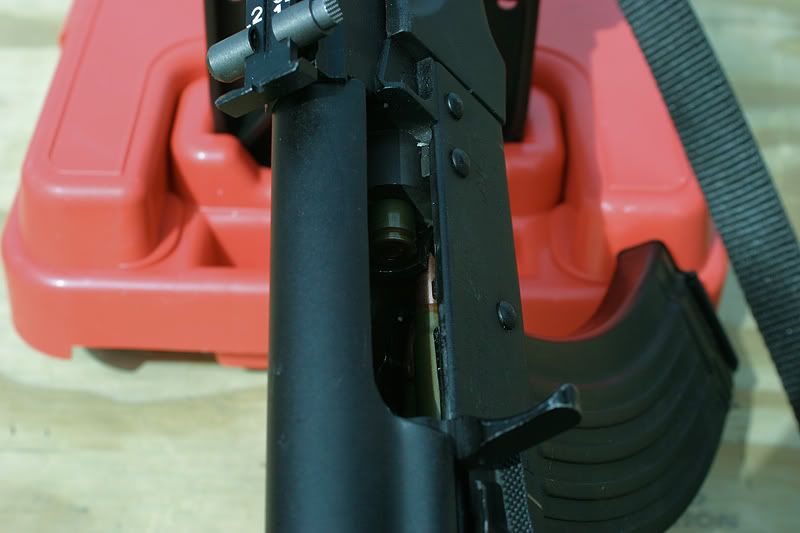 I broke the tap off in the hole, so I gave up and used JB Weld. That held up afor about 150 rounds. Now the little bugger is in there correctly and permanently.
I love this AK so much, I just wish I had more time to shoot her!
Finally got around to doing my "budget S12 conversion":
Base gun I bought from a friend in mid '06: $150
AGP mag: $50 shipped
TAPCO T6 I had laying around: $30 a while ago
Tromix DIY trigger guard: $45
TAPCO SAW grip: $20
Century garbage FCG I removed from a WASR years ago: $0
Total cost: ~$295
When I have the money I will replace the FCG(very soon), upgrade furniture, and eventually have the barrel cut down to 18".
Very basic Saiga 308 conversion.
.308 and .223 respectfully . Just basic builds
Am I doing this wrong? I looked at everyone else's and nobody else put the BHO back in, then some other people modified their selector switch for the BHO. I also noticed that most people have holes in their receiver where the original axles used to be. I tapped my original trigger axle pins with a 3mmx0.5 tap and put little screws in.
I put the BHO back in and it works, was I not supposed to put it in? I haven't shot it yet because I'm still waiting on furniture and rivets to arrive in the mail (AR pistol grip was temporary), but I can remove the BHO & trigger axles if they're not supposed to be there.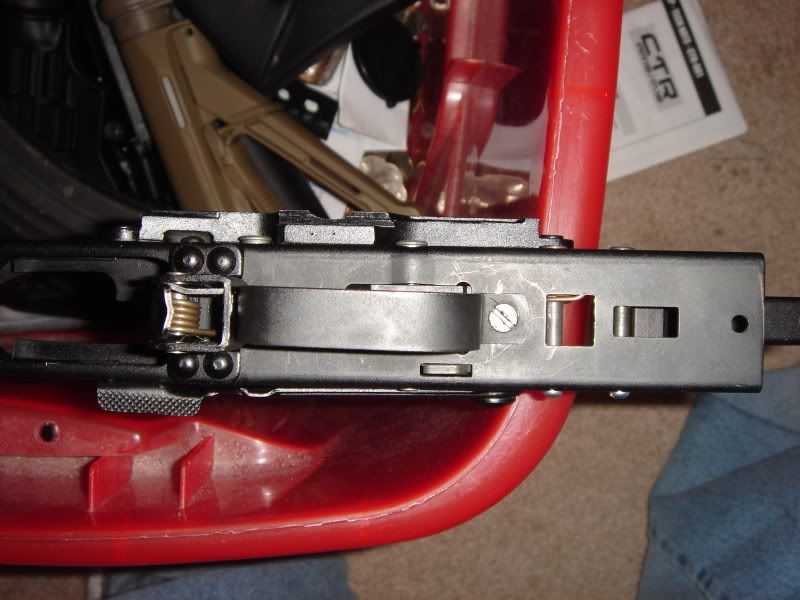 Here it is with the bolt held open: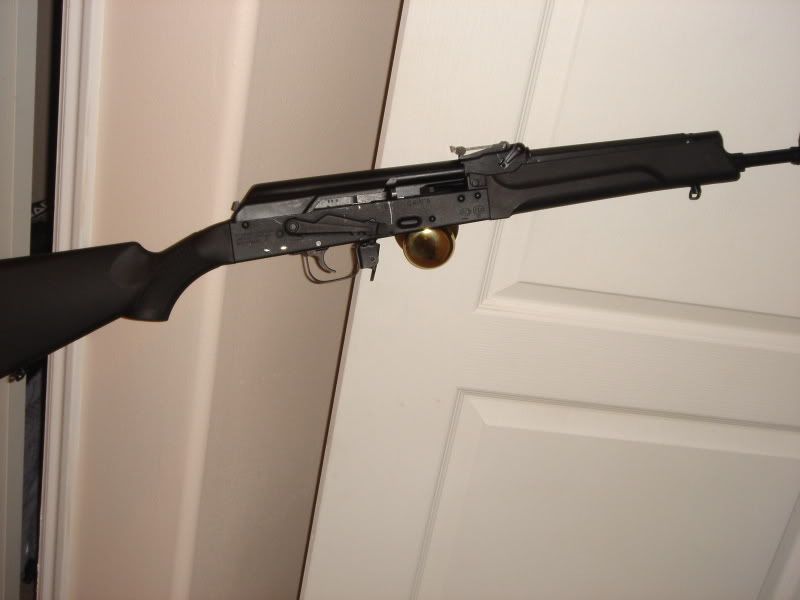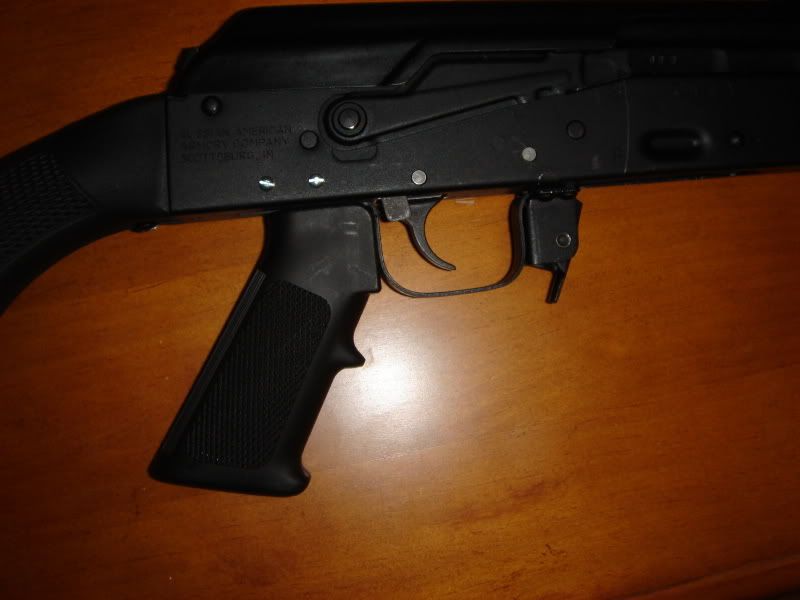 Edit: nevermind, I see some people have retained it.