That is slick as eel shit
Going to be an 8.2" 300BLK
300BLK Pistol
10.5" barrel
Budget build.
Aero Precision stripped lower. PSA lower parts sans FCG. Salvaged DTI FCG. Blem PSA stripped upper, no-name amazon freefloat quad-rail. Discount priced Alpha Shooting Sports barrel assembly. PSA (RRA) pistol buffer tube. Exile Machine 1.2" buffer tube cover. Archon levang style linear comp. H2 buffer was needed to get consistent bolt lock on empty.
BCG & CH borrowed from another build until availability improves.
Nick
Originally Posted By mustangfreek:
Originally Posted By Boedy:
My first full build out.
http://i97.photobucket.com/albums/l205/Bboedy/Noveske18SPR.jpg
Spikes Stripped lower
AGL Combat Trigger (ACT)
JP Enterprises Reduced Power spring kit
JP Enterprises LPK minus trigger
Magpul MOE polymer trigger guard
ERGO Suregrip
Noveske Upper Receiver w/M4 Feed Ramps
Noveske Gunfighter Charging handle
Fail Zero BCG
Rainier Arms Match™ .223 Wylde Barrel - 18 SPR
Rainier Arms Low Profile Match Grade gasblock
Rainier Arms Xtreme Tactical Compensator XTC - SS
YHM Forearm 5009-TJ
Magpul STR stock
nice..pretty close to the parts pile i have that needs to be put together, how does it shoot?
what scope is that?
thnx
Thank you, Its a Pentax Gameseeker30 4-16x50. Cheap scope that I had laying around but seems like a good budget scope so far. I haven't made it to the range yet but will post once I do.
Hey guys making my first post as I have been a long time lurker but here she goes!
S&W lower MP15 with a Spikes tatical upper. core15 bcg 1x9 twist 16" barrel with FDE magpul accessories
This is where she started off at.
That is one bad ass rifle!
Originally Posted By dux29:
But BUIS are for... Nevermind..
Super nice guns though. I like how those miads look when they're set up like that
tier 1 operators only use rear BUIS mayng.
Build it yourself thread: i knitted the fuck out that rug
You guys have some amazing builds! Thought I might finally contribute.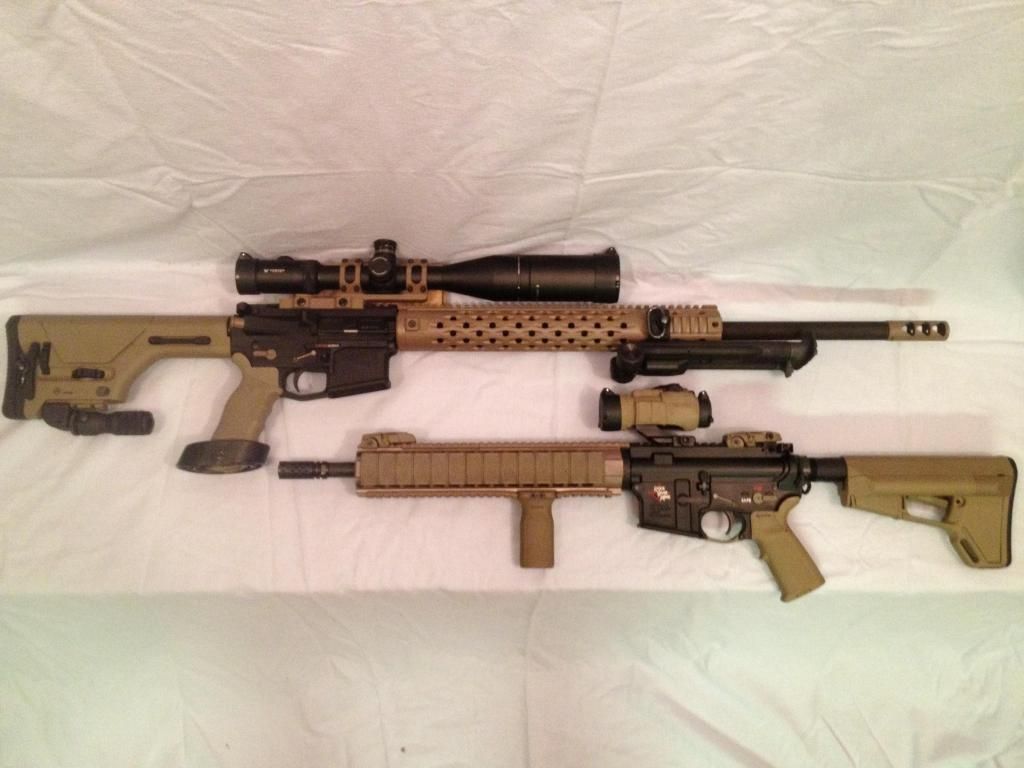 PSA midlength upper, MOE handguards + MVG
PSA lower, PSA LPK, MOE grip and trigger guard
STR stock, rear MBUS, Vortex Strikefire, DecoColor paint pens.
Still needs a charging handle and BCG.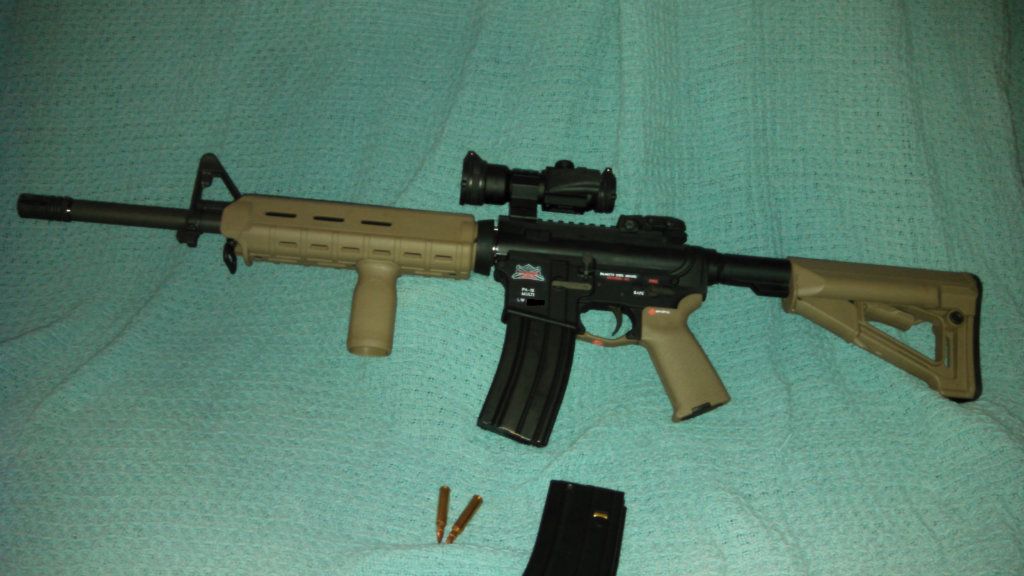 That fan looks like it could kill someone!
Spikes Zombie Edition Lower
CMMG Lower Parts Kit
ATI Mil Spec Buffer Kit
MagPul B.A.D. Lever
MagPul MOE Stock
MagPul MIAD Grip
Stoner Upper
Bravo Company MOD3 Latch
Spikes Engraved Ejection Cover
EOTech 512
(Not Pictured) NiB Bolt Group from rguns.net
Nameless 16 inch barrel
UTG Pro 13.2 inch free float rail (yes it is solid and actually a quality piece)
Spike Low Profile Gas Block
NiB Carbine Length Gas Tube
Stoner Talon Flash Hider (very sharp and stabby)
This is actually my first ever build and stemmed from a botched attempt (couldnt find a damn barrel) to build a 5.45x39 AR, it turned out amazing and shoots like a dream.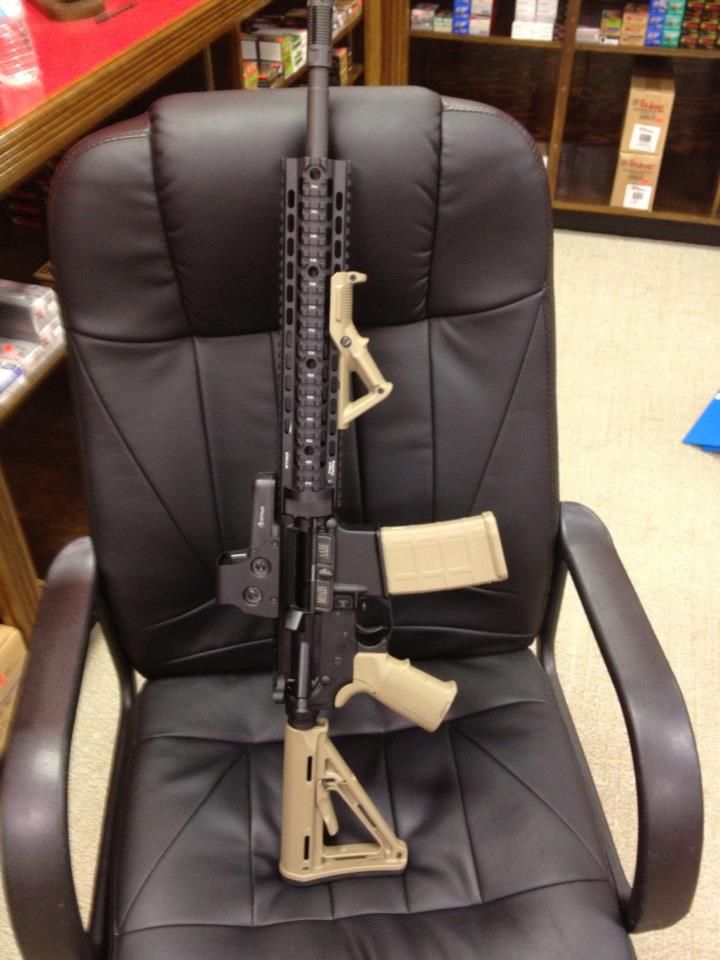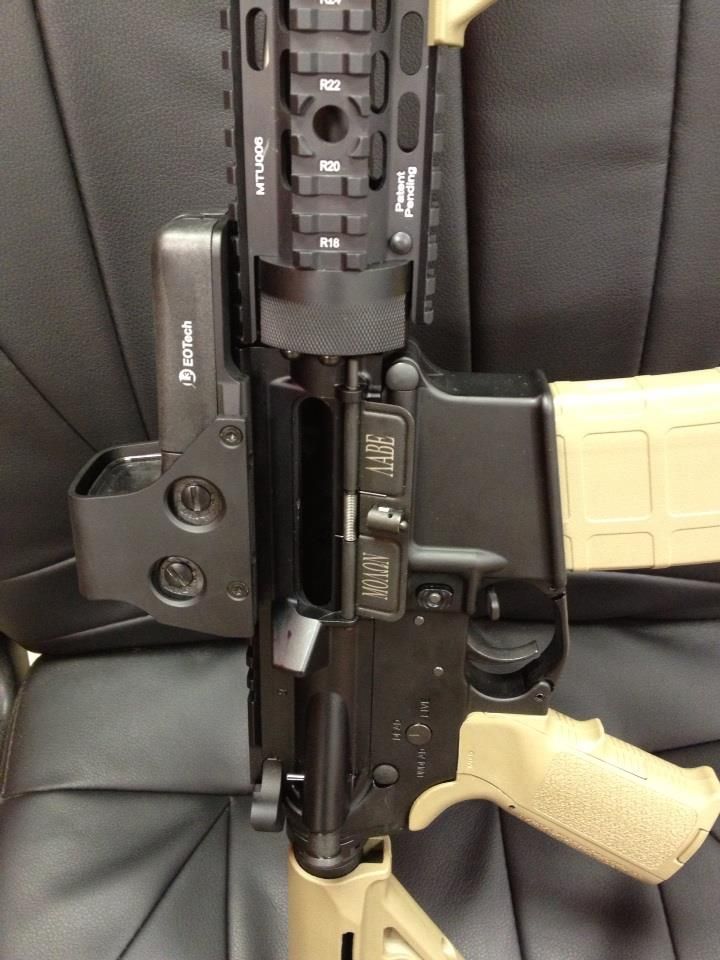 i got the same chair !!! sweet lol
Started out as a 516...
Originally Posted By kaneroy:
That is slick as eel shit
thanks. i have since removed the muzzle brake and just placed a threaded cap on the end to shorten it even more while i wait on can to arrive...
Originally Posted By steelyarddog:
That is one bad ass rifle!
thanks. i think i am going to try a different set of front and rear sights though.
That's as good as it gets!
Here is my latest build. Chrome lined barrel, and all mil-spec parts for under $600. Pretty happy with this KISS build.
Here's a build I did early this year, my take on an M4A1 clone...
This thread inspires me.
Wheres the trigger?
Nice otherwise though
I have been a member here for a while and even just came here before I registered to look at the pics and get information. Well I have finally build my ar, and without further ado.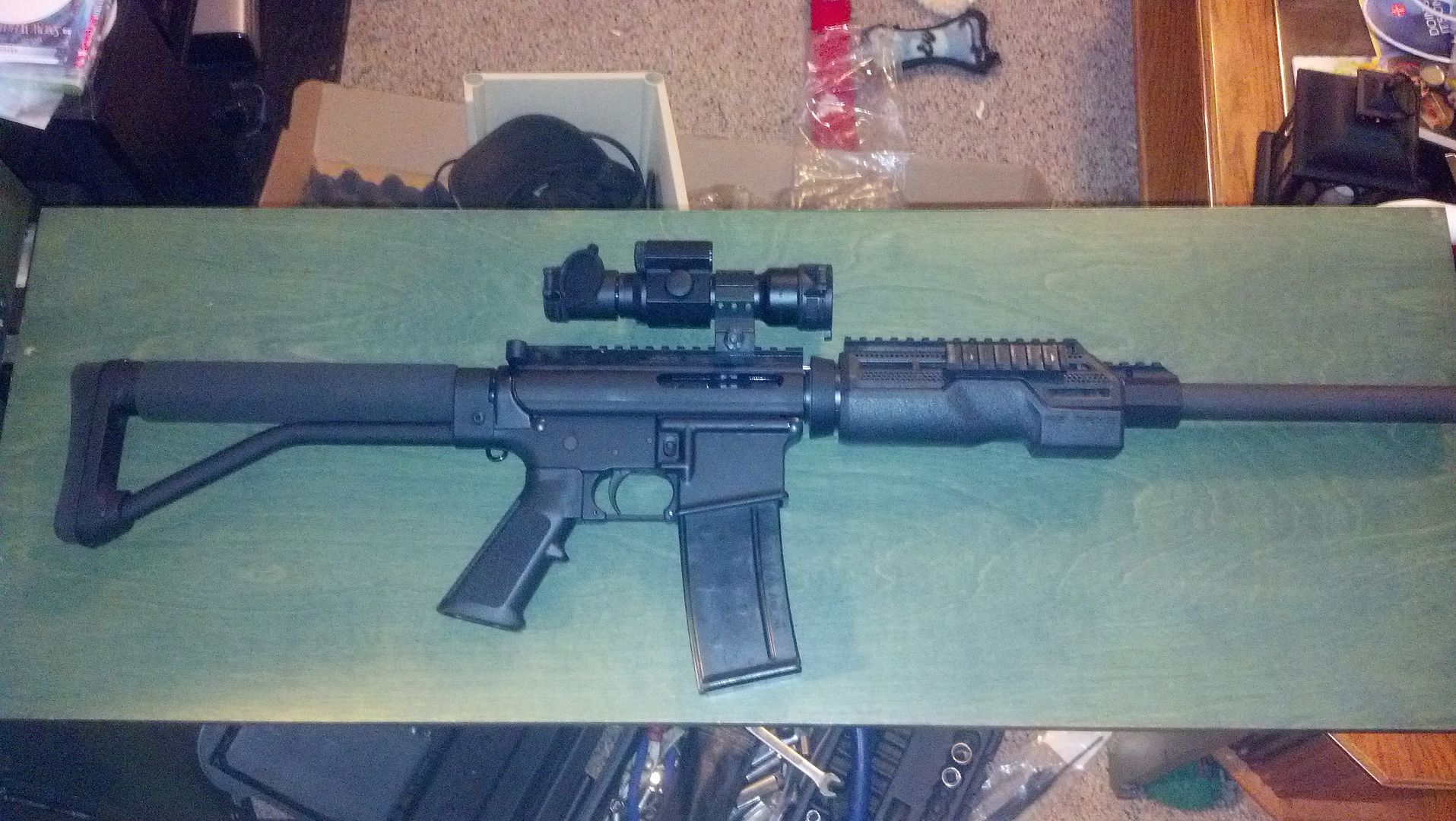 It's a girl!!!
Specs: (so far)
Noveske GEN2 chainsaw grade stripped lower (definitely not gonna be a safe queen, this girl is gonna work!)
Geissele SD3G flat bow trigger (can't wait to shoot!!)
CMT/Stag LPK
KNS Trigger group pins Gen.2 Mod.2 small .154
Magpul MIAD grip (going to swap this with either an Ergo or TangoDown grip….Thoughts?)
Incoming:
PWS 416 Enhanced buffer tube
Magpul CTR stock (may swap this for a Vltor EMOD)
Aaannnd of course a Legend…wait for it, because its gonna be sooooo awesome so its worth the wait!!…..Dairy upper!
Needless to say I'm a proud poppa…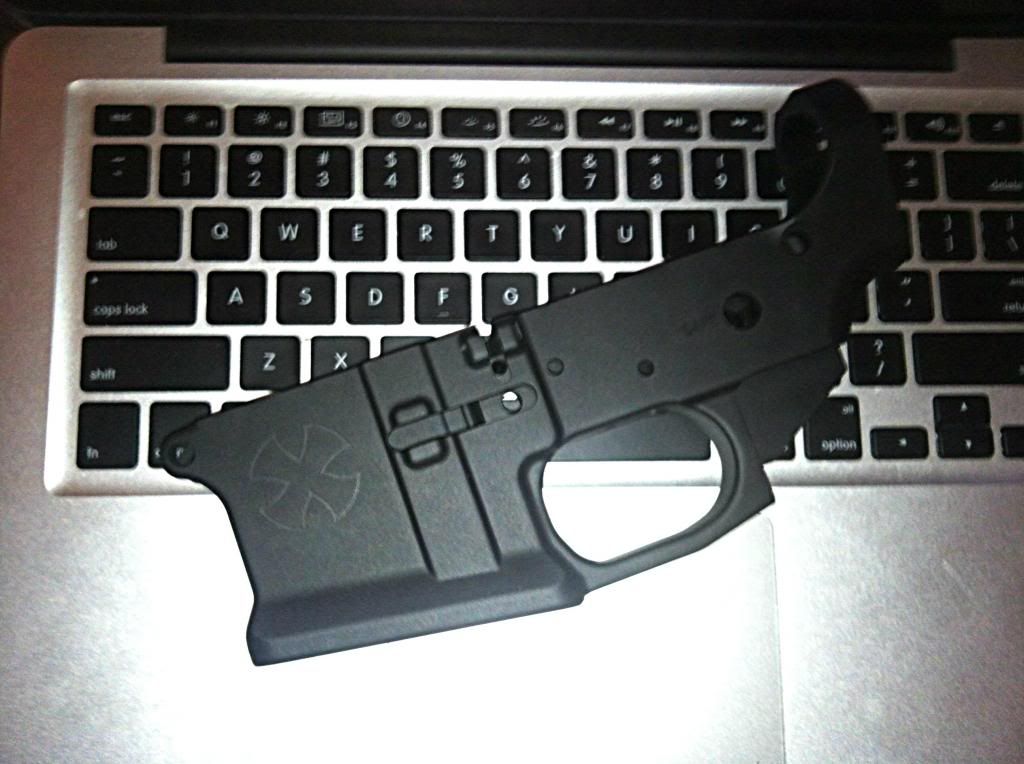 [img]https://i369.photobucket.com/albums/oo133/cjames502/image_zpsdd6c529e.jpg

[img]http://i369.photobucket.com/albums/oo133/cjames502/image_zps9b31e4b1.jpg