Please Post Pictures and Descriptions of your AR Pistols Here.
Any Questions or Comments should be made in other Threads, to keep the "Purpose and Intent of this Thread" purely on visual stimulation.
Thanks again!!
-Jason
M1S 7.5 Upper
M1S "Old Style" Buffer Tube
Mega Pistol Lower
DPMS 7'' Kitty Kat A3 Flat Top Barrel Assembly
DPMS Kitty Kat Length Free Float Tube
4 Rail Gas Block
Detachable Carry Handle
Detachable Front Sight
Chrome Bolt Carrier Assembly
DPMS Pistol Engraved Lower With Pict-O-Gram Markings
Ace Buffer Tube W/Side Sling Adapter
Colt 9mm Buffer (5.4 oz.)
KNS Non-Rotational Pins
DPMS Ambi Safety Selector
Magpul Enhanced Trigger Guard
First Samco G27 Tactical Handgrip
CMMG 7.5 upper
BM Lower
CAR Stock
EOThingy
RRA Rear BUIS (Defender)
YHM Front Flip
ETA: I didn't want to waste a post on saying this, but this thread rules.
ETA2: I see the 10 inch crew hasn't gotten here yet!
Superior Arms lower -got it from RBPrecision for next to nothing cause some of the writing is F-d up including the word 'auto'! I wish she were auto, but she ain't!
Ameetec B/BC/CH they were having a silly low price sale on these and I got like 4 sets.
Ace buffer kit - cheaper to buy from ACE than anywhere else guys, remember that fellas!
Upper from a fellow boardmember - have no idea what brands it is, but its got the pigtail gas tube.
A sportsmans guide front sight mount for a laser, haven't decided which one.
The buffer kit comes with a great sling mount and I have the Profile Tactical sling on it now from the EE.
And with a friend!
Ameetec lower
CMMG LPK
CMMG built upper
-YHM front flip-up sight
-YHM 4-rail handguards
-T marked upper with cut feed-ramps
First Samco grip
Lo-pro lattice panels
YHM flip-up rear sight (since changed to ARMS 40-L)
ACE pistol buffer assembly
CMMG Kitty Kat 7.5 inch A3 upper with free float tube
with YHM Phantom FS.
Ameetec Lower
DPMS lower parts
Rock River NM WOA tuned 3.5 pound trigger
Hogue grip
DPMS ambi selector
PRI military Big-Latch
Modified M16 carrier
YHM flip up front sight gas block.
YHM 3 inch add-on forend rails x 3 with ladder rail covers (I still hate the way it makes the forend feel but it looks so much better)
YHM sling swivel rail adapter
Mag-Pul Enhanced trigger guard
ARMS Super Extended top rail with BUIS and A2 aperature
Tasco Pro-Point (yuck) dot scope in Warne Maxima Steel QD 30mm rings.
Laser Devices Las/Tac laser with pressure switch in Leupold 1" QDW ring.
ACE CAR length buffer tube (same as now used in pistol buffer tube kit) with DPMS 5.2 ounce heavy buffer.
Standard CAR buffer spring.
Beta C-mag
CMMG Black 30 round mags
AR-15.Com Lula Loader
Updated photos with YHM45 degree angle mount for Streamlight TLR-1 light and YHM extended rail for laser.
My first AR build:
Ace pistol buffer tube (with 9mm buffer and DPMS CAR spring)
Walmart "utility strap" D-I-Y single point sling
DPMS Southpaw A2 upper and Southpaw bolt
J&T carrier
M1S 10.25" barrel and A2 flashider
M1S float tube
J&T/Double Star lower
DPMS LPK and ambi-safety
(might pick up a Norgon Ambi-catch at the next show, but haven't decided, yet)
Haven't taken it to the range, yet, but I did fire a few rounds to make sure I could at least get it on the paper when I do have a chance to take it to the range.
And thanks for the help on how to post pics.
FDCC ordered custom lowers from Superior Arms. Mine was #007. I had a lot of parts in my box, so I put together this pistol.
Most of the parts are obvious and/or self explanatory, but a few standouts are the pre-order MIAD grip, and the Carbon 15 bolt, carrier, spring, and buffer, that came off my rifle when I switched stocks.
This was also the first AR pistol I had ever shot. I was surprised at how manageable it was, and accuracy wasn't bad either.
Grizzly (LAR) lower, with RRA LPK, LAR upper w/BM 11.5" 1/7, flutted hbbl, LMT buis, Ace buffer, DPMS ambi selector, G27 grip, and a YHM Phantom.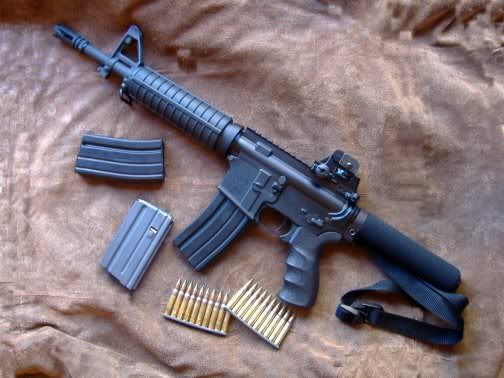 Updated 11/2005 w/Noveske FS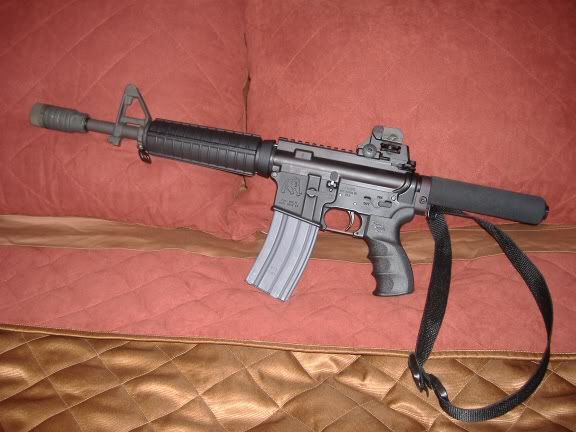 You got it...
.223 w/11.5 Colt barrel:
.22SD w/5.5 barrel and Coastal M-223 Can:
p.s. I have since changed the buffer tube on the .223 to an ACE pistol buffer w/foam...MadDog
Finally done, finished. :)
LAR Grizzly pistol marked lower w/LAR LPK
Model 1 Sales 7.5" A3 upper
Phantom 5C1 FS
Hiperform 5" Carbon Fiber handguard
AimShot 12mw green laser sight
My 9mm AR15 Pistol is FINALLY finished...
I took it to the range and ran 100 flawless rounds through it.
The only glitch, is the VM-HyTech mag block. It only accepts certain mags. What's a good way "open up" the mag well, so ALL UZI mags will fit?
The pistol has a Stag lower, M1S 11.5" HBar upper, basic CAR buffer, with a sling swival mounted through it to prevent a stock from sliding on.
Predator Railed Pistol:
Here's the pistol I bult, posted it here before and the pic disappears.
JR
Stag arms lower from AIM
11.5 pencil barrel from JSE
purple A1 upper from EE
b/c/ch and LPK from RBPrecision in EE
Levang linear compensator
misc parts from misc places


.




.


.
Just finished mine.
Model 1 7-1/2 A3 upper
Stag lower
Phantom Flash Hider
Samco grip
Optics of some sort to follow
(have to say Big-Bore inspired me
)
Model 1 Sales 10.5" Upper
Bushmaster Carbon-15 Pistol Lower
YHM 4-Rail
Insight M6
Unmodified Suomi 72 round drum 9mm, Oly pattern, uses pistol buffer tube, standard buffer cut to 1" and standard buffer spring cut to 6". Weight removed from bolt. Flawless on semi or full auto.
Here is the custom-and-then-some 338 Spectre AR pistol upper
Chambered in 338 Spectre (see picture)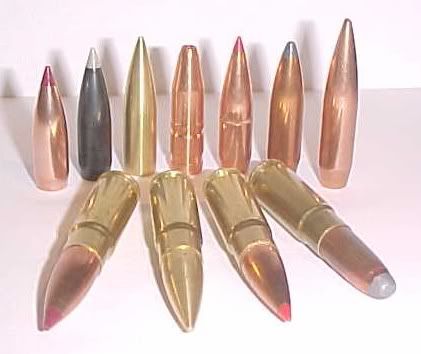 SPECS
Ameetec Arms side charger upper
Les Baer light weight carrier
DPMS 6.8 SPC bolt
Bushmaster Carbon 15 handgaurd
Bushmaster Carbon 15 rail
PacNor 1 in 7 twist stainless barrel
GBS low profile gas block
The hand gaurd and rail were requested by the customer and were milled to fit the Ameetec upper, which was milled, drilled and tapped to interface with the rail. The rail was also trimmed to make for a better fit. The HG is remarkably light and VERY STURDY, we were rather surprised. And it is free floated..... plan to do another one like this in another caliber
New picture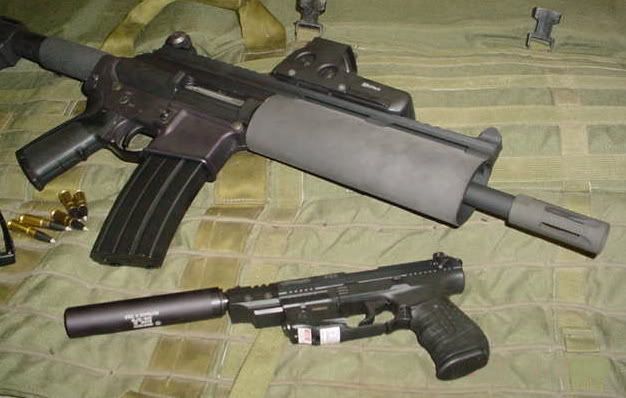 Updted pic of my little blaster..
Twins!
RRA 9mm carbine, cut to 7.5'', re-threaded barrel, front sight re-installed, done by ACDO.
RRA 9mm buffer
RRA 9mm hammer
RRA entry stock tube
ACE pad
RRA lower parts group
MA Parts tactical sling mount
Ergo rubber grip & Gapper
DPMS stripped lower, registered as pistol
Garrison top loading mag block
Colt and Pro-Mags run flawless...
DPMS Kitty Kat 7.5'' .223 upper with chrome bolt carrier. CMMG
EGRESS kit
Wolf X-power extractor springs
Wolf X-power CAR action spring
RRA 9mm buffer
RRA entry tube
ACE pad
MA Parts tactial sling mount
RRA lower parts group
Ergo rubber grip & Gapper
DPMS stripped lower, registered as pistol
" End of story "
>9mm pistol, Jarvis 9mm nato cambered 6" barrel threaded with 1/2 28.
>YHM mini free float tube with four rails.
>Spike's Tactical register pistol lower (made by LAR) with the calico jack logo.
>Proprietary buffer tube that preforms perfectly (uses AR carbine buffer and spring)
>Hahn Precision mag block
>Beta mag
>Fake can to protect the threads until the real thing.
>Ergo grip and tac-latch.