Let me intoduce myself....
US Army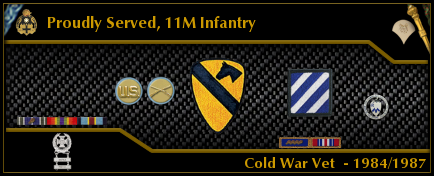 84-85 C 1/5 Cav 1st Cav Div, Bradley Driver
86-87 D 2/30 Inf 3rd ID, Bradley Gunner
Served Jan-Feb Border Patrol in the Coburg area of Germany.
Father was a Crew Cheif in the Navy for the S2F Tracker in the 50's with VS-32
My Grandfather was a Marine and fought on Iwo Jima with the 1st Bn, 25th Marines
United States Air Force
April 1980 - May 2000
Electronic Cryptographics Maintenance Tech.
Aerospace Ground Equipment Mechanic
Ground Radio Equipment Craftsman
Missile Alert Facility Manager (Woo hoo!)

Stations:
Lackland AFB, Tx (Basic & Crypto)
Chanute AFB, Il (AGE Tech School)
Barksdale AFB, La (2nd FMS)
Keesler AFB, Ms (Ground Radio Tech School)
McClellan AFB, Ca (1849th EIS)
Incirlik AFB, Tu (2006th CS)
F.E. Warren AFB, Wy (90th CS & 319th SMS)

Father was USN / Master Chief Petty Officer / 1943 - 1969. Pacific theatre. Majority of career: Landing craft (LSTs / LSDs / etc.) and destroyers.
US Coast Guard
1989 - Present

1989-1990 CGC Seneca, Boston, Ma
1990-1993 CGC Grand Isle, Gloucester, Ma
1993-1996 CGC Hamilton, San Pedro, Ca
1996-2000 CG Station Yaquina Bay, Newport, Or
2000-2003 CG National Motor Lifeboat School, Ilwaco, Wa
2003-Present CGC Greenbrier, Natchez, Ms

edited to update

Jamie
Hey, Dave! You be damned careful over there in that big kitty litter box of the world. Don't you come back with no more holes in ya than the good Lord gave you.
1st year army rotc @MSU. Everybody's gotta start somewhere...!
Army Core Of Enginners 572 frontline enginners. First Cav 1963-1966. Bob
Army
'82-'85- D 3/6 FA , C 3/6 FA , B6 FA Ft. Riley
'85-'87- C 6/37 FA Camp Essayons, Korea
'87-'91- 6/27 FA Ft. Sill
'90-'91- Desert Shield, Desert Storm
'92-'95- Recruiting in West Plains, MO
'95-'97- A38 FA Camp Stanley, Korea
'97-'99- c 1/12, HHS 1/12 FA Ft. Sill
'99-01' A 5/3 Ft. Sill
'01-'02 1-33 FA Bamberg Germany
May '02- present- Camp Able Sentry, Macedonia

Last of the original 13M MLRS (Multiple launch Rocket System)Crewmembers still on active duty.

Currently, Operations SGT for Camp Able Sentry security force in Macedonia.
---
Originally Posted By TimJ:
ArmyInf, were you in a line company or in HHC? I was in the Scout Platoon 3/187th in 1990, I got out in July, knew some of the mortarmen in HHC.....had one as a Ranger Buddy in Brigade RIP...
---
Tim,
I was in HHC with Sigel, Jackovich, Huntington and those others. I think I know who you're talking about going through RIP, but I can't rememeber his name to save my life, but I do remember that he was heavy into Martial Arts and watching him do the splits between two chairs as part of his stretching excersizes...OUCH!
Sigel was my Ranger buddy at RIP-we were in the same battalion in Korea, but different companies. I had a poster from Korea, I think for Crown Beer, that Sigel managed to talk me into selling him.....I wish I had it now.

Rakkasan!

Tim

USAF 81-92
BT Lackland 81
Tech School Lowery AFB Denver 81-82 Avionics Sensor Systems
1st Assignment McClellen AFB Sacramento Cal 82-84
F-111F PAVE TACK
2nd Assignment Lakenheath England 84-88 F-111F PAVE TACK Libya Bombed Air Force refused to issue citations, Navy issued the Navel Meritorious Unit Citation (my favorite medal) TDY Incerlik Turkey (shoulda received purple heart for the Trots! :) ) TDY Zaragoza Spain.
3rd Assignment Hurlburt Fld Fl. H-53 Pave Low, FLIR Panama Conflict, TDY Rosy Roads Puerto Rico,
Pope AFB Joint training exercise, Operation Desert Storm.

US Army 66-83
Nam as 11B Dec 66-Oct 67
Dataprocessing in 68
Okinawa October 68-Mar 70.
Nam Mar 70-Feb 71
Germany Apr 71-Oct 74
Ft Lewis Oct 74-Oct 77
Helicopter Armament Repairman (TOW missile)
Ft. Eustis Dec 77-Mar 78
Germany Mar78-Sep 81
Ft. Campbell Sep 81-June 83


USN 1991-1996
Boot Camp: RTC San Diego
DS "A" and "C" School: Mare Island, Valejo CA
USS Emory S. Land, AS-39, Norfolk VA.
Honorable Discharge as DS2/E5 in 96.
US Army (Ret.)

Enlisted 1975
'76-'79 Fort Knox (11E10/20, later 19E10/20)
Tank Commander Instructor
Assistant Operations Sergeant
'80 Fort Benning OCS
'80 Fort Knox AOB
'80-'83 Wiesbaden
Tank Platoon Leader
CSC XO
'83-'84 Fort Knox AOAC/JOMC
'84-'86 Fort Carson
Asst Bde S3
Bn S3 Air
Installation Ops Officer (DPTM)
Tank Co Cdr
'87-'88 Wildflecken
Tank Co Cdr
Bn S3 Air
'88-'91 Frankfurt
V Corps HQ Installation Coordinator
'91-'95 Fort Knox
Operations

Panama? No.
Grenada? No.
Somalia? No.
Desert Shield/Desert Storm? No.
All that training to babysit 5 general officers in Germany.
Canada? Yes. Twice. Sheesh.

Not a hero, a soldier.

Grandfather - LT 7th Div WW1, MG Co Cdr.
Father - LT USAAF WW2, B-25/B-17/B-29
Brother - SSgt USAF Germany/Vietnam/Germany/Turkey
USAF 88-92
Weather Specialist
Lackland, TX: BMT
Chanute, IL: Tech School
Ft Sill, OK: 89-90 Det 11, 5th WS
Ft Campbell, KY: Aug 90 Det 1, 5th WS
Fun in the Sun with the 101st, Saudi Arabia and Iraq Aug 90 - Apr 91 Det 1, 5th WG
Fort Sill, OK 91-92 Det 11, 5th WG

Step Father USAF 70-91 - Vietnam, Passed away while on active duty.
Maternal Grandfather WWII USAAF - European Theater B17 Waist Gunner
Paternal Grandfather WWII USN - Pacific Theater CB's
Maternal Great Grandfather WWI USA - Scout/Infantry

(edit to add family)
US Army 1970-1973
Army Aviator, WORWAC Class 71-29
Cobra Transtion Course, Oct - November 1971.

RVN Dec 24, 1971 - Dec 19, 1972
WO1, Aeroweapons platoon (Cougars), 57th AHC, 52nd Btn, 17th ACG, 1st Aviation Bde.

Assorted relevant decorations, US & RVN. (The Good Conduct Medal was a freebie if you managed to get through WORWAC, aka flight school, otherwise, I never would have gotten one.)

Out in July, 1973. IRR until 1983.
Hi guys here's my bio.

USMC 1974-78

0341 Mortarman, H&S 2/9 Weapons PLT, Operation SS Mayaguez,

H&S 1/6 Weapons PLT, Med cruise to Egypt, thru Suez Canal to East Africa.

USMC Reserves 1979-81.

Texas Army National Guard. 1987-2000.

13B, 13F, 19E, Master Recruiter.

Various Medals, MSM, ARCOM, AAM, CAR, NUC, MUC, Good conduct from both USMC and ARMY, 2 NDSM, Armed Forces Exp. Medal, Overseas service, Army Reserve medal, TX ADJ medal and other medals.

I was medicaly discharged after 26 years of service of which 12 where active duty. I loved doing it and would do it again.
USAF June 63 - June 67
Basic at Lackland AFB
Air Police School there as well
Clark Air Base, Phillipines Oct 63 - April 65
TDY to Bien Hoa, Viet Nam Oct 31, 64 - Jan or Feb 65.
Webb Air Force Base, TX remainder of my tour.
My record -
US Army Apr 68 - Dec 69
Ft Lewis, Wash
Ft Gordon, GA
RVN - Sep 68 - Dec 69-Near the DMZ for 4 months and then down near Saigon for the remainder

My Father is a Pearl Harbor survivor, my grandfather was in WW1, my great grandfather was in the Civil War
-USAF (active duty) 1982-92
-Kessler AFB 82-3, Electronics Warfare specialist
-Fairchild AFB 83-9, EW systems B52G/H
-Osan AFB ROK 89-90, 6903rd ESG
-Fairchild AFB 90-2, Aircraft Crewchief B-52G/H

Air National Guard 92-present
-Combat Communications
-Civil Engineering
-local, state and All-Guard Shooting team (pistol) 94-present

*Interesting places I have visited;
Korea, Japan, Norway, Kuwait, Cuba(attached to PSU-307 USCG), Newfoundland, Spain, Israel, France, Crete, quite a few states and most dangerous of all Washington D.C.


USAF 1972-77, Aerospace Defense Command
Vietnam era veteran
Sergeant
Hell, it was too long ago to remember my MOS's:
2-1/2 years as an aircraft engine mechanic on propeller-driven planes (Yeah, we used to have those). 1-1/2 years as a medic. After boot, spent my whole tour at Peterson Field, Colorado. It was tough to take. Everyone else in my boot camp Flight went to Thailand or Vietnam.

My dad's US Army, Staff Sergeant, decorated at the Battle of the Bulge. Very proud of him.

My son's a USMC Sergeant stationed at LeJuene, winding up his second tour. His other grandfather was also a leatherneck.

MacThomas
U.S. Army 1975 - 1979
35F20 at the start...35F10L9 at the end SP-5 (Special Weapons)
BTC, D-2-1 Ft Jackson, SC
COBET, Ft Jackson, SC
USAMMCS, Huntsville, AL
Unit(? too long ago), Romulus, NY
525 Ordnance Co., Siegelsbach, FRG

USAR (while back in college)
4003 HHC, MWC Oklahoma
NBC NCO (MOS#? I don' need no stinkin' MOS#)
Pulled Summer tours at Ft Chaffee AR teaching w/e warriors about NBC.

Let my club membership expire when I graduated in 1983.
U.S.S Toledo CA-133,Quemoy,Mattsu.Saigon 1958.LSD-17 Catamount,Saigon,Danang ect 1961-62.U.S.S Segundo (SS-398)submarine till out in 1966.loved it all-the boats most of all.Stretch
U.S. Coast Guard 76-86

Gunnersmate First Class
USCGC Duane WHEC-33
USCG Group Portland Maine
USCG Tracen Cape May NJ

Weapons Instructor
Law Enforcement Officer
All around Puddle Duck!!!

Under way is the only way!!!!
U.S. Coast Guard
Aircrew / Instructor
Cape May...Elizabeth City...Atlantic City...Bunch of deployments...
Vietnam, 68/69 Americal Div.
Germany, 67
Wouldn't go through it again for a million $
Wouldn't trade experiences for a million either
Howdy.

USAF Security Police, 96-00
Turkey, Saudi, Kuwait, Germany, England, Italy, Spain.

Bill Clinton's military, had to jump ship.

VAARNG, 29th ID, Tow Gunner, 00-01

Currently seeking a good ARNG Infantry unit in central Virginia, as I just moved.