07 Speed Triple.
I have the Arrow titanium low mount system and CRG bar ends on it now. As soon as I get home from this job I am putting a Skyking fender eliminator, radiator covers and some other doodads on it.
Edit: All your page 3 belongs to the 3 cylinder terror.
That's freakin' cool! Looks kind of stubby.
Originally Posted By Sniper_Wolfe:






That's freakin' cool! Looks kind of stubby.
It has exactly a half an inch longer wheelbase than the 2008 R1, but with about 78 ft/lbs of torque at 5200 rpm in stock form. Needless to say, the front end gets skyward without having to wind the piss out of it.
VFR800
Just sold the KDX220
Not exactly "bikes", but...
Grizzly 450
Rancher 350
That S3 is sweet,
Here is my clunker sitting in my parent's garage:
jakee.shackspace.com/bikes/kz650sr/DSCN0547.JPG
ha forgot that the pic was that big, its a link now
Thats a chick!
hmmmmm, better be nice she might have a hubby, if not ...... want one
Here is my bike. It's an 04' Honda 1000RR.
yeah yeah yeah, rub it in bitch!
a few more I took today in the Lumbee Indian Trails
I had to pee, after about 3 miles of whoops.... hence the skid marks
I was rolling about 35mph when I found a spot my kickstand would NOT sink into (heavy sand trail)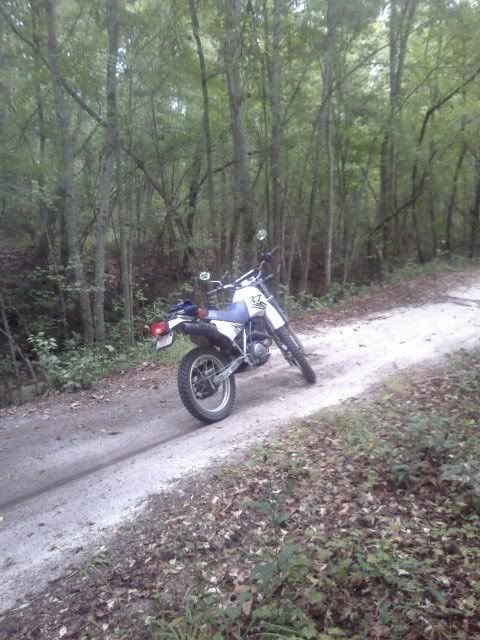 Here's the ZX9r:
Aprilia Mille
And the trackbike before I crunchified it and myself:
I haven't seen it on the EE nor on ADVrider.com's Flea market.
Nice SM!!
I have always loved the Dukes. What are you asking for it?
1997 1100XX Honda SuperBlackbird.
another one of my all time favorite rides...
The ole' fiddy! What other motorcycle can you do no footer, rolling stoppies without ever leaving your driveway? (In all honestly I would have to go out into the street a bit to build up enough speed to stoppie across the entire driveway.)
Woo Hoo!
.
Nothing special, just an ordinary '77 R75/7 with indeterminate mileage. I'd ride it across country today without thinking twice about it, though.