There are threads on nearly every page of the New York forum asking for advice on buying or "building" a post ban AR15 that is legal in NY. For the sake of helping out my fellow NY brothers, I wanted to compile a quick reference thread that covers the key points of NY's AWB and what options are available for a NY ban compliant AR15.
NRA/ILA
has compiled this summary of New York's firearms laws, including a section on "Assault Weapons":
ASSAULT WEAPONS
It shall be unlawful to possess any "assault weapon"
or "large capacity ammunition feeding device." So called
assault weapons lawfully possessed prior to September
14, 1994 and large capacity ammunition feeding devices
manufactured prior to such date can continue to be
lawfully possessed..
"Assault weapon" is defined as:
A semiautomatic rifle that has an ability to accept a detachable
magazine and has at least two of the following characteristics:
• a folding or telescoping stock;
• a pistol grip that protrudes conspicuously beneath the action
of the weapon;
• a bayonet mount;
• a flash suppressor or threaded barrel designed to accommodate
a flash suppressor;
• a grenade launcher.
Here is where you have your first decision to make: Do I want a "pre-ban" rifle or do I comply with the "post ban" provisions?
Buying a pre-ban rifle means that the lower receiver (the part with the serial number on it) must indicate that it was manufactured prior to 9-14-94. This will limit your choice of lowers and you will find that pre-ban lowers command a premium. If you elect to spend the extra money to obtain a pre-ban lower, then you will be able to enjoy all of the characteristics otherwise restricted from post-ban rifles including flash hiders/suppressors, collapsable stocks and bayonet lugs.
Many NY AR15 owners instead elect to make their rifles post-ban compliant. Referring back to the "Assault weapon" definition, you'll notice that a pistol grip is considered one of the charasteristics. Most AR15 owners opt for the pistol grip as their one allowable feature so now you would need to eliminate the other common characteristics: a folding or telescoping stock, a bayonet mount and a flash suppressor or threaded barrel.
Your choices for making the rifle ban compliant fall into one of several categories:
1. Buy a complete rifle that has been made ban compliant.
2. Buy the upper and lower seperately ensuring that each section is ban compliant.
3. Buy from a vendor who will make the upper and/or lower ban compliant for you.
4. Buy and ship your upper and/or lower to a vendor who will make it ban compliant for you.
5. Make the upper and/or lower ban compliant yourself.
Let's take a closer look at each option.
1. Buy a complete rifle that has been made ban compliant.
There are several manufacturers who sell AR15's in a ban compliant version. These companies include, but are not limited to,
Bushmaster
,
Rock River Arms
,
LMT
,
Smith&Wesson M&P
,
DPMS
, and
CMMG
. The obvious benefit is that you can buy a complete rifle directly from the manufacturer and do nothing else to ensure that you are complying with New York's AWB provisions. The downside is that you are limiting yourself to a specific pre-packaged setup that may not be exactly what you'd like. Costs will vary depending upon the actual rifle. Order turnaround times will vary even more so make sure you ask before buying.
Your local dealers may also carry these ban compliant versions in stock as well. Being able to hold and inspect the rifle before your make the decision to buy is a strong advantage. Depending on the dealer, they may also be able to offer you options not included with the standard ban compliant version offered by the manufacturer. For example, they may be able to switch out the stock or pin a different muzzle brake for you. Either way, you can walk out the door with a ban compliant AR15 and peace of mind. The main disadvantage is that you will be paying a retail premium to do so. You will need to decide for yourself what is most important to you.
2. Buy the upper and lower seperately ensuring that each section is ban compliant.
Putting an upper and lower together is as simple as pushing in two pins. You do not need any tools or training. Simply order the upper/lower of your choice and snap them together. (As an aside, I am referring to "complete" uppers and lowers.)
You can go one of two directions with buying a lower: select a fixed stock (these are by definition ban compliant) or a folding/telescoping stock. Fixed stocks could include the A2, Ace, Sully, or even a Magpul PRS. If you choose one of these options, then there is nothing more you need to do to make your lower compliant. You could also choose from any number of collapsable stocks including the standard M4, Magpul's MOE, CTR, ACS, or UBR. If you select a collapsable stock, it must be "pinned" so as to make the stock fixed. Your local dealer will likely do this for you before you can take home your new lower. Expect a cost of $30 or so. Since stocks are such a personal preference item, you will need to decide for yourself if the added cost of pinning a collapsable stock is worth it.
The same companies linked above also sell complete uppers that comply with the AWB. Options will vary by manufacturer and the nice thing is they can ship directly to you and do not need to go through a FFL. If you order an upper without the fixed front sight base (FSB), then there is no bayo lug to worry about shaving off. Ban compliant uppers with a FSB will ship with the lug shaved off. The barrel will either be (a) unthreaded and lacking any muzzle device, or (b) have a muzzle brake (not break
) permanently attached at the end of the barrel giving a total overall barrel length of 16" or more. Options for brakes will vary by manufacturer, but generally do not offer much selection. A seperate paragraph on legal muzzle devices will follow later. With so much confusion over what is legal and what isn't, buying your upper directly from the manufacturer in a ban compliant format takes all of the guesswork away.
3. Buy from a vendor who will make the upper and/or lower ban compliant for you.
There are a number of industry partners right here on arfcom who combined sell pretty much every upper or lower you could want: Noveske, Colt, Bravo Company, LMT, Daniel Defense, KAC, etc. Many of them will also perm attach a muzzle brake and/or shave the bayo lug as an option. You can save yourself the extra cost and hassle of shipping by simply choosing a vendor who will make the upper compliant for you. Many of these vendors also manage their own boards in the Industry forum and actively participate in discussing their services. A partial list of the vendors you might consider includes
Denny's/GTS
,
MSTN
,
Spike's
,
Rainier Arms
,
AR15 Performance
, and
ADCO
. Some of these vendors offer very customized uppers!
4. Buy and ship your upper and/or lower to a vendor who will make it ban compliant for you.
Your local FFL may be able to offer or outsource such services as a perm attach of a muzzle brake. Make sure you get references or samples of this work before sending your components to him! Costs will vary so make sure you ask first. If your local alternatives do not suit you, then you can ship your upper and brake to a vendor yourself. Some manufacturers will even ship the upper directly to this vendor for you. For every thread started on arfcom requesting a good place to go for perm attaching a muzzle brake, you will see the name
ADCO
repeated over and over. There's a very good reason for this: they do a great job and will return your upper to you quickly. You truly get what you pay for with ADCO.
5. Make the upper and/or lower ban compliant yourself.
There is an entire section of this board dedicated to
BIY or "Build it Yourself".
The upside is that if you have the tools and are somewhat handy, then you can minimize the cost of making your AR15 NY ban compliant. The downside is that you run the risk of not achieving a finished product that would be considered compliant. In other words, you have no one to blame for the final outcome other than yourself.
It should be noted that there is no specified method from BATFE or NYSP for pinning a collapsable stock. Shaving a bayo lug is as simple as using a Dremmel with the necessary attachments. BATFE has issued letters in support of perm attachment methods for muzzle brakes, however, the NYSP may be using their own interpretations which are as of yet unpublished. Do your homework before attempting these modifications on your own.
Muzzle brakes
Let's get one thing clear - flash hiders and flash suppressors are illegal in New York. If you are going to add a muzzle device to your barrel, it should be a muzzle brake. Some of the brake/compensator/hiders are also GTG and will usually reference a BATFE letter stating the device is a non-flash suppressor (BATFE has discontinued this practice with newer products). The downside to using a muzzle brake is that they can be loud, some more so than others. They will also add an extra $30 to $100 to the cost of your new AR15. One very popular muzzle device legal to use in New York is the PWS FSC556. For $95, you get a device that combines the attributes of controlling muzzle climb and some flash mitigation with a
BATFE letter
certifying it as a non-flash suppressor. Other legal choices would include, but are not limited to Bushmaster's
Izzy Muzzle Brake
,
MSTN QCB Muzzle Brake
,
RRA Tactical Muzzle Brake
,
Rainier Arms XTC
, and the
POF .223 flash hider kit (GTG per 762DM)
.
As a rule of thumb, muzzle devices referred to as "flash hiders" or "flash suppressors" are not legal while devices referred to as "muzzle brakes" are ok. Read the description carefully! You should be looking for specific language in the product description that states the device is legal for AWB states or includes a BATFE letter certifying it is a non-flash suppressor.
My experiences
My first NY compliant "build" was a LMT upper and lower that I purchased from Denny's Guns/GTS. I also purchased the FSC556 from Denny and he perm attached the device and shaved the bayo lug prior to shipping it to me. The lower was shipped to my local dealer who pinned a Magpul CTR stock prior to me picking up the complete lower. In hindsight, I should have bought a MOE stock since pinning it makes the added cost of the CTR's friction lock an unecessary expense. Here's what that rifle looks like in its current NY ban compliant configuration: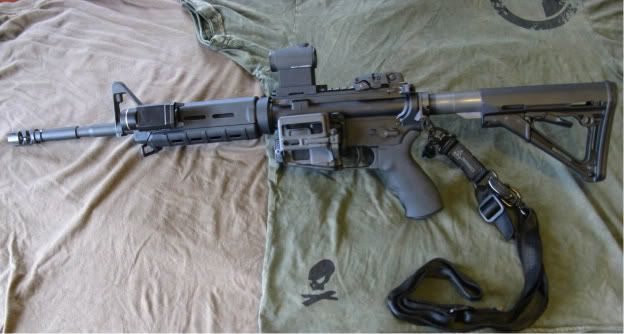 Denny's perm attach of the FSC556:
Denny's shaved bayo lug:
Here's a perm attach done by ADCO on a BCM middy with a FSC556: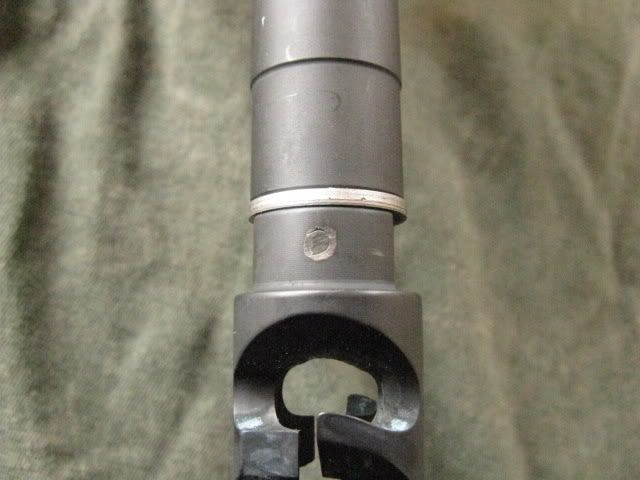 Here is a FUBAR'd perm attach done by a local hack on my Noveske 6.8SPC recce rifle that was later corrected by ADCO
:
My next upper will have the perm attach done directly by BCM as soon as their
14.5" middy uppers
come back in stock
:
Conclusion:
The best advice I can give to those who want a ban complaint rifle in New York is to start by selecting the complete AR15 or individual upper and lower of your choice, then select one of the methods outlined above to make it NY ban compliant.