Too funny!
I am certainly not name calling. I am a fan of all mag fed 308s. 308 ARs and their ancestors like the antiquated AR10, by Armalite.
I have had 3 originals over the years, and just because 3 countries adopted them, that does not qualify them as current military standard.
The DPMS AP4s that I have fired in recent years far outperforms any original AR10 of the past.
One of the best improvements Armalite has made, and there are many, was to use the modded M14 steel box magazine.
My beef is not with the multitude of 308 AR weapon platforms available.
My beef is when wanna be enthusiasts use incorrect blanket nomenclature as a pathetic attempt to capture some of wow factor that the real AR10 has earned, even when they know the truth is otherwise.
To knowingly lie, for whatever reason or justification you choose, is just plain wrong, period.
I am not going to argue about it as I am man enough to accept the truth as it is and I am also capable enough to accurately inform other enthusiasts.
New fans look up to nice weapons like 308 ARs, that is why they ask the questions.
To blatantly lie to them, and other enthusiasts propagates ignorance and is not fair to them.
All I am asking as that fellow enthusiasts should stop being part of the problem and at least try to be part of the solution.
308 AR.
It is not that hard to help others the right way.
Like I said, I am a fan of all 308 mag fed weapons and can see the good in all of them.
Here are two of my current favorite 308 ARs: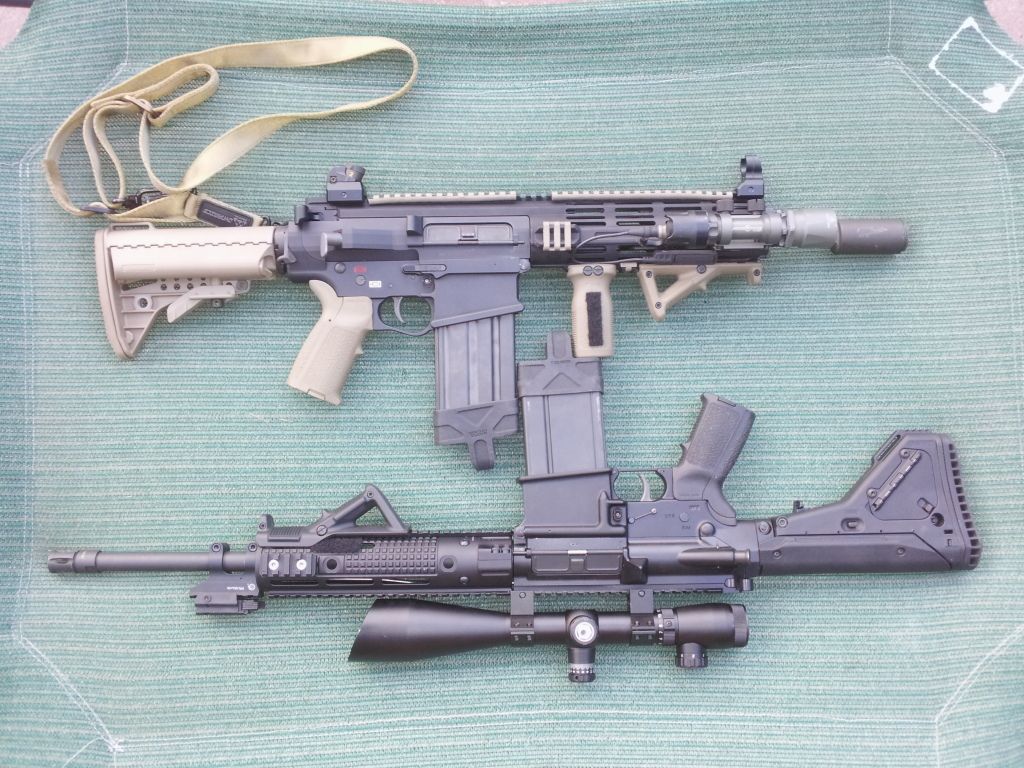 Top is my new favorite beeyatch, a home build DIY DMPS compatible 12" heavy fluted bbl compact POF/Hogan
DPMS, COLT, Magpul, Vltor, Noveski and surefire piston vehicular 308 AR.
My new second favorite is my Armalite AR10, 16 inch bbl, gas operation, Magpul APEX
laser sighted medium sniper rifle.
Both are pretty accurate, but the Armalite has the accuracy edge while the 308 AR has handiness and DPMS compatibility
on it's side.
As you can see, there is no wrong weapon when it comes to 308 ARs, only wrong answers.
Scouts Out.