Originally Posted By Tim_W:
Originally Posted By CORNHOLIO1:
Originally Posted By Tim_W:
Originally Posted By riflecrank:
The only difference is that the .264 LBC chamber shoots better than a Grendel.
Agree with this,
Black Hills 264 ammo with 123gr SMKs will easily shoot under 1/2"
I don't agree. I can get the same with handloads in the Grendel
Well yeah with handloads but that is out of the box factory ammo shooting less than 1/2" groups. It will do the Same with 100gr Barnes TTSX, 107 SMK, 108 Lapua and 123 AMAX handloaded.
We have tested both enough to see the difference, the tighter neck diameter and standard match type (non compound angle Grendel) throat is more accurate in our tests.
The group at left was fired with a 20 inch AA GDMR and is well under a half inch (slightly below .3 if I remember correctly).
The group at right is .6 and was fired from an AA 16 inch carbine with a chrome lined 'M4' type barrel.
Both were shot using factory 6.5mm Grendel Hornady ammo. My GDMR has posted 3-4 inch groups at 600 yards, with factory Hornady ammunition.
In my experience the Grendel chamber shoots a wider range of bullet lengths/weights more consistently then
other designs. This is especially true when you get into lighter/shorter bullet designs such as the old 90 grain TNT AA factory load.
This was the reason why this chamber design was developed........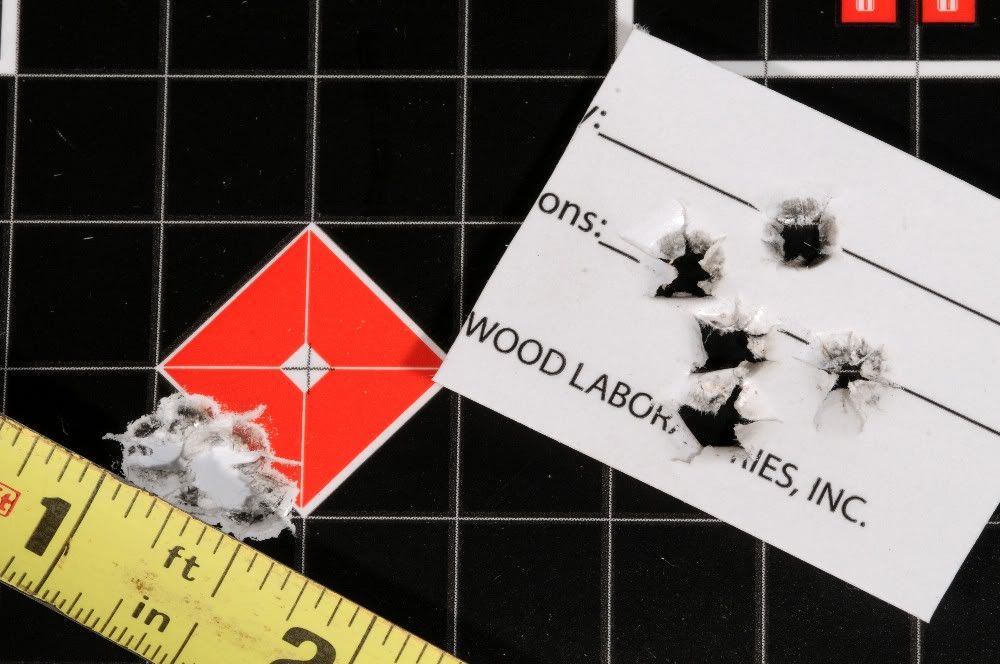 On the flip side, Les builds a great rifle, they are beautifully made, very reliable and very accurate. If you decide to purchase
a Les Baer I'm sure you will be very happy with it. The .264 LBC AR cartridge is a 6.5mm Grendel cartridge with a different headstamp.
I have shot .5 inch groups with my two Les Baers.