Let it be known on this day if this proposed assault weapon ban is passed and signed into law, I will not comply.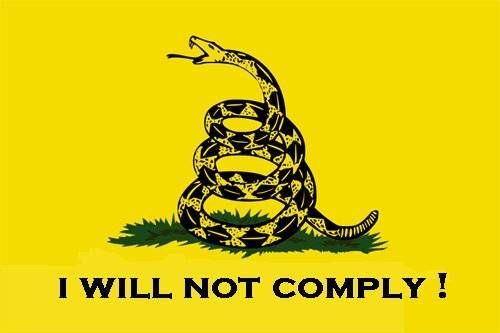 Senator,
It is with a heavy heart that I write to you today. I have been a citizen of this great nation for 46 years and 17 of those as a law enforcement officer. I have seen our nation go through some tough times. On January 24th, 2013 Senator Feinstein with the support of President Obama has proposed the most draconian firearm legislation to date. The proposed law is not about safety it is about disarming and restricting the rights of all Americans.
I swore an oath to uphold and defend the Constitutions of the United States and the State of Alabama. That oath means something to me. I swore before God, my fellow citizens, law enforcement members, my family, to protect them, to protect their rights and those precious documents. My swearing to defend these principles does not end with those who would pass such a law stripping current and future citizens of their right to keep and bear firearms. The motto of the State of Alabama is "We Dare Defend Our Rights". I choose to defend those rights.
If this proposed legislation passes and is signed into law it is a direct violation of the Constitutions of the United Sates and the State of Alabama. I will not obey it, I will not enforce it, nor will I participate with any organization or government entity in the enforcing of such a law. On that day I will move from being a long term law abiding citizen to a citizen who will not comply with the blatant infringement of our rights.
Our Founding Fathers warned us about an overreaching tyrannical government. With great forethought they made sure the Bill of Rights included the 2nd Amendment as the only way to protect all the other amendments. No one can read that document and writings of the Founding Fathers and not know the true meaning of the 2nd Amendment. It is not about sporting purposes or hunting. It is for the defense of the citizens against harm and a government that no longer serves the people but wishes to strip them of their rights.
I stood on the Capitol grounds in Montgomery on January 19th, 2013 with my fellow citizens and family members in support of the 2nd Amendment. I listened to speaker after speaker talk about what it means to be a citizen and what we have to do keep our people free. The speaker that moved me the most was my 16 year old son. He spoke about his rights, freedom and future. It is my duty as his father to standup and protect his right to live free and prosper. I will not shrink from this responsibility nor will I hide in the shadows of tyranny.
I'm a Life Member of the National Rifle Association, my dad is a Life Member, my wife is a member and both of my sons are members. I will not comply, with any legislation that further restricts the rights of American citizens to keep and bear arms.
Sincerely,
Bama-Shooter