The Vickers Tactical AK course is designed to teach a student the skills and techniques necessary to use the AK platform effectively as a tool for serious social interaction.
The AK is one of the most popular assault rifles in the world, and yet is also probably the most misunderstood assault rifle within the US. As a kid I remember growing up with all kinds of stories the poor quality of com-bloc weapons, their unreliability, and their minute of barn accuracy. The AK, the preferred weapon of our enemy….which makes a distinctive sound when fired at us, sir…was always billed as inferior and incapable.
After half a day Mr. Vickers is usually able to pretty much put all of that nonsense to rest.
Mr. Vickers is an expert on the AK platform from an operational as well as a technical perspective. This means that he can teach you the most effective way to handle and manipulate the AK and is just as capable of giving sage advice in regards to the purchase, setup, and maintenance of an AK. AK's on the civilian market here in the US are not created equal and the expert advice of someone who knows the ins and outs of the market can save a lot of money and frustration. Many AK's on gunstore shelves here in the US are an amalgamation of parts from a bunch of different sources…which can cause problems. Before the course even started one individual's AK was found to have a military safety installed on it that was incompatible with the 922r compliant fire control group in the gun. A simple attempt to adjust the tension on the safety (a simple process) turned into a need to completely replace the safety. I took the Blackjack lever off of my VEPR and we installed it on his gun so he could run the course with it.
The marriage of all these parts from different sources with different tolerances can lead to serious problems. Another individual found that out the hard way when he attempted to disengage the safety on his rifle and the weapon discharged. Thankfully this during a drill and the weapon was pointed in a safe direction so no one was in any sort of danger. Still, it should serve to demonstrate the potential issues you can have with AK builds…and perhaps show why playing with the safety isn't a good idea if you are behind the line. In this instance the operator was disengaging the safety to complete of a drill just as he was supposed to, but he had an unforeseen equipment issue which resulted in a loud noise when one was not intended. Good handling habits on his part turned something that could have been really bad news into nothing more than a teaching point about the pitfalls of AK parts.
There was also an issue with slings during this course. There are a number of different sling options out there on the market these days, but at least in my humble opinion all of them are not created equal. In this course I saw two rifles part ways with slings because of unnecessarily complex attachment points. One was a gun Mr. Vickers borrowed to do a demo. He took the weapon and the front sling attachment popped right off of the gun. Mr. Vickers had positive control of the weapon so there was no problem, just a slight delay to get the sling back on the gun. The other happened behind the line when I was talking to another student and his rifle, which had just been cleared by design on a previous drill, flopped off of the single-point arrangement he had going and hit the dirt. Mr. Vickers mentioned to one of the students that all the whiz-bang buckles and attachment stuff you see on some slings these days are essentially possible points of failure. Simpler generally is better in regards to sling arrangements, which is why Mr. Vickers' signature sling is designed as it is. The design is deceptively simple but made of very high quality materials and arranged to provide the best possible security as well as excellent functionality.
One of the first myths about the AK to be demolished was accuracy. AK's are often billed as inaccurate weapons, and Mr. Vickers was careful to explain that AK's do have some inherent accuracy limitations due to the nature of their production and to the ammo available. Still, when properly zeroed the weapons themselves are capable of delivering more than enough accuracy to get the job done. To emphasize this Mr. Vickers had us shooting at 6" NRA bullseye targets during the majority of the class. Whether the drill was static, shooting from the weak shoulder, or shooting on the move, the goal was to put all shots in the black whether we were 5 yards from the target or 50. The only respite from the 6" bullseyes to be found was the walkback drills which required hitting a 12" x 12" steel plate. That wasn't so bad at 25 yards…but 12" seems kind of small at 125 yards. Still, we had lots of people making hits with AK's at 125 yards, even with iron sights and a 4 second par time.
At the encouragement of a few students during one walkback, Mr. Vickers took us back to 200 yards. From 200 yards, standing, offhand, several students scored solid dead center hits on a 12" steel plate with an AK pattern rifle and a hodgepodge of bulk quality 7.62x39mm ammo. (Only one shooter was using a 5.45 AK, and only Mr. Vickers had an AK in 5.56) I made the hit at 200 yards with Templar's VZ-58, which he was kind enough to let me borrow for the course.
So much for the minute of barn accuracy attributed to com-bloc weapons. The only person who could legitimately claim that they missed due to equipment would have been, ironically enough, Mr. Vickers who was T&E'ing a new iron sight for his beater AK that didn't seem to hold a zero very well. The rest of us could blame all of our misses entirely on failures in the trigger control and sight management departments.
There was a mixture of different hardware at the class which the pictures will relate far better than I can. It was rather curious that all but one of the weapons at the class was in 7.62x39mm. About 1/3 of the class was using some sort of red dot sight if I recall correctly, while most of us were using irons.
There were a number of really good shooters in the class. Chris Barrett (of Barrett Mfg. fame) was consistently one of the better shooters on the line. A young Marine (whom we affectionately nicknamed Gunny Highway) showed the benefits of Corps rifle training and some serious bullseye competition with his superb shooting. This was GermanSynergy's first Vickers course, which is usually a bit of a shock to the system for most in regards to Mr. Vickers' legendarily high accuracy standards, but he handled it well and shot very well through the entire course despite dealing with a busted rifle. We were fortunate enough to have a medical professional in the course who shot extremely well, generally turning in one of the better performances on any drill. Templar was performing to his usually high commie weapon shooting standards. We were even graced by the presence of a lady shooter who did a pretty good job of getting her hits despite dealing with a rifle that didn't fit her well.
All in all it was a good course with a lot of good material, some excellent shooters, and some good fellowship. The Drake's Landing range facility was great. The only thing that would have made it better was the installation of some shade. The sun seemed brutally oppressive over the weekend for some reason which left people a bit fried (figuratively and literally…I think we all have raccoon eyes from the eyepro) by the end of the day. Other than that, the range was clean, well-maintained, and very user friendly. Kudos to Drake's landing.
If you are serious about learning the AK, this course is a must. It's difficult to think of anyone else on the planet who can match the unique combination of operational experience, technical expertise on the AK, and raw teaching ability that Mr. Vickers brings to this course. That is a big reason why you see so many repeat students in his classes. Even if you've been through the exact same course before, you still walk away learning a great deal. I continue to train with Mr. Vickers because even after attending as many courses as I have with him I always walk away thinking about things differently than I did before.
Part of that could be that I'm about as teachable as a brick, but I think the majority of it is due to the quality of instruction. ;)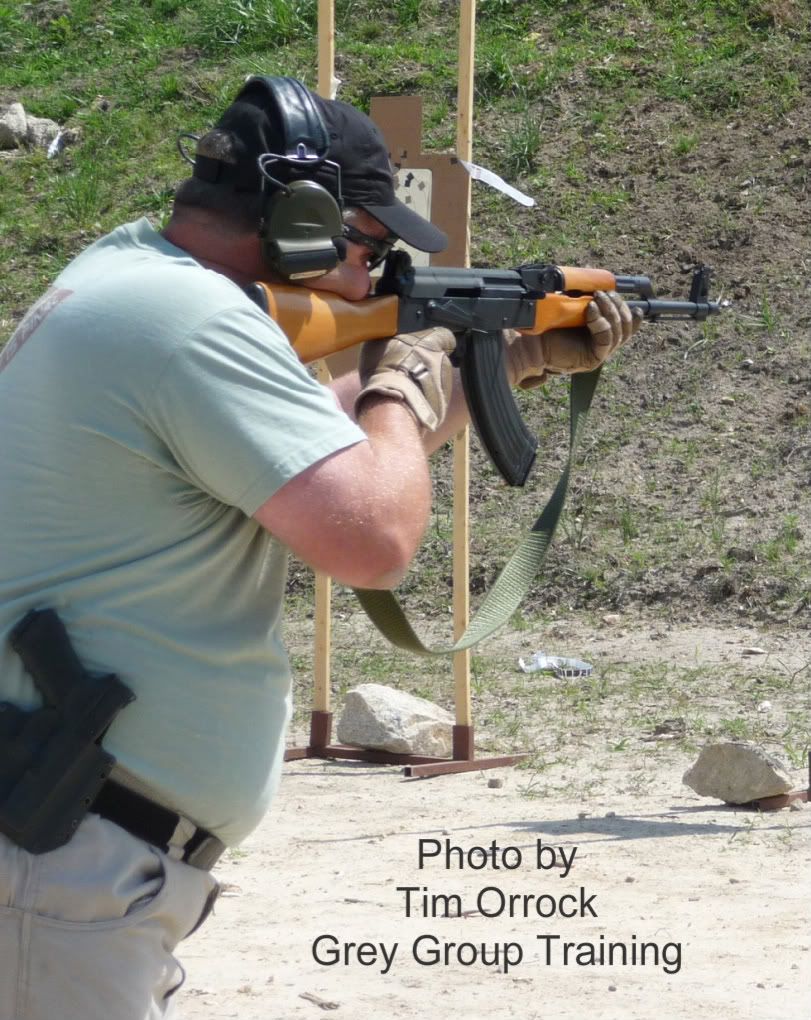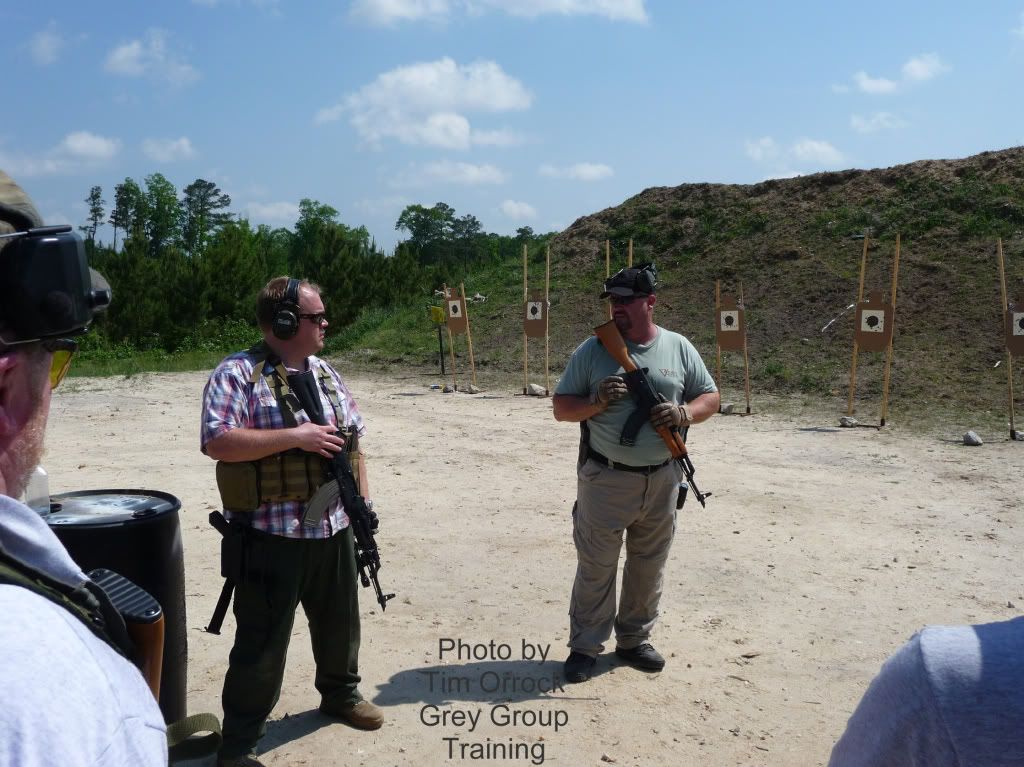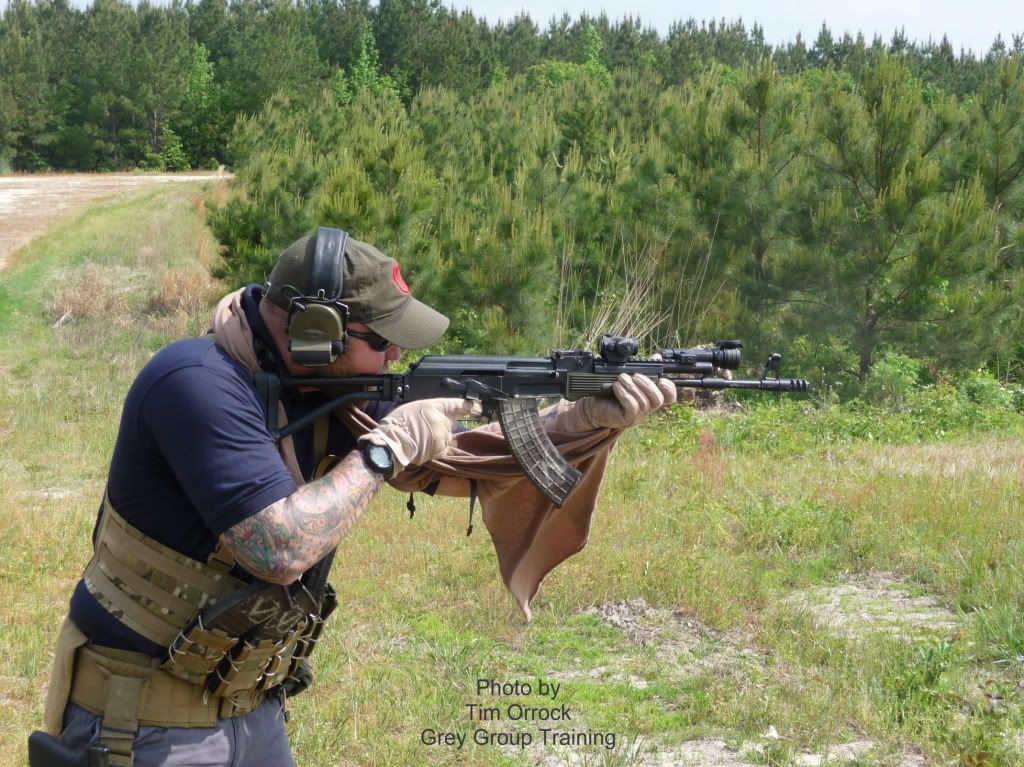 Originally Posted By arbob:
Great info.
Meh, we were shooting handguns at a buck twenty in the Vickers classes that I went to.
Good job on the AAR, thanks.
I've been in handgun classes with LAV where we ended up back at 125 yards as well. At the June 2009 1911 operator's course LAV and I were the only ones left standing at about 115 yards. At that distance you're really lobbing that 230 grain bullet in there.

The AK is a much more capable platform than many people think. This course is probably the best in the world at demonstrating how effective you can actually be with even an iron-sighted AK.
Cool post. I saw LAV on one of his Tactical Impact shows and I was surprised to see the way he jams the AK charging handle forward when he's reloading. I always thought that was a no-no.
Originally Posted By John_Wayne777:
I've been in handgun classes with LAV where we ended up back at 125 yards as well. At the June 2009 1911 operator's course LAV and I were the only ones left standing at about 115 yards. At that distance you're really lobbing that 230 grain bullet in there.
The AK is a much more capable platform than many people think. This course is probably the best in the world at demonstrating how effective you can actually be with even an iron-sighted AK.
This is true. With 9mm and light .40s it's bang-ding. With .45 it's bang...............ding. We used to take our Glock 22s to about 120 with boring regularity. When we switched to 37s in .45 GAP, our best shooters struggle at about 95 yards. I like the walkback drills.
I would be curious to know if you could explain how LAV teaches reloads of the AK. I ran one in a Magpul course and got really fast with their method...to the point where I was reloading faster than 75% of the guys running AR's...always looking for new techniques to implement!

Thanks,
Scott
Vickers is big on things being positive and sure...repeatable under stress, in low light, etc...a byproduct of having seen all sorts of ideas come and go that turned out to be ineffective once bullets were flying.

He teaches removing the spent magazine using your weak hand, with the thumb used to engage the mag release. Then insert the new magazine using the dimple of the receiver (on stamped guns) as a sort of imaginary pivot point. Then rotate back to lock the mag in. Then run the charging handle.

There are other ways that may be potentially faster, but given the variation in AK mag lockups some of the faster methods like using the new mag to strip the old one out don't work as well as they might under ideal range conditions.
Would like to know more on types of slings Vickers suggest on the AK. I assume the VCAS but how is it set up?
Originally Posted By LIL-COMMANDO:
Would like to know more on types of slings Vickers suggest on the AK. I assume the VCAS but how is it set up?
Vickers is a fan of the quick-adjust 2 point for most carbines, including the AK. The setup is whatever works on the particular specimen of AK you are using. On my VEPR I just basically tied the sling into a loop to go over the rear of the stock and I use the BFG UWL around the barrel and poking out through the handguards as my forward mounting position. Works great.