After Action Report - Combat Focus Shooting Course
Instructor- Rob Pincus, I.C.E .Training
Date - January 30+31, 2010
Location- Oneida, N.Y.
Review by- Chris Fry
On January 30+31 MDTS had the good fortune to co-host a Combat Focus Shooting course from I.C.E. Training taught by Rob Pincus. Rob is the developer of the Combat Focus Shooting system. For those who don't know who Rob is, he is former Military, former Law Enforcement and the former director of operations for Valhalla Shooting Center in Colorado. Rob is currently the host of the NRA's Personal Firearm Defense DVD series, host of the "The Best Defense" and "SWAT Magazine TV" shows on the outdoor channel and current director of I.C.E. Training.
The Combat Focus Shooting course is the first of several training classes M.D.T.S., AR15.com and the New York State Rifle & Pistol Association have teamed up to bring to NY in 2010 and 2011. This "Tactical and Practical" training series is an effort to introduce New York state shooters to some of the best and most progressive training available on the market today at an affordable price.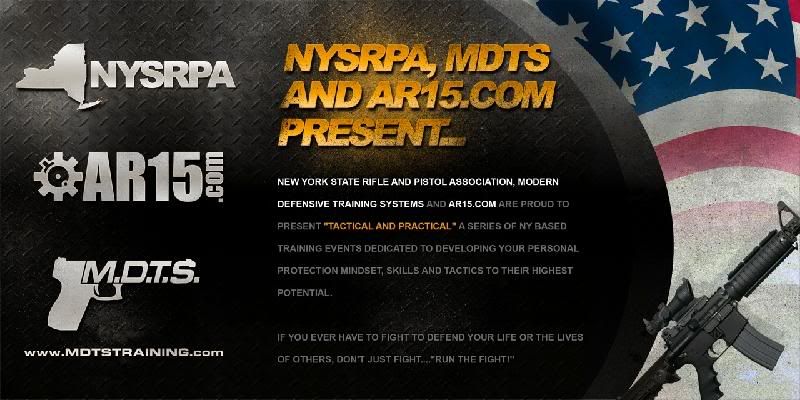 Read the rest of the review here:
AAR- Combat Focus Shooting Course
This was an excellent class and I thoroughly enjoyed it, even if it did accentuate some of the deficiencies in my own skill level and equipment. Better to find out and address those problems though in the classroom than on the two-way range.

Thanks to Chris, NYSRPA and AR15 for putting the class on!!!
i have taken combat focus shooting, man y other handgun courses form many schools, and CFS is the only one that i woul dtake again , and again. great course. i am looking foward to CF carbine, inst dev, and more from Rob.
Excellent AAR.