On June 13 - 15, I hosted and attended as a student a Magpul Dynamics (
www.magpuldynamics.com
) 3 day Magpul Dynamics - Dynamic Hangun 1 & 2 (a combination of basic and intermediate handgun).
A brief run down of what was covered on each day of class:
Training Day 1 - Saturday:
-Weapon safety / med brief
-Admin Load and press checks
-High compressed ready dot drills 7 yards
-Draw 5/25 yard line presentation / set time
-Speed reload
-Tactical reload
-Balance Speed Accuracy (BSA) drill 5 yard to 25 yard 2 rounds in 2 seconds from the draw - center of paper bullseye
-Mindset lecture
-Malfunctions and 10 degree cant
-Failure to feed
-Immediate action drills
-Double feeds
-Balance Speed Accuracy (BSA) drill 5 yard to 25 yard 2 rounds in 2 seconds from the draw
Training Day 2 - Sunday:
-25 yard warm up
-Ball and dummy 25 yards
-7 yard 3 inch dot drills number game
-BSA drill 5 yard to 25 yard 2 rounds in 2 seconds from the draw - center of paper bullseye
-Dynamic Kneeling / prone / urban prone
-90 and 180 degree responses ( standing, kneeling, prone ) also done reflexive (off of another movement)
-Off line of attack movement
-Shooting and moving forward / rear
-BSA Drill drill 5 yard to 25 yard 2 rounds in seconds
-50 yard plate drill fastest time with a hit (Eggroll came in first place with a score of 2.59 seconds, I came in second at 2.64 seconds….I was robbed :D )
Training Day 3 - Monday:
-25 yard warm up
-BSA drill 5 yard to 25 yard 2 rounds in 2 seconds from the draw - center of bullseye
-Concealment lecture and demo / concerns with one handed manipulation
-Concealment Dynamic Kneeling / prone / urban prone
-Concealment both knees execution drill
-Concealment Face-down drill
-90/180 degree responses ( standing, kneeling, prone ) also done reflexive (off of another movement)
-Weapon hand / reaction hand only drills 5 yard to 15 yards
-Holding a kid or controlling others drills
-Instructor demo weapon hand and reaction hand only tap rack bang / double feeds and how to clear them with one hand
-Moving and barricading others drill
-Moving and barricading others drill and partner react drills
-Shooting and moving forward and rear with continuous fire drill
-Shooting and moving forward and rear with continuous fire drill (reflexive)
-Barricades - standing, Kneeling, urban prone and vehicle drill
-Low light / no light discussion and practical application drills using lights
-Final de-brief and certificates
Due to an extremely hectic schedule, I have to keep this AAR short.
I missed half of Training Day 1 due to some behind the scenes hosting / range issues. It took longer than expected to get things squared away. I didn't get back until around lunch, I figured it wasn't worth jumping in at that point. So I sat out the rest of Training Day 1 and jumped in at the beginning of Training Day 2. As the host, you have to wear many hats, and sometimes you have to take one for the team so the class is not effected.
Weather was cooler than normal for mid-June, which was nice. We got some light rain in during the afternoon of training day one and we were blessed with intermittent cloud cover during all 3 days of the class.
We had a total of 19 students including the host. The class was full in February, but we had some students back out at the last minute due to work, deployments, etc.
As is normal in most training classes I've attended, we had a wide variety of skill sets in the class (from beginner to advanced). Several students had been to other classes, but for several students this was their first class. The training started off on a very basic level and in a short period of time the entire class was moving along at a steady and progressive pace. None of the students had any major issues. It was nice to see how quickly the newer students were learning and applying the material that was being taught.
This class was one of the best training classes I have attended. Travis Haley, Chris Costa, and Drake Clark are outstanding instructors. I have never seen two instructors that complement each other like Travis and Chris.
In the Magpul Dynamics class there was a lot of shooting from unconventional positions, shooting around barricades, shooting around vehicles, shooting while on the move, shooting in close proximity to other people, moving from one location to another, reacting to another person, problem solving, gear considerations, reacting in a real world environment (ie. child in your hands, active shooter considerations, etc), mindset, etc.
The dictionary defines Dynamic as:
dy·namic (dī nam′ik)
adjective
1. relating to an object, or objects, in motion
2. energetic; vigorous; forceful
3. relating to or tending toward change or productive activity
The class was definitely "dynamic".
This class was an outstanding balance between speed and accuracy, mindset, problem solving, shooting from unconventional positions, drawing from concealment, etc. For me and the way in which I employ the handgun it was an awesome class, I learned a lot.
I was extremely impressed with the class, and will be training again with Magpul Dynamics in the near future.
I would like to thank the following companies for their continued support of these training courses:
www.slip2000.com
www.magpul.com
Chris and Travis explain a drill: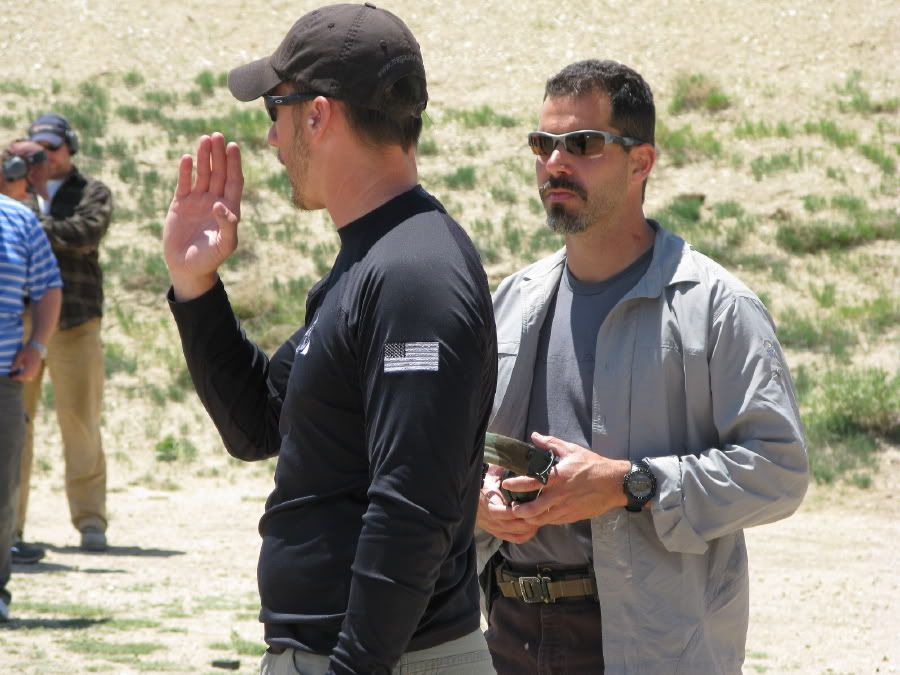 Drake, Chris, and Travis, along with a couple students from the class demo a drill: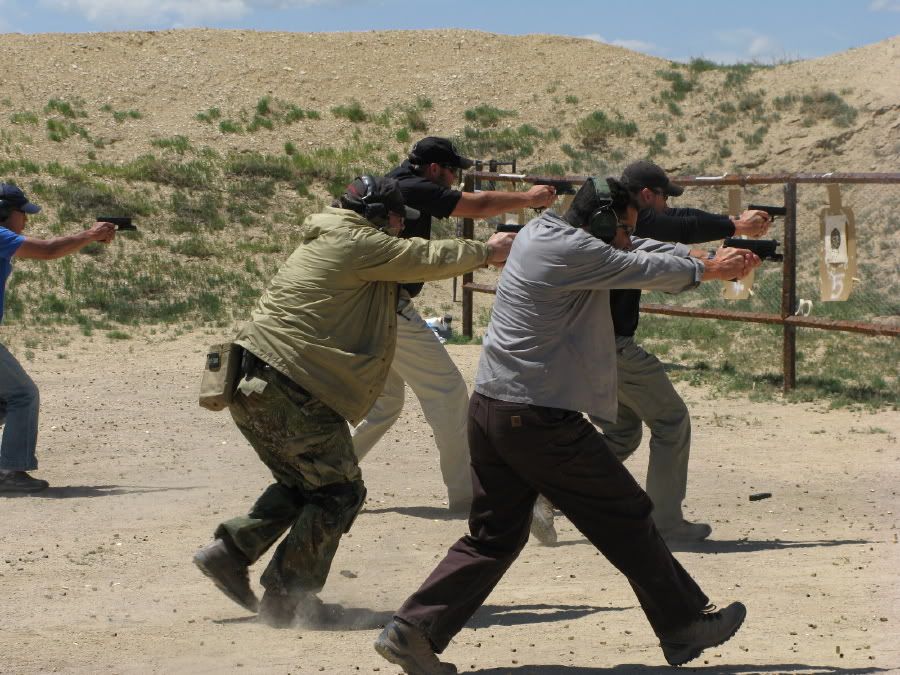 Shooting on the move: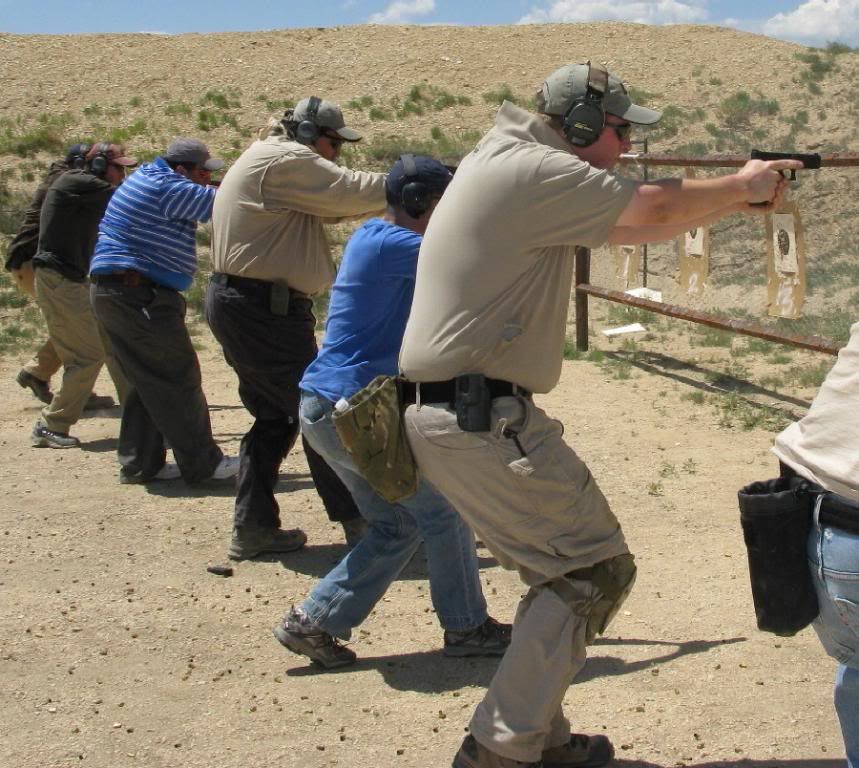 Thanks again Travis, Chris, and Drake!
A lot more pics to come!
Great Class Gents,
First off, thanks again to Jeff (USMC03) for hosting an awesome course. A note on Jeff that I'm sure a lot don't know: Jeff has been hosting these types of courses multiple times a year for 10 years now. He is full time LEO and family man and still finds the time to go above and beyond to help our shooting community excel. By hosting these classes gives the shooters and all of us instructors a place to give great experiences, educate, and continue to excel up the ladder of excellence as shooters/instructors. It also comes around full circle and allows us to give awareness and help s support our second amendment rights and gives people in positions (like me) that frequently fight on the hill more fuel for the fire to help our community excel and become an even better place. Thank you Jeff.
I add more but since I am on the road I will keep it short:
Weather:
For the class, it was pretty much the best weather we could have asked for especially this time of year in Colorado. The sun was bright and like I say (or my wife I should say due to her being a Dermatologist) sun screen should be a part of the shooters range bag! A lot of people overlook it and feel beat down and think it's the course when it's the sun that takes it out of you day after day.
Student Population and Training:
Just like every class we had Doctors, lawyers, LEO, Engineers, gear makers, electricians, former MIL, Garbage truck drivers, candle stick makers etc…
Like I told the class and so they don't think it is something I tell every class… Chris and I were very impressed with how fast the class excelled from day one to day 3. Some of the shooters had no formal training with a handgun and looking at them on the first day we would have never had them shooting through windows of our Excursion! LOL. But on day two it almost seemed as a light bulb went on and they were all different shooters. BSA times and scores on the first day were off and not so good (as expected on TD-1 in all classes) but day two almost all shooters were making the times and accuracy was awesome.
Like all courses we teach we will tell you: We could care less how well you shoot bulls eyes at any given range… We could care less about how tight of a Rat hole you have out to the 25yrd line with a handgun or carbine…We could care less about how much you understand the HOW and the WHAT of shooting… The thing we care about: is how much you understand the WHY of shooting… A lot of people may seem somewhat intimidated of coming out to one of our courses due to how DYNAMIC they are. We will tell you (as I'm sure all the shooters in this class will) Shooting is all about the mind. We refuse to come out and say "here's a gun here's how to use it and sit back behind the line and how you get it. Yes of course we teach the fundamental's and the mechanics that justify them but we need shooters to get right in the mind first and understand that exercising your mind is just as important to exercising your weapons fundamentals. Also with the "WHY" of shooting we know that we can't make you shoot 10 out of 10 on a 25yrd bulls drill in 3 days (unless you shoot bulls for a living…TOM…LOL)
We want you to be mentally and physically prepared for all situations, that's why if we can have shooters going urban under a vehicle on day 2 or 3… then we will. Chris and I and the rest of the MD team will never limit shooters to REALITY training, because you may just leave our course and encounter a dynamic stress situation in your home that night! Or you may be that LEO (like Jeff) that gets a call out on an Active shooter smoking a bunch of kids in a mall that night! That's why it is so important to us. Jeff said it best at the end of the class… "I have been to too many Law enforcement officers funerals" well like I responded I have been to Arlington to many times as well and we never want anyone to experience that.
We take great pride and passion as hosts and instructors in what we do. We never want shooters to ever have to pull a weapon in dynamic stress situation… but if you do… you better be prepared. Here's my 99% rule: 99% of your life you may sit on your ass in an office all day, drive in a car all day, be average joe CCW citizen or be on patrol in northern Afghanistan all day, but the 1% of the time you have to use your weapon system… you better know what the F@$k your doing.
Conclusion:
I am happy to say that all the shooters in our class now understand the above and have climbed serious rungs on the ladder of excellence. Now they have to continue to climb on their own and in every other class they attend. See you soon for Carbine!
BE SAFE AND "CHARLIE MIKE"
Looks like continued good stuff....
It was a great class. Very eye opening for me. I can not recomend this training enough.