SOUTHNARC Armed Movement In Structures (A.M.I.S.) Course AAR, Syracuse NY 7/19+20
From- SEVEN
An AAR is a summary of the structure of the class, the issues we dealt with, and a number of pitfalls
Day 1:
Started out with lecture. Southnarc went over the principles of AMIS and explained each of the principles and what they mean. We then went to chalk'n talk. He drew a notional house/building layout and had us clear it. We talked about where we would go and where eyes/muzzle would be as we moved to each point.
After lunch we started basic search drills. In teams of 4, 3 guys would go hide and the fourth would try to find them. The purpose was to try to see them before they see you, which was often by means of
extremity, a foot, an arm, shoulder, etc. We eventually learned how to best penetrate a room because you can't see anymore from the outside and have no choice but to commit.
We then got blue guns with lasers attached and did the same thing and mark out potential adversaries with the laser. The following iteration was a search 1 on 1, except airsoft were in play and FoF rules were implemented.
After night fell, we did iterations mentioned above with flash lights. Eventually, we moved to the basement and did search drills without airsoft. This basement was fucking pitch black. The backroom looked like it should've had a well where someone would lower lotion to a chick or while searching you expected to see the bitch from the Ring coming at you.
Day 2:
We repeated the search with laser drills in the morning. We then learned how to challenge a potential hostile. A situation where he isn't necessarily a threat (doesn't have a weapon) but you're wondering wtf is he there for and how to search him for weapons without physical contact and posting him up so you can be somewhat safer until help arrives.
Just after lunch, we started to do AMIS structures, except where you had to bypass searching to go to a potential immediate threat (ie, you hear a door slam open) and critical immediate threat (ie, a loved one screaming). To wrap up we did FoF with sims in the basement. That was a heart pounding experience and very mental in terms of trying to minimize your observables and trying to spot the other guy.
Some things I took away:
1. In darkness, even a little light can be a great help, or a great hindrance depending on what side of the light you're on
2. Fatal funnels aren't necessarily fatal. If you cleared behind you and need to search the next area, but don't have the room to pie from a distance, might as well stay there and search and use the doorway as concealment/cover
3. Searching even on a one story structure is very 3D. People were able to hide in all sorts of crazy ways where you wouldn't expect people, either they're spying your feet from under a desk, but the angle is such you can't see them without ducking or they're up high, standing in an adjacent inboard corner or on some furniture up high
4. When there's uneven lighting, shadows and the like, more hiding places open up and even in the less advantageous corners (the non adjacent corner) become excellent hiding places
5. I can't think of anyone who didn't have problems identifying a body part for what it is was. A few times while hiding, people said they saw my legs but thought it was something else, i.e. a coat piled up on the floor or draped on a chair
6. "A warrior is defined by his willingness to close in."
This class fills something most instructors teach as a module within another course and consequently, this important skill is something that is covered too quickly. This is a class that really helped me learn what I don't know and some basic skills to at least become consciously competent.
The techniques, skills and tactics do this by helping you to reset the enemy's OODA loop through movement, positional dominance (90 or 180), timing and if applicable, light. Searching buildings suck, especially by yourself and a lot of it seems to be luck and most of the skill set is to maximize your chances or go outside and call for help or an air strike!
From - BYRON G
Here are some random thoughts from the weekend. I will also sit down after work and sift through the photos from the weekend so that I can get them hosted/posted. Going through those photos (which I don't have handy at the moment) might give me further thoughts I feel like sharing.
In no particular order:
The facility we used was extremely valuable for our work.
I don't know what LEO/MIL shoot-houses are all like, but I have seen at least some in articles, magazines, and websites. From what I have seen, some of them are pretty sparsely filled (a little furniture, but not a ton), but I don't know if that's the norm.
Our facility, on the other hand, was an actual office: there was still half-empty coffee mugs sitting on desks and sweaters tossed over chairs. There was clutter; there were papers, computers, furniture... etc. This felt like a real environment because it was a real environment. There was variable natural lighting streaming in from various sources and half-open blinds creating pockets of light and extreme dark within single rooms.
This all added to the confusion and mental tasking as students tried to make sense of what they were seeing. The clutter really added a layer of camouflage to those hiding and combined with the lighting conditions meant that you could literally be staring right at a combatant without realizing it. As Seven noted, I (at least) once pied a corner and had his legs in my view for a few long seconds before I had further moved to a spot where he could see me. Through a combination of the environment and my brain's task loading, I simply didn't recognize what I was seeing. I further pied only to finally come into his view where he was able to see me before I even recognized him.
Even in daylight conditions with indoor artificial lighting, weapon-mounted or hand-held lights were extremely helpful
for pulling back the cover of darkness that a wide desk might offer, or for confirming whether that blue blob you were seeing was a pile of crap under a chair, or some guy's legs as he was waiting to zing you.
On that note,
light use had to be judicious
, particularly once we were plunged into total darkness. Those who lingered too long on the button painted themselves with a big "SHOOT ME, I'M RIGHT HERE" sign. Those who didn't use the light enough and tried to navigate blind sometimes ran into objects, giving off a large noise signature. At best, even if they were able to move blindly, they weren't advancing the ultimate goal of locating the potential threat.
The same was true of lasers
. Lasers, particularly combined with lights, make for a death ray in low-light conditions. On the other hand, however, during the basement dry-runs before FoF was plugged in, some students tried to search the basement with the laser on the entire time. This gave away their position as surely as the white light did, and further let you know where they were pointing their muzzle (and likely, their eyes).
This has given me a lot of food for thought as to what kind of laser is good for what kind of gun. A grip-activated laser like the CT units makes sense for ECQC type problems where you want that dot as soon as the gun clears leather. Unless you are very adept at relieving and applying momentary pressure to the correct portion of the grip, however, such a setup might be dangerous in a hunting scenario like the basement. I'm wondering whether a CT makes more sense for a carry gun, while a momentary laser like Mike's TLR-2 makes more sense for a bedside search-the-house gun.
In the total darkness of the basement,
you sometimes wished your light was brighter, and you sometimes wished it was dimmer.
Flash and I later talked at great length about this. The problem is that you might be lighting up something a couple feet away from you, or 10 yards from you. Objects that were close reflected a lot of blinding light back at you (which has been discussed before), but a dimmer light would make for a poor solution when you then rounded the corner to cover the full length of the basement wall. At that point you wanted every extra lumen you could squeeze out of the light.
This problem is mitigated if you are operating in a very well known environment or with a small amount of ambient light for navigation, but in total darkness, you sometimes didn't know what was in front of you. Even a quick blast of your light to gain your bearings might be enough to give you spots. I dry-walked that basement at least a dozen times before FoF and still had the unfortunate pleasure of giving myself some spots when lighting up close obstructions that I hadn't anticipated being there in my mind's eye.
Flash and I couldn't come up with any total solution for this issue other than some sort of sci-fi flashlight that could detect range in multiple directions and adjust focus and intensity accordingly. When one of you invents such a device, let me know and I'll be first in line to buy it. I'm guessing it would just be cheaper to invest in NOD's and IR illuminators though, ha.
Light also provided a functional method of identifying proper angles of concealment in a hurry..
. if you were the one being lit, that is. When I was the intruder in Flash's basement and he was tasked with hunting me down, I opened fire on him first. He quickly turned the tables on me through aggression and establishing positional dominance (ran a full 180 loop on me with good light use that made it extremely difficult to track him). I was taking cover by a file cabinet and was only able to limit my ultimate damage because each flash of his light cast a new shadow from the file cabinet. The shadow showed me where I need to be so that I was behind concealment and not in his line of fire. Apparently Chris got a good chuckle out of hearing me scuffle around madly in the dark like a little fucking crab, knocking chairs and obstacles out of the way as I tried to stay on the right side of the cabinet. Flash still got me though, which leads to something that has already been covered by others...
Aggression was as vital to AMIS as it is to ECQC or any of our other endeavors
. Some people were extremely cautious in the basement and paid for it with ambush. Some people, once the fire started, tried to blanket themselves in the darkness as a defense mechanism. It was a very natural reaction, but it always ended poorly. Those who intelligently hunted the problem, even when it was firing at them, came out ahead.
Please note that by aggression I am not saying that AMIS is something done recklessly or any faster than necessary. But there is a large difference between deliberate movement that is slowly paced vs. constantly pausing and hesitating, or freezing up.
You can never know what is in another person's head for sure, but it seemed like some people naturally were thinking "crap, how do I not get shot?" I don't know whether Chris or SouthNarc said it, but the mentality that better succeeded was, "This fucker is in MY HOUSE! I'm going to hunt him, and I'm going to get him!" When I was bad guy and Flash was good guy, it was clear that's what he was thinking and that's exactly what he got. After I scurried around for a while, engaging him in an arrhythmic back and forth firefight where we were both only scoring peripheral hits, he finally put me down with a round to the forehead. Neither of us could have known in the dark, but it turned out it was the last round in his gun. I thought that was pretty fucking cool.
The basement was creepy: no two ways about it. Unlike other classes (like ECQC) where you feel more confident and in control as the bad guy, the basement was equally unnerving for the bad guy and the good guy. It didn't matter whether you were hunting or being hunted: you were amped and tensions were high.
This was a fantastic class that I would take again in a heartbeat. SouthNarc gave us the overarching principles and then made us solve the problems, as he always does. There were no hard answers, no ultimate truths. There were things that could increase the odds in your favor, but nothing was safe and nothing was absolute. In some cases, you had to do something you knew was extremely dangerous because you had no other choice. As it was said over and over through the weekend: it's a shit sandwich no matter how you look at it.
Working with everyone was great, as always. Flash is a really squared away guy so I was intimidated going up against him in the final FoF in the basement. I came out ahead when I was good guy though, and he then came out ahead when he was good guy. I think we were both pleased with our performance while simultaneously seeing things that we can each improve. Working with him is great like that: he exposes weaknesses in my game that I need to solidify. If you get the pleasure to work with Flash, you know that you aren't going to skate by or get any breaks cut.
What a fucking rush!
Here is the mask that was on the receiving end of the Laser/Light Deathray. It's easy to see the two goggle hits, but one round hit the mouth too. The first Evo resulted in the double-tap of Eye/Mouth. The second Evo was the between-the-eye shot.
I'll offer the usual caveat that I do with class a photo which is that they can be quite deceiving: I'm only capturing a sliver in time which may only be one small piece of the larger issue. A second caveat is worth noting for these pictures in particular: in some photos, students look like they are wide in the open when they are actually concealing themselves very effectively. This is just a factor of the "Tactical Geometry" in action. While some photos were shot from the vantage point of enemy role-players, a lot were shot as a third party observer. The student has no reason to conceal himself from the third party observer and therefore may expose himself to the camera once he establishes that the photographer is occupying cleared space.
I did some time-exposures in the basement when students were doing dry-runs. I thought this one not only looks kind of cool, but illustrates great light discipline. Notice how the bursts of light are quick and spread out. Notice also that at no point is the student backlit. I wish I knew who this was, but I took so many time-exposures (most of which didn't turn out for crap) that I have no idea who it could be.
Random shots from the course in no particular order- Photos taken by Byron G and myself:
Intro lecture and demonstration -
SouthNarc working the angles on a doorway-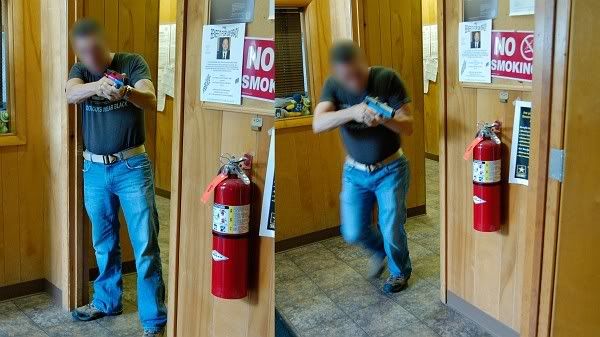 Laying in wait-
Entering bathroom with hydraulic arm- these types of doors pose serious problems-
Petey1 working the bathroom-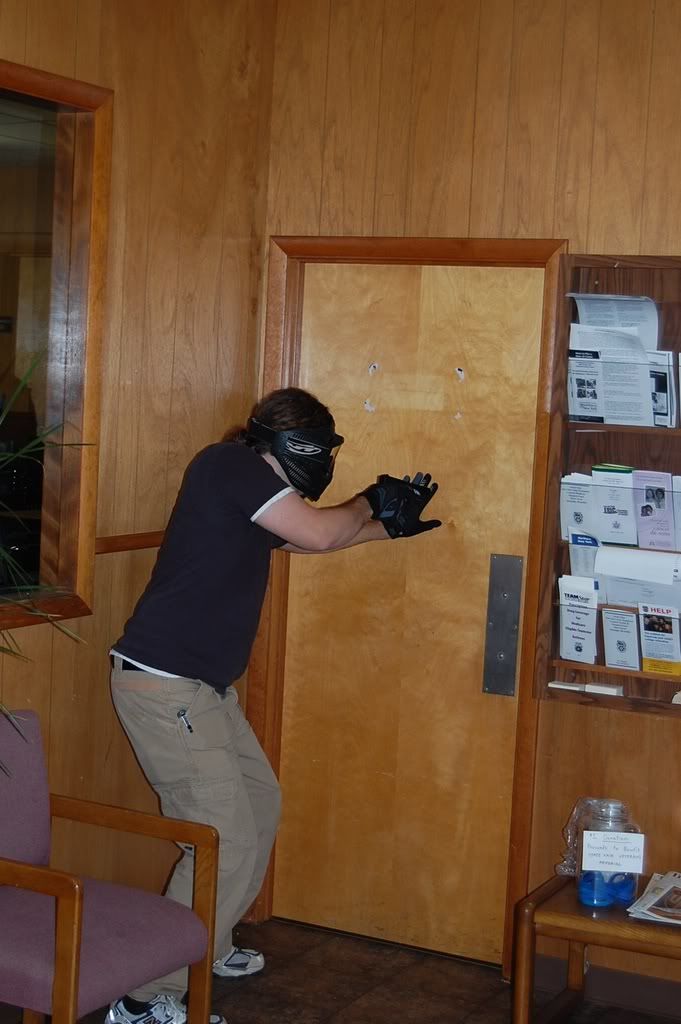 Byron working the angles with light in prep for the "basement"! -
The effects a dye marking cartridge can have on you- NOTE- the majority of participants are wearing just long pants and t-shirts, face mask. Without some form of pain penalty FOF training is INVALID!
Class clowns - note lack of protective equipment - I am not harping this point to show how macho some people are - I am harping on this point because if you are SERIOUS about your training you will train seriously. WHY is it realistic to train in the rain but when its time for FOF its ok for students to wear so much protective equipment they look like storm troopers and michelin men?
My impressions of this course work-
-Don't ever allow someone to tell you clearing a structure alone and without backup is easy - if it has to be done it better be as a last resort. As SouthNarc says- "Its a shit sandwhich"!
-You are either predator or prey - no if and's or buts about it
-A light is a must have item - its better to have 2
-Technology can be your friend in NO LIGHT conditions
IF
you know how to utilize it properly
- Very few people train shooting in low light conditions and this is a serious training deficiency
More later once I have time to process more of this and look at my notes
Looked like a great time, with lots of new stuff to absorb.