Hello again to all,

We at the San Bernardino County Sheriff's Dept are happy to once again announce that we will be hosting Magpul Dynamics for another class on the dates of October 13-15, 2010.

This class will follow on in the theme of further preparing our LEO's and Military for the day when they may have to confront an active shooter situation. The class will be primarily instructed by Kerry Davis (pict. below). Kerry represents the "Dynamic" aspect of Magpul in every way, his expertise is however in the medical area. The class description is as follows.

HVWM AAR http://www.m4carbine.net/showthread.php?t=47912
Shooter Aid 2 Course
3 day course
Live Fire
Pre-requisites: Active/Reserve Mil/LEO. (Requirement due to S.B.S.D. range policy)
Price: $600 Contact us for more information
Course Description When things go wrong in a hostile environment are you prepared mentally, physically and medically? Focused on all of the basic "stay alive" trauma management skills, this is a fast-paced, hands-on course that blends weapons manipulation and traumatic injury treatment in a variety of high risk scenarios based on real-life incidents. Students will be expected to utilize their equipment while under stress to "save" critically injured team members.
• Physiological and Psychological reactions to environmental stress
• The importance of having the proper Combat Mindset
• Basic Anatomy and Physiology of life-sustaining systems
• H, A, B, C's—Hemorrhage, Airway, Breathing, Circulation
• Breakdown and usage of Individual Med Kit components
• Proper stowage and employment of the IMK
• Hands-on application of the IMK
• Basic and Advanced Airway management -treating and monitoring tension pneumothorax (familiarization with chest decompression), sucking chest wound and flail chest
• Airway adjunct device placement-Nasopharyngeal Airway
• Basic First Aid and Advanced wound care
• Application of Bandages and Hemostatic Agents
• Application of tourniquets
• Recognition and Treatment of various injuries (Gunshot, Laceration, Burn, Airway, Head, Orthopedic, Environmental)
• Recognition and treatment of hypovolemic (hemorrhagic) shock
• Moving and positioning victims with various injuries
• Response to hyperviolent shooter situation
• Proper use of cover and cover vs. concealment
• Casualty recovery in an Active Shooter situation
• One-handed manipulation of dummy and live weapons systems and medical kit
• Mass casualty triage procedure
• Emergency Medical Dialect/Lingo (911 protocol, cooperation with LE, Fire and EMS and First Responders)
The course culminates in a graded qualification and stress-fire exercise.
Hardware/Kit
• Note pad and pen/pencil/Sharpie
• Individual First Aid Kit
• Clothing suited to strenuous type activity as well as being seasonally appropriate
• Appropriate foot wear
• Rain gear / cold weather gear (seasonal)
• Ear pro (electronic preferred)
• Eye pro, which wraps around
• Baseball style hat recommended
• Primary weapon sling, single point, or a good system that allows flexibility for transitions and reaction side weapon manipulations
• A rig that can carry a minimum of four (4) primary magazines on your person
• Functioning secondary weapon system, and three working magazines
• A holster and magazine pouch that will retain your equipment when moving
• Tools that work on your weapon
• Weapons lube
• Optics with necessary adjustment tools and spare batteries
• Water hydrating device
• Sunscreen and lip balm
• Knee and Elbow pads (optional)
• Gloves (optional)
• 300 rounds Carbine/250 rounds Pistol
. An open mind.
The instructor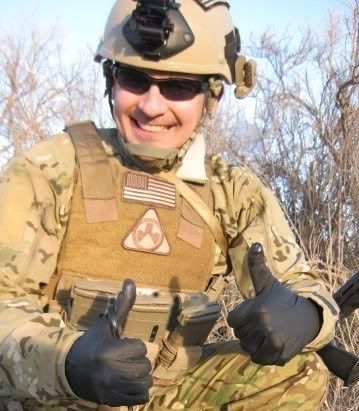 To register, please call Jill Reynolds our Course Administrator at 303-828-3460 ext. 126