source for quarter-minute sights for National Match AR?
I did a Google search.

Only hit I'm getting for quarter-minute AR sights is Fulton Armory's "Northern Competition" product.

Anybody using this product?
Any other sources or similar products?

Any reason NOT to use quarter minute?

Current configuration on my rifle is half-minute sights.
When I do my part, I can often shoot a 99 on the 200-yard sitting target.
Group is always on the left side of the 10-ring with one shot leaked out (if I don't shoulder or jerk some out)
I put on a half-minute click, and same thing,... but on the OTHER side of the 10 ring.

Seems like quarter-minutes would solve this.

(Yes, I know the 10 ring is 4 MOA wide, and ONE half-minute click should move the 200-yard group an inch... i.e. from the left side of the 10 ring to the center of the X-ring)

I mainly just want to know whether Fulton is the only place to get quarter-minute sights for the AR.
Just a few in no particular order:

Compass Lake Engineering
White Oak Armament
Bob Jones Sights

Most of these sell the whole rear sight or just the sight leaf with correct 1/4 minute screw if you want to go that route.

Good luck.
I'm using Northern Comp 1/4 sights. Nice quality product. They even called after a few days to check on them.
Originally Posted By dmince:
I'm using Northern Comp 1/4 sights. Nice quality product. They even called after a few days to check on them.
Where did you source your Northern Comp sights?
I got mind directly from Northern Competition. Also did a barrel order. Nice sights and barrels.

B
The 1/4 MOA windage screw and hood are listed for $45 on the White Oak website. If you're still shooting that same barrel that you had when I started shooting many moons ago, then I'd just send John the upper and have him rebarrel it, fit the windage screw, and pin the rear sight. Dan put quite a few WOA pinned rears on a dial indicator and John's work tends to track about as true as you can hope for...

But that's just my humble opinion.
That sounds like the right thing Greg.

I'm shooting that Krieger for one more match.
Should put it at around 10,000 rounds down the tube.

I'm going to still want a quarter-minute sight for the CMP/Bushmaster gun.
I took some measurements today, and the Bushmaster sight is definitely 1/2 x 1/2.

WEG,

I built up a NM AR10 recently, and I initially used the northern comp 1/4 rear assembly in the carry handle, it was a very loose fit. When I was at Perry, I got a 1/4 set from WOA and it fit perfectly. The only thing I liked better about the NC piece was the solid elevation wheel. But the WOA beat it in everyother aspect. I also purchased a pinned 1/4 A2 upper and just finnished putting it together. It's as close to my team gun as I could get. It's very very nice. The NC rear sight will be put on my new practice/ loaner rifle, the infamous rhodie AR as featured in the FALfiles, that I started shooting with last year. Shlomo hates it but the damn thing shoots.

1/4's are the way to go. Your X count will go up. It's a little more effort on your part to keep track of adjustments but with some thought and practice it's not a big deal. But you can be a full revolution out and it's hard to see. Mark them well.
"Very loose" in what way?

Loose, as in a gap between the sight housing and the receiver... or loose as in undersized elevation shaft... or loose as in wobbly aperture shaft?

What kind of upper receiver was used?
Sight housing and reciever. Loose as in enough to be able to percieve the angle through the sight. It was an AR10 carry handle. WOA sight fit snug. As did the orignal armalite sight. I was going to put it in a RRA upper but it was far too loose there as well. Everything else was good on it though. I may have to pin it on the RRA or shim it. I want all rifles to 1/4's
Originally Posted By bpm990d:
I got mind directly from Northern Competition. Also did a barrel order. Nice sights and barrels.
B
I just received a Northern Competition ¼ x ¼ rear sight.
I am in the process of installing it, and I have a question about installing the elevation-shaft spring.
I notice that the spring protrudes from the shaft A LOT MORE than the previous sight.
With the shaft retaining pin removed, the end of the spring was nearly flush with the base of the shaft on the previous sight (Bushmaster N.M. ½ x ½)
If I compress this spring enough to get the retaining pin in place on the Northern Competition sight, the spring will be almost fully compressed.
That can't be right.
The thing that is keeping the spring from going futher into the shaft is the Northern Competition set screw that is up-inside the shaft, that puts tension on the underside of the aperture leaf spring.
The sight did not come with any installation instructions, so I'm kinda winging it in a WECSOG way.
Should I clip a coil or two from the spring before installing the elevation shaft retaining pin?
Do you have your old one. Try that one, or you could give them a call. I didn't have that problem with mine.

B
The spring in the pic IS the "old one."
The new sight was not furnished with an elevation shaft spring.
Overall length of existing spring appears to be right on about an inch.

Got a reply from Jeff at NC.
Jeff tells me I don't need to use the old spring, or any spring.
I can buy that.
No up-and-down play in the elevation knob on this product.
On Bushmaster upper, had to use a hammer to get the knob in the slot.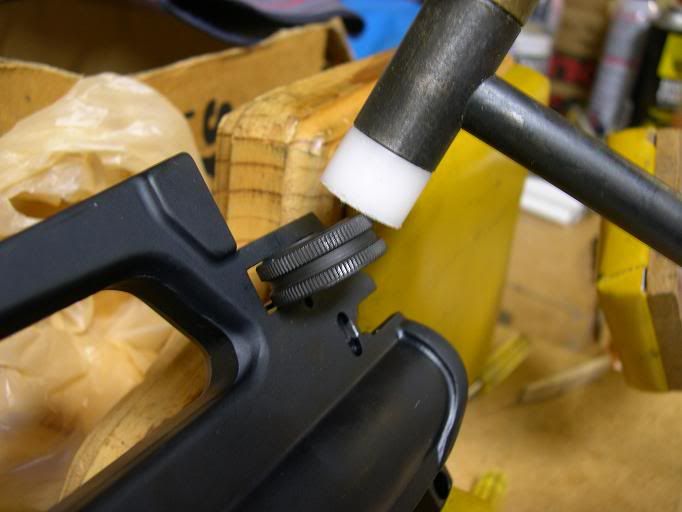 Knob was SO TIGHT that it could not be turned once in place.
Had to sand the knob down a couple thou to get it to where it could be turned.
Here is a comparison of the old sight vs. new sight.