Questions about making steel targets
I've done a bit of searching on Google on this, and found recommendations for a variety of steel plates. AR500 steel or a steel with a Brinell rating of 500, was recommended as the most durable (high hardness rating) but that is harder to find and expensive.

I was wondering if anything had any experience using 4140 steel Brinell of about 300? Mild steel is cheaper, but others have commented it won't last long when used in a rifle range.


Here's the quick easy version:

1) If you can get some sort of steel free then give a try but don't expect much and don't spend any money on fancy mounting/welding/cutting. Just hang it up at the appropriate distance for what you're shooting and see how it goes.

2) If you are willing to spend a little money get 3/8" AR400 with holes in two adjacent corners. Hang it with S hooks from poly rope. Shoot it with anything up to 308/30-06 but no steel-core and only at good distances. It will last a surprisingly long time/# of hits if you flip it from time to time. Should be ~$20 per piece up to a square foot with holes, including simple shapes

3) If you are willing to spend real money then 1/2 AR500 is cool and will last even longer. Figure double the price to start and seasonal difficulties getting it.

4) If you are running regular classes/events and really shooting a fair amount but don't have a .gov expense account see #2 again.

3/8" AR400, holes, S hooks, poly rope, wooden stands, keep everything possible behind the plane of the target and out of the splash zone. Have tried everything and shot/supervised 10's of 1000's of rifle rounds on steel and this is what really makes the most sense so far.

.
Where's the best place to get the AR400 or AR500? I see most of the places offer them in huge sheets versus smaller quantities.
I have ordered from Big Dog steel, and http://www.arntzentargets.com/. The arntzen has a square hole cut in the center for a carriage bolt that I liked, but after a couple thousand rounds it started cracking at the corners. Otherwise good stuff. I have not had the big dog steel targets for long, but the spring reset one does not seem to stay down long enough to see if you hit it, nor does it make a nice ring. Steel is high quality, at least for the short time I have owned it so far.

Yellow Pages: Steel


Buy good steel. I have some really "soft" (I guess) 3/16 or 1/4 5X5 plates I've been shooting with 9mm and .40. I decided to engage it with my AR and some XM193. Bad idea, even though it was fun. Put holes through it like a hot knife through butter at 30yds.
It was scrap, but it's scrap now!
I got some scrap steel plates, welded nuts on the back, and ran some 550 cord through them to hang the target with. The 3/8 steel stands up to rimfire, birdshot, and handgun rounds (haven't tried buckshot) just fine. Centerfire rifle rounds do some damage though. I have one 1/2" thick plate that we left at the outdoor range on the 50yd line. So far, numerous rounds of .223 (and whatever else people have been shooting at it) haven't even made a hole in the plate yet.
I wouldn't shoot these plates any closer than 50 yds, and usually we set them out at the far end of the range. Even the chewed up plates still give auditory feedback when hit. The plates were free so if/when we finally destroy one of them; I'm not really out any money, just a little bit of effort.
This was shot with .223 55gr at 50+ yds.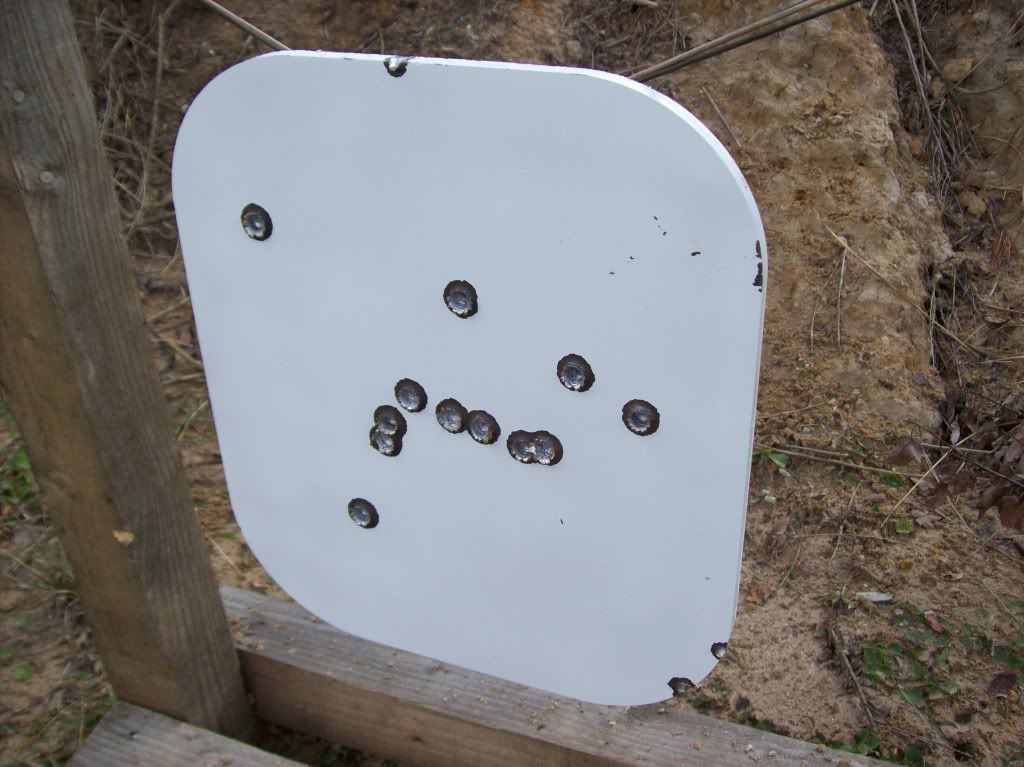 I just went to local steel supply and got scraps that were about 6x6 4x4 and 8x6. Maybe 1/4 inch thick for like $6 each. Most rifle rounds go through but hand gun doesnt. Made pipe stands that fold up. Its cheap and once it gets destroyed just make another.
If your on a budget.