I got my lathe in a few weeks back. I've got a 1-8 twist barrel from green mountain, but didn't want to practice on it. I grabbed my old savage 112BVSS barrel that is shot out, and used it for "proof of concept". It's a 1-10 twist so It should shoot up to 200 grain bullets just fine. Anyway I know this is worthless without pics so.....
This is after I cut the 308 chamber off and cut the threads for a ar15 bbl extension. I then chambered it with a new PT&G piloted chamber reamer.
Checking lock up with bolt to be used.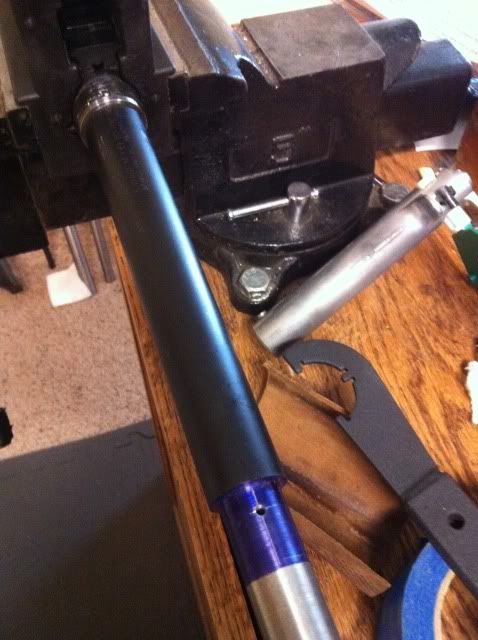 Marking where the gas port is to be drilled....
It function tested just fine. The bbl is a bit long at 21". I'll break it back down and cut it to carbine length, and thread it 1/2-28 for future use (waiting on form return!!)
All in all I'm quite happy with it. I learned a lot as this was my first AR barrel from scratch. The next should be a lot easier.....
sweet. man thats real building not just picking different parts and putting them together.


stuck
Thanks for the reply's, it's a working model, and definitely not the finished product. I'll probably chop it about 16.5 in and thread it 5/8-24 for future use!!
Originally Posted By elginrunner:

and thread it 1/2-28 for future use (waiting on form return!!)


For a .308 barrel, should be 5/8-24.
yep, had brain fart, see post above yours.... I got it right that time...