And onto the next project
Not gun related, but I think it's kind of cool
I've determined my next project to be building my own guitar. I'm thinking a Les Paul body with either a flame or quilted maple top. I haven't decided on colors yet but I'm thinking a red/black theme of some sort. I got a golden gate fender style neck (with a blank headstock so I can shape it as I want) along with the les paul tune-o-matic bridge. I've got the guitar modeled in solidworks so that I can make templates and I've got access to some very nice tools thanks to my father in law... We will see how it goes, it's going to be a slow process as I plan to gather materials as the funds become available.
So I cut out the shape of the headstock and tried to stain it black.. ended up havign to sand the finish off of it and them the stain that I got kind of sucked.... I'll have to see if I can find something different that works better. I bought some 1/2" plywood today as well to use for templates.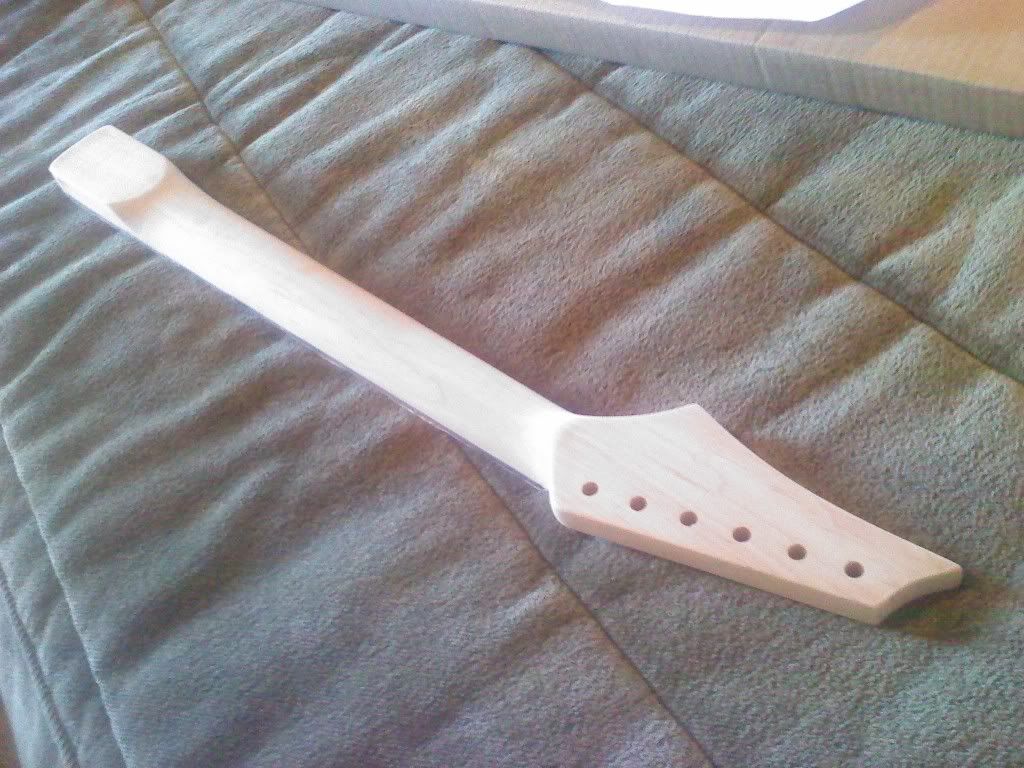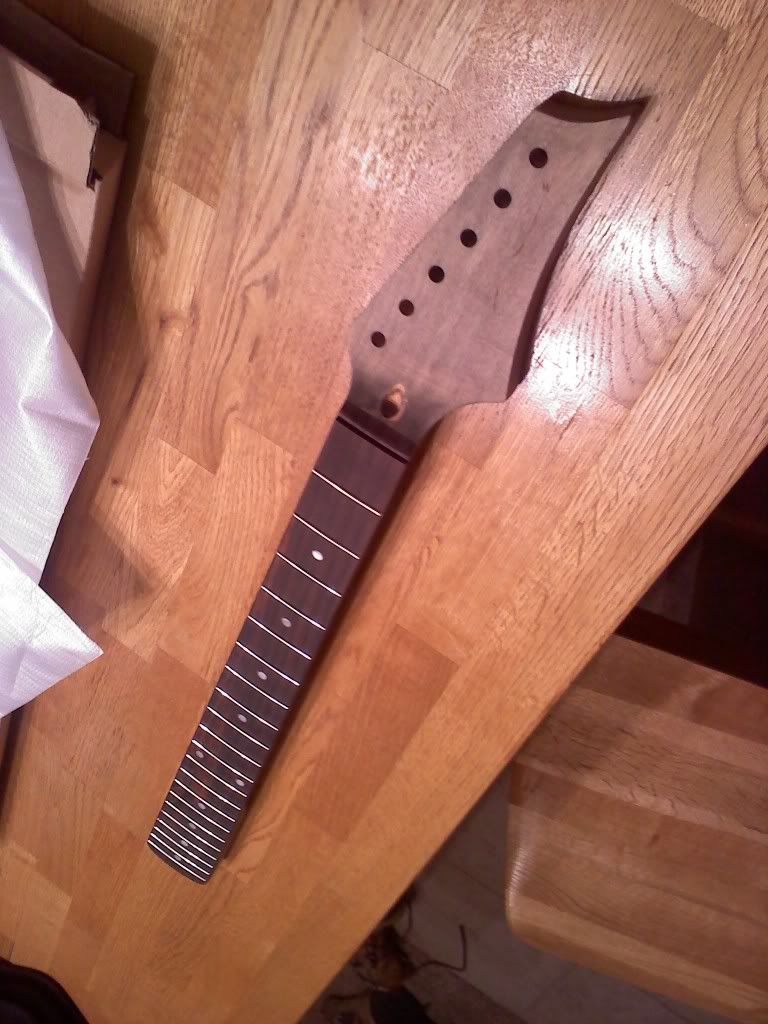 Should be interesting, I just wish I could use solidworks!
Good luck with your new project!
Roy rogers had a rifle hidden in his guitar.....just sayin'.....

I build guitars from time to time-I love shaping the guitar necks. In fact I have enough white limba lumber to do two flying vees.. So far I have done a explorer out of african mahogany- a swamp ash strat-a honduran mahogany strat-fat tele neck.....thats about it.. Nice work BTW
Can you work some rails onto that neck?
Here are a few solidworks renderings.....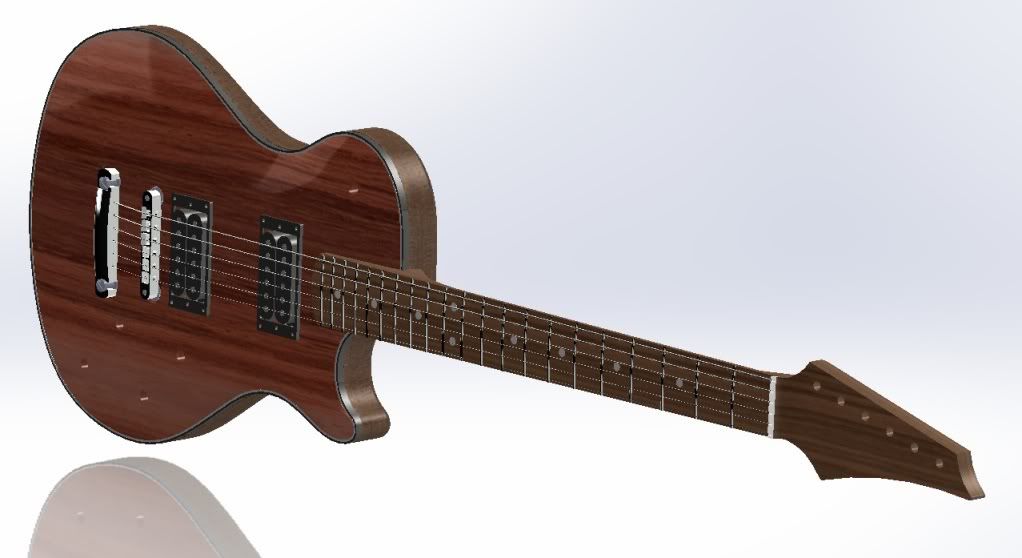 Very cool just wish I could learn how to play one better than mediocre
Why has no one posted the vid of Chris and his pyro guitar from sons of guns ?
rough template cut outs. I need to trim the edges down to the lines yet. I cut them a bit big with the jigsaw so that I could sand the edges down to where I want them and have them nice and smooth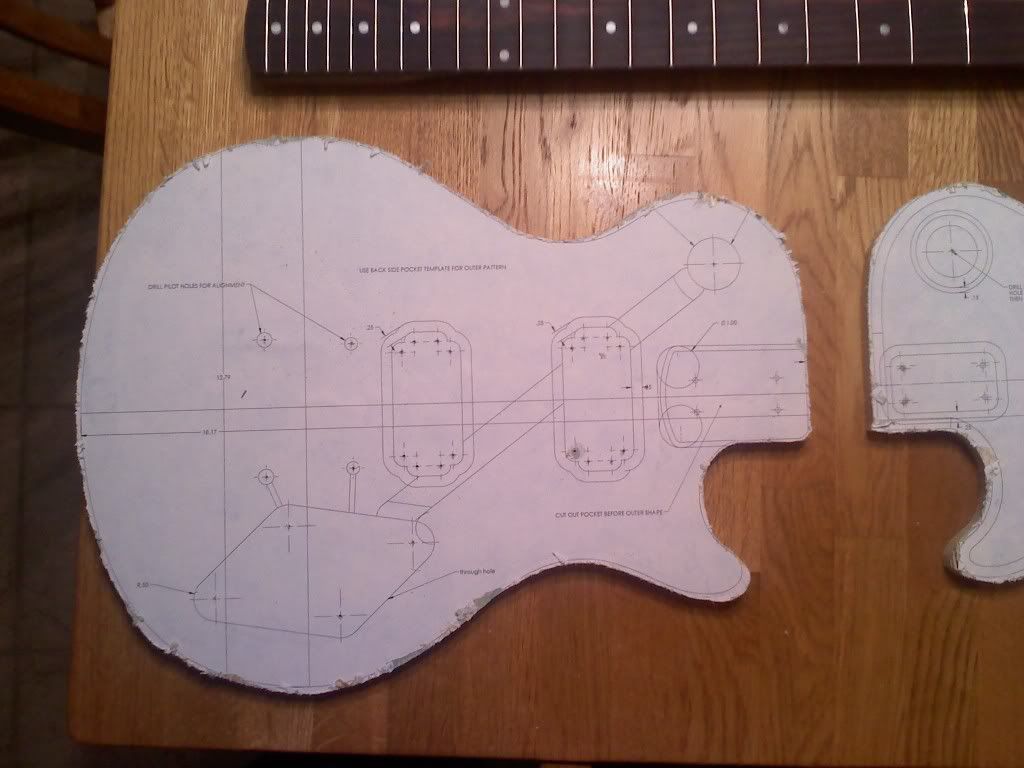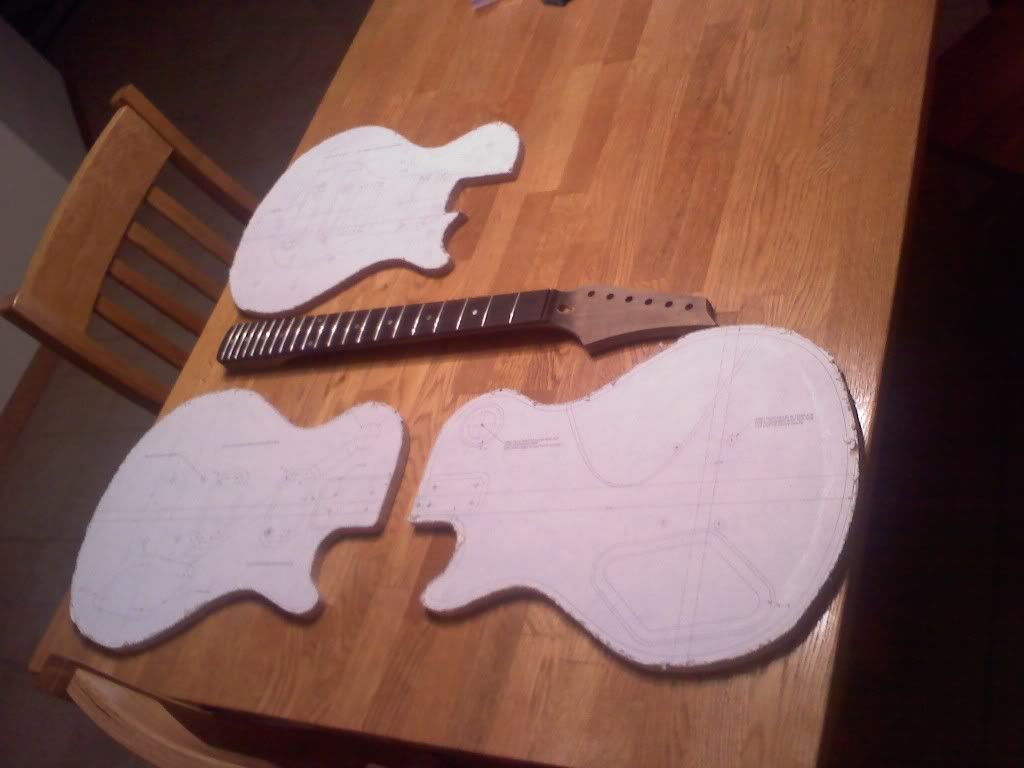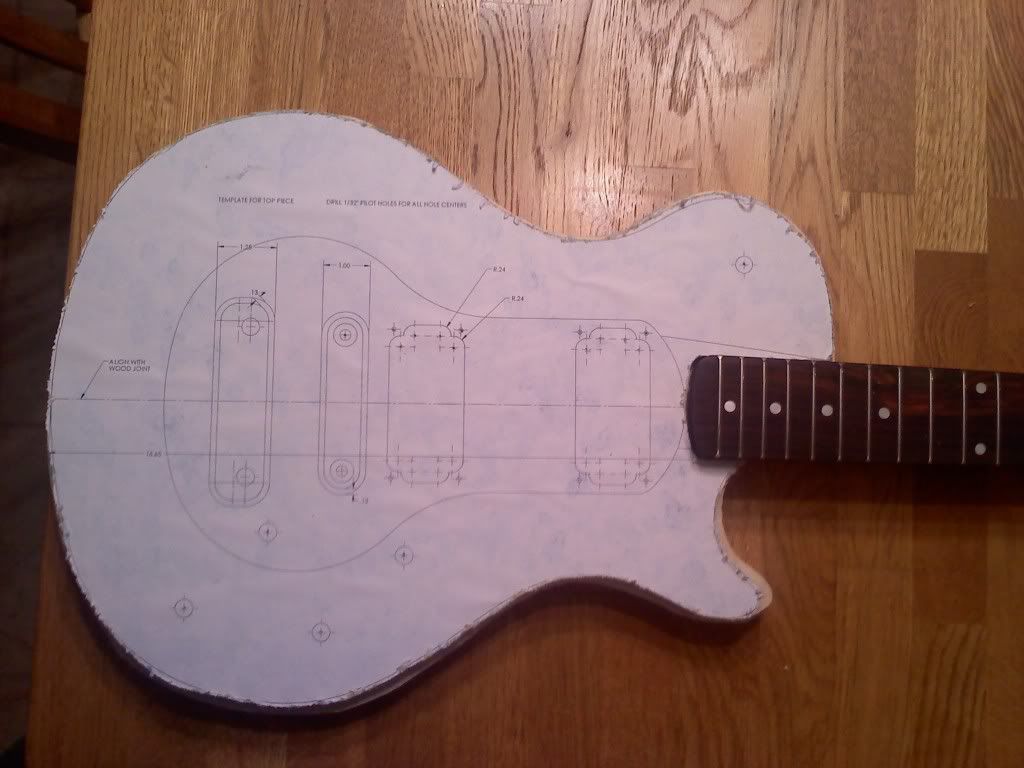 I got the mahogany today for the back of the guitar and we glued it together into 2 panels. it was 1x8 sheets (3/4" x 7.25") so it has to be glued together to get the 1.25" thickness that I'm going for. I staggered the seam so that the middle laminate (top mahogany laminate piece) has the board centered and the bottom piece (back piece) has the seam centered. It should be plenty strong once we glue the sheets together. I still have to trim my templates down some. That will probably get done next week.
Nice work.. JUST be sure to NOT drill for the bridge until everything else is done. You can drill for the stop pc but wait on the bridge. Then you string up the guitar and can move the bridge until you get a good rough intonation. This will leave you with plenty of adjustment for different string gauges. You do NOT want to drill all the holes and then find out your tune-amatic doesn't have enough adjustment for your g string...I have been there but lucked out by turning one of the string bridge slots around..PHEW!!!!
thanks for the tip. I could possibly make an adjustment mechanism to move the bridge forward and back on either side....
I added a bit more shape to the headstock... I like it, gives it some more depth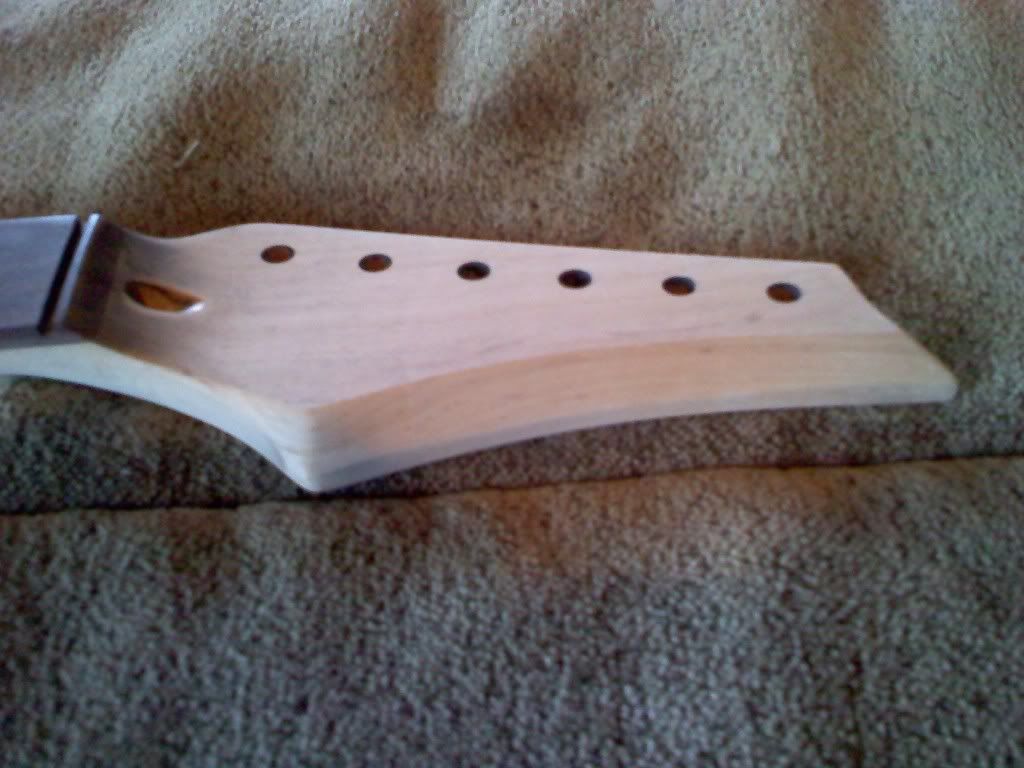 That does look cool. Is it a carvin neck? My first build was with one.. Sounded great BTW. I have no artistic talent what so ever but have found out I am very good at carving neck profiles...I don't know if it comes from years of playing or ???. It's weird but I know exactly what I have to take off to make it right. I ended up using a sharp knife and scrapping along with the grain. Don't whittle just scrape. What you using for pickups??
The neck is a golden gate S95... canadian maple,,, made in china
It is loosely based on the ibanez headstock but I added the chamfer along the lower edge for some extra dimension.
The plan for pickups is to keep them low cost entry level to start with, but I won't be buying them for a little while so that may change.
a few progress pictures
I drilled out a bit of material in the pickup pockets and finished up most of the trimming on some interior cut templates.
The rough shape of the back is cut out with the controls pockets cut out. I may end up hogging out a bit of extra material to lighten it up but I'll see what it weighs when I have the top done before that so I don't mess with the tone too much.
I'm going to cut out the neck pocket before doing the final outer trim so that I minimize the chance of the bit catching and tearing out a chunk by the cutaway.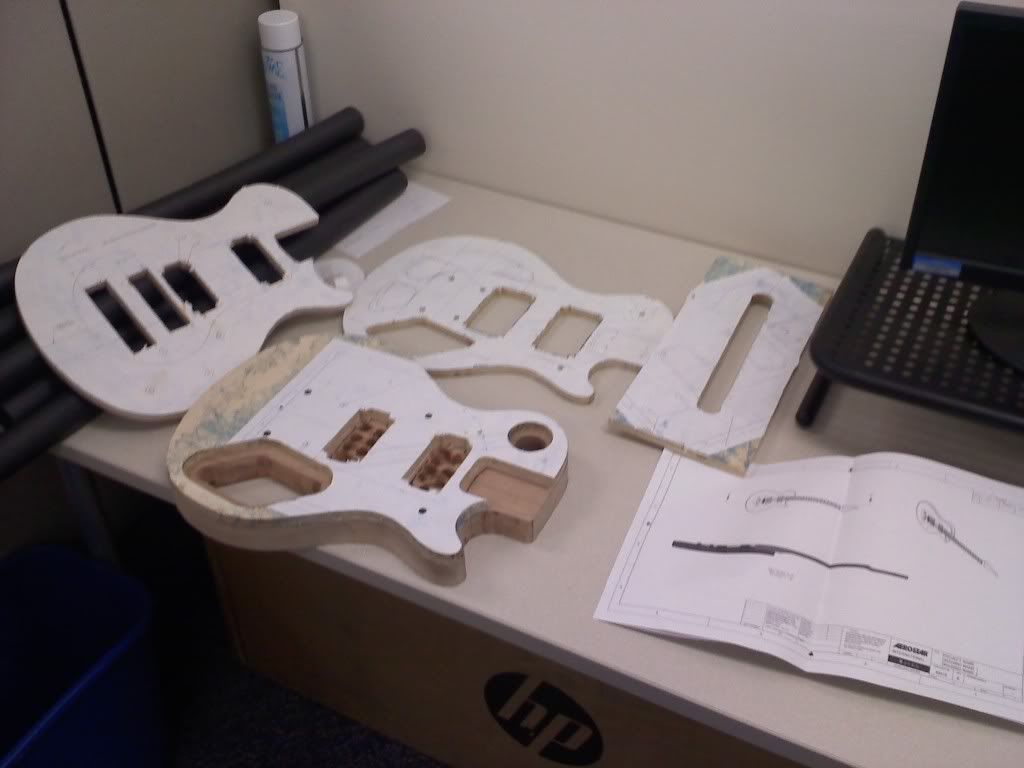 So I thought I was going to go with curly maple for the top but I found a board at menards today that I really liked the grain pattern on so I pulled the trigger. It's just regular hard maple but it has a nice wavy grain pattern that I think will look very nice when shaped. I'm going to try to shape it so the contours are parallel to the end grains and that way I should get some nice loopy grain patterns in the final result. Here's a couple of pictures of the boards. There's a little subtle figuring to the boards as well and I'm hoping that the staining/finishing brings that out some as well. The pictures are a bit out of focus, it was in the garage at night.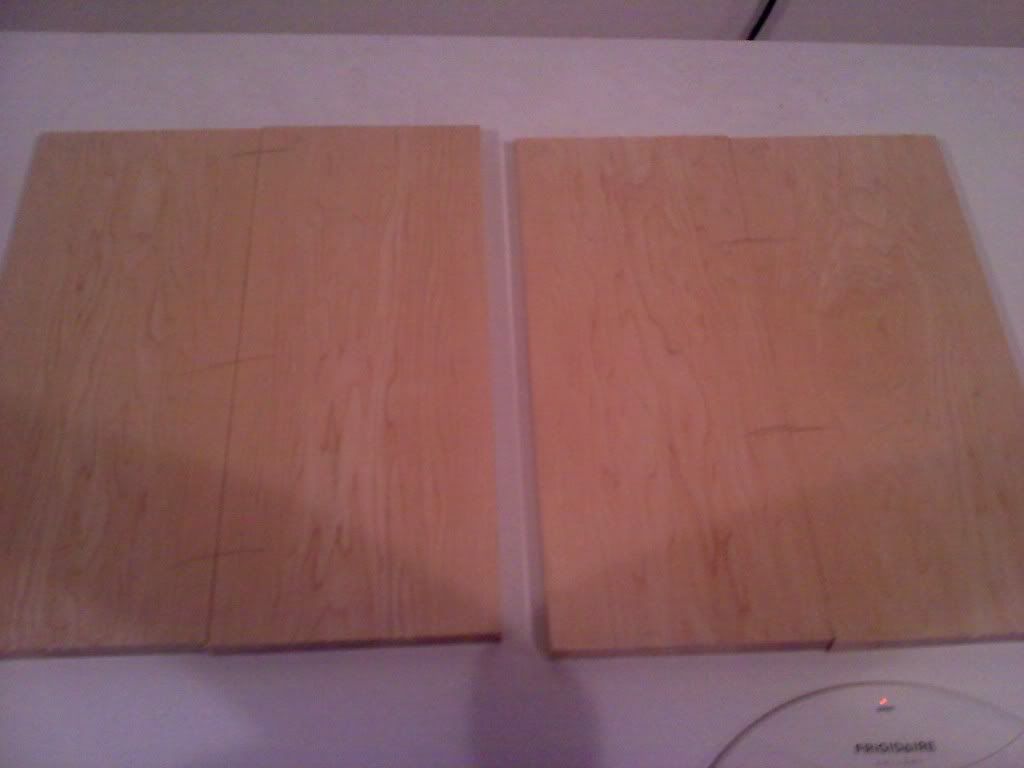 Nice project, can't wait to see how it turns out.
Posted Via AR15.Com Mobile
welp, I managed to mess up one of the maple tops so I'm down to the spare.... the flush cut router bit tore a nasty little chunk out of it. Looks like I'll be using a sander to get the final shape of the top instead of the router!
Originally Posted By MachGT:
welp, I managed to mess up one of the maple tops so I'm down to the spare.... the flush cut router bit tore a nasty little chunk out of it. Looks like I'll be using a sander to get the final shape of the top instead of the router!
Send CMJohnson an IM. Maybe he's used some other method. Worth a shot....
Posted Via AR15.Com Mobile
got most of the machining about done and I'll be going crazy with the rasps, files, and sandpaper soon! I routered out the general shape contour of the top and a relief cut on the back of it as well. Also lightened it up a bit. I know that will likely effect the sound some but I'm alright with it. I'm looking forward to hearing it!
The neck pocket is a pretty good fit, just a bit of play to allow for some of the finish material to tighten it up a bit :)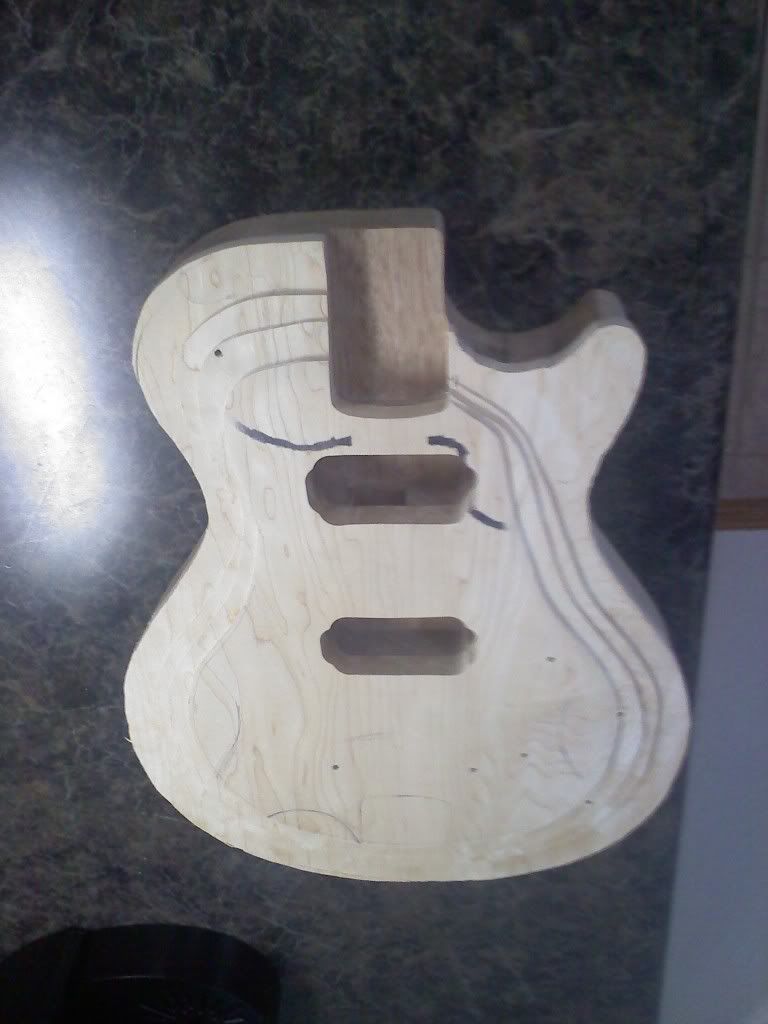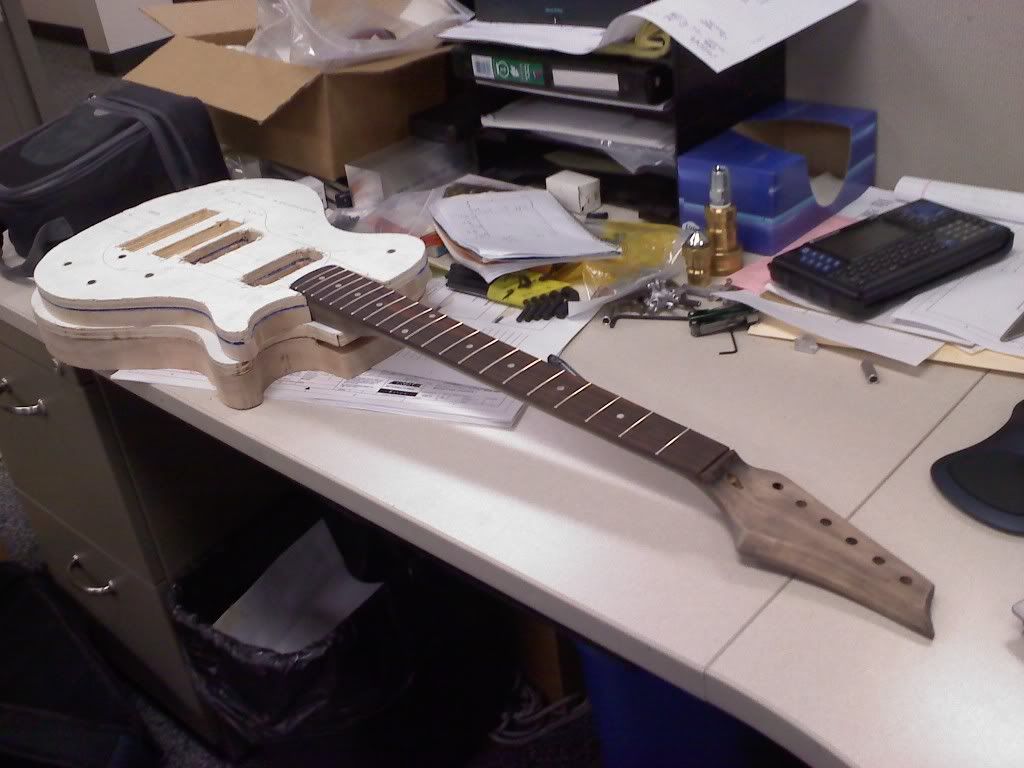 I started rough shaping it with a grinder and sanding disk today. I'll maybe have to use a die grinder with a big sanding drum to get around the cutout a bit. I need to trim the sides the rest of the way, I did the convex surfaces using a benchtop sander but the concave sections will be easier with a spindle sander...
Leaving the area around the bridge & pickups flat like a PRS?

Posted Via AR15.Com Mobile
yeah, that's the plan. It will stay flat through that area. I'll run it through a drum sander to take all of the markings off of that face.
some more rough shaping done today at lunch. fun with a grinder and a sanding pad!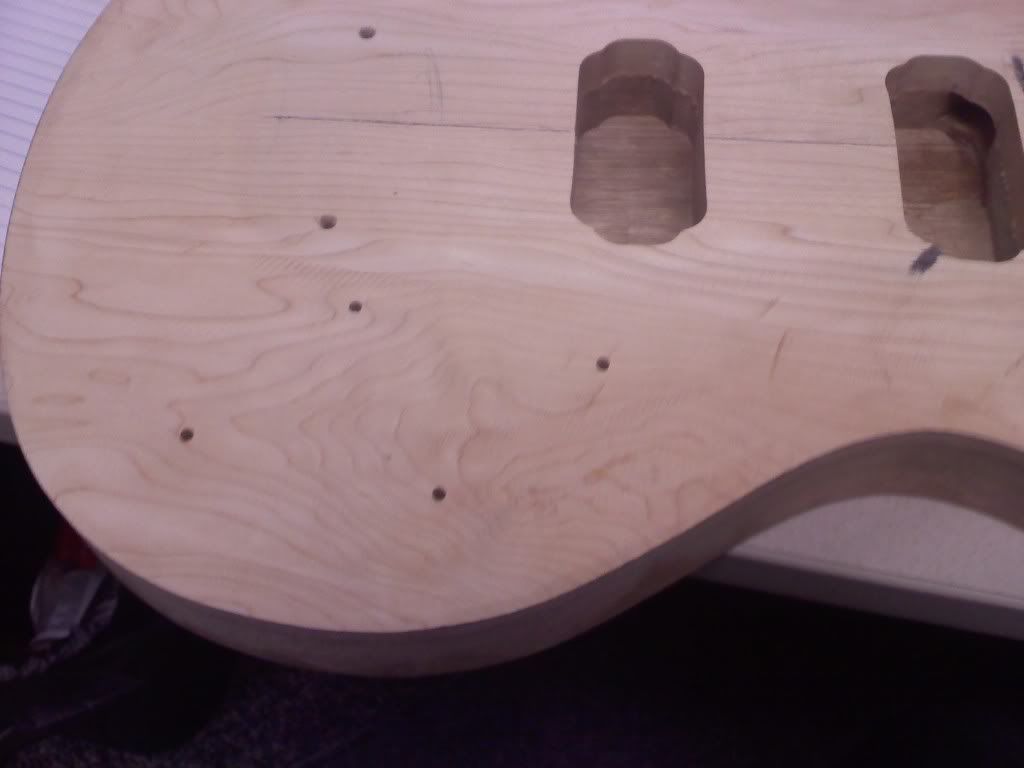 and tonight some finer sanding with the 5" orbital and 60 grit paper
Looking nice!
a few pictures of it today :)
testing out the string height
looks pretty good! plenty of room to raise up the action for it :)
Looking good.
Posted Via AR15.Com Mobile
I installed the bridge today and got pilot holes in for the threaded inserts :)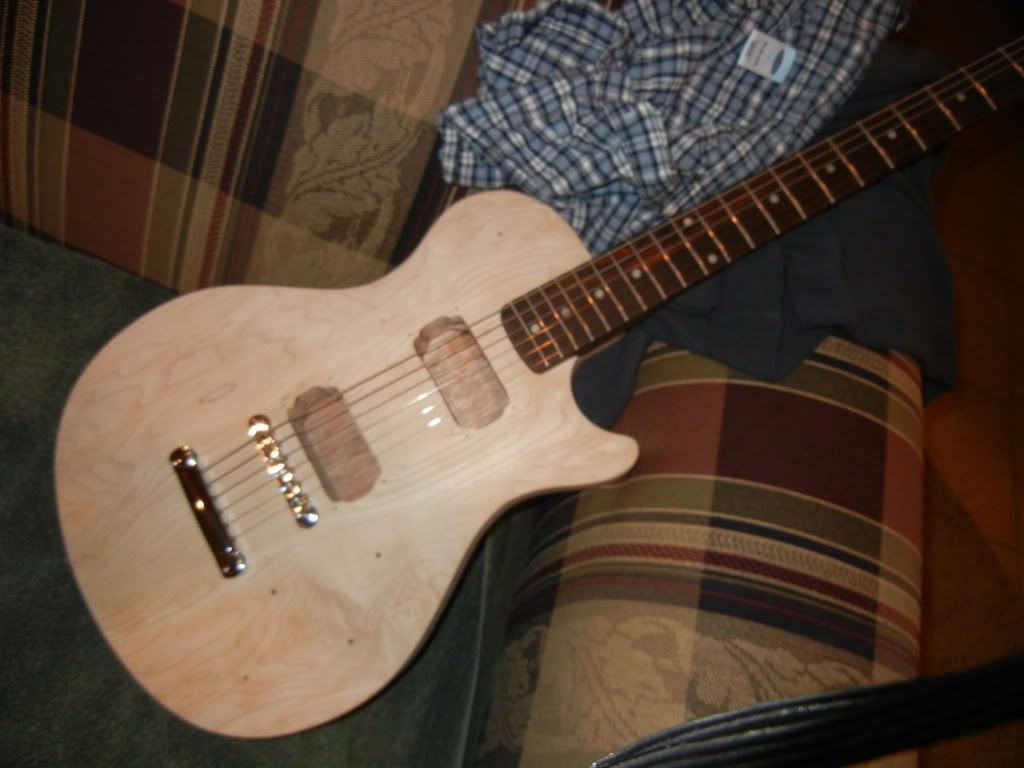 Here it is with the bridge installed
Here's my tuning setup. I used one of the pickups with the leads taped directly to a patch cable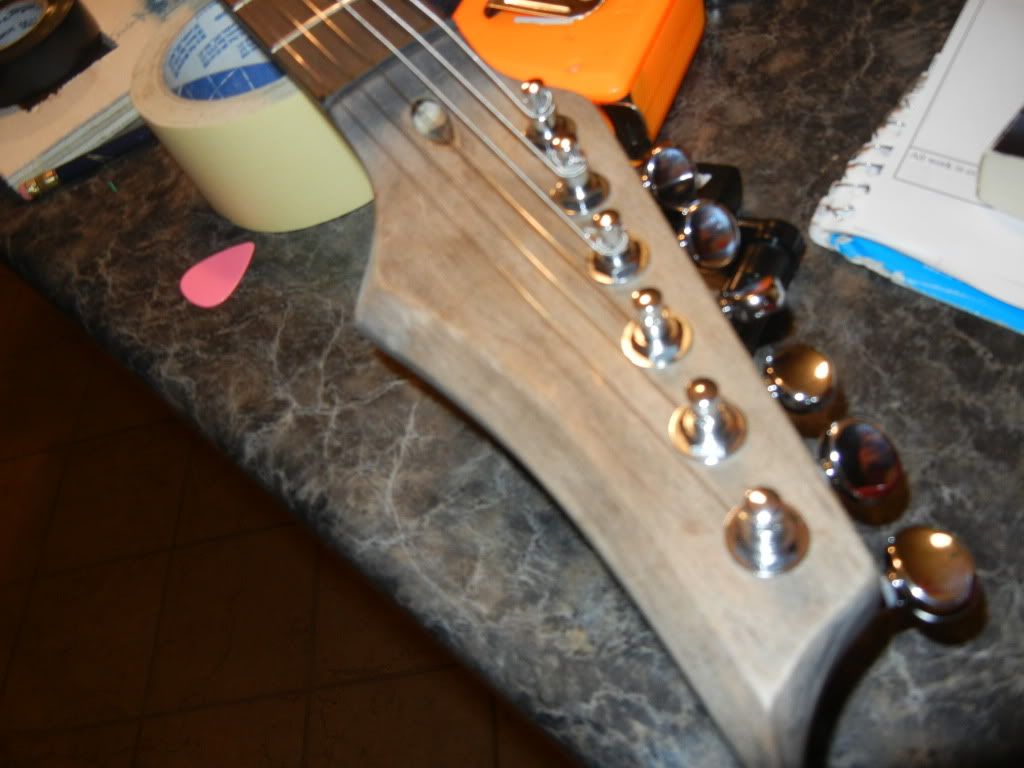 pretty obvious what this one is
I taped the neck pickup in place
I made a plate at work to use for setting up the intonation without using the adjustment screws
another view of the intonation setup
Looking good!
I always thought there was a measurement from the nut that a guy would use. Your method makes a lot makes sense, though. Perfect sense, actually.
Posted Via AR15.Com Mobile
There is, it's the scale length, mine is 25.5" but the actual distance is typically a little longer. as per the guidance I received somewhere, I was told to not to drill the holes without getting the intonation close first.

I was actually really close where I put it, I measured 25 5/8" and only had to move it 1/16" from there.
I've added some color.....
first 2 pictures are of just the stain and a bit of clear coat. The last few show it with some clear mixed with green dye. That really deepened the color :) I was worried about how it would come out but I'm pretty happy with the color of it. Now I need to get some black dye to do the sunburst and finish it up! a bit more cash to save for the rest of the hardware.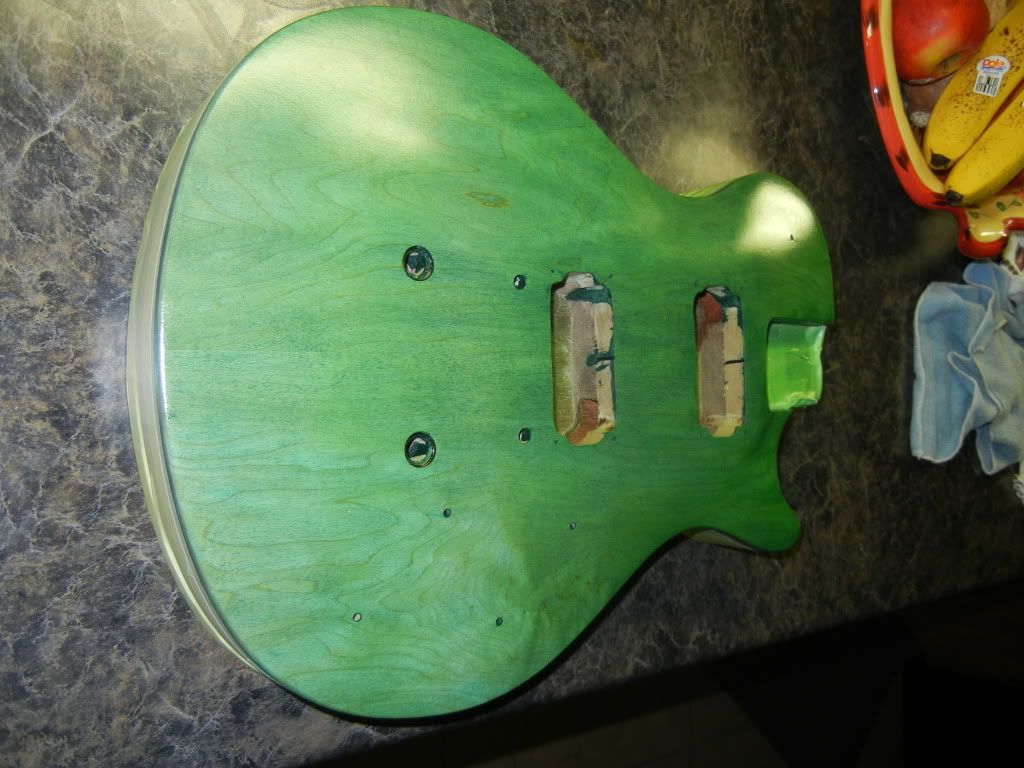 and here's the sunburst. A couple of the heavier areas should vanish once the clear coat goes on :)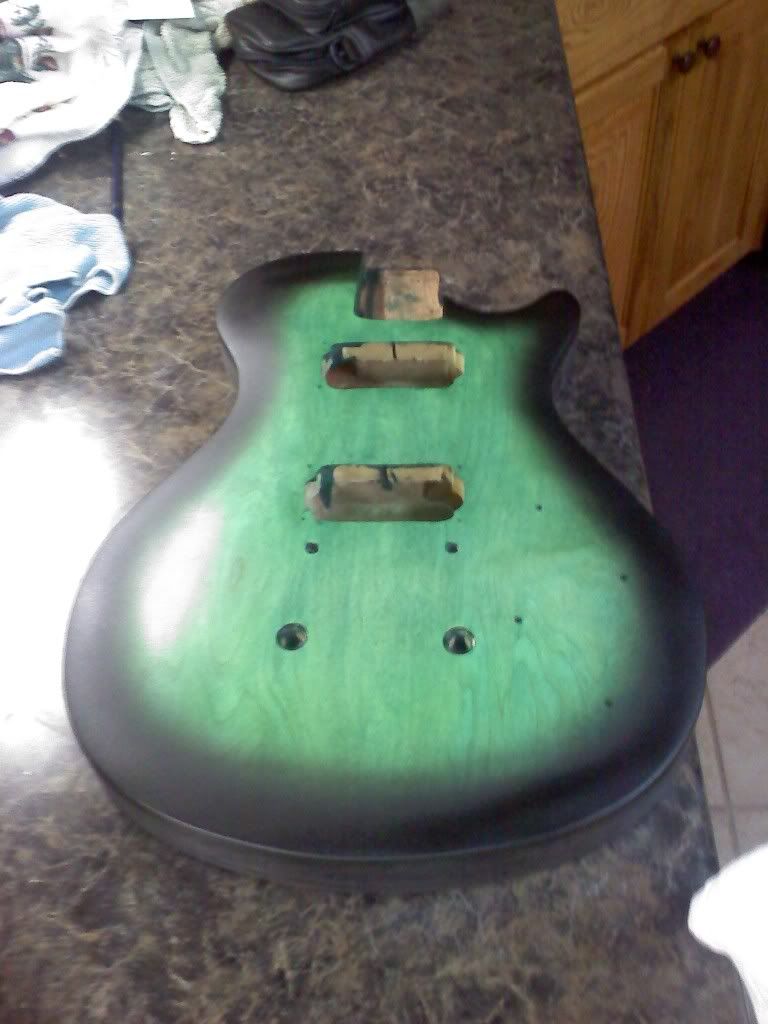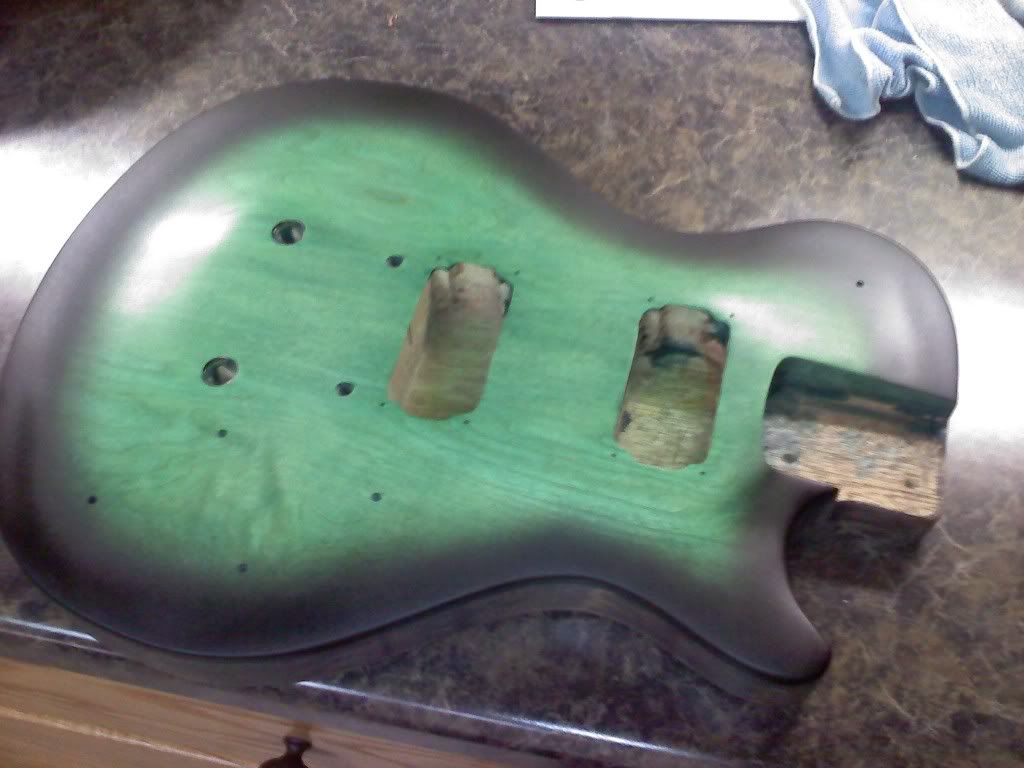 before the 2 part catalyzed clear, note daddy's little helper....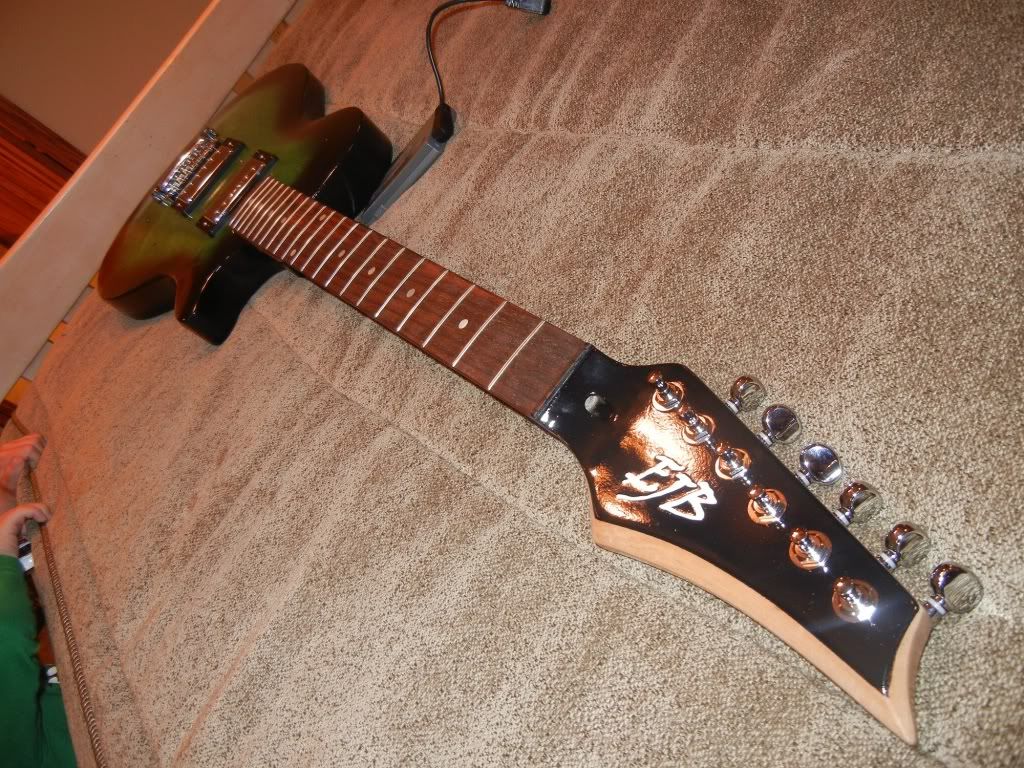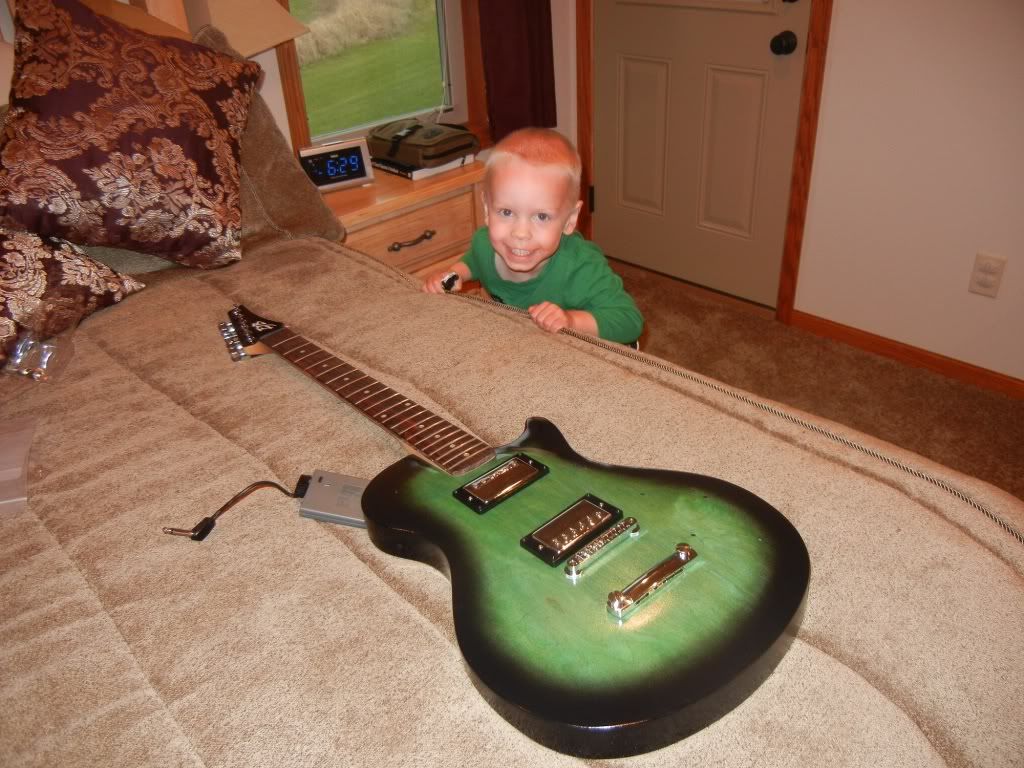 I'm very impressed! Nice job!
picked up a replacement .010 string along with some knobs from GC today on my lunch break :)
I'm uploading a little acoustic video too.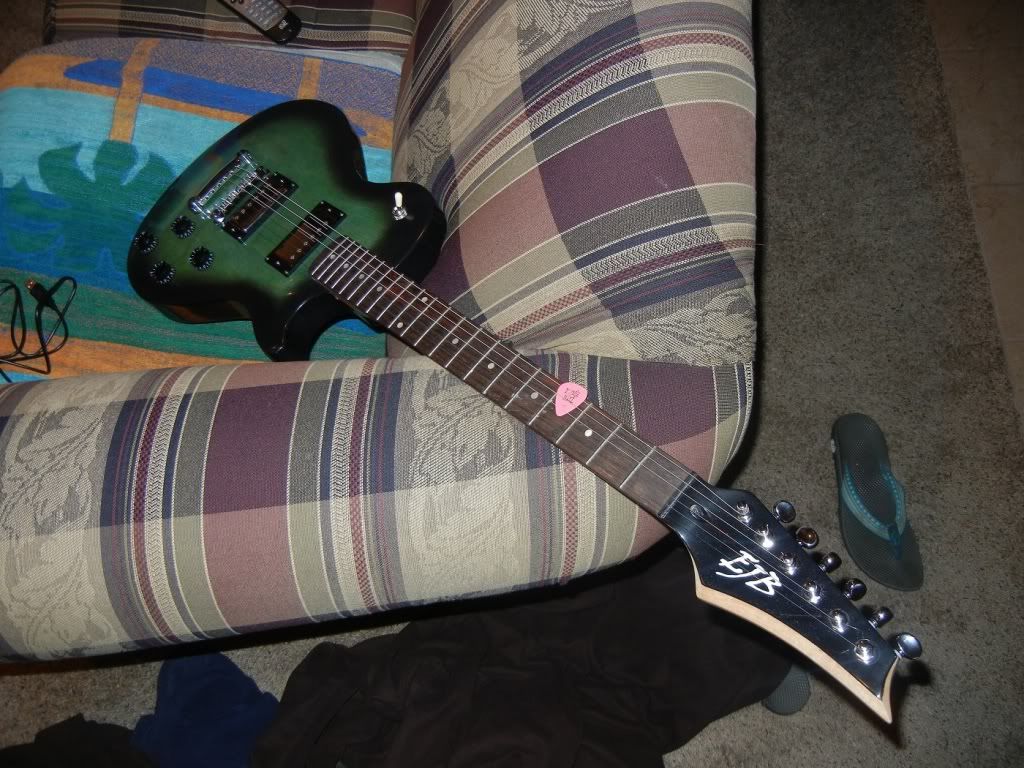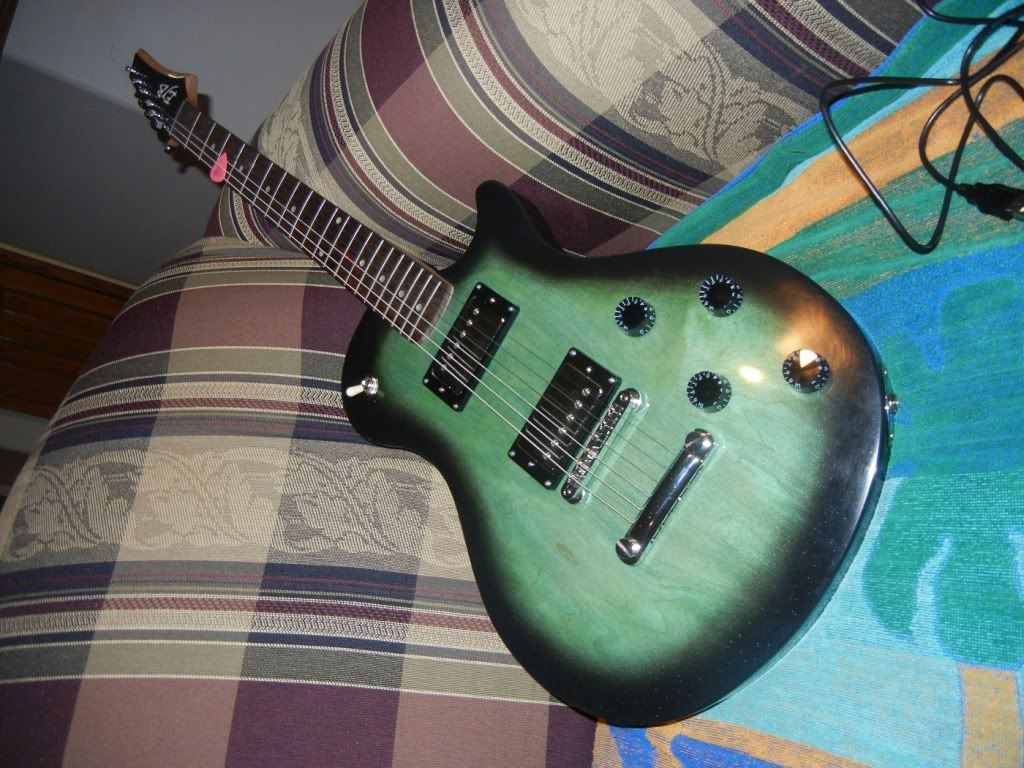 here's the youtube video
http://youtu.be/mXU1NluwapA
it's just acoustic so far, the boys are in bed.
Damn, dude.

From the first post it sounds like this the first guitar you've made?

Very impressive if so. If I made a guitar, it would be a steel pipe welded to a can with some clothesline for string. Yours looks legit. And actually, you know, sounds like a guitar.

I get the feeling of "I can make anything" with computers and software sometime, but I'd love to know that feeling for material objects.
some amplified videos... no claim to any real skill but I do think the guitar sounds pretty good
http://youtu.be/h6JRiWdkJkw
http://youtu.be/ZBIyNo3ZtBM