Scheels ammo prices
Does scheels have decent ammo and prices? I live kind of near one and was gonna check it out for some .223/5.56.

Walmart only had umc 55 grain for $9 for a box of 20 so I was hoping I could do a little better since I heard umc sucks.
its not the greatest, i have seen places with lower prices but run out of stock quickly... Almost always the cheapest to buy Bulk online.

but i will usually just get my ammo from Scheels, they are pretty much guaranteed to have what you need (at least the one i go to)
I've not bought from them due to having all available ammo money tied up in reloading equipment, casting equipment, and components, but the prices at ammoman seem to be ok. The price you see is the price to your door. Maybe if someone has a more informed opinion they will jump in.
http://www.ammoman.com/index.htm
click on .223/556 at top of page
Hit or miss. They occasionally have (or used to anyway) sales. Regular price is on the high side, but not out of line for a brick and mortar store.
Used to be a heck of a lot better than sportsmans and would actually have some in stock.
online is the way to go
aimsurplus
wideners
palmettostatearmory
I normally would order online but I wanted some ammo to sight in my first rifle. I have an order coming in but I ran by scheels and picked up a 50 pack of fiocchi for 20 bucks and a 20 pack of pmc bronze for 8 bucks.

went to black hawk park range for the first time. great place to shoot for free!
If you're willing to shoot steel case ammo Cabelas has Herters .223 listed for $3.99/20. Works out to $200/case.
IIRC AIM has some steel case stuff for $189/case but last I checked only 62 grain hollowpoint in stock.
They have fiocchi 55 grain fmj boxes of 50 for 20 bucks. Cheaper than other stuff online when you include shipping and it's very accurate and clean. Good stuff. I picked up 250 rounds. And ill be getting more soon i think. They also have pmc bronze for 8 bucks a box.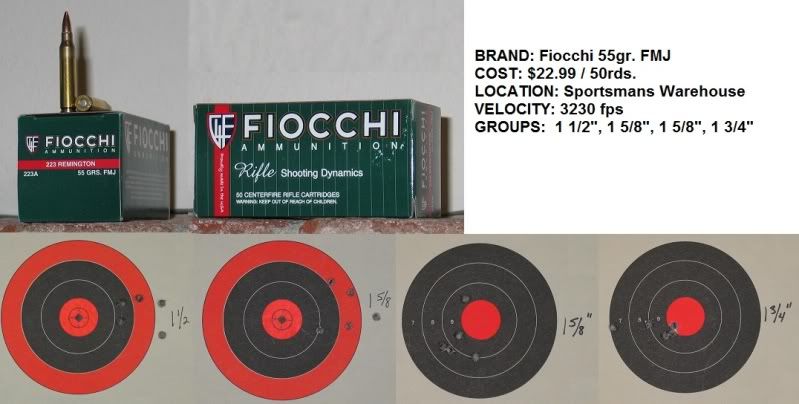 taken from this thread
http://www.ar15.com/forums/topic.html?b=3&f=16&t=490278
I use the PMC bronze with no complaints to date. It's an okay price for being able to walk in and buy it in small quantities.