I have a bunch of used and new molle pouches/gear im looking to get rid of. Parathesis indicate how many i have left. If it doesnt have the, then i
only have 1.
Post "I will take it" and include what # and how many. I prefer PayPal Gift, but a MO is ok too. Time stamp wins of course
Shipping will be $5-$10 depending on how many pieces.
Trades:
Romanian Leather AK Sling
15 Round FNP-45 magazines
RPK Sling
GRIP POD
Badger Tactical Latch
New VTAC Padded Sling in black
I will try my best to update frequently, but i also work so be patient.
EDIT: MAKE OFFERS
USED GEAR LIST:
1: (2) Allied Industries, Used Excellent Condition, 6 5.56 30 Round Magazine Bandolier, Coyote - $20 (1 of them has a name written on a flap)
2: Unknown Origin, Used/Worn, Utility Pouch, Woodland Camo - $5
SOLD
3: Specialy Defense USGI, Used Good condition, SINGLE Magazine Pouch for 5.56 30 rounders, Woodland Camo - $10
SOLD
4: (2 LEFT) Specialy Defense USGI, Used VG condition, DOUBLE Magazine Pouch for 5.56 30 rounders, Woodland Camo - $15 each
1 SOLD 2 LEFT
5: (1 only even though picture shows 2) Eagle USGI, Used VG condition, 1QT Canteen/Bottle pouch, Coyote - $25
6: Specter Gear issued, Used Excellent Condition, Ground Illumination Flare pouch/anything that can fit, Coyote, - $15 each SOLD
7: Eagle USGI, Used VG Condition, Gas Mask Carrier, Coyote - $30
8: Unkown USGI, Good condition, Utility pouch, OD Green - $5
9: Eagle USGI, Excellent Condition, Medical Pouch, Coyote - $25
SOLD
10: Unknown USGI Origin, Good Condition, ACOG Pouch with extra padding, Coyote - $15 each

ALL SOLD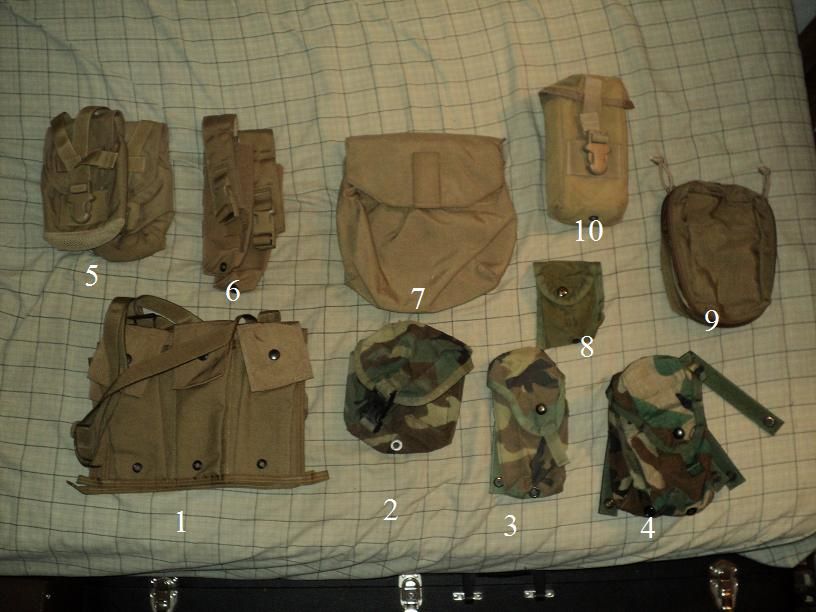 NEW GEAR LIST:
15: Tactical Tailor, M4 Stock Mag Pouch, Coyote - $25
16: Tactical Tailor, M16 A2/Fixed Stock Mag Pouch, Coyote - $25
17: Scope Coat, Scope cover for ACOG, Black - $10
18: (2) Specter Gear USGI, SAW/Utility Pouch and can also hold 6 M16 mags, Coyote - $30 each
19: (5) Spec Ops Brand, 6 M16 magazine/Utility Pouch, TAN - $25 each
20: (4) Spec Ops Brand, 3 Cell 40mm Grenade Pouch, TAN - $30 each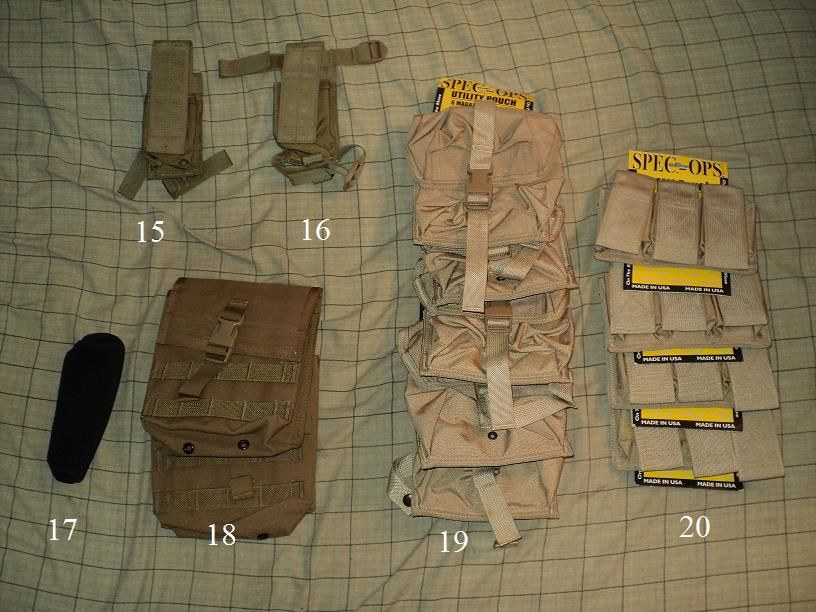 btt. If you have an reasonable offers on any of these, let a brother know