A neighbor is apparently having some hard times and, knowing I was a gun guy, came to me last night with a bag of firearms stuff and asked for a few bucks for it. Most was not worth anything, but in there was an
XM3 bipod with canvas carrying case
in there.
The case is marked:
Case, Carrying Bipod XM3
DSA 100-68-C-1457
1005-999-2430
The bipod is marked:
Colt's - 62122
Hartford, Conn. U.S.A.
They both look serviceable, with a few surface rust spots on the bipod. The snaps and zipper on the case work fine.
To help move his bipod, I'll throw in a
used but serviceable M14 mag
, and a
GI black nylon sling
still sealed in the wrapper.
Call it $50 shipped for everything in the US, and I'll pass $50 on to him for his stuff.
I'll snap a couple of pics shortly and put them up.
XM3 bipod with case

Used but usable M14 magazine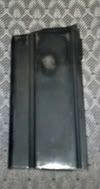 ETA: Sorry, I replied to my own instead of editting my original post- honest mistake