I have a used BCM Bolt,Firing pin and cam pin for sale.
Has roughly 1000 rounds on them.
I will take $65.00 shipped.-
SOLD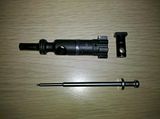 Please use site messenger to reach me.
PayPal is only form of payment add 3.5% and be discreet( That means no mention of gun related products or ar15.com)
Will ship with confirmation number.
Lower 48 only.
Thanks for looking
I'll take it. IM sent