Here is a
LIKE NEW AR 15 chambered in the THUMPER Round 450 Bushmaster
! You can actually find ammo for this round unlike the 458 Socom! Hornady produces ammo for this Hog Smasher and Remington does produce ammo and will be producing a new Hog Hammer ammo for this cartridge starting this spring! The 450 bushmaster is ballistically close to the 45-70 but in a semi-auto.
The .450 Bushmaster "Thumper" is designed for all large North American game. Though not a long distance cartridge, accuracy has proved to be exceptional out to 200 yards with felt recoil similar to a 20 ga. shotgun. Tubular aluminum forends allow the barrel to free float from the nut forward, chrome lining in both bore and chamber makes for long barrel life and easy cleaning.
Ballistically the round is very flat out to 200 yards. If the firearm is zeroed at 150 yards, the user can expect to see a rise of 1.8 inches at 100 yards, zero at 150 yards and a drop of 2.4 inches at 200 yards. This rifle has a free floating barrel making it extremely accurate—it is capable of sub 1 MOA.
450 Bushmaster, "The Thumper"
450 Bushmaster
Ammo:
Generally you can pick up ammo at a lot of stores but here are some:
PSA Ammo
Target Sports
Major Ammo Manufacturer's
Hornady
Remington
Coming Soon: Remington Hog Hammer Ammo:
Midway USA Remington Hog Hammer Ammo 450 Bushmaster
As you can see there will be plenty of sources for ammo. There are a lot more sources for ammo and many more coming.
FEATURES:
Like New-Bushmaster 16" complete Upper! Less than 1 box of ammo put through this gun!
Brand new Palmetto State Armory Lower
New-Magpul Moe Trigger Guard
New-Magpul Moe hand grip
New-Magpul STR 6 position collapsible stock
New-5 round magazine!
New-1 Box of Hornady 250 grain ammunition to get you started with this thumper!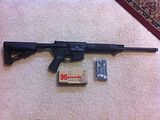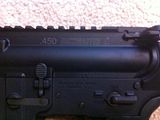 This is a great rifle and hard to find right now. It will kill anything in North America and will lay out the Piggies and deer!
$1650 Shipped

to your FFL dealer