I have a Eotech 556 here that was manufactured in Sept 2009. Reticle is bright throughout the window and glass is clear! One or two nicks on the corners of the hood but barely noticeable(almost indistinguishable)! Box, warranty card, and other papers included.
From Eotech's website:
556
The EOTech 556 is the ideal all purpose optic for Law Enforcement applications especially when partnered with an EOTech magnifier. This 556 night vision compatible HWS operates on the same CR123 lithium batteries commonly utilized by the leading gear manufacturers. When it matters most, the combination of speed, versitility and extended battery life will make you an unstoppable force.
- Buttons on left side of sight (not in back) to work specifically with NV or magnifiers
- CR123 Lithium batteries; model with 65 MOA ring/1 MOA dot reticle
- Compatible with Gen I-III+ Night Vision Systems (tandem operation)
- Raised 7mm base with knurled cross bolt
- Interfaces to 1" Picatinny (MIL-STD-1913) rail
Suggested Retail from $609.00
No Trades at this time!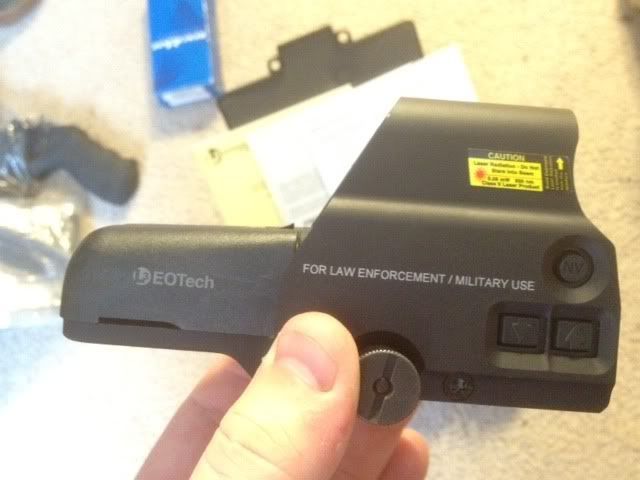 420
415
395 . USPS MO -or- (discreet)Paypal GIFT -or- regular paypal +3%
First I'll take it gets it.
SPF
Do not make offers in ads, use IM or email for all offers, questions or comments . Do not bump the ad.