WTS/WTT: NEC MT1065 LCD Projector:
Unit(s) came from executive conference rooms of local medical device HQ. Units are considered 'used', but in like-new condition, after initial install, they were only touched again upon their removal. Each unit will come with a new bulb/lamp installed (valued at over $200), each bulb is rated at 3000 hours of run-time..
Below are the factory specifications. This information was provided by an outside source and was based upon when the unit was new. (Any warranty mentioned was when the unit was new and most likely the unit is out of the original warranty at this time).
The NEC MT1065 features LCD display technology which delivers crystal-clear images, in a small and light weight design. This NEC MultiSync Projector is well suited to a variety of lighting conditions as it offers high brightness of 3400 ANSI Lumens. With a native resolution of 1024 x 768 and a full-featured aspect ratio of 4: 3 (native) in this NEC portable projector, you can get a comfortable viewing experience. The AutoSense technology in this NEC MultiSync Projector allowing automatic set-up and one touch adjustments make user-friendly. The Vortex technology in this NEC portable projector delivers outstanding display of video and data with color accuracy. The LAN connectivity in the NEC MT1065 offers wired or wireless connectivity.
Product Identifiers
Brand: NEC
Model: MultiSync MT1065
MPN: MT1065GOV
Key Features
Type: LCD
Display Technology: TFT Active Matrix
Image Brightness: 3400 ANSI lumens
Contrast Ratio: 800:1
Platform: PC
Form Factor: Desktop
Image
Native Resolution: 1024 x 768
Image Size (Diagonal): 25in - 500in
Image Aspect Ratio: 4:3, 4:3 (Standard)
Screen Distance: 2.46ft - 68.9ft
Analog Video Format: NTSC, PAL, PAL-M, PAL-N, SECAM
Technical Features
Audio Output: Speakers
Lamp
Lamp Type: NSH
Dimensions
Width: 4.53in
Depth: 12.72in
Height: 13.15in
Weight: 13 lb.
Miscellaneous
Manf. Warranty: 3 years
Manf. Date: 2004
This item originally retailed for $5,500.00 - DONT WORRY, not asking for anything near that
Items Included
- 1x NEC MultiSync MT1065 LCD Projector
- 1x Remote control
- 1x Power cord
This is a powerful and flexible projector for portable or installed applications. This NEC MT1065 can be found in conference rooms across the country. With advanced features including XGA native resolution, incredible brightness of 3400 ANSI lumens, optional wireless or wired networking and extensive input options experience freedom and flexibility like never before. The specially designed auto focus lens allows for quick, easy switching between multiple screens with minimal user adjustments and the automatic color correction provides true color reproduction even when projecting onto colored or textured walls for a perfect presentation anywhere. 3-D Reform technology lets you set up your projector virtually anywhere in the room and still get an aligned image. And view larger than life images from a digital camera with the PC Card Viewer. The optional short throw lenses allow for convenient placement of the projector in limited space environments. With the full-featured aspect ratio control for 4: 3 fill and stadium fill on a 16: 9 screen, all eyes will be on your presentation. Additional multilevel security options give you confidence and peace-of-mind. Let yourself go with the MT1065.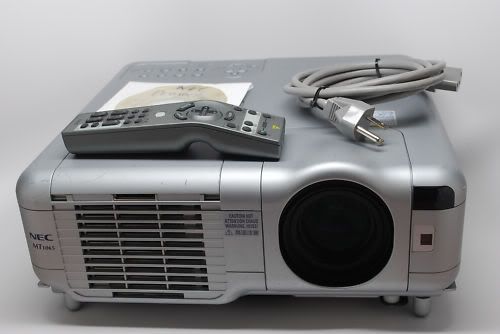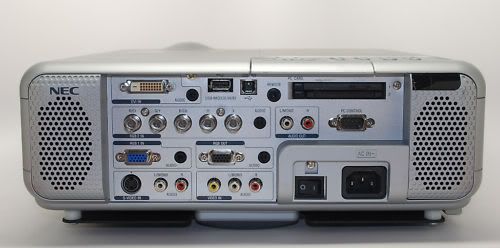 View the Projector Spec. Sheet
http://www.aboutprojectors.com/pdf/nec-mt1065-specs.pdf
View the User Manual
http://www.aboutprojectors.com/pdf/nec-mt1065-manual.pdf
Asking for/Interested in Trading for:

-$350 (Or best reasonable offer)
-Glock parts
-Optics/mounts