Trade made for FS2000
Looking to Trade a Rare Mitchell Arms M90 AK47 Underfolder for a STG-556E4, FS2000, Benelli M3/M4
Need to try to keep it FTF as i have a rough schedule to try to ship....nor do i really like the idea if i can help it
Very low round count
excellent condition. especially considering its age. it is the Tank of AK 47's
If you don't know what a Mitchell Arms import is then i can tell your not likely going to be interested in this trade.
The Rifle is not a Century arms or kit build, But rather a True Yugoslavian ZASTAVA KRAGUJEVAC build and imported by Mitchell arms.
the rifles were caught at importation during the asault weapons ban. 400 made it through, and 1000 underfolders were stopped. this is a one of the 1000. it got its bayonet lug clipped and slant brake pinned, then was released for sale.
the finish, unlike the century guns, is Blued. the rifles Mitchell imported did NOT come with grenade sights. the teak furniture new and not mil surplus. Sadly the original box and Mitchell "certificate" are lost by the previious owner
Many of the M90's had their night sights removed. this one came through unscathed.
standard stock M90's have been selling around 1500 dollars. the ones on Gunbroker and on gunsamerica are listed higher certainly i value this underfolder higher seeing there were 2500 standard stock rifles, not that they will sell for that (although one recently did at 1495.). but as since i am not lreallt ooking to sell, i am basing trade value upon that.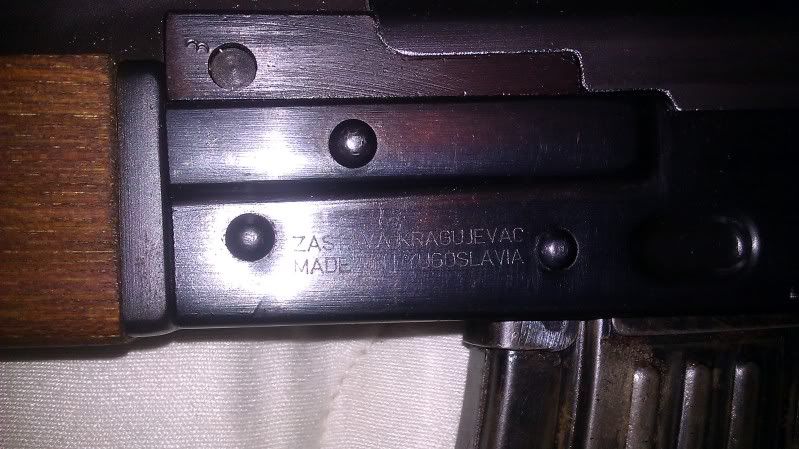 Iv'e gotten many trade offers and almost have taken many. but when it comes down to it, i know a MSAR E4 is what i really want.
And sorry, I dont think it's legal for NY
Some good offers, but BTT