Thinning the herd a bit, have a real nice Enfield that probably has seen both world wars. BSA made enfield No. 1 Mk. 3* that has seen Australian service and refurb, based upon the markings/modifications and stampings from several Enfield folks online that have seen pics. Even though the pics are kinda blurry, the rifle is numbers matching, i tried to get shots of the numbers best i could.
Info from others:
"Yes, Australian. The nosecap with "lightened" ears and the coachwood stock are dead giveaways. I didn't even need to see the Aussie refurb stamp on the buttstock to tell you that."
"Coachwood is the correct type of stock for this period of refurb. It is not at all uncommon for Australian WWII rifles and WWII refurbs. Coachwood is a type of wood native to Australia. If it were mine, I'd just give it a good coat of linseed oil (raw or boiled) and leave it at that.
BA - Bathurst, Australia. Feeder factory for Lithgow.
OA - Orange, Australia. Another Lithgow feeder factory.
WA - Wellington, Australia. You guessed it. Lithgow feeder factory.
Anything marked MA, OA, BA, WA, or with a seven point star with an A inside is an Aussie Lithgow part. All the parts you have described are typical WWII production Aussie parts that are perfectly suited to a 40's Lithgow refurbed rifle. "
Front sight is stamped BA, rear is stamped WA over 43, and OA.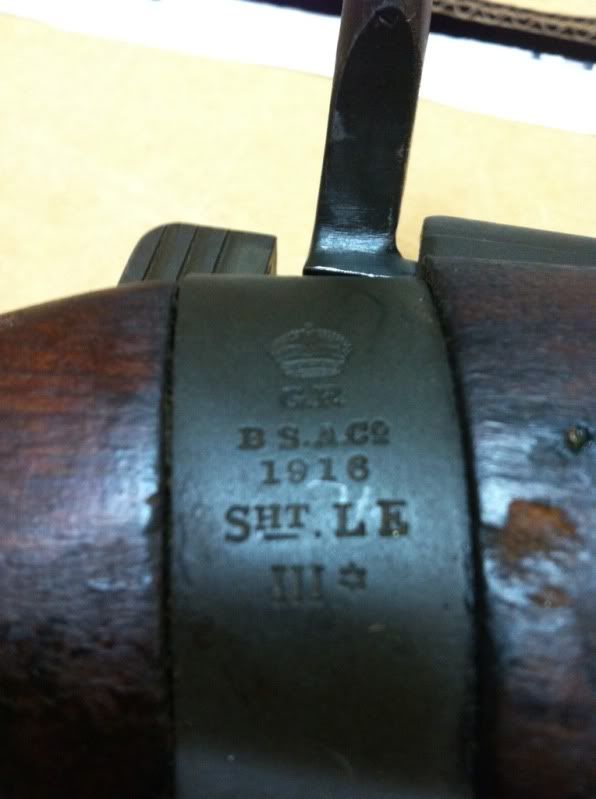 Rifle, and 200 rounds of .303 british to take her shooting....Asking $450 for the package that is well worth it from what i am told.
***willing to sell rifle without ammo for $350, as some have asked..***
The absolute only trade i am interested in would be a Model 1917 us rifle(M1917) Preferably a Remington, but i will consider other makers depending on condition...and obviously there would be some cash on my end to add for the 1917.......
Thanks for looking,
Jason
I will take it if still available.