Here is an updated list of the parts I have available for Browning .50bmg M2/M3 guns. Most of these parts are from carefully disassembled Browning M3-Basic guns. They will work for M2 guns, but there may be some additional small holes on some parts not found on the M2.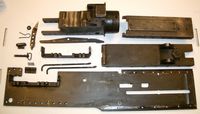 I have the following available:
Browning M2/M3 Complete Receiver Kit (plus extras!) $1,300
Browning M3 Parts Kit in various HB or Aircraft Configs $2,900-$3,225
M2/M3 Left Hand Side Plate w Left & Right Pawl Brackets $550
M2/M3 Trunnion $375
M2/M3 Top Plate w Internals $175
M2/M3 Bottom Plate w Internals $150
M3 Top Cover, Complete (Works on an M2!) $350
M2 Top Cover $450
M3 Bolt, Stripped, New-in-Wrap (N.O.S.) $350
M3 Bolt Assy., New-in-Wrap (N.O.S.), (used internals, you assemble) $500
M3 Barrel Extension, Complete (Will NOT work on an M2) $285
M2 Backplate Assembly w/o handles or trigger $325
M2 Backplate Assembly Complete (You assemble) $450
M3 Backplate Assembly $375
M2HB Barrel Support, New production $250
M2HB Barrel Bushing, New production (only w barrel support) $30
M3 Link Chute Adapter $125
M2HB Barrel Carrying & Removal Handle, New-in-wrap $40
M2 Night Vision Scope Mount (Adaptable to other scopes) $75
Butterfly Wrench for M2 Water-cooled Gun $120
See this page for more details & photos:
gryphos.com/fiftyparts
Please email christos@callitechnic.com or call 248-359-2677 for photos or to order.
Thanks for looking!
Christos