I recently decided to make my StG tacticool. I started with my franken-StG, it was built by Century on an imbel receiver. Being a Century build means that none of the serial numbers match, so some parts are steyr and some parts are belgian. I also have suspicions that the barrel may have been neutered during the AWB and later threaded for a flash hider.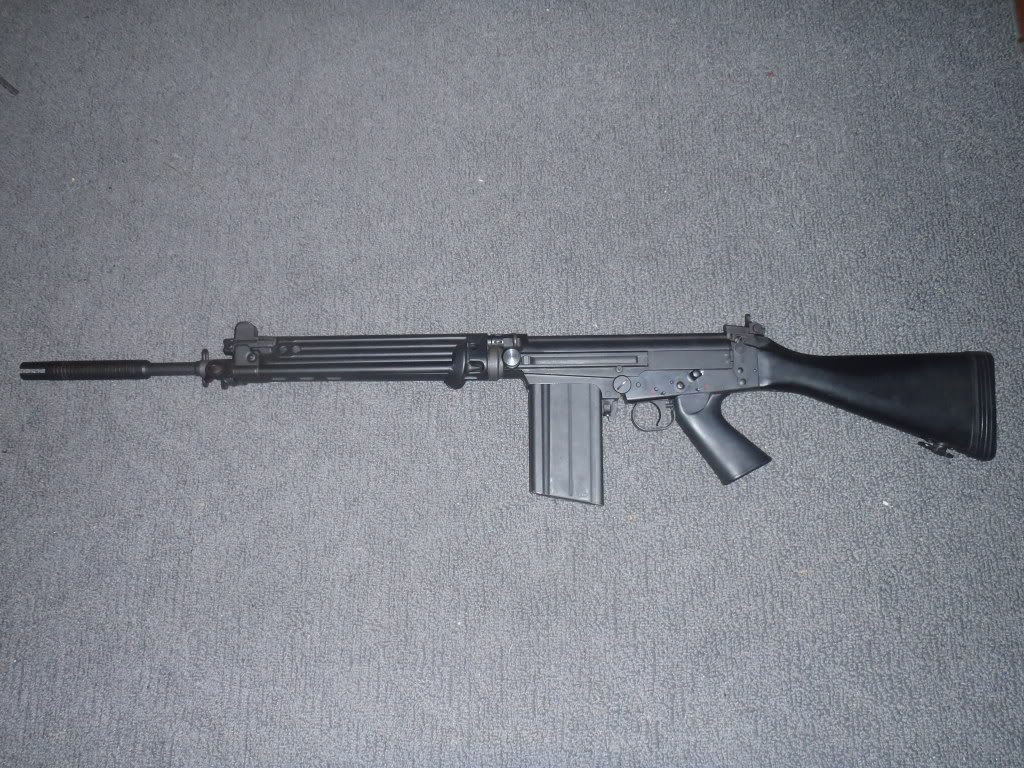 So back to my original point, I bought a Vltor CASV rail to make my rifle more modular. I was worried about adding weight to an already heavy rifle so I was reluctant to get a railed front. Enter Vltor, their rail weighed less than the competition's and it had removable rail panels. I was sold.
I don't have a scale to measure the weight differences, but I don't think the CASV adds a measurable amount of weight over the standard metal handguards + bipod.
What I removed:
Bipod
Austrian Handguards
Austrian Pistol Grip
Rear sling swivel
Front Sling swivel
What I added:
VLTOR CASV hand guard
Tapco SAW Grip
Magpul RVG
VTAC sling + VTAC stock adapter
Midwest Industries QD sling swivel
Brinkmann flashlight on weaver 1" ring
With the flashlight and foregrip the rifle is a bit heavier, but without I can't say I noticed a difference from the standard setup.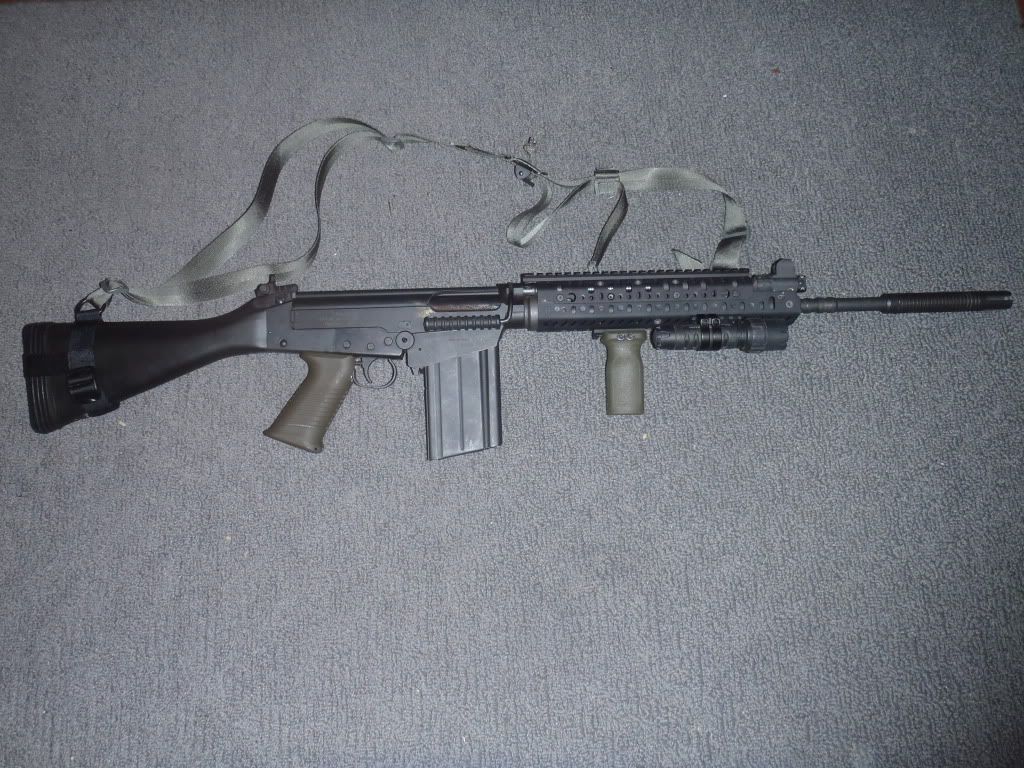 The CASV is a very well made handguard, and VLTOR put a lot of though into its design. It uses 2 attachment points to the rifle- the front is a screw that goes through the original handguard screw hole. The rear is a clamp that latches onto the piston tube nut just in front of the receiver. Both of these attach the bottom half of the handguard to the rifle. The top half is then bolted to the bottom by eight screws. When fully put together this handguard is rock solid. I would feel comfortable mounting a red dot or scout scope to it without worrying too much about a wandering zero.
The CASV is also very modular. It comes with two small rails, two medium rails, and one long rail. There are a lot of spots on the handguard where these rails can be attached. The rail on top is, unfortunately, permanently attached. When I first installed the handguard I was worried the top rail would interfere with the sight picture, but it really isn't a problem. You can see the rail when sighting down the rifle but thats it.
As said earlier I used an MI QD sling swivel to attach my sling to the front of the rifle. It interfaced fine. There are 4 QD sling swivel holes in the handguard. one on each side near the front, and one on each side near the back.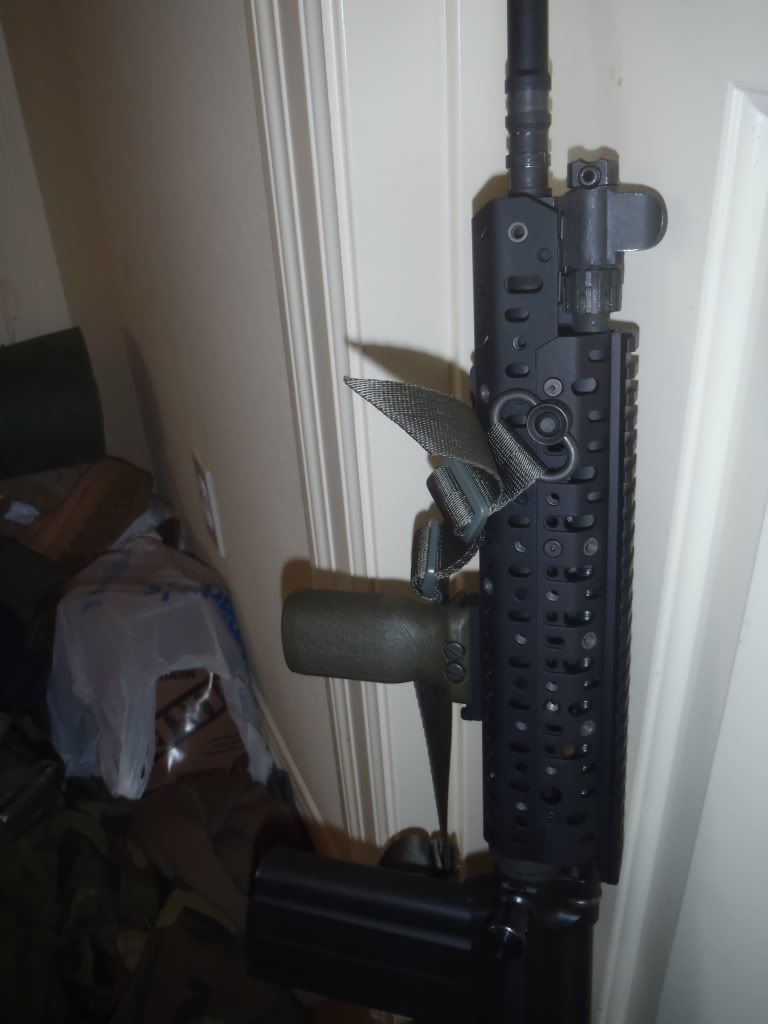 There were a few things I found wanting about this handguard. The biggest was the top rail was not removable. Second was this cotter pin near the front. I don't know what it does for me. It looks like its there to prevent the front screw from backing out, but I can't imagine thats really a problem. I guess it only bothers me because its shiny and it sticks out a bit. Lastly, my handguard only came with six screws to attach the top part instead of 8. I emailed VLTOR and they responded very quickly and mailed me the remaining screws. So big +1 to VLTOR customer service for fixing a very small packaging error quickly.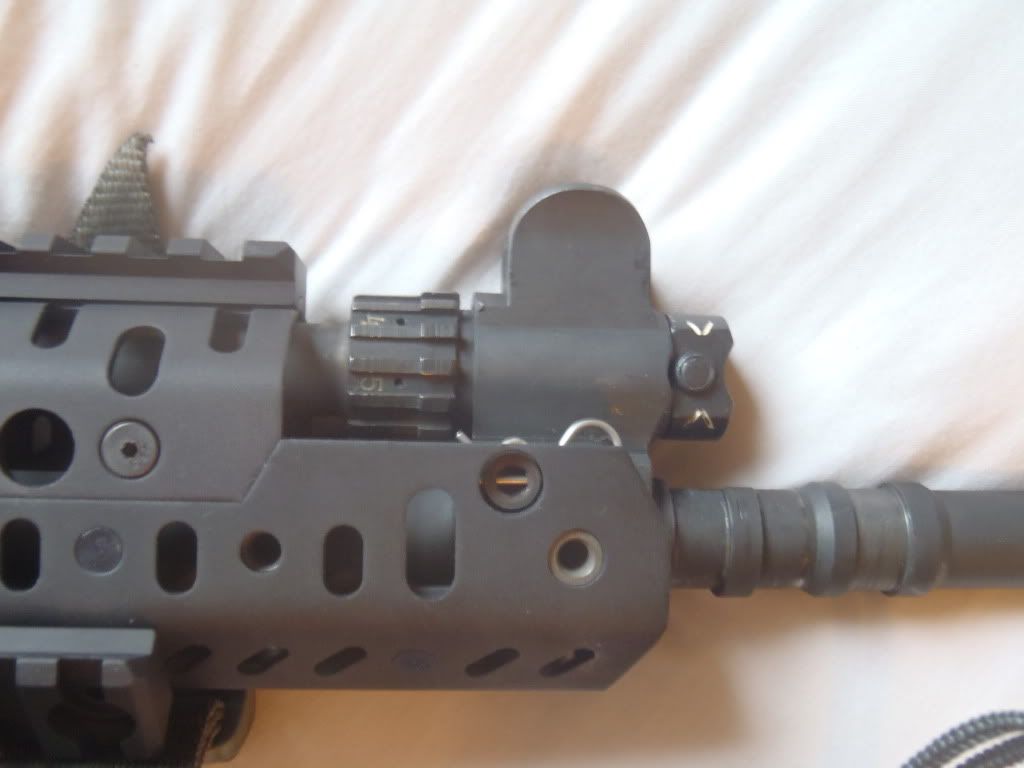 Other bits of info. I really like having the RVG. I can use it as a vertical foregrip or use the magpul thumb break grip, or hold the traditional way right behind the grip. The SAW grip has less rake to it which makes the rifle more ergonomic to me, although the original grip wasn't bad. I can also reach the safety easier with the SAW grip. I have realized that I want an R marked safety with the stop because I tend to over swing the safety when I unsafe it.
That was a helpful write up for me. Thanks for the photos. I have not seen one of these rails in person yet.

Now please clean up your room :)
just reaffirms my needs....thanks!