Mounting a Leupold Mk 4 LR/T 10x 40mm to an M14RAS stripper clip mount
I'm putting together my M1A build and I ordered an Mk 4 fixed 10x with a 40mm obj lens. Also got a KAC M14 RAS with the stripper clip mount for a good closeout deal at a local store so figured I'd use that as a mounting solution because I'm also going to put a PEQ-2A on it - couldn't go SAGE or other chassis system because I'm in CA and I want to be able to change magazines without a mag lock.

Anyways, so I plan on using a Leupold with a 40mm objective lens and the M14 RAS as the mount, what height rings do I need? I prefer to go with Leupold branded rings as I get a great discount from promotive. I ordered mediums (.84 high) but looking at pictures I might have gone too low. Will the medium rings work with my setup or do I need to go a step up?

Thanks.
Edit-misunderstood your post, sorry. Thought you were talking about a Sage stripper clip guide mount
The Sage and KAC stripper clip mounts are about the same height, right?
Not sure, maybe someone else can chime in, but what I had originally said was that I have a Vortex Viper PST mounted on my stripper clip rail, and had to go with ultra-high rings. However, the Viper PST has a 44mm objective, but that wasn't even the problem, it would have cleared the top half of the EBR fine with high rings, but the rear portion of the Viper PST is so large that it wouldn't clear the rear sight assembly with high rings. You might be able to get away with high rings depending on the size of the rear portion of the scope if the KAC and SAGE stripper clip guides are the same height. I don't think medium rings will cut it to be honest.
Hey using Leupold rings the lowest rings you can mount with are the 1.04" high rings, their website will tell you that the super high 1.40" are needed for flat top type receivers. While that is true, the high rings will work but your clearance will be very little. Here's a pic of a M14 with the KAC rail and stripper rail and a Leupold Mark 4, Illum. model. See if whoever you bought your rings from will let you trade for the next size up,
This is the clone I'm currently working on, among others, I have the M1A, the KAC rail and the rings but am still just a little short of cash for the Leupold. I'm also planning on putting a Desert Warrior cheek riser and a Harris bipod on it but haven't decided on a model yet. A hope you work out the height you need and be sue to post pics once you get it up an running,
James
That is exactly what I'm trying to do. I'm an SDM in my unit and I got selected by my Battalion to go to a Magpul Dynamics SPR/DMR class in April but we're going to just take M16A4s, since we don't have any M14s to train with - but if we deploy, we'll fall in on M14s, so it'd make for better training to bring something similar to what I'd be using if we deployed again. Unfortunately because I live in CA, I can't put it in an EBR stock like I'd most likely have in country, but setting up a rifle like in the picture you posted with a standard, CA legal stock would be a good substitute - looks like he's got a Mk 4 3.5-10x illuminated M1 in high rings, and it looks like he has just enough clearance.
So far I've got the RAS on hand, and the M1A DROS'd (9 more days remaining on my 10 day wait
). I ordered a Mk 4 fixed 10x M3 scope which was delivered while my wife was in the hospital delivering our son seven weeks early and UPS just left it on my doorstep. When we got home I found out it was delivered but it was nowhere to be found since some kid probably jacked it as it was in front of my house for 3 days. Leupold is going to send a replacement after the UPS trace is complete - got to call them on Monday to figure out how its going to be handled, and I'll see if they can change the rings to high instead of mediums, but not sure if it will be possible because its going to be a replacement of a lost package.
As for the bipod I went with the 9-13" Harris light with the notched legs. Figured the 6" is too short when wearing gear and trying to reload an M14 platform where you got to hook it in you want a little more area. 9" should be fine, don't imagine me ever deploying the legs, but I have the option to if I'm shooting at weird angles or on uneven ground.
Originally Posted By DocBach:
The Sage and KAC stripper clip mounts are about the same height, right?
The KAC is adjustable, but when it's on the rifle with the handguard rail, it's adjusted up a little, about 2 to 3 millimeters higher than the Sage stripper clip rail mount. The Sage will NOT work with the Knights rail, gotta have a matching Knights stripper clip mount. If you used the Sage clip mount and the Knights handguard rail to mount a scope, your rear ring would be lower than your front ring unfortunately.
Here's a few pictures I had, from some research I did a while back. I
think
the rings most of those guys are using are Leupold extra highs, and to me it looks like they do not need to be that high. Perhaps they were issued those just to be sure that whatever scope they got it would clear the rear sight.
As others said, mediums will not work (I actually just tried it with some extra's I have).
Link to high resolution version
Thanks for the composition of pics! I think this dude is running high mounts. Looks like they aren't nearly as tall as the other guys optics.
Is this guy running a Mk 4 3.5-10x40mm or a 4.5-14x50mm? The Obj lens seems really, really big and it looks a little more stubbier than the others and it barely clears the standard handguard with high rings. Goddammit I'm so uncertain, I don't want to buy the wrong size!
Originally Posted By DocBach:
http://www.leupold.com/_images/tactical-banner.jpg
Is this guy running a Mk 4 3.5-10x40mm or a 4.5-14x50mm? The Obj lens seems really, really big and it looks a little more stubbier than the others and it barely clears the standard handguard with high rings. Goddammit I'm so uncertain, I don't want to buy the wrong size!
Well this last pic is a different scope mount altogether. It's more like the Smith mounts. I have an older Smith version like it and with that I use low QDW rings with a Leupold tactical with a 40mm obj. I also have standard handguards. the KAC rail looks about a 1/4" taller than standard handguards as far as your scope height issue goes.
ETA- upon further review, that mount is too short to be a Smith. My bet is an ARMS mount.
You want the no chance to F it up answer? buy both ring heights and use the one that fits and return the other.
Yeah it costs you money up fornt but you get what you need and then a CC credit later. Or sell the spare on the EE so you aren't bothering the shipper.
Yep, you are right, those are High mounts.
At the moment of truth when I called Leupold up to get my replacement scope and rings I asked the military rep what he'd do and he recommended the super high rings. He said there was no question they worked with rail systems. I figured he was right, that I'd seen 1,000 pictures that I could easily identify the super high rings in and only a couple I thought COULD be high rings, so I went with the overly tall ones. Guess my weapon could be a "clone" weapon, too.
One more thing I forgot to mention, if you plan on just using the Mark4 scope the high will be just fine with the KAC RAS. If you want to run a PVS-14 in tandem though you'll need the Super High rings, I'm not sure if you'll be doing that but I thought you'd like to know.

Also does anyone know the exact model of Harris Bipod these guys are using in the high res pics, like the top one and the one with the ARMS mount as well as the KAC? One of the last things I'm needing before my clone is complete is a Harris and I just want to get the correct one used in those pics, thanks

James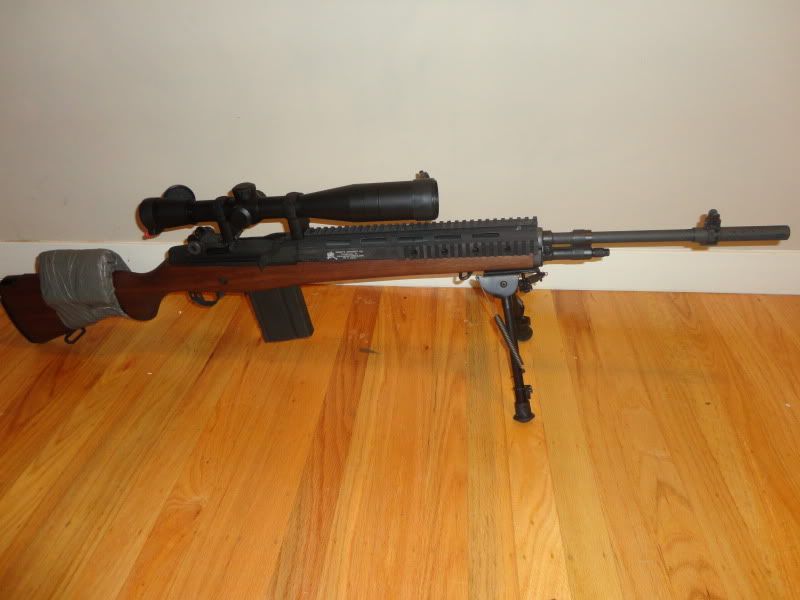 So I finished my build - RAS mounted without any trouble. Went with super high rings just because I was unsure if I could pass the highs. Had to make a cheek rest to get a good cheek weld with the Leupold.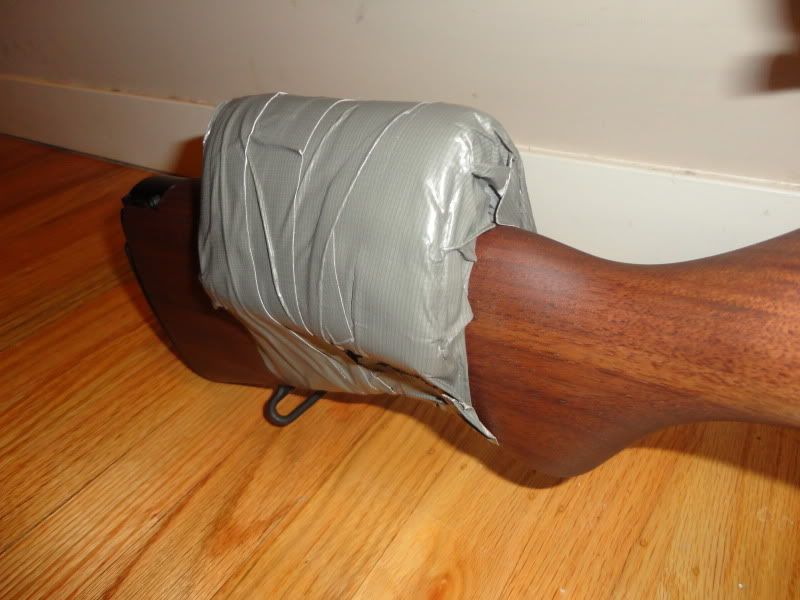 Its a military SAM splint folded up then taped down with 100mph tape. Looks ghetto as shit on my brand new stock, but works really well and I shaped it so its sort of like an LMT SOPMOD stock - very comfortable.