I have a Marlin 1894 .44 mag/special suppressor project going. NOW WITH PICS
I have a Marlin 1894 I sent to Grizzly Custom to have the barrel cut to 16" threaded and the mag tube cut back. I didn't have the front sight moved I just left it off no rear iron sight either. He said it would be ready to ship beginning of next week.

It will have a XS scout mount with a Weaver V series 1-3 power scope mounted in a traditional manner (not scout style) as the xs scout mount goes far enough back for that.

Finally I got a Lauer Custom Weaponry matte black Durakote kit to refinish both the gun and the stock.

It's going to be so wrong since it's a lever gun but so right at the same time.

PICS IN POST BELOW
Really looking forward to the resulting pics! Grizzly Custom threaded my Marlin 38/357 lever for me and it turned out great. Is he making a custom thread protector with wrench flats for yours also? I have been wanting to get my Marlin lever 44 threaded as well but I don't have a suppressor for that big of a caliber yet.
Yes I requested a thread protector. I was going to have him refinish it (well he said someone local to him) but he said $300 and I just don't shoot my lever gun enough to justify that. I think I can do a good job.
I think the duracoat will look good. What suppressor will you be using on your setup?
Here are a couple of pics of the threads on my Marlin 38/357.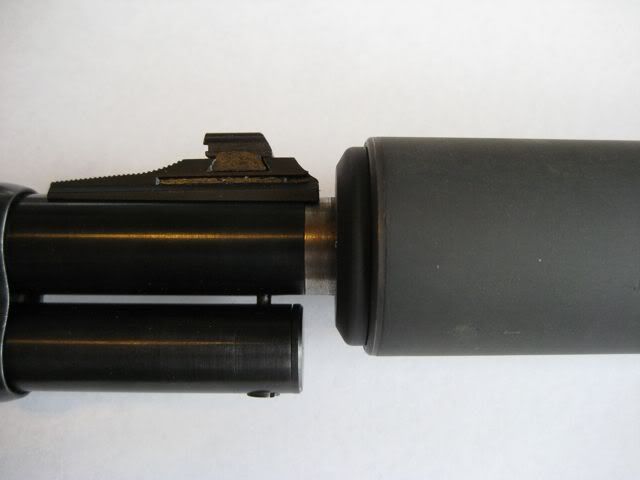 And a pic of the Marlin 38/357 and my Henry .22 lever that Grizzly Custom also threaded.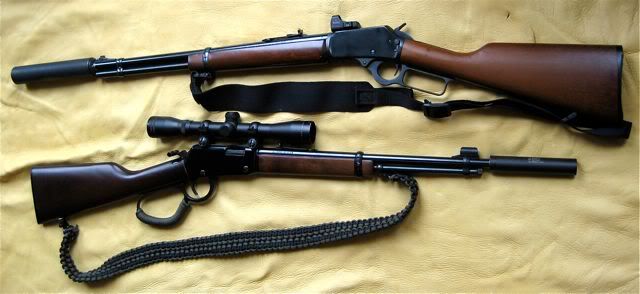 I finally finished it up today. I decided to ditch the weaver for a higher power a Burris Fullfield E1 2-7X35MM scope in Warne low rings. The rings just barely work. It looks like the scope is touching the rail up front but it actually has like a few micons or so of clearance as I can slide a piece of paper back and forth with very little resistance.
Nice! I am very interested in the range report when you get to shoot it. Do you reload? I have always wanted to see if the 300 grain XTP bullets stabilize in the 1894 Marlin 44 at subsonic velocities.
What stock is that and how do you like it?
EDIT: nevermind, I just saw you used the durakote kit

What's your ammo capacity in the tube when they cut it down to 16"? Thinking about having mine sent to Grizzly for the same treatment...
Chris
That is the factory wood stock that I Durakoted. It holds 8rds in the tube instead of 10. I switched the rings to medium also.
Are you going to shoot 44 mag through that AAC TiRant 45 or stick to 44 Special? I have that can, and now I have to have a lever gun very similar to yours. That is awesome. Well done.
Originally Posted By jagdkommando:
Are you going to shoot 44 mag through that AAC TiRant 45 or stick to 44 Special? I have that can, and now I have to have a lever gun very similar to yours. That is awesome. Well done.
I called AAC and was told anything subsonic is OK. I asked because certain .44 magnum subsonic loads I found had pressures just a little bit more than .45. So my plan is to push a 240gr JSP with magnum cases using Trailboss powder to 1000fps. Trail Boss is bulky enough to fill a good portion of the case were most powders would fill very little to get this velocity which could lead to inconsistent velocities. Some guys have done this and talked about it on silencertalk using Trailboss with decent results.
I just hope whoever I talked to at AAC knew what they were talking about because I would be pretty pissed if I blew my can up and I know they wouldn't cover it.
I just got my bullets yesterday but I am working on a big batch of 9mm. Hopefully I can get to some load testing for the Marlin this weekend.
I'm running 8.7gr Trailboss behind a 240gr JSP Montanna Gold Bullet with Wolf primers. I am getting 1020 fps average with pretty consistent velocities.

I was able to get some 3" 5 shot groups at 100yds which is good enough for me with this gun. I wasn't expecting MOA accuracy.

This is literally the quietest thing I have heard besides a .22lr with subsonics. The powder may play a part though because it leaves like a residue behind basically wetting the can.
I am worried a little because the greasy residue that builds up in the can almost smells like ammonia. I am hoping it is not corrosive. I looked around and apparently this residue is normal with Trailboss.