Opinions on / experiences with LAR Grizzly Big Boar
I'm looking to buy a .50 and the
Grizzly Big Boar
really appeals to me. I like the looks and the price.
What can you tell me about this gun as far as quality and accuracy go? Is it a good gun for the price, or should I look elsewhere?
Any info would be much appreciated.
Thanks.
Brake is really inefficent, kicks like a mule. I've got a couple friends that are members of the FCSA that have them and say that is their main problem. Also the recoil limits their practical accuracy because of the flinch most folks will develop after only a few rounds.
If you are really looking at getting into fifty's, you should join the Fifty Caliber Shooters Association www.fcsa.org. Best $40 I ever spent with regard to 50 BMG. Loads of information and all at the cost of 10 factory rounds of 50 BMG ammo.
A few rifles the same price range are:
State Arms
Ferret 50
ALS Upper (but 1 year wait to get one)
AR-50
Serbu
The LAR Grizzly was a pioneer in bringing affordable production 50's to lots of gunshops and hence, consumers. However, they've not kept up with the curve on rifle development, especially with regard to muzzle brakes and triggers.
-David
Edgewood, NM
PS: Here's my wife and my State Arms Shorty ($2K as shown, sans scope)
Something about having my face on the chamber really bothers me, especially since most reload their ammo. And a +1 for the recoil. Two ports don't do it for a 50, been there done that! A nice alternative is to check out the Bohica FAR-50 MkII.
Thanks for your input, guys.
I guess I'm leaning more towards the State Arms now. Probably the Rebel rather than the Shorty. I don't care much for the looks of the aluminum stock on State Arms' website, but it looks better in your picture (and not just because of your wife
). Do you have any more pictures of your gun.
The laminate stock they offer looks pretty nice, but isn't really the look I want in a .50BMG. But the more I look at it, the more it grows on me. An added bonus is that they're made about 2 1/2 hours from my house, so I could always go and check them out in person.
I guess the idea of having your face resting directly on the chamber isn't necessarily a great idea, but it doesn't really bother me too much. But if the trigger and brake on the Grizzly isn't very good, I'll probably stay away.
I know that a lot of people are getting .50 cal uppers, but I don't really care for the look of those or even the idea of it. It's just a personal preference.
Thanks again for the info. Any other thoughts on the matter would be much appreciated.
I-Spit-On-Hippies:
Just shoot me a message and i'll be happy to send you some more pictures by email. Its a real bitch to put stuff on here since you have to host it on a third party site and you can't upload real high res stuff either.
Here's a few more I took at the FCSA WC in Raton in 2006. Both rifles are State Arms Shorties but one has a laminated stock:
-David
Edgewood, NM
hello. i have a LAR GRIZZLY. owned it for over 8yrs. shot many rds through it! never ever a single problem. as far as recoil, i dont think its bad at all. i also shot a armalite, and it did kick less but nothing spectactular. you can shoot the grizzly all day without getting sore. as far as the trigger goes, i dont know. mine breaks clean with no creep. it is adjustable for slack.
maybe its not a super match gun, but it depends what you want it for? if you want to ring steal plates at 1000yds, it will do it easily. if your looking to shoot at matches and get the smallest groups possable, then you might have to get another gun.
as far as laying your head over the cartridge, who cares! ever heard of a grizzly blowing up? didnt think so. i like mine and am going to buy another one shortly. kirk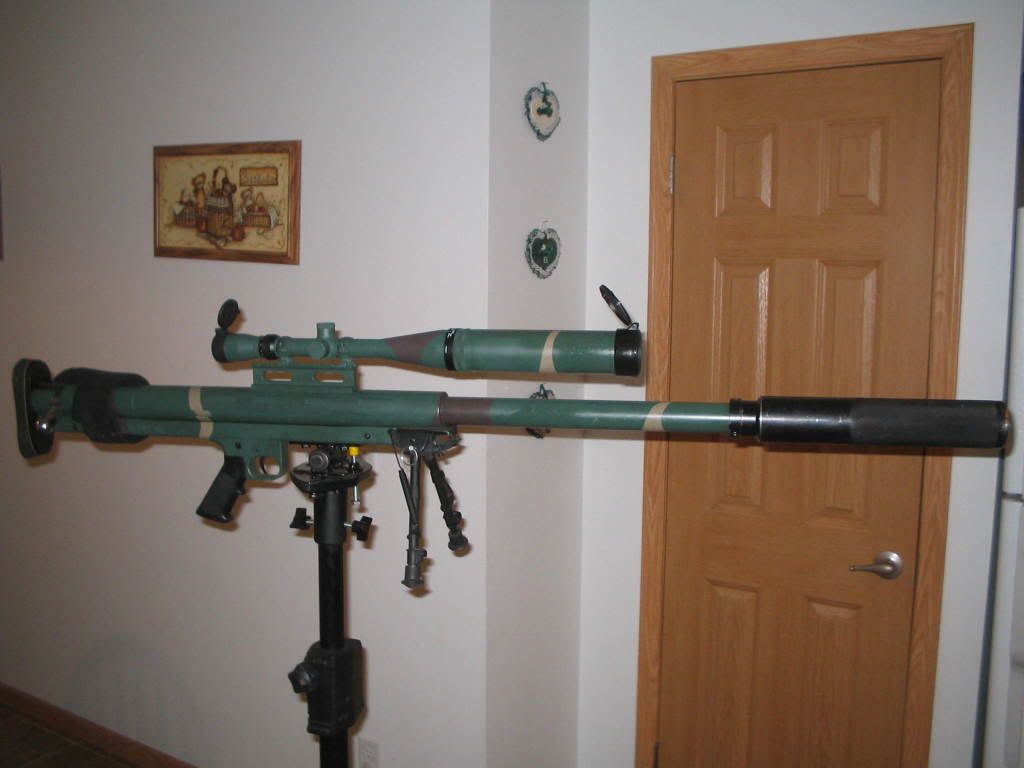 I own a LAR Grizzly, and I have never had a problem with recoil. I've only heard others say the brake is not the most effective out there. I've never shot anyone else's 50 bmg so I can't make a comparison. I have considered changing the brake, but for no other good reason other than hearsay. As you can tell by the pic I'm not a huge guy either. This was taken at a match I shot at about 7 years ago.
1000 yards is really far
David,
Where did you get that sweet drab shooting mat?
A fellow FCSA match shooter had it made at a tent shop in Wyoming. I've got their address somewhere. I designed one for myself with a little wider wings but never got it made. Need to get it done before next match season. Pretty sweet little rig. Shot one relay on it and I really liked it.

-David
Edgewood, NM
By the way, here's a State Arms Rebel. Picked this up of the FCSA forum from a few days ago. Guy in Wisconsin.
img489.imageshack.us/my.php?image=dsc018166gc.jpg
-David
Edgewood, NM
Buy the State Arms rifle. Dave posted a pic of mine shown above. It now has a NF NXS 5.5x22x56 on it. It will put bullets on top of each other with hand loaded ammo at 200 yds. And it doesn't hardly kick I could shoot it all day and not complain about my shoulder.
Nice! It appears you opted for the stainless steel upgrade barrel, correct?
Yep mines built with the SS lothar walther bull barrel, left hand bolt and a push button safety. I wouldn't want it any other way. Well the wood stocks are amazing, I'd take one of them. Maybe on the next one.

Living in Wisconsin and so close to Larry the owner of State arms I went to his shop when I ordered my gun and also picked it up from there. Larry is a great guy, and does amazing work. I would buy another rifle or two from him if I had more money to spend.