Thinking about building another SBR
I already have a HK USC SBR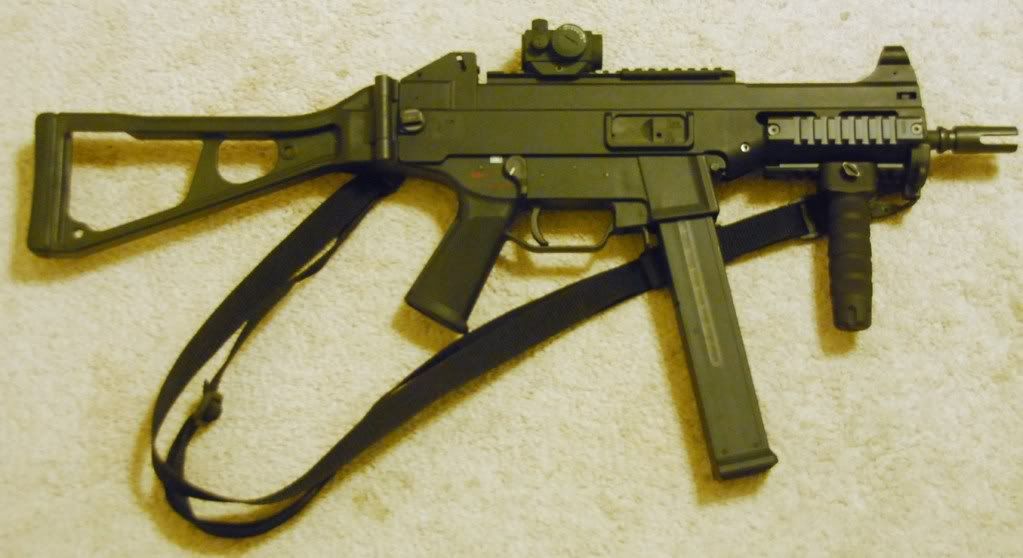 but have the craving to build another one.
Here is what i have to cut up:
10/22
AR15
AR10
HK 91
AK47
Shotguns
Benelli M1
Rem 870
Saiga 12
Or I was thinking about Buying a Beater Browning A5 and making a SBS out of it.
My very first SBR will be an AR and my first SBS will be an 870, so they got my vote.


The one with the best short bbl ballistics, in this case I think thatd be the Ak.

Posted Via AR15.Com Mobile
AR, too many options to pass up!

What a beautiful HK
Build two SBR uppers––––one in 7.62x39 so that you don't have to make another Form 1 out of an AK
I've got a 10.5" that slings 123gr pills downrange just over 2100fps. Just extend the feedramps a little bit with a dremel and you'll be able to use Grendel magazines loaded to about 20 rounds. I also just found out my Form 1 went pending on the 7th and is probably on the way to getting here in the next 30 days or so. So, my 762x39 upper will be getting some range time soon unless I take my pistol with me. It just needs to warm up here, ALOT.
I have a sw5 mp5 sbr,vector 53, just got my colt m4 6933. I have a yugo m92 krink kit laying around needing built. I plan on doing it this year. However since I don't have a saiga 12 I want it next to build a tromix 12 sbs. if money is not a issue nock out the cheaper stuff since it takes time on paperwork. Your more expensive builds can follow later since you already got the guns. For me the krink and saiga 12 are next. i'm goint to try to find me a good deal on a saiga 12 right now. I don't have the money to spend like I use to now days thats the only thing hurting me.

I would like a 7.62x39 in ar15 upper myself but never shot one yet. A shorty AR10 be nice to go with my AR10T too. I still have the Sig 556 sbr in the back of my mind. I owned and never shot the 16" so still don't know if i want it bad enough. It seems everything time you tax it seems to be around a 1600.00 gun give or take. It never ends,lol.
My 7.62x39 10.5" recoils
less
than my 9mm beretta cx4 carbine. The only reason I'm doing a SBR from it instead of the pistol lower I have for it is simply to be allowed to put a VFG and stock on it! It runs very well, and as before, the function of the gun is very nice. I hope the 6.8 upper I just built runs as well. It will be getting a Quentin Defense lower to begin its life as a pistol so I can function test that lower prior to getting a F1 started.
Personally I'd sbr an ar-15 if you don't already have one(guessing that HK is your only one). An AR-15 gives you a lot of options with various uppers.

With the AR-10 you have the noveske upper which is one of the best choices. For the AK I'd almost buy one already registered. Just easier.
I am contemplating the SBR route, and I am seriously considering a Colt 6450 to Colt SMG clone..........after firing one at a class 3 range, I am jonesing for one
a LOT of people told me not to "waste my money on an SBS" as it'll never come out of the safe after you shoot it once or twice....
well, fuck them! i built my damned SBS out of a rem 870 i already owned and was freaking PSYCHED about it!
it's been out of the safe exactly 2 times in the last 6 years. total waste of money.
on the other hand, i SBR'd a 10/22 a few years back just for shits-and-giggles. turns out i LOVE that gun. it is easily one of my favorite NFA toys. all that said though, if you don't have an SBR'd AR yet, that should be your next one. IMHO the AR really shines in an 11.5/10.5" package.
What? no love for the AR10???
AR, then you can drop a CMMG kit into it for a .22lr SBR too...
I'd go with the AR15 as you can get multiple uppers for it and switch it around to your hearts content. I have an 11.5" .223, an 8" 9mm and a 5.75 .22 so it's kinda like getting three guns in one...takes a minute to change them over. You sould also do a bunch of orther calibers and I am considering a 5.7 upper for mine but could do several others as well.
I vote AK - just to be a bit different. EVERYONE has an SBR AR.
Another vote for an AK SBR.
Personally I have always wanted to SBR my RPD belt fed. That would be kickass.
AR for the versatility. I also voted for the 870 option, as I love both of mine.
I like the idea of the Ar, but you may want to think about the beater auto-5.
Guy I worked for ran a quail plantation, had a Browning a500 that somebody had cut the barrel on,
the gun rode with me everywhere i was working. Short enough to tote on the tractor when I was working by myself
far from our lodge, great in the woods for snakes and other critters. Giving this gun back to him was the only thing
I hated about leaving the job. I went looking for an A500 to do the short barrel on ,and found what local shops wanted
and had to change my mind. Have an Auto 5 I've been thinking about doing if I can find another barrel, dad gave me the
gun and I'd hate for him to see it cut up.
I still want a krink, so that would get my vote. But of course, that is what I want, not what you want.
Oh, and I already have an AR. I do like the short AR more then the krinks, so I guess start there.
I've done mine in this order (with a nice mix of supressors before/in-between/after):

11.5" .223/5.56 AR
12.5" Remington 870
7.5" 9mm AR (dedicated 9mm lower)

Next up is going to be an M&P 15-22 SBR I think. Although it might be cool to SBS my Saiga 12.
Buy a can for the USC instead, Osprey maybe...
Originally Posted By damcv62:
I still want a krink, so that would get my vote. But of course, that is what I want, not what you want.
A krink started me down the SBR route.
I would go with a AR. Endless upper possiblities.
I too built a 10/22 pocket rocket, I always wanted one since I was a kid. It gets used more than the AR, and I have a dedicated 22 upper for the AR.
Ok, so you are on AR15.com. What did you really think the answer would be?
I have an Old Evo that i have owned for a couple years now.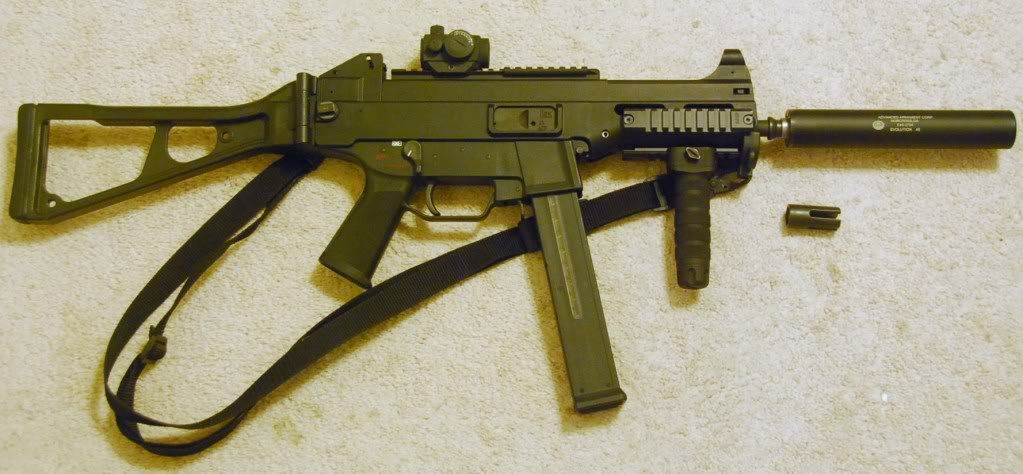 I see that Rock River arms has an upper with a HK style recoil system for the AR platform. To have an AR15 with a folding stock and SBR'ed would nice, but I don't own one of those uppers yet.
I see the HK has a 22 version of the MP5 so that is going to be the next SBR that I make.