tam-14 question answered - thanks
for those more familiar with this unit or thermal in general, what are your thoughts for a thermal novice prior to purchase?

to ellaborate:
the TAM-14 unit states it has 160 x 120 sensor and a OLED- 640x480 format (confused as to which is which)

vs. other units which are cheaper that sport a 320x240 resolution

i am confused because of the terminology and it is difficult to distinguish which one is better.


It's a 160 x 120. I'd pass unless a good bit cheaper than a newer 320x240 unit. Your recognition range is going to be pretty low.


Another thought....

Do you already have any night vision gear? Are you certain you want to shoot with a thermal? You could get a D-740 With a pinnacle Gen 3 tube and a nice thermal handheld for the same price as a TAM-14.

This is what I have invested in and I think it is an ideal setup. My research here and other places and personal experience agrees.

PVS-14 - navigation and stalking in. With a red dot and a 3x afocal can be used for everything for a while.
Thermal handheld. Spotting for critters. FLIR HS-307 for long range, open areas, max range. FLIR Recon M24 for small form factor, wider FOV, better in closer quarters.
D-740 shooting and ID/recognition

I would not buy a thermal scope until I had the above three and wanted something more....for hunting that is.


I have been using a Aquilla/talon style 4x scope with the FLIR PS32 for spotting. I like this combo detect several hundred yards away with thermal then follow up with NV scope for extra detail and long range shooting. To be honest I bet the ps24 would work for my use and save $1000 on the thermal as I am just detecting and even the ps32 lacks detail much past 75-100 yards. I think a thermal scope would be ultra cool but be limited in pixel clarity at 320x240 or less. a good nv scope should be better for shooting unless it's foggy at night.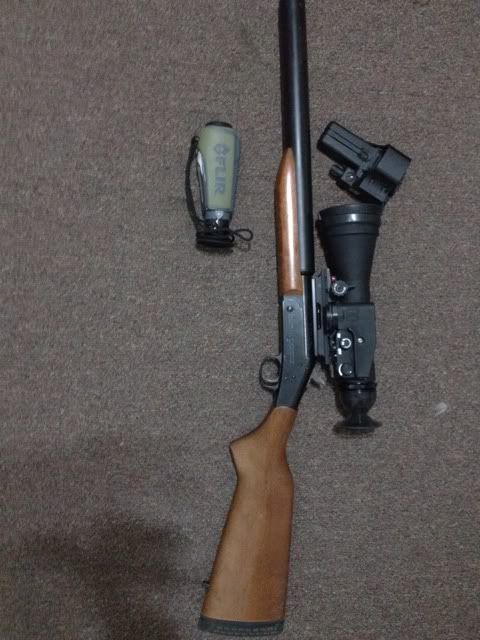 oddumet, you hit the nail on the head. that was the advice i was looking for... and terry, thanks for a point in the right direction.
i do have and enjoy my pvs14 and want something more. seems the handheld 'spotting critters' type are the way to go, as opposed to a lower resolution, higher dollar scope with a reticle... for an application such as hunting/scouting.
would also love a dedicated nv scope, such as the d-740, but am compromising with the pvs for the time being.
thanks again

That's the buy order I went for too. PVS, then Thermal, then NV Scope.

Glad it helped!