Lee Enfield No. 4 Mark 1 for $250, should I buy it?
Hey guys, I was in a local gun shop the other day and saw a Lee Enfield sitting on the wall. I do not know much about them, but I thought I have heard that No. 4s were good. Are they? Is this a good price? What should I look for on it? I did see that the rear sight is broken because it did not move at all when I moved the range. Anyway, what should I do? thanks.
Depends on the numbers and condition and marks. But, considering if it were in excelent shape, with all matching numbers, i would probably grab it.
I own one and paid more than that grab it they are great long guns.
If it's in good condition that is a good price. The Mk4 is one of the best bolt guns to come out of World War II. They make good snipers as well.
$259 should be a matching rifle in good condition. Receiver and bolt number should be matched. These generally clean up nice with out a lot of work. The backsight can be replaced for about 30-40 bucks.
Typical No4 LE in issued condition.

No4 issued, in great condition.
This Mk1/3 is unissued since FTR.
New from wrapper.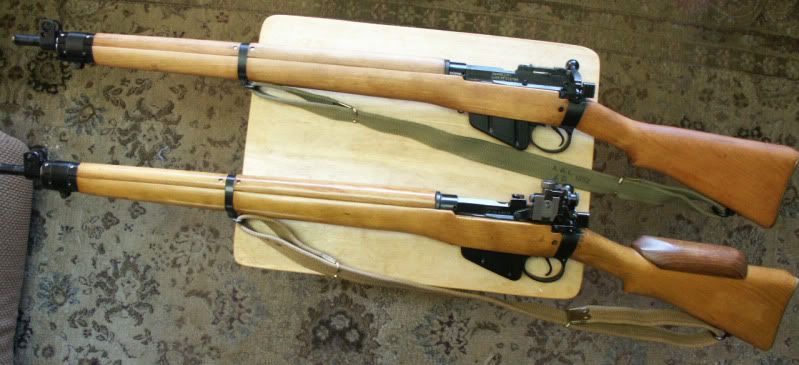 I recently paid $250 for a non-matching no4mk1*. Granted it was a Savage, but still, prices are going up. If its matching, snatch it up. If not, its not a great deal but its not a bad deal. If the rear sight truly is busted, you might be able to get a discount. Id try it. Find one on gunbroker and see how much it costs then ask them to come down that amount. Cant hurt to try.
Check the headspace before you buy.
Originally Posted By Colddeadhands61:
Check the headspace before you buy.
Why? And how would I do this?
I have one, never fired it in the 8-9 years I've had it. Price sounds reasonable. I guess I should shoot mine, they are cool guns, I have a sporterized SMLE as well that I've also never fired.
Originally Posted By goldeneye:
Originally Posted By Colddeadhands61:
Check the headspace before you buy.
Why? And how would I do this?
You need head space gauges for the Brit .303. The ones from Okiegauges are cheap and work great without taking the bolt apart. You can get by with just the field gauge.
Head space on the No4 is set be using bolt heads of different lengths. There are four sizes, 0, 1, 2, and 3. Generally a bigger number is longer, but not always, you have to measure them to be 100% certain.
The Enfields I've come across lately, all Century guns, have all been out of spec. Some say they're not safe to shoot,some Enfield guys say they're OK. Get a field gauge from Brownells. All you have to do is remove the extractor and spring from the bolt head. If you can close the bolt on a field gauge, it's out of spec. Bolt heads come in different sizes, 1,2,and 3. Good luck finding a # 3 if your gun is out of spec. I bought a No4 Maltby 1943 for $150. It was out of spec and had a #2 head. The only place I could find a #3 head was a dealer in England . When I converted dollars to pounds, it would have cost $129. Not worth it, so I sold the gun.
I did shoot the rifle. The cartriges bulged in front of the rim, and were hard to extract. Check the link. It will explain a little better.
http://parallaxscurioandrelicfirearmsforums.yuku.com/topic/3361/Headspace-101-for-303-39-s