Cotter and Company model 45 Westpoint
I have a Cotter and Company model 45 that says Westpoint on it, also has a squirrel engraved on the side. The stock broke while moving and I can't find anywhere to get a replacement, doesn't have to look original. Does anyone have any ideas? I really like this gun it shoots great and I want to be able to keep shooting it but I cant find any info about it online and there is no decent gunstore/smith near me.
You'll probably have to fix the stock or if that is not possible, find someone with a stock duplicator that can piece the old one back together to use for a pattern, and then cut a new stock.

Can you post a few photos?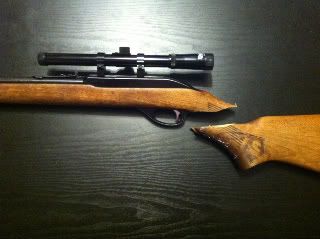 http://Guncrank.com He does stock repairs and has a pantograph for replicating, too. He is currently doing the stocks on my Marlin 39A.
thanks for the info
That one can be repaired by pinning. From the looks of the break, it needed a pin right from the start, the grain orientation is about as poor as possible through the wrist.




Looks like a Marlin 60 stock would work.
I found this cross reference:
http://www.gun-data.com/cotter_company_westpoint.html
I bet the post above is correct.
Another cross reference:
http://proofhouse.com/cm/house_brand.htm
Neither list shows a Model 45. I noticed a 75-45 on the second list.
Thanks, the only info I could find said that Marlin made this gun for Cotter and Co. but it didn't say what model Marlin corresponded with this one.
I'm actually going to try and carve my own stock first. I have a piece of Black Walnut that i'm working on right now. If that fails I will just buy new.