Problems using Hornady 230gr 45 ACP+P XTP
My gun is a SA GI 1911 and I recently purchased Hornady 230gr XTP ammo from Scheels for carrying. I loaded it, slide closes completely, but when I try to rack it to eject the unfired round, it had difflicuty to rack the slide, had to really grip it and yak it back. I took the barrel out, the round will not go in completely just about 1/10th inch sticking out maybe less. I loaded in a reloaded ammo, it goes in perfectly. So i did some measurements between both rounds, and its at 1.218" for the XTP, My reloads measures at 1.266" This is for OAL, measured the cases, bullet, everything is the same except for the OAL and case length. My reload is at .887" while the XTP is at .893"
also the point where the bullet's body starts to cone down, its sticking longer than the FMJ round nose does. So maybe thats the issue?
Should i be concerned and contact Hornady? I have not fired any of those rounds.
Has anyone had the same problems?
EDIT*** Heres a picture, the right one is the XTP
Chamber drop test is your friend! Had the same instance with Hornady FPD in 230gr +P in HK45/45C. Chambered fine, but racking to eject took a lot of force. Did a chamber drop of every round from three boxes. EVERY round was slightly longer than the barrel hood. This and the lands from the barrels were long attributed to this problem. I didn't have calipers to measure. I stopped using that load. Hornady 200gr +P XTP worked fine in HK45/45C. Dropped fine in SA TRP. My LGS knows me, so they exchanged them with Rem GS 185gr +Ps.
Go to page 2 of gateway threads in reloading forum. Read OP titled why loading .45 acp isn't like loading 9mm. Your working two problem.

Extractor radius

Oal is set too high. Your concern should be ogive to case mouth height. What is that number ?
Originally Posted By 1911smith:
Go to page 2 of gateway threads in reloading forum. Read OP titled why loading .45 acp isn't like loading 9mm. Your working two problem.
Extractor radiusn
Oal is set too high. You're concern should be ogive to case mouth height. What is that number ?
Um i think you got it mixed up on the OAL, my reloads OAL is set high and feeds perfectly fine, it was set that way as about .005" jump.
The XTP is seated much lower than my reloads. It does not drop in the barrel fully as my reloads do.
ogive to case mouth height is .043"
I Just took my extractor out, and it looks bent, but I don't think thats the issue with what I am having? because the XTP will not drop in my barrel, it sticks out .030" So thats alot.
Can the extractor be bent back straight or do I need to order a new extractor?
heres the picture of the extractor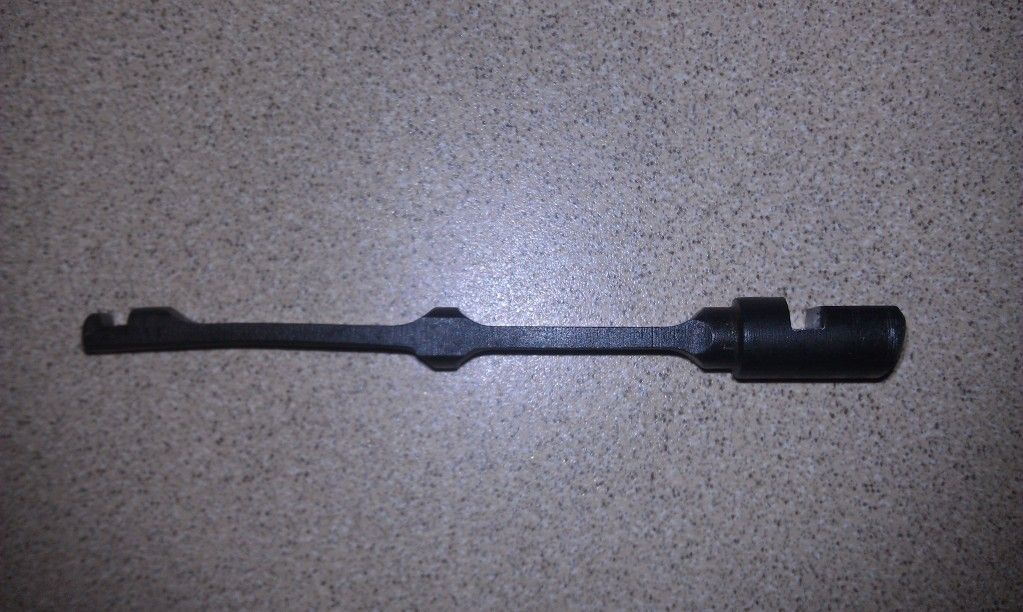 Ok, my bad.
Forget prior post, send Hornady cartridges back. What has to be done to make factory Hornady feed in your set up is something that shouldn't be discussed. I've reworked Hornady SD cartridges before.
Your handloads are running fine. Hornady needs to get it together.
Is contact Hornady direct.
OP, you can see the roughed up ring on the hornady bullet. the diameter is too large i think. the only cure i can think of would be enlarging the chamber slightly and that would not be good for general shooting.
my .02.
My Springfield shoots that XTP and quite well, even though there is little more slide resistance when unchambering the cartridge. Non-XTP rounds get loaded to 1.260, IIRC, my XTPs are at 1.225
Hornady only applies enough crimp to close bell on case mouth.

I don't recall seeing a loaded case mouth number. It should caliper at no more than .473.

Bullet diameter is .451. Take case wall thickness times two and it should read .471. That's an ideal diameter.

Winchester Supreme Elite PDX1 last I measured was .469. Winchester crimps to .469 to ensure feed ability and prevent setback. Hornady is loaded for accuracy, assuming your barrel will chamber their bullet. Just about any text book hand loader will say .45acp head spaces off case mouth, no need for a crimp.

So, you're left with 3 choices in this scenario.

Ream chamber

Tune factory cartridge to your pistol. Not advisable.

Return to Hornady.

There's a fourth option concerning oal I started in first post to address. As reminded I had which from what confused. Just return and move to something that works. I wouldn't ream chamber for a cartridge unless it were the only configuration you were going to use. Springfield chambers are wide enough.

There's my nickel's worth.
I've shot both the 230 and the 200 XTP's and I could tell immediately from your picture that the bullet was not seated deep enough in the case. In my case, I was loading them so I was able to establish a safe powder charge for seating them deeper. For factory ammo, I would be very hesitant to set them deeper. Call Hornady.
loaded case mouth measures .469"

WIll give hornady a call in the afternoon.
I'd ream the chamber and drive on. You'd be surprised how much metal even a finish reamer will cut out of a factory barrel.
Spoke with Hornady, they gave me RMA and I gotta send it then they will do tests and send me new ammo. Will post back with update